| | | | | | |
| --- | --- | --- | --- | --- | --- |
| Best for extreme athletes | | Chesty Performance Chest Mount | | SEE IT | When it comes to a natural viewpoint and steady shooting, chest mounts seriously outperform head mounts. |
| Best for shooting in the dark | | GoPro Light Mod | | SEE IT | With output up to 200 lumens, this little light provides a surprising amount of illumination. |
| Best for all-day outings | | SanDisk 128GB Memory Card | | SEE IT | This card is big and fast enough to pull down high-res and slow-mo footage, but buy a few and swap them so you don't lose a whole day of shooting if you lose the camera. |
Updated Dec 6, 2022 9:55 AM
We may earn revenue from the products available on this page and participate in affiliate programs. Learn more ›
When it comes to shooting action, the camera is important, but GoPro accessories can make a huge difference in the excitement level of your footage. The GoPro name is short for "going pro." As in, making a living from surfing, which was company founder Nick Woodman's dream when he created GoPro in the early 2000s. Today, GoPro cameras continue to inspire adventurous content creators in death-defying pursuits, as well as normal people looking for a super-tough, high-quality camera. No matter what you're shooting, the best accessories for GoPro will help realize those images you have in your head.
Lights, mounts, GoPro lens filters, and other GoPro equipment let you get the most out of your camera, because they can enable you to shoot in more places, for more amount of time, and under better conditions. Here are the best GoPro accessories to help you go for it, whatever your dreams entail. 
The best GoPro accessories for upping your photo game
For nature lovers and extreme-sport enthusiasts alike, GoPro accessories can equip you to take the best possible footage. Here are the best GoPro accessories for your next adventure.
Why it made the cut: When it comes to a natural viewpoint and steady shooting, chest mounts seriously outperform head mounts.
Key features:
Stretchy, adjustable straps
Carry bag
Built-in mount
Pros:
The best possible point of view for many activities
Makes the camera feel light
Stretchy straps fit over bulky coats or pads
Sturdy chest pad is hard to break
Cons:
Bulky to store when traveling
Can get snagged if you're moving through the woods
This adjustable padded camera mount is so flexible, it'll stretch to fit over most ski jackets. Yet shoulder straps make it secure enough for steeps, bumps, and jumps, regardless of your means of transport. At just 5 ounces, the camera mount is lightweight and breathable. 
This is the best way to get stable footage from a recognizable point of view. It easily beats helmet mounts in almost every setting.
Best for shooting in the dark: GoPro Light Mod
Why it made the cut: With output up to 200 lumens, this little light provides a surprising amount of illumination. 
Key features
Waterproof to 33 feet
Up to 200 lumen output
Up to six hours of battery life
Pros:
Surprisingly bright for its size
Rugged built
Easy attachment to a camera or mount
Cons:
Only compatible with most recent models
This GoPro light features four brightness settings that deliver up to 200 lumens of output, making it about as bright as the best headlamps. Take the Mod on your next shallow dive—the LED GoPro light is made of carbon fiber that's waterproof up to 33 feet. Or take it on your next overnight climb—the rechargeable battery offers up to 6 hours of run time. A strobe feature lets you use it as a beacon, so it can be as much a part of your survival gear kit as it is one of your camera accessories. The GoPro light is compatible with the Hero9 Black or Hero10 Black, or it can be used as a standalone mount with other GoPro mounts.  
Why it made the cut: The built-in image stabilization can sometimes use help from an outside source. This grip can handle the seriously choppy stuff.
Key features: 
Weight: 1 pound
Built-in camera controls
Two-hour battery
Pros: 
Compact
Built-in camera controls
Excellent at smoothing footage
Cons
Limited battery life
Takes some getting used to
While gimbals have been around since Ancient Greece, they seem to be all the rage right now in action photography because they can create shake-free footage, even on the bumpiest of terrain. Gimbal-equipped stabilizers like the GoPro Karma Grip allow the camera to be fixed on one axis as you and the stick move around it. 
The 1-pound GoPro Karma Grip is compatible with GoPro mounts, meaning you can hold it, or fix it to your GoPro backpack. Use it to stop or start recording, adjust the camera angle, or tag footage while you're on the go. The battery tops out at two hours, but how long can you really tolerate a bumpy road anyway?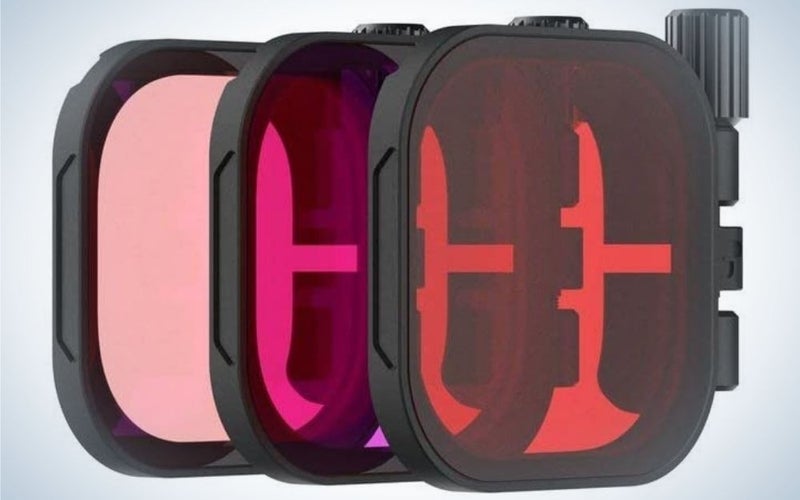 Why it made the cut: These high-end filters negate the weird color casts and contrast issues that pop up during submerged shooting. 
Key features:
Tool-free attachment
Different colors for various situations
Rugged glass resists impacts
Pros:
Easy to attach
Durable
Easy to transport
Cons:
GoPro made its mark in part because it produced fish-eye cameras that function so well underwater. Filters let you maximize what you see when you're shooting in a pair of fins, providing more vibrancy in the muddled blues and greens of the water. Use the red GoPro lens filter for blue water, magenta for green, and the snorkel filter for skimming along the surface. Made for the Hero10 Black protective housing, the GoPro lens filters attach easily without any tools. These should be part of your GoPro accessory kit if you're doing any underwater shooting.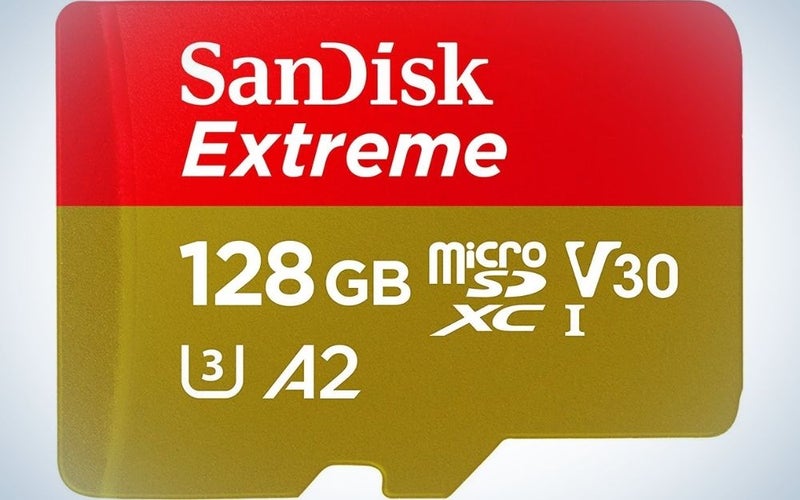 Why it made the cut: This card is big and fast enough to pull down high-res and slow-mo footage, but buy a few and swap them so you don't lose a whole day of shooting if yo lose the camera.
Key features:
Up to 1 TB space
Class 10
Fast enough for 4K video
Pros:
Affordable
Fast enough for high-res footage
Super reputable brand
Cons:
Still tiny and easy to lose
Reading footage at a rate of 160 megabytes per second, the GoPro SD card can support 4K HD files. And offering 128 gigabytes of storage for under $25, this is a great gift idea if you're looking to give a GoPro accessory on a budget—or if you or the GoPro content creator you know records A LOT of material.  If you're looking for more storage options, check out our list of the best SD cards for GoPros.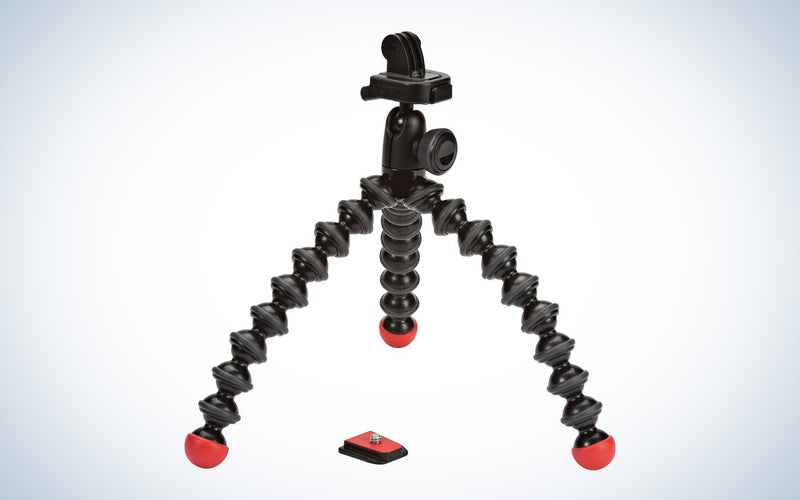 Why it made the cut: This flexible tripod can grab onto just about any object, which makes it super versatile, even for carrying. 
Key features:
Three flexible legs
Standard tripod socket
Rubberized coating
0.42 pounds
Pros:
Includes GoPro mount in the box
Extremely versatile
Sturdy legs
Heavy enough to also support larger cameras
Cons:
Joby's flexible GorillaPods have articulating legs that wrap around just about any object and hold a camera steady in practically any position. This model is aimed specifically at action cameras users. It comes with a GoPro mount in the box. If you want to switch over to a larger camera, it uses a standard tripod screw for attachment. 
The integrated ball head offers tons of positioning options. It can rotate and tilt until you get the perfect point of view. Despite its versatility, the whole package only weighs 0.42 pounds, so it's easy to chuck in a pack and take out into the world. 
Why it made the cut: These simple mounts peel off easily and provide a solid connection to the helmet.
Key features:
Curved and flat versions to fit various surfaces
Pack includes six
3M adhesive
Pros:
Choice between flat and curved mounts fits easily to any helmet
Won't leave residue when removed
Cheap
Cons:
Packs include flat and curved so you might not use them all
These adhesive pads mimic those that come with the GoPro in the first place. Each pack of six includes three flat-bottomed mounts and three curved-bottom mounts. The flat ones stick to pretty much anything, while the curved mounts are specifically designed to fit onto the top or side of a helmet. They rely on 3M adhesive to stay in place, so they won't budge, even if they hit an errant tree branch. Once you do remove them, they won't leave a residue on your helmet. There are more elaborate ways to mount a GoPro to a helmet, but sometimes simpler is better.
Why it made the cut: This burly backpack mount won't come loose or flop around on your hiking or running adventures. 
Key features:
Velcro straps
Fits backpack straps up to 2.5 inches wide
Rotating mount
Pros:
Attaches firmly with a pair of straps in case one comes loose
Offers lots of camera angle possibilities
Sturdy back provides a solid base
Elevated camera position provides a unique perspective
Cons:
If you want to document a hike or another activity that won't allow you to wear the camera on your chest, then a backpack mount may be what you're looking for. This device clamps around a backpack's shoulder strap. It can accommodate straps up to 2.5 inches wide. Once the mount is in place, a pair of burly Velcro straps wrap around to keep everything secure. 
The camera mount itself rotates up and down so you can tweak the exact position of the camera. In its highest position, the camera sits slightly above where other backpack straps tend to hold it, which makes for a more eye-level experience in the video.
Why it made the cut: This floating grip will drag your GoPro camera to the top of the water if you drop it when out swimming, diving, or boating. 
Key features:
7.5 inches long
5.9 ounce weight
Quick release mount
Pros:
Floating feature helps keep cameras off the bottom of the sea
Non-slip grip is easy to hold onto, even when wet
Small and light 
Lanyard keeps it attached to your body if you drop it
Cons:
Wish the whole thing was orange for even more visibility
GoPros survive just fine in the water, but they're not very useful if you can't find them. This simple grip has a quick release mount on the top and a lanyard on the bottom. Attach the camera and wrap the lanyard around your wrist and you're ready to go diving without worrying about losing an expensive camera. The whole handle floats, even with a camera attached, so dropping a GoPro in the water won't result in hours spent searching around on the bottom with the shells and people's lost AirPods. 
Why it made the cut: This waterproof case provides protection for the camera as well as a secure place for all its accessories.
Key features:
Enough storage for one camera, three batteries, a grip, and mounts
Water resistant PF construction
Zipper closure
Weighs 11.7 ounces
Pros:
Sturdy construction
Pre-cut foam insert
Holds a useful amount without extra bulk
Compact
Cons:
It's only water-resistant, not waterproof
GoPros are tough, but keeping them clanging around in a bag can cause a lot of unnecessary wear and tear. This padded case contains a pre-cut foam insert with slots for a camera, three batteries, a grip, and some mounts. Not only does it protect all of those pieces, but it keeps them nicely organized, which can be a real boon when you're out shooting. The case weighs in at less than a pound and will keep moisture out, even in damp conditions.
What to consider when shopping for the best GoPro accessories
You can find GoPro accessory kits with dozens of items, ranging from head mounts to tripods. And indeed all of that equipment can help you get the most out of your GoPro. But for this article, we've focused on the best GoPro accessories that will help you capture better content— whether that means a camera mount to get true POV footage on the slopes, or a GoPro light to brighten your shots when the sun's going down. Here's what to consider when shopping for the best GoPro accessories to create better content.    
What's it all a mount to?
GoPro camera mounts give your GoPro a place to rest while you're most active. And that means you'll be more likely to forget about the fact that you're filming, and just let her rip. There are a variety of GoPro mounting accessories, including handheld tripod mounts, helmet mounts, wearable mounts, and mounts designed to go underwater. Some mounts use suction cups to affix to either your boat, car, or plane, while other mounts clamp to your bike handlebars or ski poles to capture footage that can really improve your training. Meanwhile, GoPro gimbal mounts use motion sensors to stabilize the camera, even on rocky trails. 
Your GoPro will come with some mounting option in the box—for instance, the GoPro Hero7 includes curved adhesive mounts, while the GoPro Hero9 comes with mounting brackets—but buying a separate GoPro mount will give you something that's better equipped to handle what you like to do.
Do you need to see things in a new light?
If you plan to shoot at night or underwater, you'll need something that can change the lighting. These GoPro attachments grip directly to your camera and are even waterproof, giving you extra LED-supplied brightness when you're walking under the stars or swimming beneath the surface. 
Meanwhile, GoPro lens filters adjust the shade to give you the clearest picture in a variety of settings—from the bright afternoon sun to the low light of dusk. 
Do you need more?
Whether filming laps on the ski hill or deep dives to shipwreck, GoPro cameras are designed to be used in places where you don't want to stop. That means you may run out of basic camera needs like memory space and battery life more quickly than you'd like. A GoPro subscription will give you cloud storage for your files, but extra GoPro SD cards will let you keep shooting new stuff when you're in the backcountry, or don't want to take a break to upload your content. Meanwhile, supplemental chargers that plug in or connect to a power source via USB ensure that you always have a spare battery, so you never have to waste a day. On average, the GoPro batteries last about 90 minutes when you're going hard and filming in HD. 
FAQs
Q: Do all GoPro accessories fit all GoPros?
No, not all GoPro accessories fit all GoPros. While almost all GoPro mounts work universally across the lineup, power-based accessories will not. The original GoPro models used a mini-USB charging port, while models beginning with the Hero5 switched to USB-C.
Q: What do you need to buy with a GoPro?
If you want, you can buy a standalone GoPro camera. But your best bet—especially if you're buying your first GoPro camera—is to buy a bundle that includes GoPro accessories like a case, hand grip, clip, and spare battery. From there, shop for more customized GoPro accessories like GoPro mount kits or lenses that are more tailored to your specific interests.
Q: Which GoPro accessories are good for travel?
GoPro accessories that are good for travel are accessories that will protect your equipment and ensure that you'll get the most use out of it. There are a variety of GoPro case options that will keep your camera safe. Meanwhile, GoPro SD cards and chargers help you keep it rolling, longer.
Q: Are GoPros waterproof?
Yes, modern GoPros can survive while fully submerged in water without the need for an external case. The first several GoPro models required a special waterproof housing for to keep water away from the camera itself. Now, you can basically take them out of the box, charge them up, put in a memory card, and chuck them into up to 33 feet of water without a housing.
Q: Can you use GoPro while charging?
If you have a GoPro HD Hero6 or newer, then you can plug in your camera and use it without having to worry about the battery draining. Models that came before that didn't have that capability. While power may not be an issue over extended use, heat can still come into play and shut down your session if the camera gets too warm.
Q: How long can a GoPro record continuously?
The main limiting factors here are battery life, card capacity, and heat. Batteries don't last all that long in GoPro cameras, so if you're using a large card or shooting a low quality, you'll likely run out of juice before you hit any kind of limit. If you're recording at high-resolution and high-framerates, then you'll likely bump into issues with card capacity. Sure, microSD cards are relatively cheap now, but 4K footage eats up space very quickly, especially if you're shooting at 60 fps and beyond. Lastly, you'll have to worry about heat. If you're shooting at high framerates and resolution, the camera will build up heat and may shut off if you don't give it a break. The camera will always tell you how much footage it could record onto the storage you've inserted, but that doesn't account for heat or batteries. In total, you can expect anywhere from a half hour up to several hours depending on your storage, settings, and conditions.
The final word on shopping for the best GoPro accessories
GoPro cameras are unique in their ability to capture action footage at the tops of mountains and under the sea. If you don't already own one, check out our list of the best GoPros overall. But no matter which camera you buy, the best GoPro accessories are required if you're hoping to get the most out of your camera. After all, you wouldn't ski or bike without the necessary add-ons, so why would you want to film these activities without the best GoPro accessories?