Hands On: Canon EOS Rebel T4i DSLR and 40mm F/2.8 STM Pancake Lens
A close-up look at the new top dog in Canon's entry-level DSLR line-up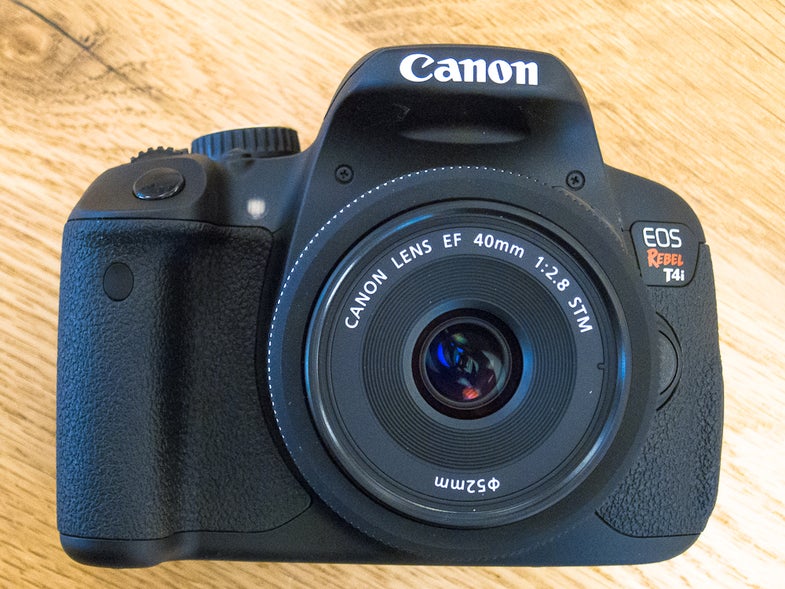 We may earn revenue from the products available on this page and participate in affiliate programs. Learn more ›
The Rebel T3i has been one of Canon's most popular DSLRs to date, and now it'll have a big brother sitting just above it in the Rebel line. The T4i isn't wildly different than its predecessor, but there are some notable improvements, as well as a new 40mm F/2.8 "Pancake" lens and an 18-135mm IS kit lens with their new STM technology which I'll explain in a bit.
The T4i has an APS-C sensor with a familiar 18-megapixel resolution, but it has received a bit of an overhaul. It's also now coupled with a more powerful Digic 5 processor, which pushes the maximum continuous shooting rate to 5 FPS and extends the native ISO range up to 12,800. You can also push it into H mode, which has an equivalnet of ISO 25,600 if you really need to get a shot in low light.
One of the biggest areas of change is the Hybrid CMOS AF system. There are nine AF points, all of which are cross-type. The center point is a dual-cross-type which only becomes available if the attached lens goes to F/2.8. It's an array more similar to the one found in the higher-level EOS 60D.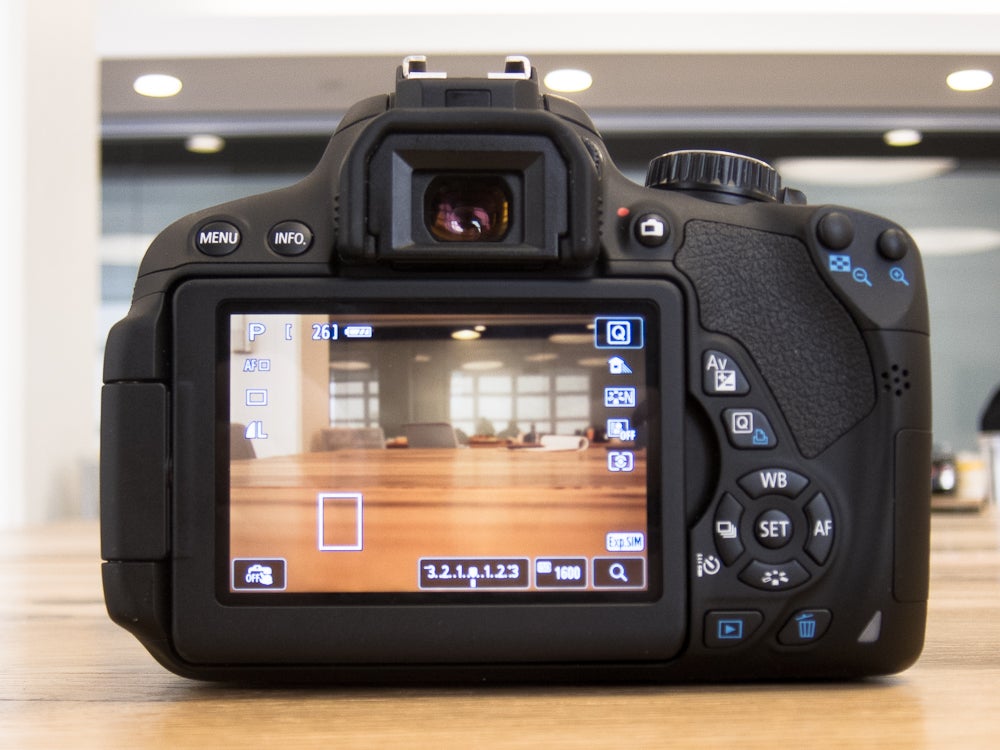 It also allows for continuos AF in video mode, something Canon is calling Movie Servo AF. Autofocus in video mode is something many consumer-level users have been asking for, so this will likely be very well received. I got to try it very briefly and it seemed to coming along nicely. The transitions are smooth — not jarring like the ultra-fast moves that come with some dedicated video cameras.
One of the other big selling points on the T4i is its seriously upgraded 1.04 million dot display. It's a 3-inch vari-angle screen, so it can swivel about for composing in tricky circumstances, but it's also now multitouch enabled. That's a first for Canon and it made a very solid first impression on me. Things like swiping through photos and pinching to zoom come in very handy. The UI could use a bit of work to make menus easier to navigate, but from a responsiveness standpoint, it's easily the best touchscreen I've used on a camera so far. Below is a little demonstration of swiping through images and a little menu navigation. It was also really handy for zooming in on images to check focus without having to use the thumbstick or dial method.
One thing I found particularly cool was the ability to move the focus around using the touch screen. Touch something in the frame and the lens will focus on it. Keep your finger on the screen and move it around and the focus follows. It makes things like rack focusing — where the focus shifts quickly from the foreground to the background or vice versa — a lot simpler.
Part of that improved video performance can be attributed to the pair of new STM lenses that Canon is introducing. STM stands for their Stepping Motor technology and it makes focusing quieter and a little smoother when AF is engaged. STM lenses (Only the 40mm F/2.8 and the new 18-135mm F/3.5-5.6 IS are currently announced) can tap into phase detection pixels right on the sensor (similar to the Nikon 1 series) as well as the traditional contrast AF found in most video and live view cameras. Non-STM lenses still get the Hybrid Movie Servo AF mode, but it isn't as quiet, smoother, or accurate.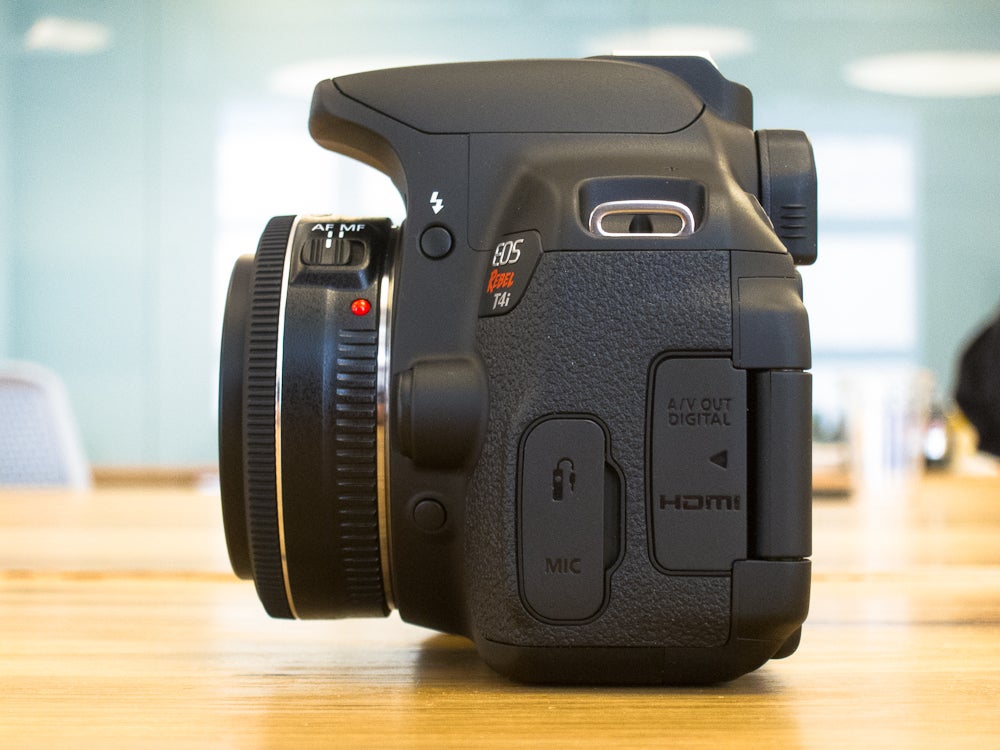 Both of the new STM lenses will be available at the end of June. The 40mm F/2.8 STM will be $200. The 18-135mm F/3.5-5.6 IS STM uses Dynamic IS, which borrows from Canon's Vixia camcorder line in order to further cut down shakiness during motion capture. It will cost $549, which is $50 more than the standard version.The Pancake isn't quite as, well, pancake-like as the Pentax 40mm F/2.8 XS, but it's quieter and it uses a standard-sized lens cap rather than the nickel-sized thing Pentax uses.
The T4i will be available this month as well. Body only will cost $849. Paired with the standard 18-55mm kit lens, it will cost $949 and adding the new 18-135mm STM will bring the total price to $1199. It will live alongside the T3i and the T3 in the Canon line-up, but the T2i has come to the end of its run. There's no word yet on whether or not they'll be dropping the price of T3i, but the two cameras have a lot in common. They're roughly the same size and weight and even use the same battery, which is a plus for those stepping up the line.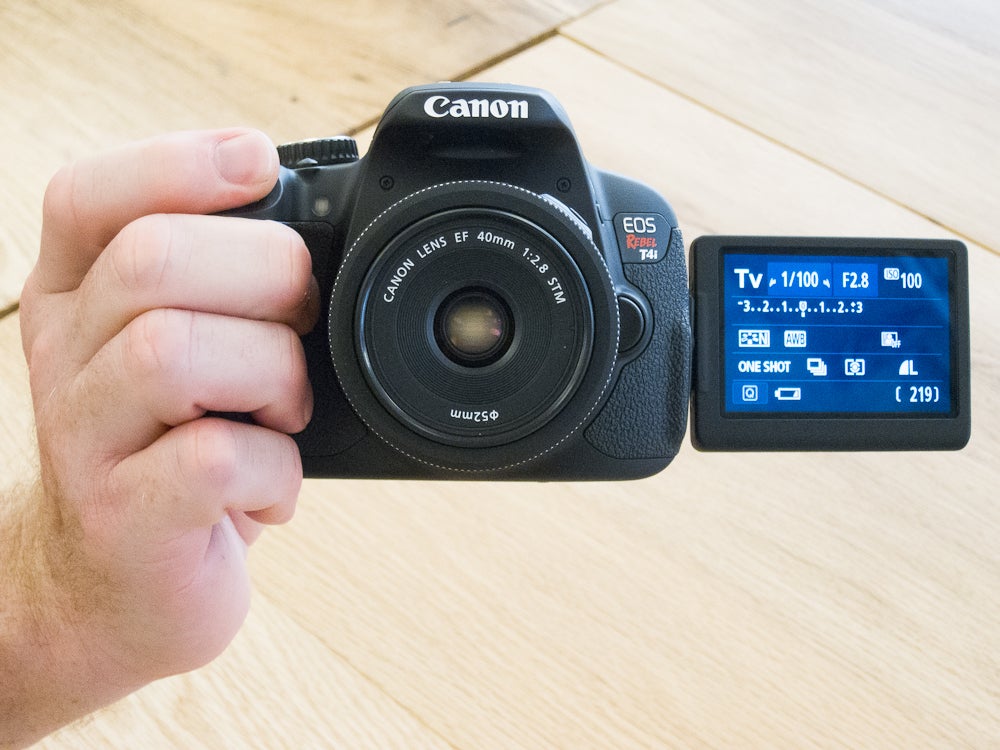 This announcement does make it clear that Canon is confident in the direction they've been taking the Rebel. It's to the point where it feels a bit granular.That's compounded by the recent release of Nikon's D3200 with its big pile of megapixels and the Pentax K-30 with its ultra-rugged build. We look forward to seeing how it performs, especially when compared to its formidable entry-level competition.