New Gear: Pentax K-30 Weather-Resistant DSLR
Pentax's new mid-level DSLR is tougher than most, but also brings some serious imaging upgrades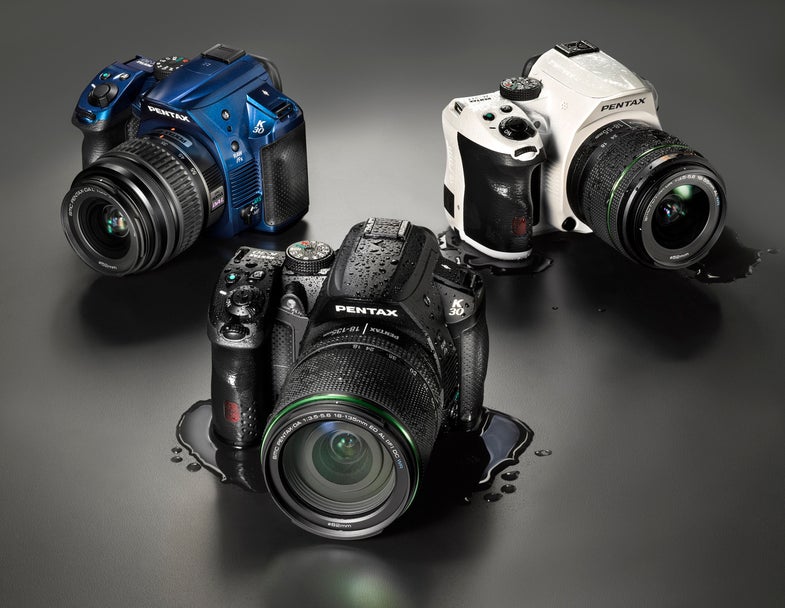 Pentax has been known to make their DSLRs tough, and they've chosen to further emphasize that with their latest addition to the K-series. The body has 81 seals inside and out in order to make it weather, dust, and cold resistant to a temperature of 14-degrees F. That's a freezing point on-par with the hard core rugged compacts.

An illustration of the weather sealing on the K-30 body.
Pentax has done some serious work on the imaging front as well. At the K-30's heart is the latest version of their 16-megapixel CMOS sensor, coupled with their Prime M image engine. As a result, the maximum ISO has been jacked up to 12,800 (expandable to 25,600) and it now has both 1080p video capture at 30 fps and 720p capture at 60 fps.
AF is handled by the new Safox IXi+ module that considers the specific lens you're shooting with as well as the light source when determining focus. It has 11 total AF points, which isn't outstanding, but nine of them are cross-type, which is formidable at the mid-level range.

The K-30 also has a few advanced features that make it a step up from the K-r that came before it. It can reach 6 fps at full resolution in JPEG mode and it has a compact pentaprism with a 100% field of view. That last part seems to be increasingly common in more affordable cameras like Sony's new A37 (which uses an EVF, but still manages 100% coverage) and we like that trend.
Live view refreshes at 60 fps for smoother compositions. It has a maximum shutter speed of 1/6000th sec. It even maintains the in-body Shake Reduction system that helps keep lens prices down a bit.
When it starts hitting shelves in July, it will come with a price tag of $849 for the body alone or $899 with an 18-55mm kit lens. At least on paper, that makes this thing a serious contender, especially if you're looking for a body that can take a bit of a beating. We'll give it the full lab test treatment as soon as retail units become available.