Test Report: Pentax K-r DSLR
The latest started DSLR from Pentax offers lots of photographic firepower.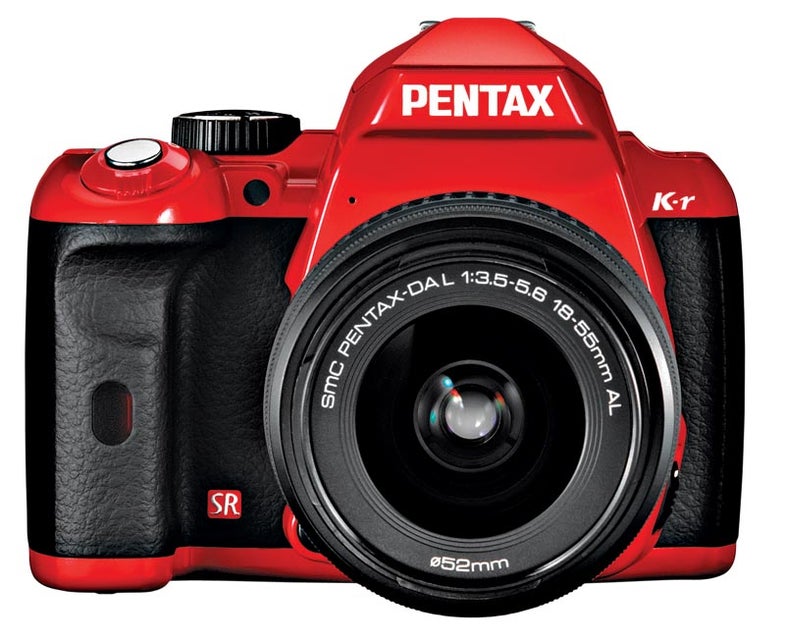 We may earn revenue from the products available on this page and participate in affiliate programs. Learn more ›
Pentax has long been known for making solid entry-level DSLRs. Its latest, the K-r ($710, street, with 18-55mm f/3.5-5.6 kit lens), shows a noticeable improvement over the popular K-x it replaces, and continues a newer Pentaxian trend: colorful DSLRs. It is available in red, white, and the traditional black.
Of course, with style must also come performance, and during its time in the Popular Photography Test Lab and out in the field, the K-r proved that it's got plenty of substance to back up its fashion sense.
In the Lab
With its overall Image Quality rating of Extremely High from ISO 100 through ISO 800, the K-r goes the distance against heavy hitters such as Nikon's D3100 ($580, street, with 18-55mm f/3.5-5.6 kit lens). In fact, the 12.4MP K-r delivers only 80 fewer lines per picture height in our resolution test than the 14.2MP Nikon. The K-r got 2270 lines, compared to the Nikon's 2350.
What's more impressive: The K-r held that resolution firm up to ISO 3200. Canon's EOS Rebel T2i offers stiffer competition with 2555 lines, but it also costs more ($780, street, with 18-55mm f/3.5-5.6 IS kit lens) and uses an 18MP sensor.
The K-r receives top honors in Color Accuracy, with an Excellent rating, thanks to an average Delta E of 7.4 from 8-bit or 16-bit TIFF files. Both the D3100 and T2i also scored Excellent in this test, as do most DSLRs these days.
Given these different pixel counts, noise is a salient topic. The K-r keeps it Low or better up to ISO 800, as do the Canon and Nikon. Above that, the Pentax bests them both: At ISO 3200 noise from the K-r remains at a Moderate rating with a 2.5, while the D3100 and T2i rated Unacceptable.
And at ISO 6400 and above, all three received Unacceptable scores in our tests, though the Pentax remains at least a half-point ahead at each stop—and its sensitivity reaches ISO 25,600, a level that neither the Canon nor Nikon offer.
Autofocus is a similar story. The K-r includes Pentax's new SAFOX IX AF system. Although it has the same 11-point array as its predecessor, it performed better in our lab tests, focusing in less than a second all the way down to EV 1; the K-x did so only down to EV 2. Furthermore, the new Pentax either beats Nikon's D3100 or remains within two hundredths of a second at all light levels in our tests except EV –1 , the dimmest light in which the two cameras were able to focus.
The K-r is faster than the Canon in bright light and slower in dim light. From EV 12, the brightest level in our test and tantamount to full midday sun, through EV 6 the equivalent of a well-lit interior, the K-r focuses faster. At EV 4 and below, though, the Canon locks on its target first, and it can focus in the darkness of EV -2, while the Pentax (like the Nikon) fails to focus in such dim environs. In this case Canon's extra cost gets you something useful.
In the Field
A very comfortable grip, with a particularly well-defined notch for your middle finger, makes the Pentax K-r a pleasure to hold. Despite the solid feel of its stainless-steel chassis, it's not extensively weathersealed.
Pentax makes good use of the relatively few buttons on the K-r's body. Menu-navigation buttons serve double duty for access to drive mode, ISO, white balance, and flash settings. As usual with Pentax, the flash menu screen lets you change output in addition to flash mode.
Then there's the LCD-based control panel, accessed by pressing the Info button. Its icons let you change any setting you'll need during regular shooting situations, such as sensor-shift image stabilization or AF or metering modes.
Burst shooters, take note: The K-r ups the ante for entry-level cameras with its 6-fps burst shooting. It captures up to 25 JPEGs or 12 RAW shots at that pace.
In our field tests, the AF system did a fine job of keeping up with subjects moving toward or away from the camera, as well as those moving across the frame. Used with the Pentax smc DA* 16-50mm f/2.8 ED AL SDM lens, the K-r matched pace with cars that were obviously exceeding the 35mph speed limit in Manhattan. However, the AF stuttered a bit when we zoomed while bursting with the camera set to focus-priority continuous AF.
When we shot with the same lens in a living room trying to keep up with a toddler, it fared better and we got some nice shots. Given that many people look to step up to a DSLR for just this type of shooting, this is a good sign. Video in the K-r caps out at 1280x720p and uses the non- standard 25-fps frame rate instead of 24 fps. While the footage we shot looked nice in terms of sharpness and color saturation, we would have liked to see 1920x1080p and a standard frame rate. (Of course, newcomers to DSLRs would probably be happier with the no-nonsense ease of camcorders than any DSLR's video experience anyway.)
Live-view shooting was another matter. While the 3-inch, 921,000- dot LCD screen is fixed, the contrast-detection AF was comfortably speedy by DSLR standards. It can't match what you'll get from an interchangeable-lens compact, such as the Olympus Pen E-PL2. The K-r will focus continuously in live view, but, given its sluggish contrast AF, it won't keep up with fast-moving subjects.
Bottom Line
Pentax's K-r is fun to use and has enough resolution for prints as large as most family shooters are likely to want. That it has one more stop of acceptable noise control than Nikon's D3100 and Canon's Rebel T2i adds to its appeal.
If you have older Pentax lenses around from the film era, the K-r will accept them. And the sensor- shift stabilization in the body will work with any lens, unlike Nikon and Canon's lens-based stabilization systems. If you don't have any Pentax lenses, you'll have to weigh whether the extra money the Canon Rebel T2i costs is worth it for perks such as low-light focusing.
If you're considering stepping up from the K-x, the K-r will get you an extra stop of acceptable ISO, plus slightly faster AF overall. Not a bad deal if you ask us.
Specifications:
IMAGING: 12.4MP effective APS-C sized CMOS sensor captures images at 4288×2848 pixels each, with 12 bits/color in RAW.
STORAGE: SD/SDHC stores JPEG, PEF or DNG RAW, and RAW+JPEG files.
BURST RATE: Full-sized JPEGs (Best mode) up to 25 shots at 6 fps; RAW, up to 12 shots at 6 fps.
AF SYSTEM: TTL phase detection with 11 illuminated focus points (9 cross-type); single-shot, continuous with focus priority or fps priority in continuous. Tested sensitivity down to EV –1 (at ISO 100, f/1.4).
SHUTTER SPEEDS: 1/6000 to 30 sec, plus B (1/3-EV increments); shutter life not rated.
METERING: 16-segment TTL metering, evaluative, centerweighted, and spot (percentage of viewfinder not available), EV 1–21.5 (ISO 200, f/1.4).
video: Records at up to 1280×720 at 25 fps in Motion JPEG AVI format; built-in mono microphone, no mic input, no AF in movie mode. ISO RANGE: ISO 200–12,800; expands to ISO 100–25,600 (in 1/3-, 1/2-, or 1-EV increments).
FLASH: Built-in pop-up with autoflash and wireless triggering of optional flash units, GN 40 (ISO 100, feet), covers the field of view of a 18mm lens; flash sync to 1/180 sec.
VIEWFINDER: Fixed eye-level pentamirror.
LCD: Fixed 3-inch TFT with 921,000-dot resolution.
OUTPUT: Hi-Speed USB 2.0, composite video, infrared in/out (IrSimple).
BATTERY: Rechargeable D-LI109 Li-ion, CIPA rating 470 shots.
SIZE/WEIGHT: 4.9×3.8×2.7 in., 1.3 lb with an SD card and battery.
STREET PRICE: $600, body only; $710, with 18–55mm f/3.5–5.6 lens.
INFO: www.pentaximaging.com