Canon 60D Lab Test: Impressive Performance
This mid-level DSLR melds function and form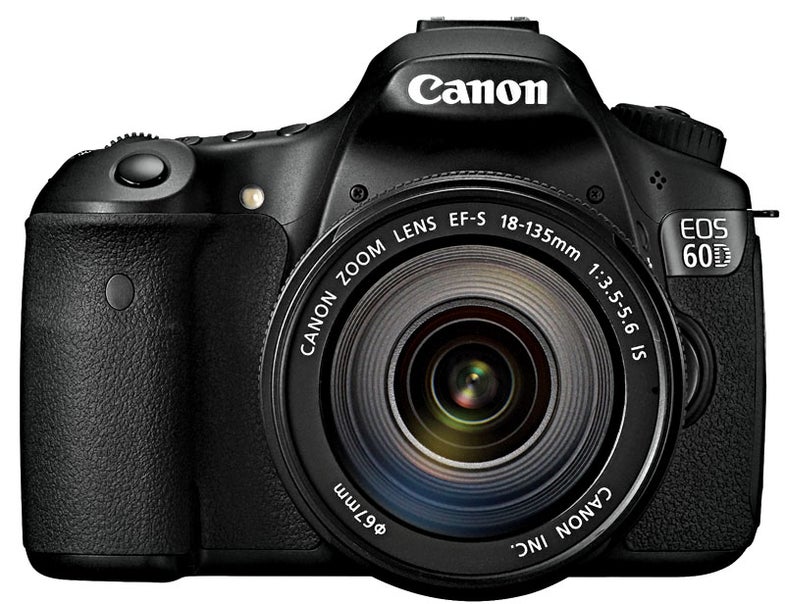 We may earn revenue from the products available on this page and participate in affiliate programs. Learn more ›
A few months ago, we spent several days shooting with a preproduction sample—a not-quite-ready-for-prime- time version—of the Canon 60D ($1,100, street, body only), and described our favorable first impressions in the October 2010 issue of the magazine.
But now that we've been able to see how a full production model performs in the Popular Photography Test Lab, it's clear that this 18MP Canon is going to be a big star.
Canon positions the 60D in a midlevel niche between its consumer-oriented Rebel line and more rugged and pro- oriented 7D. The only truly direct competitor for this successor to the popular 50D is Nikon's new D7000 (Lab test coming soon).
In the Test Lab
In overall image quality, this time around it's Canon's turn to shine, with an Excellent rating from ISO 100 through ISO 800, based on our tests. The Nikon, with a 16.2MP sensor and slightly more noise, scored Extremely High in the same ISO range, just a notch behind.
In our resolution test, the Canon 60D turned in an Excellent 2600 lines per picture height. Plus, it did an admirable job of holding onto that resolution as ISO increased maintaining 2500 lines at ISO 6400 when using the manufacturer's default level of noise reduction in converting 14-bit RAW images into 16-bit TIFFs. At the camera's top sensitivity setting of ISO 12,800, under the same test conditions, resolution dropped to 2330 lines, still enough for an Extremely High rating on our scale.
Color accuracy was a much closer race. Both the Canon and Nikon scored Excellent, with a negligible difference in average Delta E, a measure of color variation.
In noise suppression, the 60D pulled a surprise upset. Canon managed to keep noise lower at its default settings than Nikon did, despite the 60D's extra megapixels. In our test, the 60D scored a Low or better ratings from ISO 100 through ISO 800. It didn't reach an Unacceptable rating until ISO 6400, while the D7000 did so at ISO 3200. In fact, the Canon turned in lower noise results at every ISO the two cameras share, except at ISO 800, where they tied. (The 60D doesn't go past ISO 12,800; the D7000 reaches one more stop to ISO 25,600.)
We do all of our tests using the manufacturer's default setting in its own RAW conversion software. Both the Canon and Nikon RAW conversion software leave plenty of room for extra noise reduction for your images—but you'll likely sacrifice some resolving power.
When it comes to autofocus, the 60D isn't the fastest on the market at the brightest portion of our test—honors there go to the more expensive Olympus E-5 and less costly Sony Alpha 55. It squeaked ahead of the D7000 by just a few hundredths of a second down through EV 4. Once we turned the lights down to EV 2 (think a dimly lit interior), the Canon took a stronger lead, focusing in 0.59 sec versus the Nikon's 0.76.
The gap widened further at EV 1 and EV 0, then narrowed again at EV –1 (like a field lit by the full moon), with both cameras focusing in just under 1 sec. Although Canon rates its system as effective down to just EV –0.5, in our test it managed to focus (in just over 1 sec) in the very dim light of EV –2, where the D7000 couldn't make it.
Sample images in our Hands-On Report
In the Field
While the Canon 60D doesn't break new ground with its body design, it's a pleasure to use. Its dual command wheels make changing settings a breeze. Especially nice is the fact that you can use the rear command wheel to set exposure compensation in aperture- or shutter-priority modes—without having to hold down the exposure comp button at the same time, as you do on the D7000.
At long last, Canon took a cue from Olympus and included a fully articulated LCD screen in the 60D. Presumably, the designers did this to benefit video capture, which delivers very pleasing footage at up to 1920×1080 pixels at 30 frames per second. While it certainly does make shooting video more convenient, we found ourselves just as often moving the monitor around for shooting stills in live-view mode.
The flexibility made it much easier to frame shots of glass-enclosed exhibits in the American Museum of Natural History, for instance: With the front of the lens pressed to the glass to avoid reflections, we ended up looking down at the LCD, as you would when framing with a waist-level reflex camera.
Granted, the contrast AF in live-view mode remains sluggish compared with the phase-detection AF used with the optical viewfinder, but when your subject isn't moving, and you can take some time to compose the image, it works well. We did like Nikon's flip- switch better for entering and exiting live-view mode, and its proximity to the video-record button makes shooting movies a much more seamless experience than with the Canon. On the 60D, you have to enter a special video mode using the mode dial to record video.
Burst shooters should appreciate the 60D's ability to capture up to 58 full-size, highest-quality JPEGs at 5.3 frames per second. That's significantly more than the D7000's 31 shots, though the Nikon captures at 6 fps. When the difference in frame rate is as small as this, we tend to prefer the ability to shoot more images per burst. Typical of cameras in this class, the 60D has plenty of options for customization. You can reverse the direction of the command wheels, and assign the function of numerous buttons to configure the camera to your shooting style. As with the EOS 7D, there's a handy screen that shows you the buttons that you're changing so you don't have to hunt for them when setting up the camera.
Two minor places where the 60D doesn't match the Nikon D7000 are its viewfinder and memory card slot. The Nikon's finder is 100 percent accurate, while the 60D sports a 96% accurate finder. If you've never shot with a 100% accurate finder, then you won't notice the difference, but if you have, or if you are extremely picky about what you place at the edge of your frame and don't like to crop, then you might want to consider the Nikon, or Canon's EOS 7D.
The D7000 also has dual SD card slots. This can come in handy for backups, but isn't as big a deal as the viewfinder.
The Bottom Line
Choosing an advanced DSLR is never easy. If you're already a Canon shooter and wondering whether to upgrade to the 60D, it makes plenty of sense to do so. It surpasses the 50D in most areas, while adding video capture and an articulated screen. If you're trying to choose between the Canon 60D and the Canon D7000, as we said in the Nikon's test, we give the edge to Canon. It has higher resolution, one stop better noise control (and more resolving power to sacrifice if you opt for heavier noise reduction), and can focus in dimmer light than the Nikon. Case closed.
Specifications:
IMAGING: 18MP effective APS-C sized CMOS sensor captures images at 5184×3456 pixels each, with 14 bits/color in RAW.
STORAGE: SD/SDHC/SDXC stores JPEG, CR2 RAW, and RAW+JPEG files.
BURST RATE: Full-sized JPEGs (Fine mode) up to 58 shots at 5.3 fps; RAW, up to 16 shots at 5.3 fps.
AF SYSTEM: TTL phase detection with 9 illuminated focus points (all cross-type); single-shot, continuous with Predictive AI Servo tracking. Tested sensitivity down to EV –2 (at ISO 100, f/1.4).
SHUTTER SPEEDS: 1/8000 to 30 sec, plus B (1/3-EV increments); 100,000-cycle rating.
METERING: 63-zone TTL metering, evaluative, partial (6.5% of finder), centerweighted, and spot (2.8% of finder), EV 1–20 (ISO 100, f/1.4).
VIDEO: Records at up to 1920×1080 at 30fps; or 1280×720 at 60fps in MPEG 4 H.264 MOV format; built-in mono microphone, stereo minijack input.
ISO RANGE: ISO 100–6,400; expands to ISO 12,800 (in 1/3-EV increments).
FLASH: Built-in pop-up with E-TTL II autoflash and wireless triggering of optional flash units, GN 43 (ISO 100, feet), covers the field of view of a 17mm lens; flash sync to 1/250 sec.
VIEWFINDER: Fixed eye-level pentaprism. LCD: 3-inch articulated TFT with 1.04 million-dot resolution.
OUTPUT: Hi-Speed USB 2.0, composite video.
BATTERY: Rechargeable LP-E6 Li-ion, CIPA rating 1100 shots.
SIZE/WEIGHT: 5.7×4.2×3.1 in., 1.7 lb with an SD card and battery.
STREET PRICE: $1,100, body only; $1,400, with 18-135mm lens.
INFO: www.canoneos.com