New Gear: Nikon D7000 DSLR
Nikon found room for a lot of pro-grade features in a $1,200 DSLR.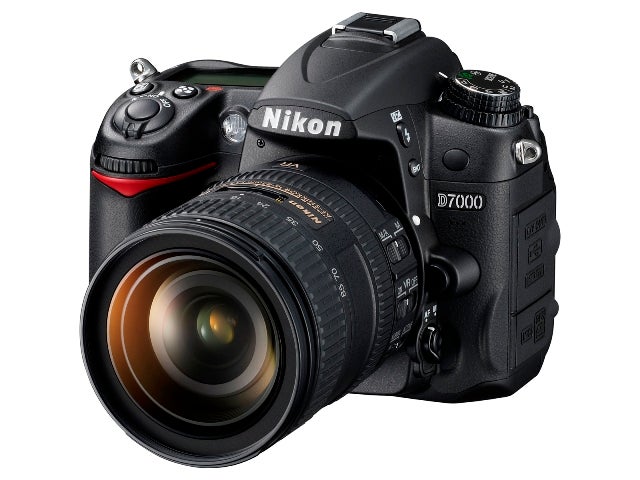 We may earn revenue from the products available on this page and participate in affiliate programs. Learn more ›
Just a few weeks after Canon dropped their EOS 60D on us, Nikon fires back with their new 16.2 megapixel DX-format DSLR.
The D7000 — not to be confused with their recently-announced compact, the P7000 — uses a CMOS sensor and the EXPEED 2 image processing engine, which Nikon claim combine to provide low-light performance that's unmatched with an APS-C sensor. It has a native ISO range of 100-6400, but can be expanded all the way up to 25,600.
Its accompanied by a revamped 39-point AF system with a new 2,016 pixel RGB 3D Matrix Metering system to better handle a wider variety of challenging shooting situations. It uses nine center cross-type sensors and allows shooters to switch between dynamic or single point AF. The Scene Recognition System also dips into a database of more than 30,000 images to optimize focus, exposure and white balance.
Living up to its D90 lineage, the D7000 takes video capture very seriously, cranking up the resolution to 1080p and offering full-time autofocus (which first showed up in the recently-announced D3100) and exposure control. Of course, they have also included the common 24 and 30 fps frame rates and even allow users to make edits to their video inside the camera. In one final gesture to show just how serious they're taking video, Nikon also gave the D7000 a dedicated live view switch and a video record button, which will make life a lot easier for those who switch back and forth from stills to motion capture.
As you'd expect from a Nikon DSLR at this level, the D7000 is built tough, using magnesium-alloy top and rear covers and sealing up the body to prevent dust and moisture from creeping in. That should help it eschew one of the 60D's main criticisms, which comes from the switch to a plastic body.
The rest of the spec sheet is rounded out by a three-inch, 921,000 dot LCD display (sadly, it does not rotate), dual SD card slots and an integrated Speedlight flash that offers coverage for lenses as wide as 16mm. Plus, they claim the battery will go over 1,000 shots on a single charge.
The D7000 will be available starting in mid-October for $1199, making it fierce competition for Canon's 60D. It will also be available as part of a kit with the AF?S DX Zoom?NIKKOR 18?105mm f/3.5?5.6G ED VR lens for $1,499.95.
Frankly, we can't wait to get our hands on one and really put it through its paces. But, full-time AF in video mode is definitely a big deal that could bring even the grumpiest nay-sayers around on DSLR video.