New Gear: Nikon D3200 Is An Entry-Level DSLR With a 24.2-Megapixel Sensor
More processing power, better video capture and a lot more pixels make up Nikon's new entry-level DSLR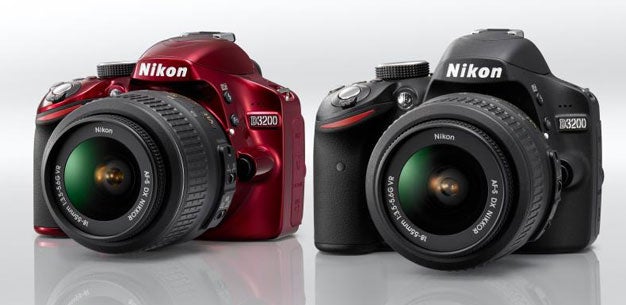 We may earn revenue from the products available on this page and participate in affiliate programs. Learn more ›
When Nikon announced that their D800 DSLR would have a 36.3-megapixel full-frame sensor, it sparked some pretty intense online debates. Now, they've gone and squeezed a 24.2-megapixel DX format (APS-C) sensor into an entry-level body, which is sure to have internet comment sections overflowing.
The D3200 has a more than 10-megapixel advantage over the 14-megapixel D3100 that came before it, but Nikon has done more than just upped the pixel count. They've paired that new sensor with their Expeed 3 processor, which has helped drive the top native ISO setting to 6,400, expandable to 12,800.
The AF system has 11 focus points (one cross type) and uses Nikon's scene recognition system. At top speed, it can pump out 4 full-resolution frames-per-second, which is an awful lot of data for a little camera like this to push. The camera itself doesn't have a built-in AF motor, though, which is common of entry-level Nikon DSLRs. That means it won't have AF functionality with some lenses.
On the video side, the D3200 is capable of shooting 1080p footage in both 24 and 30 fps. It has full-time AF in video mode, manual exposure control when recording and even a microphone input jack, something that was previously missing at the low end of the DSLR totem pole. As a result, the D3200 sounds like an extremely capable little video machine. It makes sense if you think about it, though. One of the biggest barriers for HD video is the massive amounts of data that need to be transferred. The D3200 is already handling those big, 24.2-megapixel stills, so HD video is likely a little easier for its data pipes to handle.
The LCD display on the back of the camera is a familiar 3-inch screen with 921,000 dots of resolution. The D3200 also has a built-in pop-up flash which can be used for i-TTL flash control with a variety of Nikon's SB-series flashes. A nice touch at this level.
Another feature I'm glad to see carried over from the D3100 is the Guide Mode, which helps those just getting into photography learn their way around the camera as well as giving them a basic understanding of how photography works on a fundamental level.
The Camera will be sold as a kit when it starts shipping later this month. It will consist of an 18-55mm VR kit zoom lens and the body in either black or the decidedly flash new red color. It will cost $699, which is about $50 more than the D3100 is currently selling for. We're excited to get it in the lab and see what it can do with all those pixels. That's even more than Canon's new 5D Mark III. Will it pay off?
Nikon also announced the WU-1a wireless adapter, which lets the D3200 connect with smartphones and tablets for just $60. Get all the details on that here.
You can also check out their new 28mm F/1.8G wide angle prime lens here.