Lab Test: Nikon D3100
Nikon overhauls its starter DSLR, a solid choice for shooters on a budget.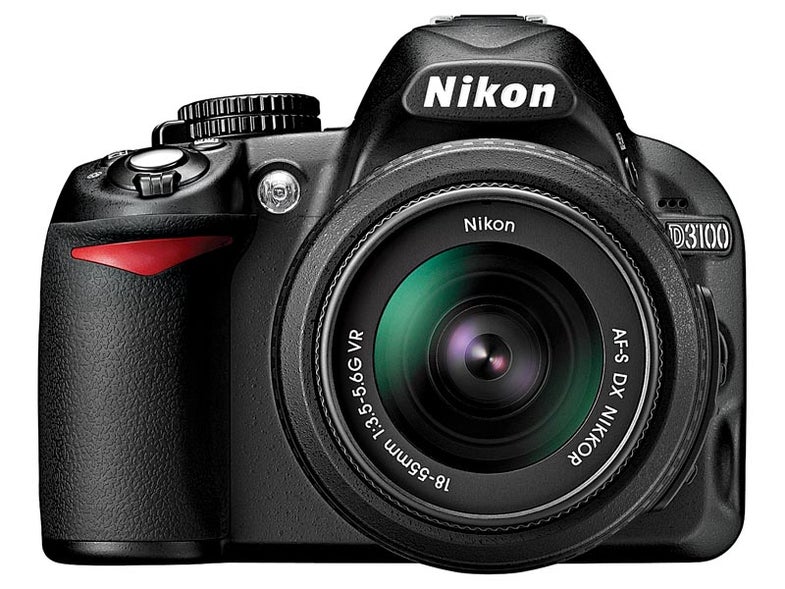 We may earn revenue from the products available on this page and participate in affiliate programs. Learn more ›
It's been a very busy year indeed for Nikon. On top of nine new lenses in 2010, last fall it announced two more camera bodies: the midlevel D7000 and entry-level D3100. The 14.2MP D3100 ($640, street, with 18–55mm f/3.5–5.6 lens) was the first to find its way to the Popular Photography Test Lab—look for our test of the D7000 next month.
In addition to adding live-view still shooting and HD-video recording to this least-expensive Nikon DSLR, the D3100 proved itself in our tests a meaningful upgrade over its predecessor, the less-than-impressive D3000.
In the Test Lab
To add live view and HD video to the D3100, Nikon switched to a CMOS sensor from the CCD of the D3000 for better control of overheating. This also raised the pixel count to 14.2MP from the D3000's 10.2MP. In our resolution test, those extra pixels amounted to an additional 250 lines per picture height of resolving power for a total of 2350, enough to earn an Extremely High rating.
Colors proved wonderfully accurate with the D3100—its average Delta E of 6.1 was more than enough to garner an Excellent rating.
Another benefit of a CMOS sensor is the ability to push the camera's sensitivity higher while keeping noise relatively low. While its predecessor topped out at ISO 3200, the D3100 goes 2 full stops farther, for a top sensitivity of ISO 12,800. At the same time, Nikon managed to keep noise to a Low or better rating all the way up to ISO 800, compared to ISO 200 with the D3000.
Also, while noise reached Unacceptable levels at ISO 3200 and ISO 6400, both of those settings proved significantly less noisy than the D3000 was at ISO 3200. The noise was often less distracting since the luminance noise was less pronounced than the color noise at high ISOs. So, if you're planning on using images online, or printed at small sizes, you may find ISO 3200 passable, depending on the subject matter of your shots.
One area that didn't see improvement is the D3100's autofocus. Using the same 11-point Nikon Multi-CAM 1000 AF system as its predecessor, we saw, unsurprisingly, nearly identical results in our AF test. With an AF-S Nikkor 50mm f/1.4G lens attached, the D3100 took 0.50 sec to lock focus and capture an image at the brightest light level in our test. That's about 0.2 sec slower than the Sony A390 or the Pentax K-x, and about 0.10 sec slower than Canon's EOS Rebel T2i. If forced to choose, we'd take image quality over AF speed, but we hope Nikon speeds AF up in the next iteration of its entry-level line.
**
In the Field**
Quibbles aside, we very much enjoyed using the D3100. Like any entry-level body, it's small. There's a good chance your pinky will dangle or tuck below the grip, something that won't concern too many buyers. The grip is also well designed, with a prominent ridge for your middle finger just below the shutter button. Around back, there's a rubber-clad, contoured area for your thumb.
Taking a hint from Panasonic's G-series cameras, perhaps, the D3100 has a four-way switch for drive mode next to the main mode dial.
Meanwhile, exposure compensation and info buttons find their place behind the shutter button. Most other functions are controlled through the LCD, though Nikon's control screen makes changing settings fairly fast.
Press the "i" button on the bottom left of the camera back and you can navigate through the screen to whatever you want to change. Once you learn where each of the settings is located on the screen, you'll be changing settings in a flash. It would have been nice if Nikon had let the four-way navigation pad double as a quick access to some controls, however.
You can assign one of four settings to the Function button, but we preferred the default setting of ISO during our field testing. An out-of-the-ordinary place for the ISO control, yes, but we were glad that there was a dedicated button available for this essential setting.
Video and Other Features
One of the best things Nikon gave the D3100 is the flip switch on the camera back to enter live-view and video-shooting modes. It surrounds the dedicated video button, which is adorned with a red dot, something of a universal indicator for video start buttons these days. With such an easily accessible switch, we found ourselves entering live view much more frequently.
Unfortunately, focusing remains a clunky affair in live view—though that can be said of any conventional DSLR, save the Sony Alphas. The upside is that the contrast-detection AF in live view is faster than it was in the D3000, though still not as fast as the contrast AF in most ILC cameras. And continuous AF in video mode isn't fast enough to be useful.
If you can deal with manual focusing, the video you get from the D3100 can be quite nice and will rival many consumer-grade HD camcorders. But, Nikon limits the 1920x1080p recording to 24 frames per second, while rivals such as Canon offer 30 fps at the same pixel resolution. If you need the faster 30 fps, you can step down the D3100's pixel count to 1280x720p.
If you're new to DSLRs and want some help with practicing your manual focusing, the D3100 has a nice feature Nikon calls the Electronic Rangefinder. You have to enable it in the Setup menu, but once you do, it basically acts as a focus confirmation while in manual-focus mode. You select one of the 11 focus points with the control pad, then the exposure compensation scale in the viewfinder lets you know how far off you are from proper focus. As soon as you've zeroed in, a green dot lights up in the finder.
Another nice feature for beginners is the info screen itself, which depicts aperture blades that open and close when you use the controls to change the f-number. This may seem like a simple thing, but it's a great reminder that lower f-numbers mean a larger aperture, which lets more light pass through to the sensor.
The Bottom Line
Considering that you can get the D3100 for $250 less than Canon's Rebel T2i, the D3100 stacks up well against that top dog of the entry level. Sure, it trails the Canon a bit in resolution and focusing speed, especially in dim light. But the D3100 has even more accurate colors than the Canon and basically matches it in noise performance.
With more resolving power, a higher top sensitivity, and a compelling price, the D3100 beats out most of the rest of the competition. If you have been looking to enter the Nikon system, but want to stick to a tight budget, now might be the time for you.
Specifications:
IMAGING: 14.2MP effective, APS-C sized CMOS sensor captures images at 4608×3072 pixels with 12 bits/color in RAW.
STORAGE: SD/SDHC/SDXC stores JPEG, NEF RAW, and RAW + JPEG files.
VIDEO: Up to 1920x1080p, 24 fps or 1280x720p, 30 fps, MOV H.264 format files; built-in mono mic, no mic input, contrast-detection AF with continuous and subject tracking modes.
BURST RATE: Full-sized JPEGs (Fine mode), up to 100 shots at 3 fps; RAW, up to 13 shots at 3 fps; RAW + JPEG, up to 9 shots at 3 fps.
AF SYSTEM: TTL phase detection with 11 illuminated focus points (single center cross-type); single-shot and continuous AF with 3D predictive tracking. Tested sensitivity down to EV –1 (at ISO 100, f/1.4).
LIVE VIEW AF: TTL contrast detection.
SHUTTER SPEEDS: 1/4000 to 30 sec, plus B (1/3-EV increments); 100,000-cycle rating.
METERING: 420-pixel RGB sensor TTL metering, evaluative, centerweighted, and spot (approx. 2.5% of frame), EV 0–20 (ISO 100).
ISO RANGE: ISO 100–12,800 (in 1/3-EV increments).
FLASH: Built-in pop-up with i-TTL autoflash, GN 39 (ISO 100, feet); flash sync to 1/200 sec.
VIEWFINDER: Fixed eye-level pentamirror.
LCD: 3-inch TFT with 230,000-dot resolution.
OUTPUT: Hi-Speed USB 2.0, mini-HDMI video, composite video, remote/GPS jack.
BATTERY: Rechargeable EN-EL14 Li-ion, CIPA rating 550 shots.
SIZE/WEIGHT: 4.9×3.8×2.9 in., 1.1 lb with an SD card and battery.
STREET PRICE: $640, with 18–55mm f/3.5–5.6 VR lens; $1,100, with 18–55mm f/3.5–5.6 VR and 55–300mm f/4.5–5.6 VR lenses.