New Gear: Canon EOS 5D Mark III
The long-awaited follow-up to one of Canon's most popular DSLRs ever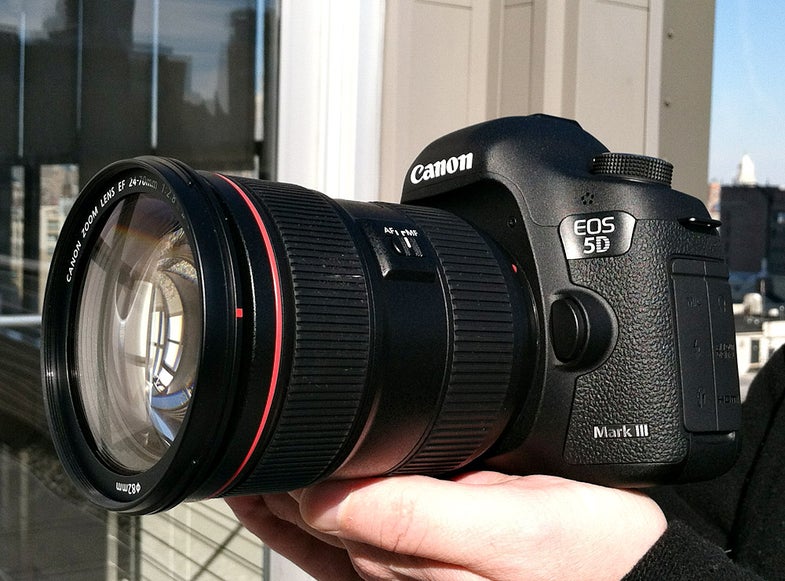 We may earn revenue from the products available on this page and participate in affiliate programs. Learn more ›
When Nikon recently announced its D800 multimedia-machine DSLR, the internet was already abuzz with folks wondering how Canon would fire back. That follow up comes today in the form of the full-frame Canon 5D Mark III.
On the photography front, the most notable improvement is the completely redesigned autofocus system. The Mark III offers 61 AF points, 41 of which are crosstype. That's a huge upgrade from the nine total points offered by the 5D Mark II for which AF performance may have been its biggest detractor. That also bests Nikon's D800, which has 51 total AF points, 15 of which are crosstype, and five which are double crosstype. The final number of points you have access to with either of those cameras when shooting ultimately depends on the maximum aperture of the lens attached. It also offers six different autofocusing modes, compared to 2 on the Mark II and the AF modes have been made much more prominent in the menus to make navigating them much faster.
The Mark III checks in at 22.3-megapixels which is only a modest hop from the Mark II's 21.1, but the sensor has received a complete overhaul. Gapless micro lenses, similar to those found on the sensor of the Canon 1D X, channel light into the photo diodes much more efficiently. As a result, the new sensor, according to Canon, offers nearly two additional stops of noise reduction in JPEG shooting at higher ISO's compared to the Mark II. To compound the effect, Canon also incorporated "on chip noise reduction," into its sensors, killing off potential noise before information even hits the Digic 5+ processor.
Canon employs their latest, greatest Digic 5+ chip to handle the Mark III's image processing, which they claim to be 17x faster than the Digic 4 processor found in the Mark II, and 30% faster than the ordinary Digic 5 processor. This helps bring the Mark III's burst capabilities up to 6 fps, compared to 3.9 fps on the Mark II. That's also two better than the 4 FPS max (without the battery grip) offered by Nikon's D800.
Metering is handled by a 63-zone (up from 35 in the Mark II), dual-layer metering system they've dubbed iFCL. It stands for Focus, Color, Luminance, and it uses information from the AF points to help provide more accurate and consistent exposures. Canon also shrunk the size of its spotmeter point, which now comprises just 1.5% of the sensor, compared to the 3% meter on the Mark II.
The Mark III's native ISO range of 100 to 25600 is expandable, when shooting stills, all the way up to 102,400 (two stops higher than the D800) and down to 50. When switched over to video mode there's a hard-stop at 25,600, same as its predecessor.
Expanding on the video capabilities, some folks will no doubt be slightly disappointed to see that 1080p capture is still capped at 30 fps rather than the smoother 60 fps frame rate. There are some notable video upgrades though, including an external microphone jack and a headphone jack, which film makers have been craving for years. Maximum clip time has been jacked up to about 30 minutes (up from 12 in the Mark II) and you can now manually control audio levels during video recording.
While the video upgrades aren't exactly monumental, Canon already has a rather large segment of the HDSLR market, so fixing a few long-standing gripes from users might be enough to keep users firmly entrenched in the Canon camp.
From a design standpoint, the Mark III takes more than a few pages out of the 7D's book. In fact, the top of the camera is exactly identical, with the exception of a locking mode dial (first made standard on the 60D). Mark II upgraders will have to get used to the on/off switch moving to directly below the mode dial. The backside of the camera also looks strikingly similar to the 7D. The Liveview button has moved to the top right portion on the back of the camera. Canon also incorporated a "Creative Photo Button," and a "Photo Rating Button," which saves on-the-fly star ratings in an image's metadata. You'll likely use the latter much more often than the former.
Other physical upgrades include a slightly larger 3.2" 1.4 million dot LCD (compared to the 3" LCD found on the Mark II). It's nice, but we were a bit surprised not to see a Vari-Angle screen on a machine with so much video firepower. Viewfinder coverage has also been nudged up to 100% as it is in the 7D. Canon placed great emphasis on improving weather seals on the Mark III body, and while its not quite as water and dust resistant as the 1D X, its ability to survive the elements definitely surpasses the Mark II.
One simple, but crucial inclusion is that of a secondary card slot, giving it one CF and one SD. While most cameras with two slots allow users to split RAW and JPEG files on individual cards, Mark III users can take it even further, splitting two different size JPEG's or two different size RAW files. Speaking of which, the Mark III offers three different RAW file sizes including RAW (which is 22.1 MP), M-RAW (10.5 MP) and S-RAW (5.5 MP).
A newly redesigned shutter cuts lag time down to 59 milliseconds, compared to 75-millisecond lag time on the Mark II. Other new features include a "Silent Continuous Shooting Mode," which we witnessed in person, and are pretty impressed with. When in this mode, the burst rate is cut down to 3 seconds, however the decrease in shutter noise is very noticeable.
Set to ship late March, the 5D Mark III will run you $3500 for body only, or $4300 for the body and a 24-105 F4L IS lens. That makes it a full $500 more expensive than than the D800, which might make a significant difference. Needless to say, we're excited to get the new camera in the lab and see just how much improvement Canon has made.
Canon has also released a few new accessories for the 5D Mark III. Here's a quick rundown:
****Wireless File Transmitter WFT-E7A $849.99****
Plug it into the camera's USB port and it'll hop onto a WiFi network. From there, you can use it to transfer files and syncrhonize multiples cameras shooting at the same time. It also has built-in Bluetooth connectivity.
GP-E2 GPS Receiver $390
A pretty standard GPS tagging dongle tracks capture locations as well as universal time code. It also tracks camera movement and uses a compass to record the direction the camera is pointing when the shutter is fired.
BG-E11 Battery Grip $490
The 5D Mark III's battery grip accepts two LP-E6 batteries and has a new multicontroller and M. Fn button in addition to a full set of grip controls. Like the camera body, it's made from magnesium alloy and shares the same burly weatherproofing.