New Gear: Retro-Styled Pentax K-01 Interchangeable-Lens Compact Has an APS-C Sensor, K-Mount
Don't worry, it also comes in black and white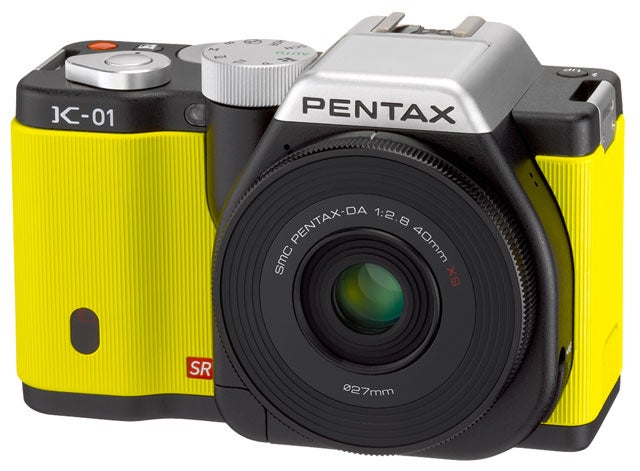 We may earn revenue from the products available on this page and participate in affiliate programs. Learn more ›
When it comes to making interesting — and sometimes downright wacky — looking cameras, Pentax has been at the forefront for some time now. But, their new ILC gets its looks from the brain of renowned designer and artist, Marc Newsom. The result is something pretty unique, especially if you opt for the day-glo yellow colorway. Don't worry, it also comes in black and white.
Inside its machined aluminum frame is a 16.3-megapxiel CMOS sensor with sensor-shift shake reduction, similar to what was in the excellent K-5 DSLR. It also works with all K-mount lenses, so if you're already in the Pentax system, you can move to the K-01 pretty seamlessly.
The display is a 3-inch, 920K dot LCD and the pop-up flash has a guide number of 12m (ISO 100). ISO range is expandable to 25,600 and it can hit 6 FPS if you're shooting in high-speed JPEG mode. Video capture isn't too shabby either. It can do 1080p at 30 fps, but if you're willing to drop to 720p, you can get 60 fps, which is noticeably superior for shooting action or if you want slow-motion.
Now, to the price. When the K-01 arrives in March, it'll command $749 for the body, or $899 when coupled with the new 40mm XS pancake lens (more on that below). That's actually pretty competitive, especially when you consider that it will work with the 25 million+ K-mount Pentax lenses that are already out there without an adapter, which is definitely a bit of an advantage over the Sony NEX line and even the Nikon 1 series.
What will be interesting is to see how a camera like this competes against the seemingly growing segment of super-advanced compacts with integrated lenses like the Fujifilm X-series and Canon's upcoming G1 X. With the kit lens, the K-01 is only $100 more expensive than the latter and it gets you a full-on camera system with an APS-C sensor.
Of course, that price also means that you'll give up certain desirable features. For instance, the K-01 is completely devoid of an integrated viewfinder, so eye-level composition is out, which will likely be a deal-breaker for some.
As for the new lens, it's the Pentax-DA 40mm F/2.8 XS pancake. Pentax is claiming that it's the world's thinnest, measuring just .36-inches thick. That's actually probably thinner than some actual pancakes, depending on what diner you frequent. It focuses as close as 16-inches, has a Super Protect coating, and has an effective focal length of 61mm on an APS-C sensor. And, because it's plain old K-mount, it'll work on your current Pentax DSLRs as well.
Look for a hands-on when we get one to play with and then a full test report as soon as we get it in the lab.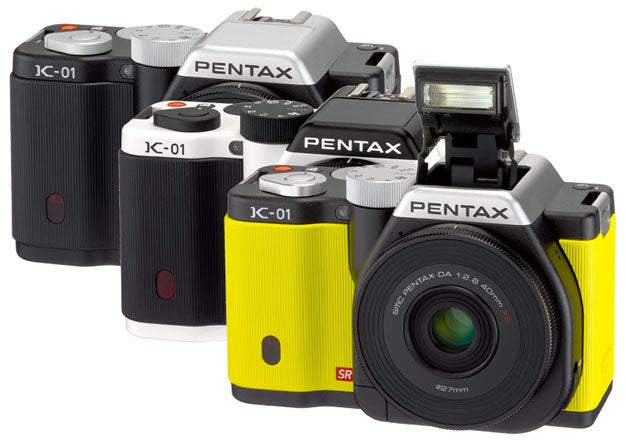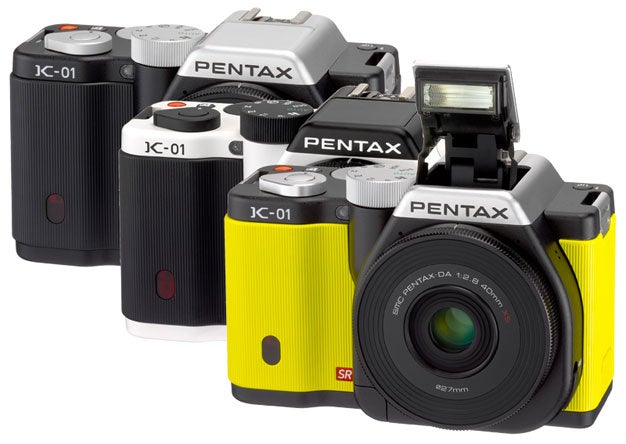 Pentax K-01 Group