Popular Photography 2011 Camera of the Year: Sony NEX-7
Sony rewrite the rules with an extremely capable interchangeable lens compact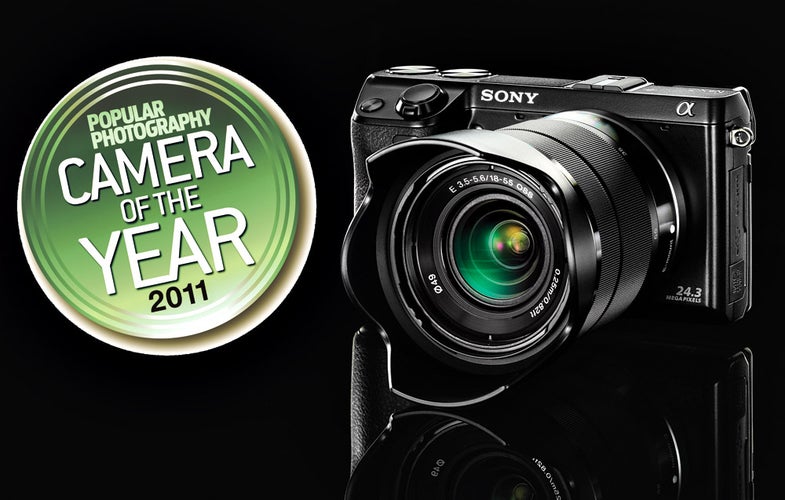 We may earn revenue from the products available on this page and participate in affiliate programs. Learn more ›
We were wondering when an interchangeable-lens compact would fully meet our expectations for this still-new class of camera. That day arrived with the release of the Sony NEX-7. Here's why we've named it our 2011 Camera of the Year, our award for the model that best refined or redefined photography this year.
Camera makers customarily follow a set sequence during product introduction sessions: The big gun comes out first, followed by cameras lower in the line, followed by lenses, then accessories, usually ending with branded cases and the like.
But there was something about the Cheshire Cat grin worn by Mark Weir, Sony's senior manager of technology, that told us that this time the last piece out of the sack would be more than a new neckstrap.
It was the Sony NEX-7. We knew right away that this was something special just from the looks of it—from the solid, metal-clad body, to the substantial, ergonomic grip, to the numerous control dials and buttons. And a rectangle on the back that looked suspiciously like a rangefinder eyepiece.
Then came the specs: A 24.3MP CMOS APS-C sensor, the same type used in the Alpha 77. A tilting, 3-inch 921,600-dot LCD screen. 1920x1080p60 HD video capture. Plus the usual Sony bag of tricks, like Sweep Panorama and Handheld Twilight modes.
But the true game-changer was that viewfinder. It turns out that the eyepiece houses the same OLED electronic viewfinder used in the A77, making the NEX-7 the first rangefinder-style ILC with an integral, through-the-lens EVF. And, as you may recall from our test reports on both this camera and the A77, it's a doozy of a finder—fine-grained, crystal clear, with very fast redraw.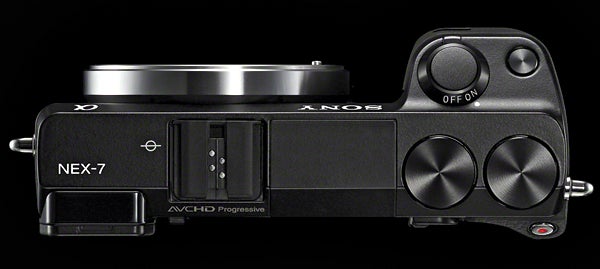 Some perspective: When ILCs first hit the scene, they were more exciting for their potential than for the reality—the first Sony NEX models were no exceptions. Sure, in the past three years we've seen innovative designs and very fine imaging performance in many of these cameras, but there always seemed to be drawbacks.
One of the biggest issues has been the viewfinder. For ILCs to have comparable utility to DSLRs, they need eye-level viewing in addition to the LCD screen. But rangefinder-style ILCs up until now have not been designed with integral viewfinders; for eye-level viewing, you need to slap on an accessory optical or electronic finder. True, the DSLR-style ILCs—the type pioneered by Panasonic—have integral EVFs, but these are bulkier than rangefinder-style models, and their EVFs have been of average quality. In particular, they are poor for following action or panning.
That's where Sony stepped in with a piece of new EVF technology, the organic light-emitting diode (OLED). These devices provide better color and contrast than LCDs, as well as wider viewing angles. Plus, they use less battery power. With the NEX-7 and A77, Sony becomes the first manufacturer to use this type of screen in a viewfinder rather than for the back monitor.
It helps that the Sony EVF has lots of dots—more than 2.4 million. And in an OLED, each dot provides red, green, and blue information, as opposed to LCDs, in which each dot produces only a single color. It makes for clarity and smoothness in the viewfinder image, which can be mistaken for a good optical viewfinder. The illusion continues when you pan the camera; the image slides across the frame smoothly.
To be named Camera of the Year, a model has to refine or redefine photography—and the NEX-7 does both, plus a lot more. It proved a top performer in the Popular Photography Test Lab and in the field.
With Excellent resolution (2740 lines), impressive noise suppression (Low or better noise through ISO 1600), and Excellent color accuracy, the NEX-7 aced our lab tests for an Excellent overall image quality rating.
In the field, our testers took home many crisp and colorful images, and raved about the handling and controls of the camera. You know how we're always grumping about cameras with only one command wheel instead of two? Well, the NEX-7 has three. If this sounds confusing, it isn't, as Sony assigns control functions according to a logical tree. For example, in aperture-priority autoexposure, the two top dials control f-stop and exposure compensation, while the lower dial sets ISO. As you make these adjustments, all settings can be seen in the viewfinder as well as on the LCD.
The camera is full of nice touches. Enthusiasts will appreciate the Sony/Minolta-type hotshoe, in which you can mount an optional adapter that provides a sync terminal. Photographers and video fans alike will appreciate the tilting LCD screen, which is so slim when folded that at first we thought it was a fixed screen.
As this is Pop Photo, you know we have some gripes. While the autofocus is quite fast for a contrast-detection system, it's still nowhere near the gotcha! speed of the Alpha models' phase detection. During very fast panning, the EVF can get a little jittery. And burst shooting with continuous AF and AE is a wimpy 3 fps. You can get 10 fps in Speed Priority mode, but you lose continuous AF and AE, and the camera will run out of gas at 17 JPEGs. In fairness, though, the NEX-7 is more suited to urban, candid, portrait, and travel photography than sports shooting.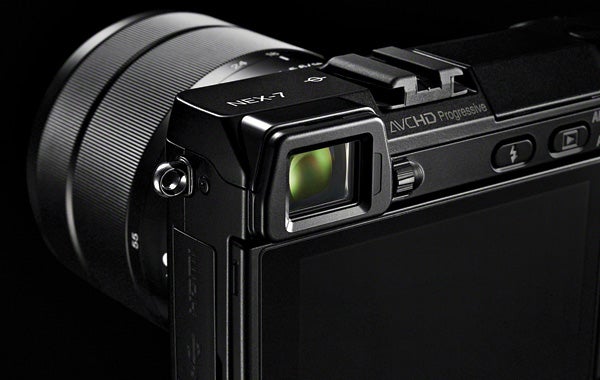 Lens selection is also a concern, especially for enthusiasts. Sony needs to add more to the NEX lens line, which now numbers seven. There is a big hole in the ultrawide range, 10mm to 14mm, focal lengths that scale up to 15mm to 21mm in full-frame equivalents. We hope that Sony will make some small primes in this range, as they would be better suited to the NEX-7 body—you have to admit big zooms look a little ridiculous on this petite camera.
But to use this model for any length of time is to adore it. The NEX-7 is pretty much exactly the ideal we envisioned when consumer photography began going digital: a compact camera with interchangeable lenses, viewing by way of direct feed from the sensor to a built-in, high-resolution finder, producing top-notch image quality. It's here.
The Runners-Up:
Canon T3i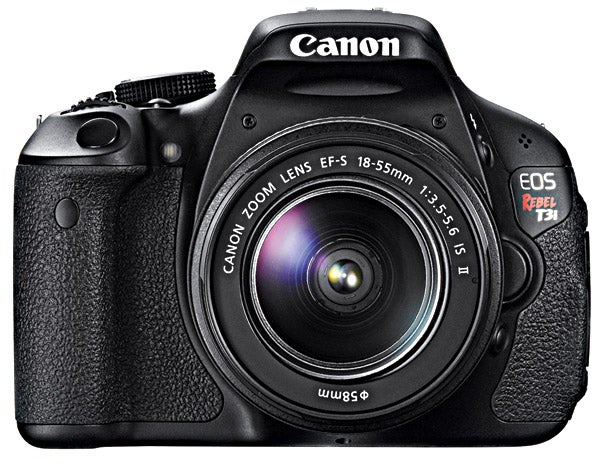 Canon has packed just about every feature of midlevel EOS cameras into this Rebel: 18MP sensor, 1920x1080p60 video, wireless control of TTL flash, tilt/swivel LCD screen, and so on. But while the T3i represents a certain refinement of the Rebel line, it doesn't radically redefine the photography experience, as does the Sony NEX- 7.
FujiFilm X100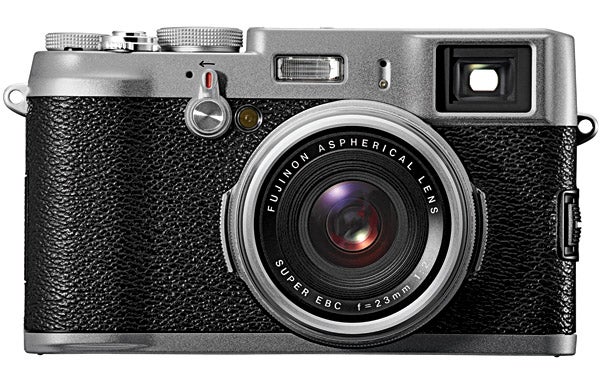 The first fixed-lens compact camera to get serious consideration for Camera of the Year honors, the X100 wowed us with its built-in, switchable EVF/optical finder, great imaging, elegant aesthetics, and easy-to-use retro controls. But in the end, not being able to change the lens took it out of contention.
Sony A77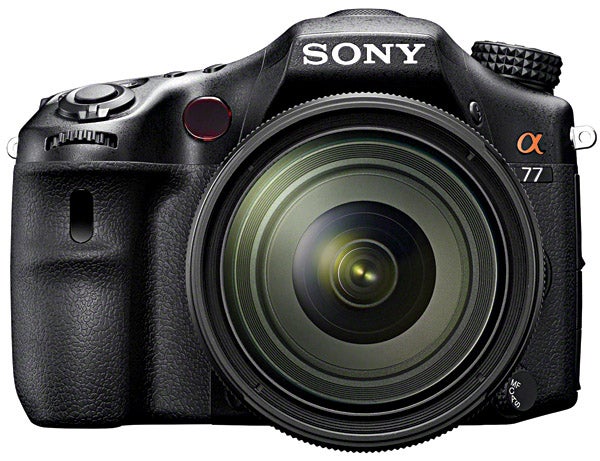 When all is said and done, Sony's own Alpha 77 was probably the top competition for this award. This speed-shooting fixed-mirror DSLR builds mightily on the groundbreaking A55 with that super OLED finder, Excellent-level imaging, and heavy-duty construction. But the NEX-7 was 2011's real game-changer.