Camera Test: Sony's A77 Is The New King of APS-C DSLRs
The other guys should be worried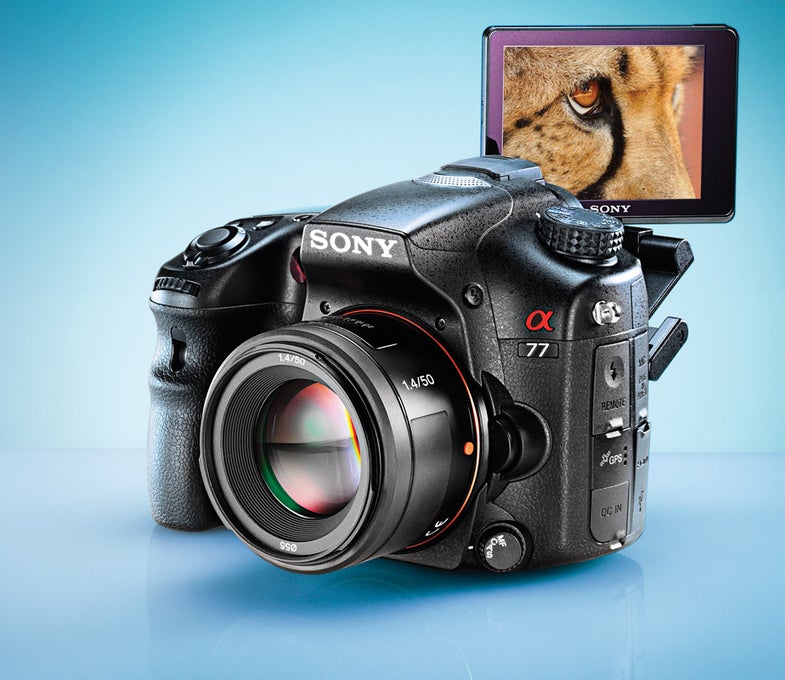 We may earn revenue from the products available on this page and participate in affiliate programs. Learn more ›
When we named Sony's Alpha 55 Camera of the Year last year, we didn't expect that the company would come along with a model like the new Alpha 77. In addition to the benefits we loved in the A55, such as full-time phase-detection autofocus even when recording video, Sony has added a slew of features for this flagship fixed-mirror DSLR. With all of this new technology, we were eager to get it into the Popular Photography Test Lab. Now that we have, we can tell you that the results should make Canon and Nikon worry.
The A77 sports a new 24.3MP Exmor APS-C sized sensor, the world's first OLED electronic viewfinder in a DSLR, and a 3-inch 921,600-dot LCD monitor that flips down and swivels — mounted on an armature that lets it extend away from the body and rise up, so that you can face it forward for self-portraits. Oh, and it also includes all the whiz-bang features that Sony has been building into all of its cameras lately, such as Auto HDR, which combines three shots of different exposures to expand the dynamic range of the resulting image; Handheld Twilight, which combines six low-light shots in order to reduce noise; and Sweep Panorama, which stitches together slivers of many exposures for a super-wide panorama.
The price for all of this? Body only, the A77 sells for $1,400. That's about $200 less than Canon's EOS 7D and Nikon's D300s.
IN THE LAB
The A77 earned an overall image-quality rating of Excellent from its lowest sensitivity of ISO 50 through ISO 400. At the heart of this assessment is the camera's Excellent rating in our resolution test, where it turned in 2770 lines per picture height. Compare that with the 18MP Canon 7D's 2610 lines or the 12.3MP Nikon D300s's 2340 lines, both at their lowest ISO settings of ISO 100.
Given that the Sony has so many more pixels than either of those cameras, you'd be right to expect even more resolving power, but Sony usually doesn't push hard to boost resolution. The A77 does hold a lot of its resolving power as ISO rises, though. At ISO 400, it barely dropped to 2720, while at ISO 1600 it held at 2620 lines. At its top sensitivity of ISO 16,000, where noise was quite high, resolution dropped significantly to 2060 lines. Interestingly, images at that ISO are still easily usable if printed at small sizes.
In our noise test, the A77 maintained a Low or better rating up to ISO 400 and retained acceptable noise ratings up through ISO 1600. That might not sound like much, but note that the Canon 7D's noise also exceeded a Low rating above ISO 400, while Nikon's D300s eked out one more stop, up to ISO 800. The Nikon also became Unacceptable above ISO 1600, but the Canon didn't reach Unacceptable territory until ISO 12,800. That's the main advantage the 7D can claim over A77.
Color accuracy is Excellent in the Sony with an average Delta E of 7.2. That's essentially equal to the Canon's 7.0 and also very close to Nikon's 6.8.
Despite the likelihood that most people will pay more attention to the A77's other features, its autofocus is what really stood out the most in our lab tests. It focused in a mere 0.24 sec at the brightest part of the test and remained under 0.3 sec down to EV 8. At EV 2, which is dimmer than most people's living rooms, the A77 focus in 0.51 sec. And at EV -1, the lowest light level for which the AF system is rated, the camera was able to focus in 0.98 sec.
How does that compare? The EOS 7D was able to focus at EV -2, but at all other light levels in our test, it was slower than the Sony. Nikon's D300s was able to focus in 0.93 sec at EV -1, but as with the Canon, Sony's A77 proved faster at all other light levels.
Then there's the image stabilization. Since the A77 shifts the sensor to combat hand shake, it's effective with any lens you mount on the camera. Canon and Nikon both use lens-based IS, which means that you have to buy special lenses to get the benefit of stabilization. In our lab, the A77's shifting sensor was able to provide our test shooters with an average of 2.5 stops of handholding leeway.
IN THE FIELD
The A77 is the best-designed transmissive-mirror body Sony has made to date. The grip is long enough to fit all of your fingers comfortably, and contoured to allow a solid handle on the camera. Hard buttons abound for quick access to essential functions, and most are logically placed. The joystick control on back provides a nice way to set focusing points and navigate through the menus, while taking up significantly less real estate on the back of the camera. Meanwhile, a pair of command wheels make quick work of changing shutter speed and aperture, as is appropriate for a camera of this class.
If we have one complaint about the control layout, it's that the movie recording button is a bit far from the designated resting place for your thumb. It would make more sense to us to put the movie button where the autoexposure lock (AEL) button is, move that to where the AF/MF button is, and move the AF/MF button, which can be assigned to any of the 28 different functions, to the movie button's current location. Then both the movie and AEL buttons would be more readily accessible.
The main menus are well-defined with icons, though it's funny that the memory-card icon remains in the shape of old-style Memory Sticks. The Function button allows access to the most commonly used settings that run down the sides of the LCD screen. One of the nicer things Sony has done is to let you jump directly across the screen for faster navigation. Also, in the submenus, if an item can be adjusted, such as the level of Auto HDR effect, you can use the left and right directions of the joystick to set those without having to dive into the main menus. This all combines into one of the most thoughtfully designed non-touchscreen interfaces we've seen to date.
The system's biggest drawback is that, at times during our field testing, it was a tad sluggish to move from one screen to the next or for some control changes to take effect. We imagine that further firmware upgrades will smooth this out.
As mentioned earlier, the A77's EVF is one of the most amazing things you'll find in this camera, and is also likely to be one of the more controversial. We were well aware that we weren't shooting with an optical finder, and this feeling didn't go away even with extensive field testing. However, the EVF is of such high resolution (thanks, in part, to each dot creating mixtures of red, green, and blue rather than requiring separate RGB dots, as LCDs do) that the experience was just as pleasing as shooting with an optical finder, though each technology has its own advantages.
The main problem we saw with the EVF compared with an optical finder is that the EVF isn't always on. If it were, it would be a major drain on the battery, so it makes sense that the sensor near the finder activates it when you raise the camera to your eye. However, there were times that the sensor was inadvertently tripped while we wanted to change settings using the LCD. At other times, the EVF took too long to turn on, and we were left waiting before we could frame our shot. This didn't happen often, but the few times it did happen left us a bit annoyed.
Burst shooters should be pleased with the A77's capabilities. It has a 12-fps mode for really fast bursts, but in that setting your lens won't stop down — you'll have to shoot at the lens's maximum aperture. This shouldn't be a problem for sports photographers, who routinely shoot at maximum aperture for faster shutter speeds.
If you want smaller apertures, the A77's regular continuous-drive mode can shoot at up to 8 frames per second (same as Canon's 7D, and Nikon's D300s when the vertical grip is attached). And the camera's subject-tracking AF does an exemplary job of keeping up with moving subjects, partially due to the fact that the mirror doesn't flip up and down, interrupting the AF signal. No matter what burst mode you're in, the buffer will hold up to 11 RAW + JPEG shots, or 13 RAW or full-sized extra-fine JPEG shots per burst. Both the Canon and Nikon shoot more per burst, especially for JPEGs.
Video shooters should be pleased with the footage from the A77, which can shoot at up to 60-fps at 1920x1080p, the new limit of the AVCHD format. As with Sony's other transmissive mirror cameras, the A77 has fast phase-detection AF even as you record video, putting it ahead of any other video-capable DSLR.
BOTTOM LINE
Sony has, once again, radically changed the world of DSLRs with its A77. Plus, it has done so without compromises in the shooting experience or in image quality. The A77 now reigns supreme over APS-C format DSLRs. Neither Canon's EOS 7D nor Nikon's D300s can match the A77's AF speed or resolution. While the Canon 7D does beat the A77 in its noise performance and holds more resolution at the highest ISOs, the A77 ultimately beats it for the overall package, including the video-shooting experience and the versatility of the articulated LCD.
Seasoned photographers with extensive lens collections will likely have a hard time deciding if they should switch to Sony, especially if they've taken up video seriously. If this describes you, we'd advise you wait and see how Canon and Nikon react to the A77 before making up your mind.
We have to admit that we see this as a serious shakeup in the camera industry. For the first time, a camera without an optical finder can deliver the level of performance that we've all come to expect from an eye-level framing device. Furthermore, you can use it to shoot video, change menu settings, and overlay a variety of gridlines, even a leveling indicator.
Add to that that the A77 can match the burst capabilities of its competitors, while offering a limited 12-fps burst mode. Plus, the camera has the best automatic panorama stitching we've seen, and the Handheld Twilight mode significantly reduces noise in low-light images of still subjects.
For years now Sony has been merging its consumer electronics expertise with the DSLR-making knowledge it acquired with its purchase of Konica Minolta. Up until this time, it has paid off chiefly in terms of fancy features such as Auto HDR and Sweep Panorama. But with the A77, we finally get to see Sony's combined expertise change the way we shoot.