2010 Camera of the Year: Sony A55
The decision of our editors was unanimous: It could only be Sony's unique take on the single-lens reflex.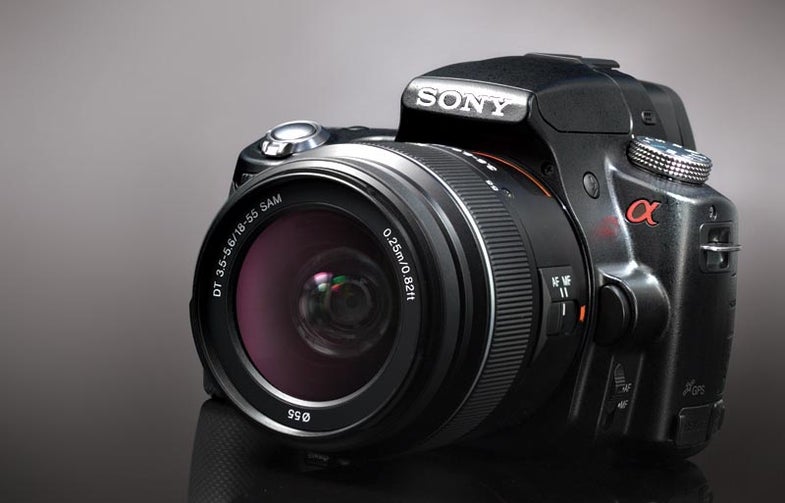 We may earn revenue from the products available on this page and participate in affiliate programs. Learn more ›
A really good measure of the strength of a technology company is how well it does things that can't be done.
Sony, confronted with a vexing glitch of DSLR video, dipped into a bag of old and new tricks to come up with a remarkably simple solution. Along the way, it invented essentially a new type of camera, one for which we don't quite have a name yet. What we can call it is the Alpha 55, and the Camera of the Year for 2010.
The A55 views through the lens and has a reflex mirror, so it could be considered a single-lens reflex. But what you see in the eyepiece is an electronic viewfinder, rather like an interchangeable-lens compact—though bigger.
The reasoning behind this hybrid? When DSLR makers added video capture to their cameras, they ran into a little problem with that reflex mirror. In modern cameras, the mirror does more than just bounce the image up into a prism viewfinder. It also directs the image into a phase-detection autofocus module, the little engine that enables DSLRs not only to focus in a blink but also to track moving subjects throughout the frame. But during video capture, the mirror must be flipped up and out of the way. Which means—oops—bye-bye autofocus. Yes, a few DSLRs can autofocus, sort of, using contrast-detection AF—the pokey, nonpredictive kind of AF you get in a compact camera. So you're usually left manually focusing your DSLR during video—not exactly the sort of experience you were expecting with that pricey camera.
GET THE FULL SPECS ON SONY'S A55 IN THE POPPHOTO.COM BUYING GUIDE
Sony's solution? Simple. Don't move the mirror out of the way. By using a semi-transparent reflex mirror, the A55 lets you shoot both stills and video right through the mirror. And with the image also partly reflected up to the AF module, the A55 can maintain fast autofocus during video capture. Including continuous AF. And tracking AF. And dynamic AF across the frame.
This tidy innovation provides advantages for still shooting, too. With no flapping mirror to slow things down, the A55 can take burst shots at 6 frames per second—with autoexposure and autofocus on each shot. And in Speed Priority, which focuses and meters just the first frame of a burst, the camera will click along at 10 frames per second (JPEGs only)—unmatched in this class.

As we noted when the camera came out this fall, the fixed mirror idea has been around for quite a while—the Canon Pellix of 1965 successfully used such a semi-transparent mirror. But Sony's take on the technology is definitely 21st century. Light loss through the mirror is very slight, and, by using an EVF in place of an optical finder, the A55 lets you change any menu item with the camera at eye level.
As a whole package, the A55 ($750, street, body only; $850 with 18–55mm f/3.5–5.5 lens) drew raves from every member of the Popular Photography staff who used it. Very compact, and lighter than a conventional DSLR in this class, the camera has great ergonomics, well-placed controls, and that big LCD that tilts and swivels—a boon for videography or odd-angle still shooting.
By keeping a mirror box in the camera, Sony ensured that any Alpha DSLR lens—and for that matter, most any Minolta Maxxum lens—will fit on the body. This puts it way ahead of ILC cameras (including Sony's own NEX models), which still have very limited lens lines.
The A55 also has some shooting modes that not long ago would be considered the realm of science fiction. Afavorite is Sweep Panorama, which lets you take a stitched panoramic simply by moving the camera through an arc. The A55 can also arrange the stitched slices into a 3-D panoramic that can be viewed on compatible HDTVs. Auto HDR and Handheld Twilight modes combine several images to produce, respectively, high-dynamic-range images or reduced-noise low-light shots. GPS is built in. Gripes? We have a few. While the A55 produces fine image quality, it's not quite what we'd expect from 16.2 megapixels. We're not happy (as usual with midlevel and consumer-oriented DSLRs) about the lack of a second command wheel. During bursts, the EVF blanks out momentarily, making high-speed sequence shots trickier than when using an optical finder. And we wonder about the long-term integrity of the semi-transparent mirror—the old pellicle mirrors darkened over time.
But a camera is more than a bundle of specs and features. In the end, it all comes down to the pictures you can take with it, and how easily.
Consider the experience of one of our staffers who was asked by his son's school to shoot the dreaded Elementary School Recital. The rare nonphotographer among us, he knew a compact camera wouldn't do, but at the same time had tried several DSLRs at previous events with mixed results. So we lent him the A55 and gave a few minutes' worth of instructions.
He came back with a card full of sharp stills and video. "The autofocusing was very quick—which was exactly what I needed for the kids," he told us. "And it was very simple, very easy to use." The only problem? "Now I'm Mr. Photographer—and the school wants me to shoot everything."
That's what refinement and redefinition can do sometimes.
The Runners-Up:
**

**Canon T2i
The bang-for-the-buck champ of DSLRs turns the "entry level" tag on its head, notably in image quality: The EOS Rebel T2i achieved an Excellent rating in our tests under the latest, stricter-than-ever criteria. It's all in there, including 1080p video at 30 fps, but this fabulous little rig, unlike the Alpha 55, breaks no new technological ground. $900, street, with kit lens shown.

Nikon D3s
ISO 102,400. 9-fps bursts with metering and focusing on every frame. Autofocus in dim light that's as fast as some systems in bright conditions. Weapons-grade construction and weathersealing. How could we not nominate it? But as fab as the D3s is, we decided it was more an evolutionary step up from Nikon's previous speed demon, the D3, than a major breakthrough. $5,200, street, body only.


Panasonic G2
Panasonic continues to lead the charge in the category it invented, the interchangeable-lens compact (ILC). The Lumix G2 took the honors in 2010's three-way ILC shootout on the strength of great imaging and a pleasant video experience. Still, the Alpha 55 manages to do everything at least a little better. $650, street, with kit lens shown.
To see the rest of the best new photography products from 2010, check out the Pop Awards!