Lab Test: Pentax K-5
This rugged new DSLR is tough—and tough to beat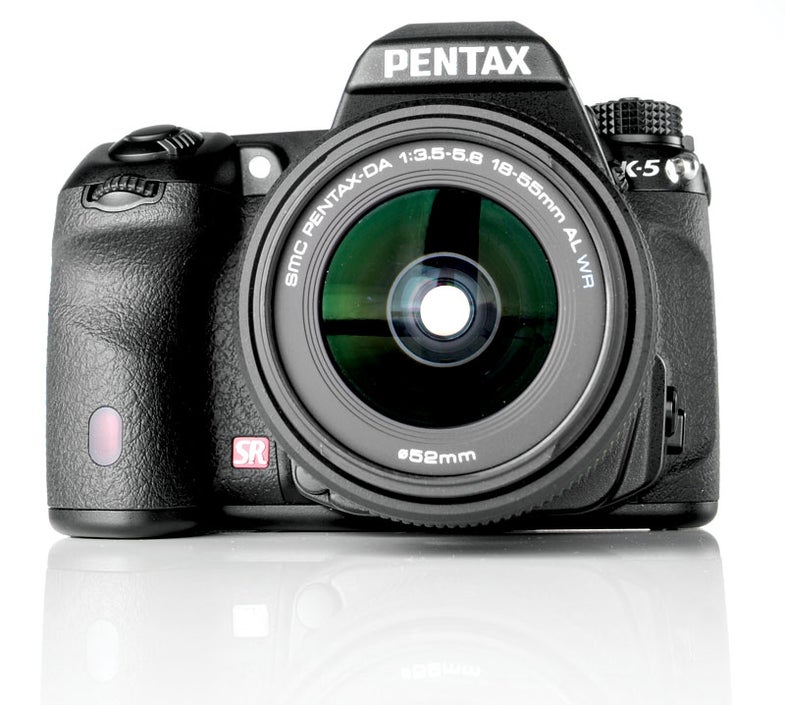 We may earn revenue from the products available on this page and participate in affiliate programs. Learn more ›
With New York City pummeled by multiple snowstorms this winter, our staff was happy to have the Pentax K-5 around. Fully weathersealed and built to function in temperatures as low as 14 degrees Fahrenheit, Pentax's new flagship DSLR ($1,470, body only; $1,580, with 18–55mm f/3.5–5.6 WR lens) didn't even flinch as foot after foot of snow covered our metropolis. And given the image quality that the K-5 delivers, we were just as pleased when reviewing our images after we came in from the cold.
In the Lab
Helped by a new 16.3MP CMOS sensor that captures RAW images with 14 bits per color channel, the K-5 earned an Excellent rating in the Popular Photography Test Lab from its lowest sensitivity of ISO 80 through ISO 400—the first Pentax DSLR to do so under our latest, and most stringent, test criteria. In our resolution test, the camera served up 2590 lines per picture height for an Excellent rating, a solid showing for a 16MP sensor.
Color accuracy also got an Excellent rating, with an average Delta E of 7.1. This marks an improvement over this camera's predecessor, the K-7, which didn't make it past the Extremely High mark in this test. In this test, the K-5 essentially matches the Olympus E-5, its only real competitor in this class of camera, which is to say more expensive than the Canon EOS 60D or Nikon D7000, but less expensive than the Canon 7D or Nikon D300s.
Noise can be a controversial topic when it comes to Pentax's high-end cameras. The company chooses to tread extremely lightly with noise reduction, which means that its cameras end up with higher noise numbers than they would if the engineers were a bit more aggressive in this area. Pentax does apply an increasing amount of color noise reduction as ISO increases, but not luminance noise reduction.
That said, the K-5 keeps noise to a Low or better rating up to ISO 400. It remains in acceptable territory up to ISO 1600 and just barely edges into an Unacceptable rating at ISO 3200. Even a judicious use of noise reduction will bring that into our acceptable range without a serious effect on resolution, which remains at an Excellent rating up to ISO 12,800 using Pentax's default noise-reduction settings. And if you're willing to sacrifice an appreciable amount of resolving power, you can likely bring noise into acceptable territory at ISO 6400.
Considering that the Olympus E-5 resolved only 2270 lines at its best, when you balance resolution and noise reduction, the K-5 earns a slight edge over its main competitor—as long as you're willing to experiment a little and find the amount of noise reduction that's right for you. Also, while sensitivity on the Olympus tops out at ISO 6400, the Pentax keeps going up to ISO 51,200, with 1/3-EV increments all the way to the top.
Fast in bright light, though sluggish in low light, the K-5 showed a slight improvement over the K-7 in our autofocus speed test, but this remains one of the drawbacks of Pentax's top DSLR. Of course, the same can be said for Olympus, though the E-5 fared slightly better at moderate light levels, while the Pentax beats it in the dimmest light.
Both cameras are extremely fast in bright light. In fact, in the brightest level of our test, the K-5 focused in 0.28 sec, exactly matching the E-5's result. Both cameras stepped down to 0.48 sec in nearly identical increments by EV 6, which is about the light level of a well-lit kitchen. At this point the K-5 takes a big drop to 0.80 sec at EV 4, while the E-5 focused in 0.56 second. By EV 1, both cameras focus in just under a second, while at the moonlit dark of EV 0, the Pentax focused in 1.17 sec, while the Olympus dropped to 1.32 sec. One thing the Olympus has in its favor: It was able to focus reliably, albeit very slowly, at our test's lowest light level of EV –2, while the Pentax couldn'tfocus in such dim light (Pentax rates the K-5's AF as functional only down to EV –1).
In the Field
The operable word when describing the K-5's body is rugged. A steel chassis is wrapped in a magnesium-alloy shell, and ample gaskets and O-rings keep out moisture, dust, and other particles. We shot with the K-5 and a weathersealed DA* 16–50mm f/2.8 ED AL (IF) SDM lens in the freezing cold of a snowstorm, and encountered no problems. The outer shell is clad in very grippable rubber and contoured into a very solid design that feels like it has always belonged in your hand.
The front command wheel (one of two), in front of the shutter button, is angled upward to make it easier for you to make quick adjustments between shots. While the rear command wheel isn't quite as fancy as the ones on Canon's higher-end cameras, it is well located, a good distance from your thumb yet easy to reach when you need it.
The most important settings, such as AF, metering, ISO, exposure compensation, and more, are accessible through hard buttons, including an array of five that double as menu navigation controls. The main menus are uncomplicated and well laid out; they include 27 custom settings.
Accessed through the Info button, the quick menu provides a second way to reach those essential controls that are on the buttons. It also lets you adjust other commonly accessed functions, such as the camera's sensor-shift image stabilization, which works with nearly any lens you mount on the camera. In our test, done with a DA 50–200mm f/4–5.6 zoomed to 200mm, our testers got an average of 2.5 stops of shutter speed leeway with image stabilization turned on.
Live-view shooting uses a reasonably fast contrast AF, which zooms in on your subject while focusing. HD video yielded sharp footage with accurate-looking colors.
Burst shooters should perk up when they hear that the K-5 is able to shoot up to 30 full-sized, highest-quality JPEGs at a blazing 7 frames per second in a single burst. And, while it was only capable of 8 RAW shots at 7 fps when it was introduced, a recent firmware upgrade—which also enabled the use of SDXC cards—raised that to approximately 20 RAW shots, according to Pentax. In our test, we got 19 RAW shots using a SanDisk Extreme SDHC Class 10 card.
The Bottom Line
If you're a Pentax owner looking to step up, the K-5 is a worthy upgrade from the K-7 or any other Pentax DSLR. You'll get a noticeable amount of added resolving power, at least an extra stop of usable ISO, and if you don't mind noise, sensitivity up to ISO 51,200. Plus, the burst rate has been ratcheted up, to 7 fps over the K-7's 5.2 fps.
If you're looking to enter the DSLR world with a rugged model such as this, the K-5 offers one of the most economical ways to do so. It costs less than the E-5, as well as Canon and Nikon models that don't quite match this level of toughness.
Another consideration is lenses. While Olympus glass is top-notch, Pentax equivalents tend to cost quite a bit less. Plus, Pentax offers an array of beautiful prime lenses in its Limited series. Combine all of this with the fact that this camera offers more resolution and faster bursts, and it looks like the K-5 is a champ.
Sample Images: Pentax K-5
Specifications:
IMAGING: 16.3MP effective APS-C sized CMOS sensor captures images at 4928×3264 pixels with 14 bits/color in RAW.
STORAGE: SD/SDHC/SDXC stores JPEG, PEF or DNG RAW, and RAW + JPEG files.
VIDEO: Up to 1920x1080p, 25 fps or 1280x720p, 30 fps, AVI Motion JPEG format files; built-in mono mic, stereo mic input, contrast-detection AF.
BURST RATE: Full-sized JPEGS (Premium mode), up to 30 shots at 7 fps; RAW (14-bit), up to 20 shots at 7 fps.
AF SYSTEM: TTL phase detection with 11 illuminated focus points (9 cross-type); single-shot and continuous AF with subject tracking. Tested sensitivity down to EV –1 (at ISO 100, f/1.4).
LIVE VIEW AF: TTL contrast detection.
SHUTTER SPEEDS: 1/8000 to 30 sec, plus B (1/3-EV increments); 100,000-cycle rating.
METERING: TTL metering with 77-segment evaluative, centerweighted, and spot approx. 5% of frame), EV 0–22 (ISO 100, 50mm f/1.4).
ISO RANGE: ISO 100–12,800 (in 1/3-EV increments), expandable to ISO 80–51,200 (in 1/3-EV increments).
FLASH: Built-in pop-up with P-TTL autoflash, GN 43 (ISO 100, feet); wireless flash control of off-camera units; flash sync to 1/180 sec.
VIEWFINDER: Fixed eye-level pentaprism.
LCD: 3-inch TFT with 921,000-dot resolution.
OUTPUT: Hi-Speed USB 2.0, HDMI video, composite video.
BATTERY: Rechargeable D-LI90 Li-ion, CIPA rating 740 shots.
SIZE/WEIGHT: 5.2×3.8×2.9 in., 1.6 lb. with SD card and battery.
STREET PRICE: $1,470, body only; $1,580, with DA 18–55mm f/3.5–5.6 AL WR lens.
INFO: pentaximaging.com