| | | | | | |
| --- | --- | --- | --- | --- | --- |
| Best for Canon mirrorless | | Canon RF 15-35mm f/2.8 L IS USM | | SEE IT | This is the mirrorless version of the legendary EF 15-35mm lens. |
| Best for Nikon mirrorless | | Nikon NIKKOR Z 17-28mm f/2.8 | | SEE IT | This versatile lens is compact and affordable. |
| Best for Sony | | Sony FE 16-35mm f/2.8 GM | | SEE IT | This Sony lens offers exceptional sharpness. |
We may earn revenue from the products available on this page and participate in affiliate programs. Learn more ›
Updated Aug 25, 2023 12:46 PM
A wide-angle lens is more versatile than you may realize. Technically, wide-angle lenses allow you to fill the frame with more content than other lenses, but they also are tools to create dramatic effects, especially at low or close angles. From ultra-wide to mid-range, wide-angle glass expands both the creative and practical aspects of picture-taking. While standard and telephoto lenses often are the more common components of your camera kit, the best wide-angle lens (or two) will complement other focal lengths with their unique perspective.
How we chose the best wide-angle lens
The writers and editors at Pop Photo have experience with just about every camera and lens brand. We have hands-on experience with many of the lenses included here. We used that experience, as well as a mix of editorial and user reviews, in making our selections. Image quality was one of the most important factors, but we also looked for a balance of quality and price. Finally, we also considered build quality, autofocus abilities, and any special features a lens may have.
The best wide-angle lens: Reviews & recommendations
Finding the right wide-angle lens largely depends on the camera you shoot with and what you intend to shoot. Here are some of our favorites for every major camera manufacturer. 
Specs
Lens mount: Canon RF, full-frame
Aperture range: f/2.8 – f/22
Image stabilization: Yes
Filter size: 82mm
Minimum focus distance: 11.02 inches
Weight: 1.85 pounds
Dimensions: 3.48 x 4.99 – 5 inches
Pros
Provides image stabilization
Superb optical quality
Weather-resistant design
Customizable control ring
Cons
Heavy and bulky
Expensive
The Canon RF 15-35mm f/2.8 carries on much of the impressive legacy of the EF version of this lens. It offers an ultra-wide view along with a more modest wide-angle perspective making it highly versatile. It's weather-sealed, so it can stand up to the elements if needed. A customizable control ring makes it more convenient to access settings that you need. And, as we would expect from Canon's L-series lenses, it results in excellent all-around image quality, though with a little bit of edge softness when shooting wide open. 
The RF 15-35mm f/2.8 lens features a fast and constant f/2.8 aperture, ideal for low-light situations like wedding receptions and night landscapes. Adding to its low-light abilities, the lens provides five stops of image stabilization. That's unique for an ultra-wide-angle lens, which typically doesn't offer that. And it can focus as close as 11 inches. Combined with the f/2.8 aperture and nine rounded diaphragm blades, you'll achieve some nice bokeh and background separation, even at the wide end. 
The primary downside to this lens is that is is rather bulky and heavy, partly because of that image stabilization. It even weighs slightly more than the Canon EF 16-35mm f/2.8L III USM lens. It also doesn't offer quite the same level of edge-to-edge sharpness as the legendary EF 16-35mm. But it's still plenty impressive and well worth the money.
Specs
Lens mount: Canon EF, full-frame
Aperture range: f/2.8 – f/22
Image stabilization: No
Filter size: 82mm
Minimum focus distance: 11.02 inches
Weight: 1.74 pounds
Dimensions: 3.48 x 5.02 – 5.04 inches
Pros
Superb image quality
Fast maximum aperture
Excellent colors
Fast and accurate autofocus
Cons
The EF 16-35mm was so good that Canon created three iterations of it. It was designed for full-frame Canon DSLRs but is compatible with its APS-C DSLR siblings. It offers a versatile focal range suitable for weddings, events, real estate, landscapes, and astrophotography. 
What makes this lens so impressive is the edge-to-edge sharpness, even when shooting wide open. That means you can take advantage of the f/2.8 aperture for low-light shooting or achieving shallow depth of field and still get sharp, quality images. And it produces excellent, true-to-life colors for strong overall image quality.
As with all of Canon's pro lenses, it is weather-sealed and built to stand up to abuse. Despite the slightly bulbous front element, it accepts 82mm filters. The lens utilizes a ring-type Ultrasonic Motor (USM) and an internal focusing system, resulting in fast, accurate, and silent autofocus. The price is steep, but this lens has a lot to offer for that price.
Specs
Lens mount: Nikon Z, full-frame
Aperture range: f/2.8 – f/22
Image stabilization: No
Filter size: 67mm
Minimum focus distance: 7.5 inches
Weight: 15.9 ounces
Dimensions: 3 x 4 inches
Pros
Fast and silent autofocus
Reasonably priced
Compact and lightweight
Internal focus and zoom
Cons
Not as sharp as pricier lenses
No controls on the lens body
The NIKKOR Z 17-28mm f/2.8 is a well-rounded and versatile wide-angle lens for Nikon full-frame mirrorless cameras that is priced very reasonably for what you get. It offers a fast and constant f/2.8 aperture, which you typically only see on more expensive models. The focus and zoom are internal, meaning the lens won't change length as you zoom or adjust focus. That's ideal for use on a gimbal, especially as it won't require you to rebalance whenever you want to change your focal length.
There's no image stabilization, but that's typical on wide-angle lenses. And it weighs just under a pound, which is very lightweight for the class. That makes it easier to hold and carry for long periods or when trying to hold steady when using slower shutter speeds. The compact size and lightweight build were particularly nice on hikes. It can focus as close as 7.5 inches, resulting in really nice wide-angle detail shots. And it's weather-sealed and plenty rugged for serious use. 
There are two minor issues with the 17-28mm. First, there are no controls on the lens body, including no manual focus switch. Instead, you'll have to access your camera menus. It's also not as sharp as Nikon's more expensive lenses, especially on the edges. It's good enough for most situations and people, but if you want pristine sharpness, the NIKKOR Z 14-24mm f/2.8 S, despite offering a slightly different focal length, is your best bet.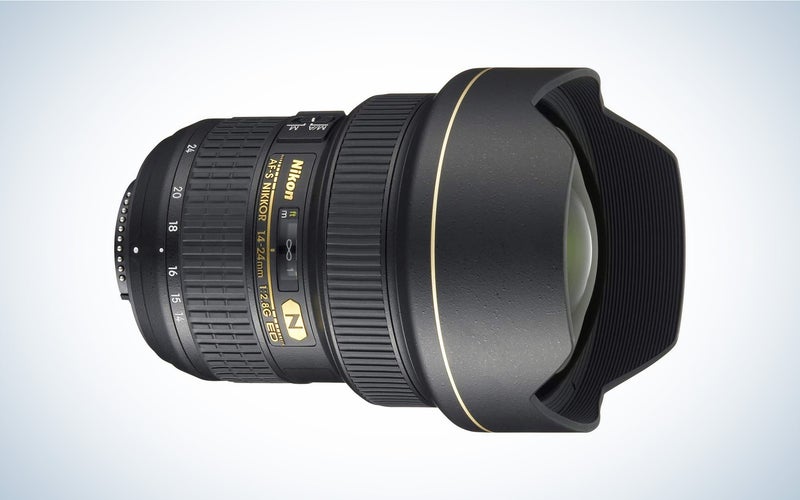 Specs
Lens mount: Nikon F, full-frame
Aperture range: f/2.8 – f/22
Image stabilization: No
Filter size: Not compatible with filters
Minimum focus distance: 11.02 inches
Weight: 2.2 pounds
Dimensions: 3.86 x 5.18 inches
Pros
Exceptionally sharp
Beautiful colors
Capable of very attractive bokeh
Solid build quality
Cons
Heavy
Not compatible with filters
Nikon's 14-24mm for Nikon F-mount cameras has long been seen as one of the very best ultra-wide-angle zoom lenses for DSLR cameras across all brands. The Nano Crystal Coat helps reduce ghosting and flare for strong contrast and color accuracy, even in harsh light or backlit conditions. It offers exceptional sharpness and beautiful colors, resulting in overall stunning image quality.
Of course, with all that quality, there has to be a downside. In this case, it comes in the form of weight and a bulbous front element. The lens weighs 2.2 pounds and is 3.86 x 5.2 inches, which is quite bulky and heavy. It's not one you'll want to be holding up for long. The front element also protrudes quite a bit, making it incompatible with filters. The built-in lens hood helps protect it from bumps somewhat, but you'll still want to be aware and cautious. 
With all the weight comes an extremely solid build quality, though. It feels like a tank, able to handle just about anything. This lens best matches a full-frame Nikon DSLR to maximize its dramatic ultra-wide-angle perspective. But it also delivers equally impressive sharpness on DX DSLRs, although with a cropped field of view.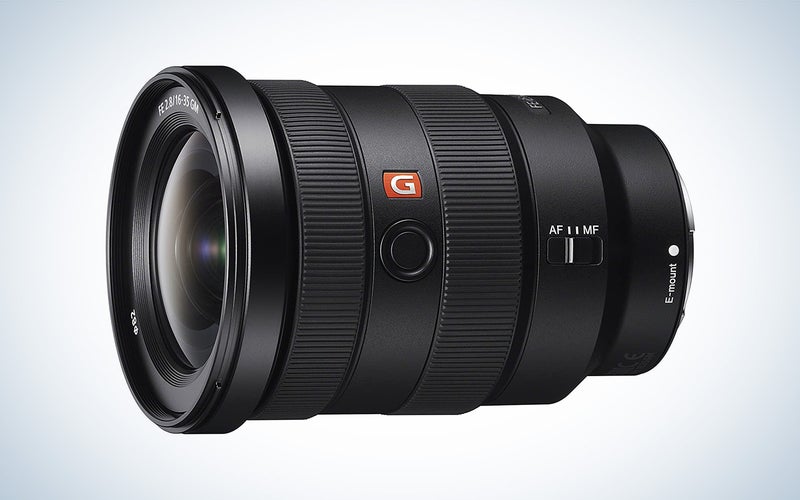 Specs
Lens mount: Sony E, full-frame
Aperture range: f/2.8 – f/22
Image stabilization: No
Filter size: 82mm
Minimum focus distance: 11 inches
Weight: 1.5 pounds
Dimensions: 3.5 x 4.8 – 5.4 inches
Pros
Versatile focal length range
Durable built-quality
Exceptional sharpness
Fast autofocus
Cons
Sony's 16-35mm f/2.8 GM is a pricey lens, but for those who want the best in quality and features, it's well worth the price. As with other G Master lenses, it is built to withstand the elements and some general abuse. It also gets a focus hold button and AF/MF switch for better handling.
This lens features two Direct Drive SSM autofocus groups for fast, quiet, and accurate autofocus. It will allow you to take full advantage of Sony's advanced autofocus in both still and video applications. The rounded, 11-blade diaphragm results in highly attractive bokeh when you want a shallow depth of field, and the floating focusing system maintains consistent performance when zooming and focusing.
Perhaps most important, though, is that this lens is extremely sharp. It is possibly the sharpest lens of this category across brands. And the Nano AR coating does an excellent job of reducing flare and ghosting, improving contrast and colors even in strong light. Overall, this lens is hard to beat if you are looking for a versatile wide-angle zoom lens.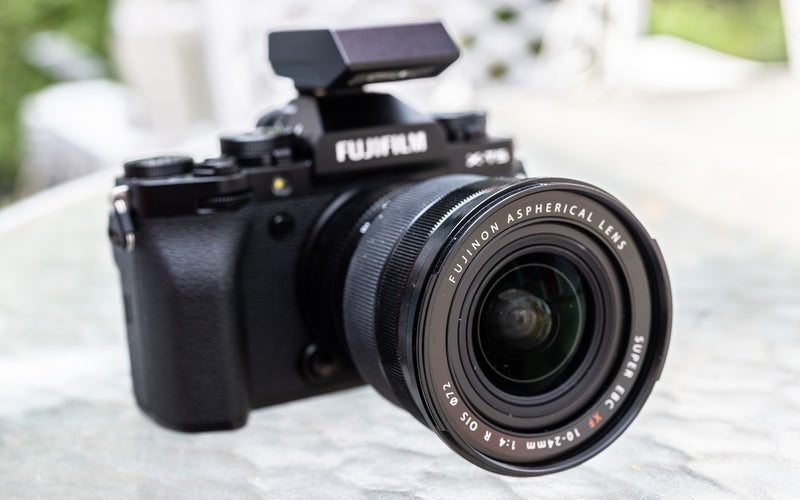 Specs
Lens mount: FUJIFILM X, APS-C
Aperture range: f/4 – f/22
Image stabilization: Yes
Filter size: 72mm
Minimum focus distance: 9.4 inches
Weight: 13.6 ounces
Dimensions: 3.1 x 3.4 inches
Pros
Very compact
Zoom is smooth
Utilizes regular, low-profile filters
Protected against dust and moisture
Cons
Fujifilm's wide-angle offering may not provide as fast of an aperture as the other lenses on our list, but it still has a lot to offer. As an APS-C lens, it provides a 15-36mm equivalent focal length range, which is ideal for a variety of situations. It's a very compact lens, so it balances really nicely with the X-series cameras. You can even shoot with a pop-up flash when zoomed out all the way, thanks to how small it is.
The front element of this lens doesn't protrude very much, which means that you can use traditional front filters. The zoom is nice and smooth, making it ideal for video applications. The stepping motor results in quick and quiet autofocus. There's no focus breathing either, which is another plus for video. And it offers 3.5 stops of image stabilization, a unique feature for a wide-angle.
There is some visible distortion from this lens, but it's not a wacky amount. And it's easy to correct when editing as well. It's a sharp lens as well, especially when stopped down to f/5.6. Images are clean and clear of aberrations, and ghosting is well handled as well. And it's weather sealed, making it ideal for landscape photography or anything that might involve getting caught in some less-than-ideal conditions.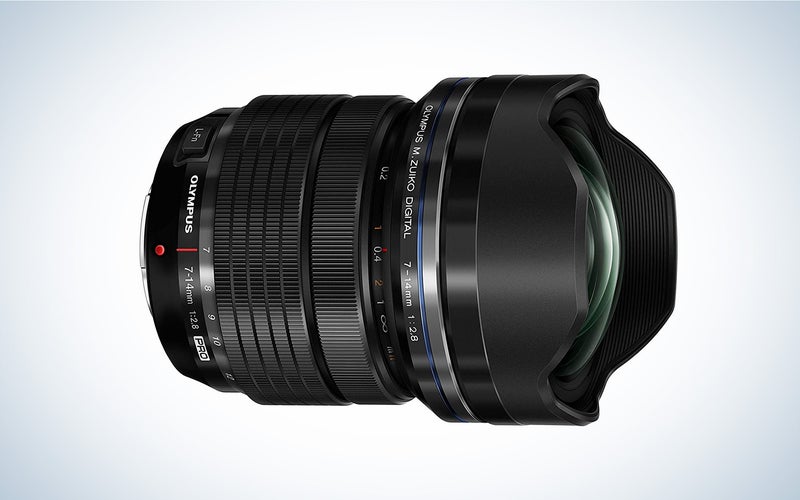 Specs
Lens mount: Micro Four Thirds
Aperture range: f/2.8 – f/22
Image stabilization: None
Filter size: Not applicable
Minimum focus distance: 7.87 inches
Weight: 1.17 pounds
Dimensions: 3.11 x 4.17 inches
Pros
Ultra-wide zoom range
Weather sealed
Very sharp
Programmable function button
Cons
Not compatible with filters
The M.Zuiko ED 7-14mm f/2.8 PRO is one of the widest angle Micro Four Thirds zooms. With a full-frame equivalent focal length of 14-28mm, it offers a wide-angle field of view at both ends of the zoom range. That makes it ideal for real estate and dramatic landscapes, but also street photography and some creative portraiture.  
This Olympus lens is relatively heavy for an MFT lens, but it still balances well on Olympus cameras. And it offers truly excellent image quality, even when shooting at the wide f/2.8 aperture. It also handles distortion very well for an ultra-wide. There is some noticeable distortion, but it's easy to correct in post. 
The lens is splashproof, freezeproof, and dustproof. The durable construction, in combination with the compact and lightweight design, make this a great choice for those who frequent rugged destinations. There is a dedicated programmable Fn button to make frequently used settings more accessible. And the built-in petal-type lens hood cuts down on flare and adds some protection to the bulbous front element.
Specs
Lens mount: Sony E, Leica L
Aperture range: f/1.4 – f/16
Image stabilization: None
Filter size: Rear filters only
Minimum focus distance: 11.9 inches
Weight: 2.6 pounds
Dimensions: 4 x 5.9
Pros
Very sharp, even when shooting wide-open
Weather sealed
Silent and fast autofocus
Lots of astrophotography-specific features
Cons
Very heavy
Only compatible with rear filters
Astrophotography is a genre that has a handful of pretty specific requirements, and this lens does a fantastic job of meeting most of those. It features a dedicated place to attach a lens heater to keep condensation and fogging at bay. A manual focus lock keeps the focus ring from moving once you dial everything in. And the optical design results in clear, accurate star shapes with essentially no fringing or aberrations.
Sigma's 14mm f/1.4 also has a lot to offer beyond astrophotography. It can focus as close as 11.9 inches and, along with the f/1.4 aperture, is capable of really shallow depth of field for an ultra-wide-angle lens. It can even produce some nice bokeh, making it a good tool for creative detail shots. It also offers excellent sharpness across the entire image with easy-to-correct distortion, making it an ideal choice for landscape, architectural, and real estate photographers.
Sigma built this lens to be rugged, and it feels really solid. It is weather sealed, so you won't have to worry about getting caught in the elements. Of course, because Sigma was focused on quality and features, there had to be some sacrifices. The most significant one is the weight. This is a big, heavy lens. But the tripod collar with Arca-compatible foot makes it more manageable on a tripod.
To learn more about this lens, check out our full review.
Even more wide-angle lenses to consider
For those who loved the notorious Nikon 14-24mm lens for Nikon DSLRs, you will be just as pleased with the mirrorless version. It is possibly the best lens for Nikon mirrorless cameras across all focal lengths. And it is lighter, smaller, and provides faster autofocus than the DSLR version, making it worth the upgrade if you are moving to Nikon Z mount. 
The Sony FE 12-24mm f/2.8 GM lens is an ultra-wide, pro-quality lens for Sony cameras. It offers exceptional image quality, including superb sharpness when wide open, well-handled flare, and attractive bokeh. And it is weather sealed, ready for your adventures. It's an expensive lens, but if you want a truly stunning ultra-wide for Sony E mount, this is a fantastic choice.
For those wanting a more affordable, third-party option for Sony E or Leica L mount cameras, the Sigma 14-24mm f/2.8 DG DN Art lens is hard to beat. It offers excellent image quality, minimal distortion, and a fast f/2.8 maximum aperture. The autofocus is speedy and accurate, and the lens offers plenty of on-lens controls, making it easier to use. And it's less than half the price of the Sony FE 12-24mm f/2.8 GM Lens.
Things to consider when choosing a wide-angle lens
Like all photography equipment, selecting the best wide-angle lens depends on how you plan to use it and, importantly, what camera you'll be shooting with. Landscape photography is often the first genre that comes to mind when thinking about a wide-angle lens. And while landscapes are one of the most common uses of this lens format, there are many more, including street photography, event coverage, environmental portraits, architecture and real estate, underwater photography, and astrophotography.
Focal length
A wide-angle lens provides a focal length of 35mm or less on a full-frame camera. Anything 24mm or less is classified as an ultra-wide-angle. Although it may not seem like much, a 14mm lens offers a dramatically different view from a 20mm or 35mm lens. Different situations call for different focal lengths, even in the realm of wide-angle lenses. So, it's important to consider what you will be shooting or the styles of images that you are aiming for before making your purchase. 
For example, 14mm lenses are ideal for underwater photography and night sky images. Street photography and environmental portraits are often best served by 35mm lenses since they're wide enough to include a subject's surroundings without distorting people's faces. You have more flexibility when you choose a wide-angle lens for landscapes and architecture since the optimal field of view depends on the scope of the scene.
It's important to keep in mind that if you are using an APS-C—also called crop sensor—or Micro Four Thirds camera, you won't get the same view from a lens as you would on a full-frame camera. Instead, you need to multiply the focal length of a lens by the crop factor of your sensor. For Fuji, Sony, and Nikon DX, that number is 1.5, while Canon is 1.6, and Olympus and Panasonic are 2x. So, for example, if you are shooting with the Nikon Z50 and using a 35mm lens, it will provide the field of view of a 52mm lens. Your wide-angle lens then won't actually provide a wide-angle view, so be sure to plan accordingly if you are using a crop sensor camera. 
Prime or zoom lens
You should also consider whether you want (or need) a prime or zoom lens. A prime lens only offers a single, fixed focal length, and a zoom lens covers a range of focal lengths. While a zoom lens provides a broader range adding to its versatility, a prime lens may be smaller and lighter. Also, prime lenses sometimes offer a faster maximum aperture, which translates to a shallow depth-of-field for times when you want an out of focus background. 
Maximum aperture
Wide-angle lenses aren't going to provide the same dramatically shallow depth of field as normal or telephoto lenses. But, with the help of a wide maximum aperture (among other factors), you can achieve quite a shallow depth of field and beautiful bokeh with a wide-angle lens. Plus, a wide maximum aperture also makes it easier to shoot in low-light situations like wedding receptions or astrophotography. If you want a shallow depth of field and more flexibility with shooting in low light, focus on a lens that offers a fast maximum aperture like f/2.8. 
Additional features to consider
Once you decide on the main factors listed above, there are a handful of smaller details to think about in case they are essential to your shooting style.
Weather sealing: Not all lenses are built for use in rugged environments. If you plan on taking your wide-angle lens on serious adventures, be sure to look for an option that offers extensive weather sealing
Size and weight: Wide-angle lenses tend to be fairly bulky pieces of equipment, especially when you get into the ultra-wide category. But there have been some nice compact options made if you want to have a lighter kit. 
FAQs
Q: What is the best size for a wide-angle lens?
The best focal length for a wide-angle lens varies greatly. If you want the ultimate in wide-angle, choose a 14mm. This is perfect for landscapes with broad vistas. And 14mm is a favorite among underwater shipwreck photographers as well as those who spend their nights capturing starscapes and the Milky Way. But if you're more likely to photograph street scenes or subjects at work or play, then a 35mm equivalent lens is a better option since it results in less unflattering distortion.
Q: What is the advantage of a wide-angle lens?
Simply put, a wide-angle lens allows you to fit more into a single frame—more landscape, mountains, more buildings, more anything. Just be careful if you're photographing a large group of people since those toward the edge of the frame are likely to be distorted.
Q: Should I get a wide-angle lens?
The short answer is yes. A wide-angle lens adds versatility to your creative options. But choose your focal length carefully. You may not need an ultra-wide 14mm lens. Instead, you may want to start out with a wide-angle lens (35mm or so) and then see if you need or want a broader field of view.
A final word about the best wide-angle lens
Regardless of your camera's format—full-frame, APS-C, or MFT—there are a variety of wide-angle lenses from which to choose at various price points. Adding a wide-angle lens (or two) to your camera gear arsenal can motivate you to add versatility to your image-making. And the best wide-angle lens may give you a whole new perspective on the world.
Why trust us
PopPhoto has a long history of delivering the opinions of some of the sharpest and most prolific camera dorks the world has to offer. Since 1937, we've been reviewing cameras, providing wisdom from well-known photographers, and generally just nerding out about all that goes into making great pictures. Our current crop of writers and editors have decades of professional photography and camera writing experience among them. Collectively, we've probably shot with just about every camera and lens combo you can imagine—as well as some obscure stuff you may not even know about. Remember the Casio Tryx folding camera? PopPhoto does.
We also get that buying a camera is a big decision, which is why we're dedicated to helping folks choose the right one (or, in our case "ones") for their needs. Case in point: Handing over top dollar for an expensive rig may leave you unsatisfied if it doesn't fit your preferred shooting style. Sure, a $6,000 sports-oriented DSLR can capture landscapes, but do you really need to do it at 30 frames-per-second? No, you don't.