| | | | | | |
| --- | --- | --- | --- | --- | --- |
| Best for Canon | | Canon EF 16-35MM f/2.8L III | | SEE IT | This is the third version of Canon's DSLR wide-angle zoom. |
| Best for Nikon | | Nikon 14-24mm f/2.8G ED | | SEE IT | Nikon's super-wide zoom is a true classic. |
| Best third-party | | Sigma 14-24mm f/2.8 DG HSM/A | | SEE IT | Sigma's wide-angle zoom works with several systems. |
We may earn revenue from the products available on this page and participate in affiliate programs. Learn more ›
Updated Mar 13, 2022 9:45 AM
The best wide-angle lens is more versatile than you may realize. Technically, wide-angle lenses allow you to fill the frame with more content than other lenses but they also provide tools to create dramatic effects, especially at low or close angles. 
From ultra-wide to mid-range, wide-angle glass expands both the creative and practical aspects of picture-taking. While standard and telephoto lenses often are the more common components of your camera kit, a wide-angle lens (or two), will complement other focal lengths with their unique perspective.
Things to consider when choosing a wide-angle lens
Like any photography equipment, selecting the best wide-angle lens depends on how you plan to use it and, importantly, what camera you'll be shooting with. Landscape photography is often the first genre that comes to mind when thinking about a wide-angle lens and while landscapes are one of the most common uses of wide-angle lenses, there are many more including street photography, environmental portraits, architecture/real estate, underwater and night sky photography.
For example, 14mm lenses are ideal for underwater photography and night sky images. Street photography and environmental portraits are often best served by 35mm lenses since they're wide enough to include a subject's surroundings without distorting people's faces. You have more flexibility when you choose a wide-angle lens for landscapes and architecture since the optimal field of view depends on the scope of the scene.
Wide-angle lenses are generally considered to be any lens that is wider than 50mm on a full-frame camera. Multiply the focal length by 1.5x or 1.6x (Canon) for APS-C models and 2x for Micro Four Thirds cameras (Olympus and Panasonic). Obviously, you'll need a wider lens for a  cropped sensor camera than a full-frame model to meet the "wider than 50mm" criteria.
Other criteria to consider is whether you want (or need) a prime lens or a zoom. While a zoom lens, of course, provides a broader range, a prime lens may be smaller and lighter and sometimes offers a faster maximum aperture (maximum aperture stops down when you zoom on some lenses). A faster maximum aperture, like f/2.8 or faster, translates to a shallow depth-of-field for times when you want a soft, beautiful background. 
If you're flush with cash and want to pursue architectural photography, you can opt for a tilt-shift prime lens to offset skewed perspectives.
To help sort out the best wide-angle lens for your particular camera, we've sorted our "best" selection by brand.
Things to consider when choosing a Canon lens. 
The first consideration when choosing a Canon wide-angle lens is what mount your camera uses. Canon offers full-frame (EF), APS-C (EF-S) and two versions of mirrorless models: EOS-M (EF-M), which fit the more entry-level APS-C mirrorless models, and EOS R (RF), Canon's full-frame mirrorless models. If you already have a stash of Canon DSLR glass, pick up an adapter to fit them to R cameras. 
Keep in mind that, although Canon EF lenses fit on Canon APS-C cameras (you'll get the 1.6x APS-C crop when you do), the reverse isn't true: you can't mount a Canon APS-C lens (EF-S) directly onto a full-frame camera. It's a little confusing so be sure to research lens compatibility and availability of adapters before you make a purchase.
Designed for full-frame Canon DSLRs, this lens is also compatible with its APS-C DSLR siblings, this lens offers a versatile focal range. Edge-to-edge sharpness and weather sealing help push this wide-angle lens to the top of the list. The new Canon RF version looks promising, too.
Also consider: Canon RF 15-35mm f/2.8 L IS USM and Canon Canon EF-M 11-22mm f/4-5.6 STM.
Things to consider when choosing a Nikon lens
Nikon offers more cross compatibility than Canon for its DSLR and mirrorless camera lines. Full-frame and DX (APS-C) lenses are interchangeable within their individual DSLR and mirrorless Z models. It's important to note, however, that full-frame lenses produce a cropped image when used on DX cameras. When mounting a DX lens on a full-frame camera, you can set the menu to automatically recognize a DX lens and switch to an APS-C crop.
If you already have one or more F-mount lenses and plan to switch to a Nikon Z mirrorless camera, be sure to pick up the FTZ (F mount to Z mount) adapter for full compatibility. We've used the FTZ adapter and it functions very well with no slow down of AF.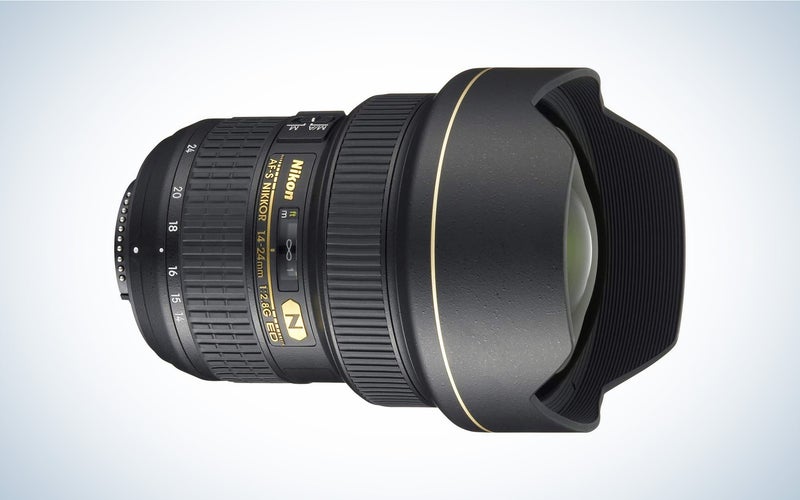 This lens is best matched with a full-frame Nikon DSLR to maximize its wide-angle benefits of view but it delivers equally impressive sharpness on DX DSLRs as well, although with a cropped field of view. Designed to reduce flare and ghosting, the Nikon 14-24mm f/2.8G ED lens delivers fast autofocus and edge-to-edge sharpness.
Also consider: Nikon Z 14-24mm f/2.8 S 
Things to consider when choosing a Micro Four Thirds lens. 
In addition to thinking about the genres with which you're going to be shooting, it's critical to remember that Olympus and Panasonic Micro Four Thirds (MFT) cameras double the effective field of view. That's because they use a different sensor format than full-frame and APS-C cameras. 
Fortunately, the math is easy—just multiply the focal length that's on the lens times 2 to get the 35mm (or full-frame) equivalent. While that doubling is great for telephoto lenses since you get double the focal length, giving you a lens that's smaller and lighter than its full-frame or APS-C equivalent. The bottom line is that it's more challenging to reach the wide-angle perspective you want with MFT. And, most of the MFT wide-angle lenses are zooms. Not that there's anything wrong with that but it's something to keep in mind.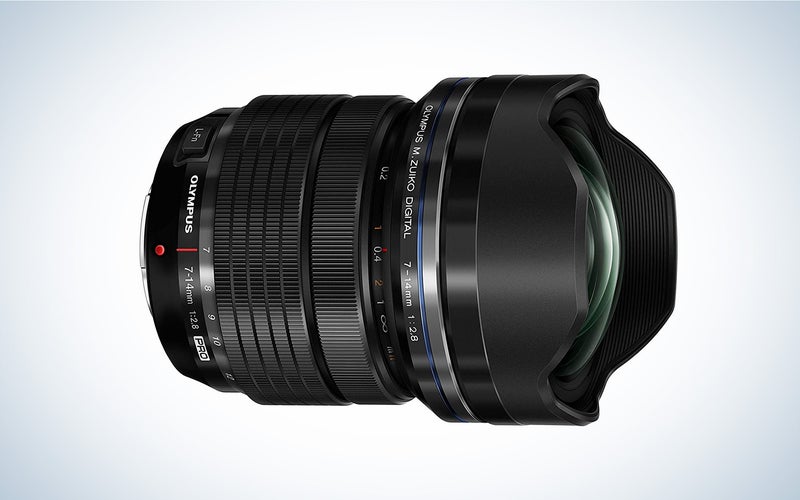 One of the widest angle MFT zooms, the M.Zuiko ED 7-14mm f/2.8 PRO offers a wide-angle field of view at both ends of the zoom. It's splashproof, dustproof and has a dedicated programmable Fn button.
Also consider: Olympus M.Zuiko 17mm f/1.8  
Things to consider when choosing a third-party wide-angle lens
While your camera's manufacturer offers a wide range of wide-angle lenses, there are third-party options that may present a more appealing focal length, extra features or sometimes even a better price. But don't let price alone be the driver of your choice. 
There are some really inexpensive options that tend to prove the point that you get what you pay for so be sure to read reviews if a lens sounds too good to be true. Importantly, check specifications to make sure that the lens delivers the same compatibility—especially autofocus—as a native lens.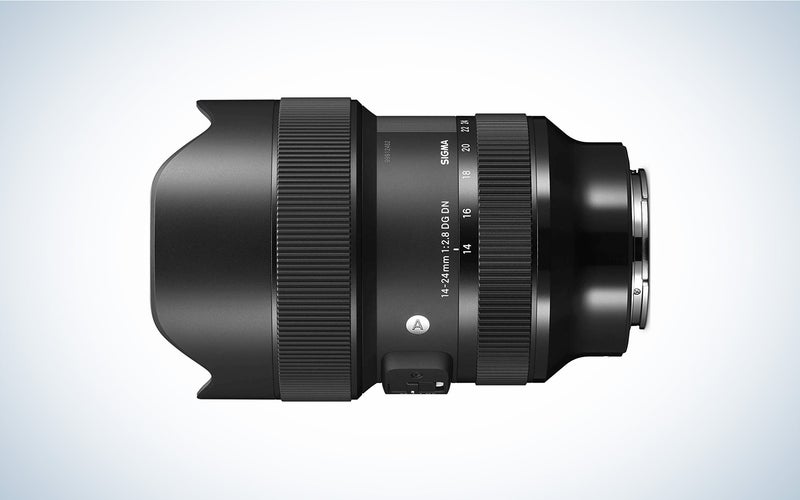 A constant, fast f/2.8 aperture and speed, accurate autofocus are complemented by well-controlled distortion which is non-existent when focused at infinity. It's a bit heavy but well worth the extra weight. Available for Canon, Nikon (which comes with a rear filter holder) and Sigma mounts.
Here are some other lenses to consider.
For Canon and Nikon DSLRs (FF & APS-C): Tamron 15-30mm F/2.8 DI VC USD G2   
For MFT, Sony E-mount, Canon EOS M mount and L Mount: Sigma 16mm f/1.4 DC DN C  
Things to consider when choosing a budget wide-angle lens
Like all lenses, the best place to start is with the focal length that best fits your needs. After that, budget lenses generally require a little bit of extra research to make sure that it will deliver the best possible image quality and performance for a lens in its class. Keep your expectations in line with the price point—you may not get the edge-to-edge sharpness or responsive autofocus with a budget lens that you would with a much more expensive lens.
At the same time, if you're just starting to explore wide-angle photography, a reasonably priced lens will help you discover what works (and doesn't work) for your style of photography. The good news is that some of the least expensive wide-angle lenses—such as those 35mm-equivalent models—are perfect for everyday photography. And, they're often small and light enough that they won't weigh you down when you're out and about shooting.
Designed for Canon APS-C DSLRs, this little lens offers a 35mm-equivalent focal length of 38mm. Given its size, weight and good-for-everyday field of view, the Canon EF-S 24mm f/2.8 STM lens is perfect for street photography as well as environmental portraits and even cityscapes—all for less than $200.
Here are some other options to consider.
For MFT:  Panasonic LUMIX G II Lens, 14mm, F2.5 ASPH
For Nikon APS-C: Nikon AF-S DX 35mm f/1.8G
For Fuji X-series (APS-C): Rokinon 12mm f/2.0 NCS CS
FAQs
Q: What is the best size for a wide-angle lens?
That depends. If you want the ultimate in wide-angle, choose a 14mm equivalent focal length (or zoom). This is perfect for landscapes with broad vistas. And 14mm is a favorite among underwater shipwreck photographers as well as those who spend their nights capturing starscapes and the Milky Way. But if you're more likely to photograph street scenes or subjects at work or play, then a 35mm equivalent lens is a better option.
Q: What is the advantage of a wide-angle lens?
Simply put, a wide-angle lens allows you to fit more into a single frame—more landscape, mountains, more buildings, more anything. Just be careful if you're photographing a large group of people since those towards the edge of the frame are likely to be distorted.
Q: Should I get a wide-angle lens?
The short answer is yes. A wide-angle lens adds versatility to your creative options. But choose your focal length carefully. You may not need an ultra-wide 14mm lens. Instead you may want to start out with a wide-angle lens (35mm or so) and then see if you need or want a broader field of view.
A final word about the best wide-angle lens
Regardless of your camera's format—full-frame, APS-C or MFT—there are any number of wide-angle lenses from which to choose at a variety of price points. Adding a wide-angle lense (or two) to your camera gear can motivate you to add versatility to your image-making. And the best wide-angle lens may give you a whole new perspective on the world.