| | | | | | |
| --- | --- | --- | --- | --- | --- |
| Best overall | | Sigma 24-35mm f/2 DG HSM Art | | Check Price | A useful zoom range at a solid price |
| Best prime | | Nikon AF-S FX NIKKOR 20mm f/1.8G ED | | Check Price | Superb sharpness with a bright aperture |
| Best for real estate | | AF-S NIKKOR 14–24mm f/2.8G ED | | Check Price | Go really wide with minimal distortion |
We may earn revenue from the products available on this page and participate in affiliate programs.
Updated Mar 16, 2022 3:03 PM
Many photographers don't consider wide-angle lenses versatile, but they're missing out on tons of creative opportunities. A high-quality wide-angle will enable you to capture everything from broad landscapes and star trails to group photos at weddings and even interior spaces. Ultra-wide-angle lenses can allow you to create dramatic, unique landscape images. They can show off sweeping views and vast expanses beyond what our eyes can see. They are also required for most real estate photography. Narrower wide-angle options are ideal for unique environmental portraits or group photos at events. They can also provide more natural-looking landscapes when you want to put the viewer in your shoes. We considered all of these uses when curating this list of the best wide-angle lenses for Nikon cameras.
Our picks for the best wide-angle lens for Nikon in 2022:
Things to consider before buying a wide-angle lens for your Nikon camera:
Choosing a wide-angle lens can be a challenge. Nikon has no shortage of options, and it can be downright overwhelming when you add third-party options from companies such as Sigma and Tokina. However, there are some things to look at that will help you distill down what the best wide-angle lens for you may be.
As with most purchases, the first thing you need to consider is how you intend to use your new lens. For example, astrophotography has different needs than real estate photography, which is different from portrait work. Identifying the primary ways you plan on using your lens will help you zero in on the other considerations below and land on the best lens for your needs.
Zoom or prime
Prime lenses have a fixed focal length, while zoom lenses offer a range of focal lengths so you can adjust the angle of view on the fly without swapping lenses. Generally speaking, prime lenses will be of higher quality in a more compact body for a lower price point. They also typically offer faster apertures, which means they can let in more light at once and create more pronounced depth of field effects. If you want blurry backgrounds with a wide-angle lens, you'll likely want a fast aperture.
Zoom lenses, on the other hand, offer more versatility. You can have one zoom lens instead of needing two or three primes to cover the same focal length range. Of course, the price will typically be higher, but you also don't have to buy as many lenses, so the cost may even out in the long run.
Focal length
First, to clarify which focal lengths qualify as wide-angle: Wide-angle lenses will be focal lengths wider than a normal lens, or 50mm. Practically speaking, 35mm and lower is considered wide-angle. The ideal focal length will depend significantly on what type of subject matter you are photographing.
Ultra-wide angles, such as 14mm, are ideal for astrophotography and dramatic landscapes. They can also be helpful for large group photos like weddings and real estate photography. Because of the distortion, however, they are generally not very flattering for closer portraits or high-end architectural work due to perspective distortion.
Wide-angle lenses closer to 35mm are much more flattering for portrait work. They are also the preferred focal length for high-end architecture or interior design images.
Maximum Aperture
While there isn't a huge variety in maximum aperture on wide-angle lenses, there is enough to matter. For example, if you want to photograph in low light conditions like weddings or take night sky images, lenses with a wide maximum aperture, such as f/1.8 or f/2, will be necessary. But, if low light performance isn't as important or you are mostly photographing subjects that call for narrower apertures–think real estate photography–a maximum aperture of f/4 will be plenty for maximum aperture (remember, smaller numbers mean larger openings).
You may also want to pay attention to lenses with a fixed maximum aperture versus ones that change as you zoom in. If you will frequently be in situations where you want a wide aperture–whether for depth of field or low light performance-choose something with a fixed maximum aperture to avoid frustration.
Quality
Quality is always an important consideration when it comes to lenses. Generally speaking, you need to find a balance between cost and quality, depending on your budget. The amount and type of distortion, chromatic aberration, vignetting, and of course, sharpness are all important things to look at in terms of quality.
Why it made the cut: Sigma's wide, constant maximum aperture of f/2, excellent sharpness, and ideal focal length range make this our pick for best overall.
Key features
Weight: 2.07 pounds
Filter size: 82 mm
Maximum aperture: f/2
Minimum focusing distance: 11.02 inches
Pros
Reasonable price point
Fast f/2 maximum aperture
Excellent sharpness
Cons
Sigma's 24-35mm provides a range of useful wide-angle focal lengths that don't veer into extremes. That helps keep down the distortion. The wide maximum aperture of f/2 also makes it stand out. Nikon's closest comparison to this lens, the 17-35mm, has a max aperture of f/2.8, a full stop slower. The Nikon also costs twice as much, which is a big deal for most.
Despite being a reasonable price, Sigma has created a lens with excellent sharpness that goes edge-to-edge. It does have some noticeable vignetting and distortion, but both are easy to correct in editing. The other downside to this lens is the weight. It's not the best option for holding for long periods, but you can't beat the quality you get at this price, especially considering that it covers a full-frame sensor.
Why it made the cut: For lovers of prime lenses, the 20mm is at the top in terms of optical performance and size.
Key features
Weight: 12.52 ounces
Filter size: 77 mm
Maximum aperture: f/1.8
Minimum focusing distance: 7.87 inches
Pros
Extremely sharp
Very lightweight
Accepts 77mm filters
Cons
A little pricey for its limited versatility
Prime lenses are not everyone's cup of tea due to their limited practicality for some shooting styles. But prime lenses offer a bit higher quality and smaller size at a lower price. For those who like to use primes, the 20mm is an excellent option. It is wide enough to get wide, sweeping landscape shots but not so wide that you will get fisheye distortion. Plus, the size and weight of this lens make it easy to throw in your camera bag on trips.
The sharpness of this lens is incredible and that's one of the main draws. The f/1.8 aperture is also attractive, especially for those taking photos of stars or using the lens in other low light situations. There is very minimal chromatic aberration, and ghosting and flare aren't much of an issue either. Overall, the quality you get with this lens is excellent, and the price is reasonable for such quality as long as you don't mind the limited versatility.
Why it made the cut: The Nikkor 14-24mm is the best real estate lens for Nikon full-frame DSLRs. It has minimal distortion and excellent sharpness, even on the edges.
Key features
Weight: 2.2 pounds
Filter size: N/A
Maximum aperture: f/2.8
Minimum focusing distance: 11.02 inches
Pros
Exceptional sharpness
Minimal lens distortion
Fast autofocus
Cons
Not compatible with standard filters
Real estate photography typically requires ultra-wide-angles, and Nikon's 12-24mm fits the bill. It has very minimal distortion for such a wide focal length, which is essential when shooting interiors. In addition, the Nano Crystal Coat cuts down on lens flare and ghosting, so shooting towards windows with direct sunlight won't be as much of an issue.
Though ultra-wide-angles are notorious for sharpness losing sharpness around the edges, Nikon's 14-24mm performs well and is reasonably sharp edge-to-edge. The f/2.8 aperture is also a plus, as it makes this lens more versatile. While you will never get an extremely shallow depth of field with a wide-angle lens, the wide maximum aperture does allow you to blur the background nicely when the situation calls for it.
Why it made the cut: With a versatile zoom range, travel-ready size, and excellent sharpness, Nikon's 14-30mm is the best wide-angle for Z-mount.
Key features
Weight: 1.07 lb
Filter size: 82 mm
Maximum aperture: f/4
Minimum focusing distance: 11.02 inches
Pros
Exceptional sharpness
Precise, quiet autofocus
Ultra-wide to portrait friendly focal length range
Cons
f/4 maximum aperture isn't as lowlight friendly
Nikon's Z-mount 14-30mm is an ideal zoom range for a wide-angle lens. It covers both the ultra-wide-angle side at 14mm for sweeping, dramatic landscapes and cityscapes while also being suitable for portraits at 30mm. It has a locking mechanism to keep the lens compact even during travel and is only 3.5 inches when locked. It's small, versatile, and lightweight, all of which make it ideal for travel.
While the f/4 aperture isn't quite as wide as some, it is constant throughout the zoom range. For those okay with losing a little focal range but gaining a stop of aperture, Nikon's 14-24mm is also an excellent choice, though it's very expensive. The lens is exceptionally sharp, one of the sharpest ultra-wide-angle zooms available. It does have a plastic build but is still robust enough to handle some rough conditions. In addition, Nikon's fluorine coating on their Z lenses makes it easier to wipe off dust and thumbprints, so it's easier to keep clean.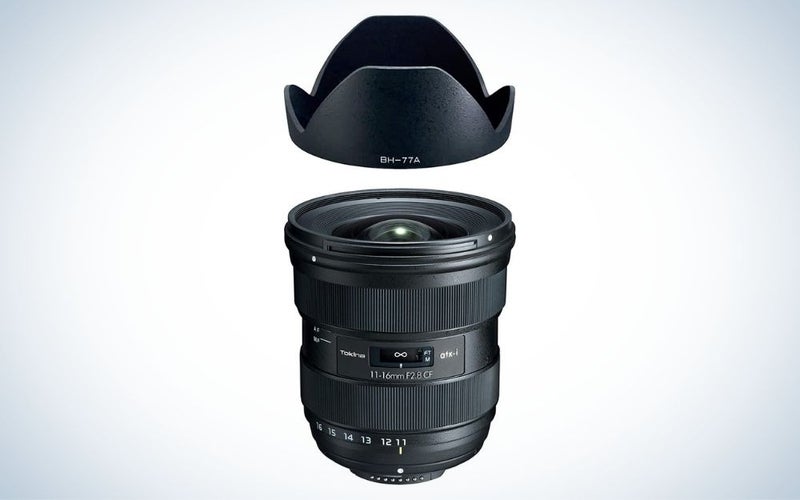 Why it made the cut: Tokina's legendary 11-16mm beats out Nikon's native DX-format lens in terms of quality and price.
Key features
Weight: 1.22 pounds
Filter size: 77 mm
Maximum aperture: f/2.8
Minimum focusing distance: 11.81 inches
Pros
Budget-friendly
Excellent sharpness
Fast f/2.8 maximum aperture
Cons
While Nikon makes a handful of wide-angle options for their APS-C cameras, Tokina offers an excellent alternative, the most important of which is price. Though the focal length is slightly different, Tokina's 11-20mm is roughly half the price of Nikon's 10-24mm. The other factor that helps push the Tokina ahead is the fixed f/2.8 maximum aperture, which is wider than Nikon's and stays constant when zooming in.
The Tokina lens shows excellent overall sharpness. There is some edge softness, but it is reasonable for the focal length and starting at 16mm, it is nearly non-existent. Vignetting is very minimal, especially when the aperture is closed down. It has excellent weather sealing, so it will hold up to some adverse conditions. The only real downside to this lens is that the autofocus is relatively loud, so don't expect to get much use out of it during video.
Why it made the cut: With an ideal zoom range and quality optics at a reasonable price, this is the best budget lens for full-frame Nikon cameras.
Key features
Weight: 13.58 ounces
Filter size: 77 mm
Maximum aperture: f/3.5-4.5
Minimum focusing distance: 11.02 inches
Pros
Very lightweight
Compact
Sharp
Budget-friendly
Cons
Nikon's 18-35mm is an excellent lens for those wanting an introduction to wide-angle photography. The zoom range covers from the ultra-wide-angle to the more portrait-friendly 35mm, making it very versatile. In addition, the size is travel-friendly at only 13.58 ounces and only 3.72 inches long when fully extended.
The optics in Nikon's 18-35mm are impressive for the price. It is very sharp in the center, with only minimal softness in the corners. One downside with this lens is the variable maximum aperture. As you zoom in, you lose almost a full stop. It may be a non-issue for some, but it is something to consider if you shoot a lot in low light. The lens also experiences some heavy barrel distortion when fully zoomed out. It is correctable in editing, however. While there are downsides to this lens, the sharpness and zoom range that you get at this price point is a bargain.
FAQs
Q: Is 35mm wide enough for landscape?
35mm is widely considered the ideal focal length for landscape photography. This is because it allows you to capture fairly broad expanses without introducing extensive distortion. The lack of distortion means the lens will capture landscapes more or less how we see them, resulting in very natural-looking images. Of course, if you are looking for something dramatic, you will want to go wider than 35mm, but for most landscape situations, 35mm is ideal.
Q: What is a 10-20mm lens good for?
A 10-20mm lens is excellent for capturing vast, dramatic landscapes or even cityscapes. This focal length is also ideal for real estate photos. It is even wide enough with an APS-C sensor to capture smaller interior spaces.  
Q: What is the difference between a wide-angle lens and a normal lens?
A normal lens is called such because it roughly replicates how our eyes see in terms of field of view. It covers roughly the same area that our peripheral vision covers. On the other hand, a wide-angle lens covers a wider field of view than what our eyes are capable of seeing. As a result, wide-angle lenses will look less natural, though more dramatic. 
Q: Can you zoom with a wide-angle lens?
Depending on the type of lens that you buy, yes. There are both zoom and prime versions of wide-angle lenses. A prime lens has only one focal length, meaning you cannot zoom in or out. There are prime lenses available in most of the standard focal lengths, such as 14mm, 24mm, and 35mm.

A zoom lens will have a range of focal lengths, allowing you to zoom in and out. The range you get on a zoom lens can vary widely, so how much you can zoom in will depend on that. 
Methodology
The editors and writers at Popular Photography have decades of photography experience in nearly every genre and have covered just about every major camera brand on the market. We looked at various features when selecting the best wide-angle lens for Nikon cameras. As with all lens reviews, the quality of the lens (sharpness, distortion, and chromatic aberration) represents one of the primary considerations. We also looked at lenses that covered a wide range of the wide-angle spectrum, from ultra-wide to more conventional wide-angle. Lastly, price was also an important factor in our selections.
Final thoughts
Despite being a third-party lens, Sigma's 24-35mm f/2 DG HSM Art checks the most important boxes to be our pick for the best overall wide-angle lens for Nikon. It covers a mostly ideal range for a wide-angle lens, has a nice, fast aperture, and is sharp. Plus, it's much more affordable than Nikon's closest comparison.