The Sony ZV-1 II camera has a wider lens and more vlogging features
The ZV-1 II brings some worthwhile upgrades and takes some features from it's full-frame sibling.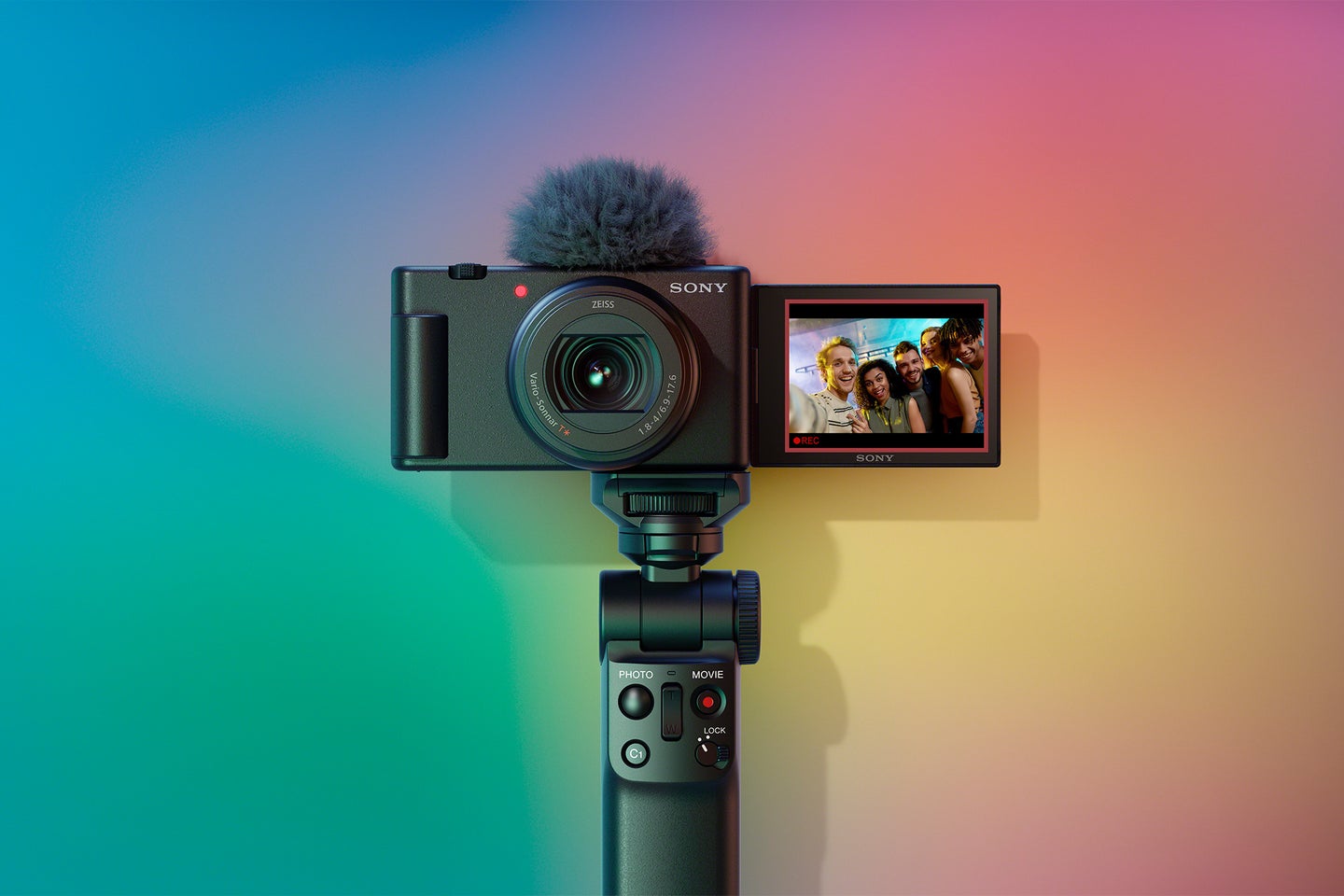 There's been a flurry of vlogging-specific camera releases lately. Canon released the tiny, beginner-friendly EOS V10 earlier this month, and in March, Sony announced the ZV-E1, a full-frame vlogging camera. And now, Sony has announced the ZV-1 II, an update on it's popular point-and-shoot vlogging camera. The new iteration brings to the table an even wider lens, a faster stacked CMOS sensor, a new mic design, and more vlogging-centric features. The ZV-1 was already one of our favorite vlogging cameras, and we anticipate the ZV-1 II will easily take its place.
What is the ZV-1 II
Like the original ZV-1, the ZV-1 II is a camera built for vlogging. While it certainly can take stills, the main focus of the camera is video and vlogging use. At $898.00, it's perhaps a bit more than an entry-level camera, but it sits at the bottom of Sony's vlogging lineup. It's a small point-and-shoot style camera with a built-in 18-50mm (35mm equivalent) lens, offering a wide perspective for group videos and immersive content.
Sony ZV-1 II details
While the ZV-1 and ZV-1 II are very similar in a lot of respects, there are some big changes. For starters, Sony moved the camera from a 24 to 70mm lens to a wider 18-50mm (both are the 35mm equivalent). The wider perspective is ideal for vloggers, especially those who record themselves and need to hold the camera frequently. It will be easier to get what you need to in the frame without having an absurdly long arm.
The ZV-1 II still features a 1-inch 20.1-megapixel sensor, though it has been upgraded to a stacked CMOS design, which results in faster readout times. Sony also did away with the mechanical shutter entirely in this update, instead opting for an electronic-only shutter setup. It offers a three-inch flip-out touchscreen, which makes selfie content easier. And the USB-C port can be used to charge the camera while you are recording, or connect to an external recorder or monitor.
Video capabilities
Like the previous version, the ZV-1 II is capable of 4k 30p video. It also offers S&Q shoot mode with the ability to select between 5x slow or 60x quick motion. Active Mode electronic image stabilization smooths out video while moving and shooting handheld. The built-in ND filter reduces exposure by three stops, which helps achieve bokeh even when shooting in bright conditions. Sony also redesigned the monitor display with a bold, noticeable red frame so you can quickly and easily tell if a recording is in progress.
Sony upgraded the microphone of the ZV-1 II, offering even better sound quality from the built-in three-capsule mic. It offers an Auto mode, which can detect human faces or objects and automatically changes the direction of the mic to either the front or all directions. Manual mode allows you to choose from the front (for selfies), rear (for narration), or all directions. It comes with a windscreen to filter out noise when recording outdoors as well. A Multi Interface Shoe and 3.5mnm microphone jack allow you to connect an external mic if you want to take things to the next level.
The camera can also be used as a webcam, offering high-quality live streaming. And you can use Creative Look while live streaming, resulting in clearer and brighter faces with smoothed skin and adjustable hue. It is compatible with the Sony GP-VPT2BT grip as well, which features a built-in tripod and offers better control over camera movements when recording.
Autofocus
The ZV-1 II uses Sony's fast Hybrid AF system seen in its α series cameras. It provides real-time phase-detect autofocus tracking, including Real-time Eye AF, which can track both humans and animals in stills and movies. It even supports Multiple Face Recognition, which can recognize up to three faces and keep them sharp and clear when taking selfie shots.
The Product Showcase feature makes it easier to show off products with the focus automatically switching between your face and an item you are holding. You can also adjust the focusing speed during video recording using the AF Transition Speed setting. And AF Subject Shift Sensitivity provides control over whether the camera shifts focus from one subject to another.
Creative modes
The ZV-1 II provides a slew of creative modes and settings to give you more control over the look of your videos without spending hours editing on a computer. For example, Creative Look offers 10 preset looks to suit your preferences. The Bokeh Switch provides attractive bokeh with just a single touch.
Features from this camera's big brother, the full-frame ZV-E1, have already tickled down, including the Cinematic Vlog setting. This one-touch mode automatically changes settings that provide a more cinematic look. That includes a 24fps frame rate, a 2.35:1 aspect ratio, and the ability to choose from five LOOKs and four MOODs to change the style of your video.
The camera also offers two modes to make portrait videos better. Face Priority AE automatically detects faces and adjusts exposure to ensure a face is bright enough no matter what lighting you are in. And the Soft Skin Effect smooths skin and facial features when recording.
Should you want more control when editing, the camera also provides access to Sony's S-Log3/2 and HLG picture profiles that match the company's professional cine cameras.
Pricing & availability
The Sony ZV-1 II comes in both black and white. They will be available for pre-order at an MSRP of $898.00 starting on May 24. The camera will ship in June.