Canon has announced two entry-level mirrorless cameras and lenses
Canon has released four new pieces of gear for entry-level photographers.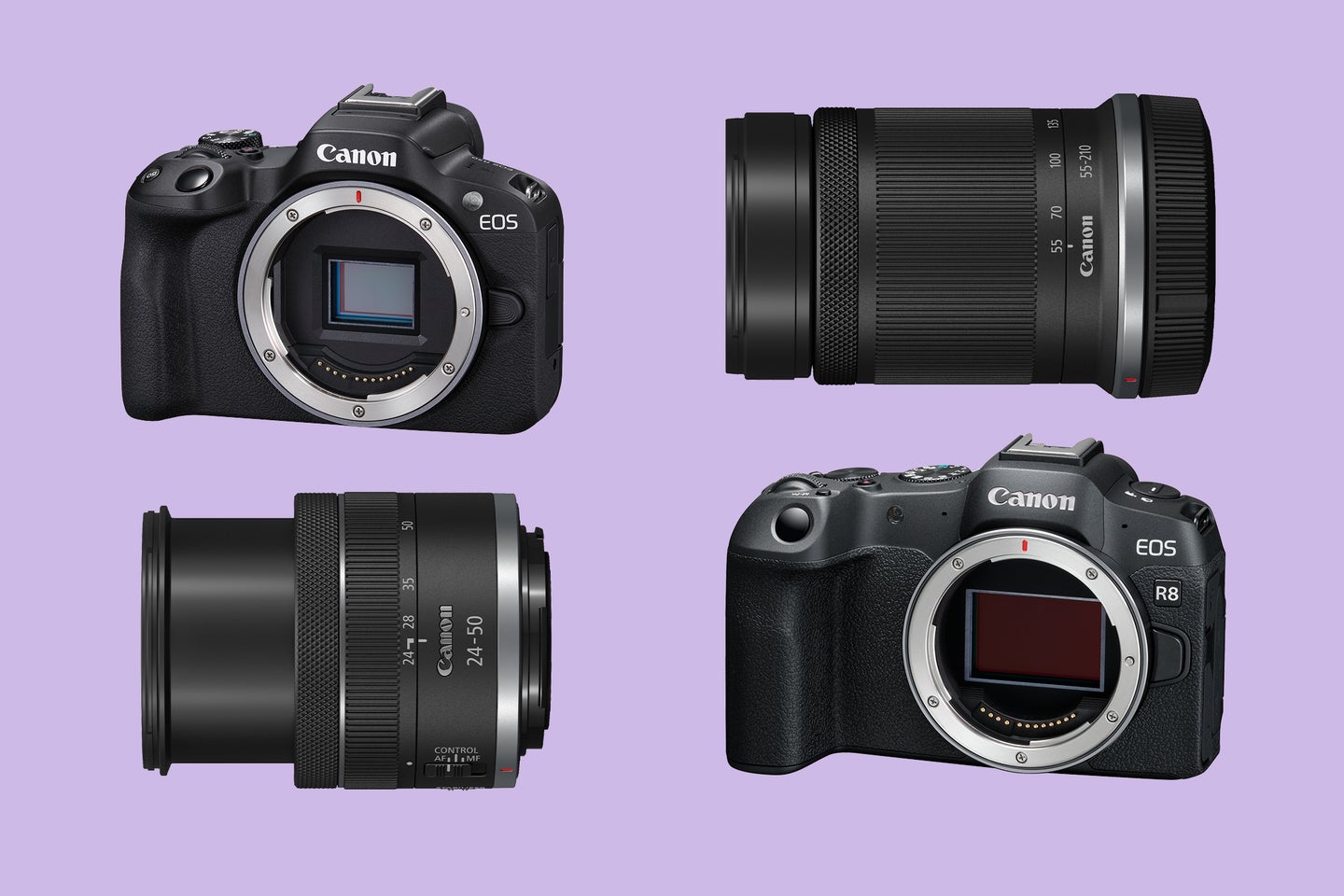 Canon is starting the year off with a bang and bringing us four new pieces of gear all at once. The company's latest release includes the long-rumored EOS R8 and the EOS R50. Two new lenses join them in the announcement: The RF24-50mm F4.5-6.3 IS STM, and the RF-S55-210mm F5-7.1 IS STM. 
All four pieces of gear take aim at beginners and casual photographers. Despite their relatively low-cost and beginner-friendly designs, the cameras both benefit from the more advanced autofocus and video capabilities of Canon's more expensive models. The lenses and cameras also share a focus on portability and are extremely compact, making them easier than ever to bring with you on travels. 
Canon EOS R8 
There have been rumors and speculations swirling about the R8 for some time now, but the wait is over. The $1,499 (body only) EOS R8 is an entry-level, RF-mount, full-frame body that will sit squarely between the EOS RP and EOS R. It's a compact and lightweight camera weighing just one pound with a battery and SD card. 
The body design stays consistent with Canon's R line, with no major changes. The one exception is the lack of a joystick on the back of the camera. There is some weathersealing, but it is minimal. You won't want to get caught in a torrential downpour for long without having some extra protection like a rugged bag or dedicated rain cover. 
It will feature the same 24.2-megapixel sensor as R6 Mark II—meaning it isn't backside illuminated or stacked. Canon says the reason for the traditional sensor is to keep the cost low, but it is interesting to see them sticking with this design so consistently. 
It is also a bit surprising to see fewer megapixels in the R8 compared to both the R (30.3 megapixels) and RP (26.2 megapixels). But Canon claims that despite having fewer megapixels, the overall image quality of the R8 will far surpass the R and RP. It will offer a base ISO range of 100-102,400 with an expanded range of 50-204,800 and should handle noise better than the APS-C sensor EOS R7.
R8 autofocus
We love to see when advanced features trickle down quickly to entry-level models, which is exactly what has happened with the R8's autofocus abilities. It gets a robust selection of autofocus capabilities that should provide the same great results we've seen from Canon's more expensive cameras like the R6 Mark II and even the R3. It utilizes AI subject detection and can automatically recognize and focus on people, animals (now including horses), and vehicles. 
Additionally, the R8 can automatically detect eyes and even allows you to find and track the right or left eye specifically. A new autofocus feature on the R8 is the "Tap to select subject" mode. This setting works when looking through the viewfinder and the camera detects multiple subjects. You can then tap on a previously specified part of the screen (the default is the right half) to cycle through the subjects. It allows you to choose who you want the camera to focus on without taking your eye away from the viewfinder.
The R8 also offers in-camera focus bracketing. It will automatically shift focus over the course of a series of images. You can select both the number of shots as well as the amount the focus point moves each time. The camera then merges them all in-camera, so you don't have to worry about focus stacking in post.
Video features of the R8
Canon explains that the R8 is geared towards the casual content creator but works well for those aspiring to do more serious work as well. The video features in the camera speak to that, as they are expansive and impressive for a camera at this price point.
The R8 is capable of 4K60p uncropped video that is oversampled from 6K. And it can handle full HD at up to 120p for slow-motion footage. 10-bit Canon Log is also possible. It will offer two hours of continuous shooting, as long as you can sustain that with battery life and memory space. However, there are some heat limitations. At 4K60p, Canon says that you'll be able to get 30 minutes of recording time at normal room temperature. But if you jump down to 30p, there should be no limit based on temperature.
For focusing, the R8 supports Dual Pixel CMOS AF. That includes subject detection, eye detect, and tracking. Unfortunately, the camera won't offer any stabilization beyond Canon's Movie Digital IS. But that will work in conjunction with a lens that provides stabilization. You'll still want a gimbal or tripod for most video work, but it will help smooth things out more than having nothing. 
Pricing & availability of the EOS R8
The R8 will start shipping in March. It is available for $1,499.00 (the same price as the R7) for the body only. Or you can purchase a kit that includes the new RF24-50mm F4.5-6.3 IS STM for $1,699.00.
Canon EOS R50
Also included in this release is the new EOS R50. The APS-C R50 falls firmly into the entry-level category, designed for casual amateurs. Canon specified that this camera is ideal for those who want smartphone camera-like functionality from a camera. 
It's certainly small enough to be a step up from a smartphone and weighs just 13.2 ounces, which is less than the M50 Mark II. The body design is similar to the EOS R10, albeit with simplified controls. Canon especially paired down the dials on the top of the camera, with the mode dial taking the place of the quick control dial typically used for adjusting aperture. Canon also removed the multi-controller on the R50, instead making it a touchscreen experience.
Like the R8, the R50 will feature a 24.2-megapixel sensor, though in this case, it is a smaller APS-C sensor. It also contains a DIGIC X processor to cut down on rolling shutter and reduce noise handling. As you may have expected, based on the R8, the sensor in the R50 is not backside illuminated or stacked. 
The R50 contains only an electronic shutter, with no mechanical shutter. It is capable of up to 15 frames per second, so while it won't be a sports photography machine, it does provide some decent burst rates. 
Automatic settings 
Though the R50 has full manual capabilities, Canon optimized it for full automatic shooting. It features three new automatic settings—Creative Assist, Creative Bracketing, and Advanced A+—suitable for different needs and scenarios. Creative Assist is essentially a slightly more intelligent automatic mode. It provides more flexibility than traditional auto, but in a way that someone who doesn't know about photography will understand and be able to utilize. 
Creative bracketing takes three photos for every shutter press, altering settings between each. Canon hasn't said exactly what the camera is bracketing, whether it be exposure, white balance, or a combination, so it's a bit unclear what this setting would be best used for. 
The last mode, A+, is the most like your smartphone. When the camera detects a problematic scene, such as backlighting, it shoots lots of photos and processes them together to create one image. It also automatically detects the scene, whether it be a closeup shot, landscape, portrait, et cetera, in order to tailor results specifically to that. 
R50 video capabilities
Despite the entry-level status of the R50, it offers 4K video, which is a first for a camera in this category. The 4K30p video is oversampled from 6K, which should result in sharp, high-quality videos. It's also capable of Full HD up to 60p. 
Another impressive aspect of the R50 video features is that it gets essentially all the same video autofocus features of the R6 Mark II. The R50 relies on Dual Pixel CMOS AF and includes face, animal, and vehicle detection and tracking. It also provides access to Detect Only AF, which keeps focus on your subject even if they move out of the frame or behind something. The R50 also gains a new movie mode for closeup detection, which is ideal for showcasing products. 
There is no in-body stabilization (IBIS) in the R50, but there is digital IBIS to provide some assistance when shooting handheld. 
Pricing & availability of the EOS R50
The R50 will be available in April for $679.99 for the body only. It comes in either white or black. You'll also be able to purchase it as a kit with Canon's RF-S 18-45mm f/4.5-6.3 IS STM lens for $799.99. And a two-lens kit is also available, which includes the RF-S 18-45mm f/4.5-6.3 IS STM and the RF-S 18-45mm f/4.5-6.3 IS STM for $1,029.00.
Canon RF24-50mm F4.5-6.3 IS STM details
Canon's new 24-50mm lens will serve as a standard compact kit lens. And compact it is. The lens weighs just 9.5 ounces and is only 5.3 inches long when zoomed in to 50mm. Though it is intended for use on full-frame cameras, it will work on APS-C and will provide a 38-80mm equivalent focal length. 
Despite the kit lens designation, it will provide 4.5 stops of optical stabilization. That's good to see, considering the last handful of Canon cameras haven't included IBIS. Unfortunately, there is no weathersealing on the lens, but for the price, that's not totally unexpected. 
Pricing & availability
The new RF24-50mm F4.5-6.3 IS STM will be available in March for $299.99. As mentioned, it will also come as part of the R8 kit for $1,699.00.
Canon RF-S55-210mm F5-7.1 IS STM
The last product in this big release is the RF-S 55-210mm lens. It is equivalent to 88-336mm on a full-frame sensor, providing a lot of reach for such a small package. At only 9.5 ounces, it's an ounce lighter than the RF-S 18-150mm f/3.5-6.3 IS STM that Canon released last year. 
Like the 24-50mm, it offers 4.5 stops of optical stabilization. And if you are using a camera with IBIS, you'll get seven full stops of stabilization. Though it's not a macro lens, it can focus as close as 2.4 feet, allowing for some nice detail shots. 
Pricing & availability
The 55-210mm will be available in March for only $349.99.