Olympus TG-4 Review
Our initial thoughts on shooting with the Olympus TG-4, a new rugged compact camera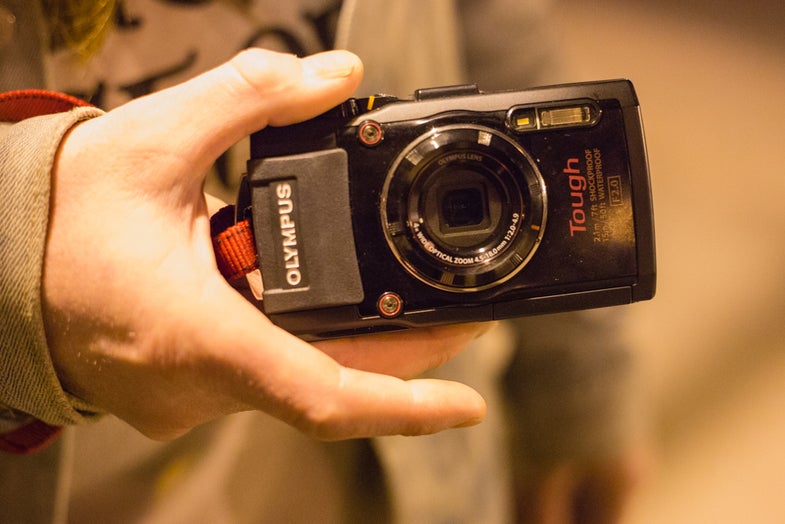 The Olympus TG-4 is basically built to be abused. This compact camera is waterproof up to 50ft, crushproof to 220 lbs, freeze proof to 14 degrees, shockproof to 7ft and dust proof. The TG-4 survived being submerged in freezing cold water, a very bumpy and muddy ATV ride and a speedy zip line trip through the trees. It is also small and light enough that it isn't cumbersome to carry around on whatever setting your heading into.
Although the Olympus TG-4 is certainly good at not falling apart in extreme conditions, it is also a quality camera. The biggest update to the Olympus TG-4 is it's ability to shoot RAW capture—the first rugged compact to do so. There is no all manual mode, but the TG-4 can be used in Aperture Priority mode and when the f/2.0 wide-angle high speed zoom lens is open all the way the Olympus TG-4 produces some pretty good looking bokeh. The camera's ISO can be cranked up to 6400, but at high levels things do get noisy.
The TG-4 can also be switched to Microscope mode, Live Composite mode and Underwater mode. Microscope mode was one of my favorite settings on this camera. Microscope allows you to focus on a subject as close as 1cm away and I experimented with it on a variety of subjects. When paired with the LED Light Guide that attaches to the camera's lens you can press the Olympus TG-4 against almost any surface, zoom in and the ring of light will illuminate details that are too small to be seen by the human eye. If you enable focus stacking mode while you shoot these incredible close-ups end up having a very impressive depth of field.
Live Composite mode was another interesting feature that makes photographic techniques like capturing star trails and light painting almost idiot-proof. In Live Composite the Olympus TG-4 automatically sets to ISO 200 and f/2.8 and will take a 3 second base exposure—I tested it out while doing some light painting and was impressed by the results I got in a pre-programed mode. Unfortunately, RAW capture is not available in this mode.
I didn't have many opportunities to test out Underwater mode on the Olympus TG-4, but I did find nailing focus in moving water to be a bit tricky. The Olympus TG-4 does have the ability to shoot underwater HDR composites though, I didn't have a chance to test this new feature out though.
Video can be shot in 1080p, 720p, VGA, HS 120fps and HS 240fps and there is an option of Image Stabilization—which I found incredibly helpful while shooting video in a variety of fast moving or bumpy situations. The Olympus TG-4 has limited audio options, which is to be expected with a compact. You can record videos with or without sound, with or without wind reduction and at a Normal or Low level. While the Image Stabilization proved to be pretty good, as you can tell in the short clip above the camera's audio capabilities are limited—especially when being blasted by wind.
When paired with the Olympus ImageShare app it becomes incredibly easy to instantly share images and video shot on the camera through email or to social media. If you press the Menu/Wi-Fi button a QR code appears that can be scanned by the ImageShare app. This creates a connection between phone and the Olympus TG-4 and within the app you will be able to see all of the images and videos on the camera's card and save them to your phone.
At $379.99, the Olympus TG-4 is slightly more expensive than it's predecessor the TG-3— but that price bump gives you the ability to shoot RAW, which you won't find in other rugged compacts.
Check out our sample image gallery below to see some of our favorite shots from the TG-4.