New Gear: Olympus TG-3 Tough and SH-1 Advanced Compact Cameras
Olympus adds a tough camera and a long-zoom to their compact camera arsenal
We may earn revenue from the products available on this page and participate in affiliate programs. Learn more ›
Compact camera releases are getting to be relatively few and far between, but Olympus has a pair of new attached-lens compact cameras to add to their line-up. The first is the new TG-3 Tough camera with beefed-up macro capabilities, while the second is the more traditional SH-1, which mimics their popular PEN-series cameras.
The TG-3 has all the familiar Tough specs you've come to expect out of a rugged camera. It's waterproof to 50-feet, shockproof from a height of 7-feet, and crushproof to 220-pounds of force. It can also survive in temperatures down to 14-degrees and its weather-sealed to keep dust out.
The real notable addition to the TG-3, though, is the macro functionality. It has necessities built right in, including focus bracketing and focus stacking to help deal with the tiny depth of field involved with close-up photography. It can focus as close as 10mm when in microscope mode. You can also get an optional accessory ring light that surrounds the camera's lens and harnesses light from the built-in flash. It's meant to achieve the same purpose as the ring of lights found around the lenses of Pentax's rugged cameras.
There are no real surprises from a pure imaging standpoint. It has a 16-megapixel 1/2.3-inch BSI CMOS sensor and a 3-inch LCD screen with 460,000 dots of resolution. It's not a touchscreen in order to keep up the toughness and also because using a wet touchscreen is nearly impossible. The lens is a 4x affair with a 25-100mm full-frame equivalent field of view and a maximum aperture of F/2-4.9. It will cost $350 when it launches in June.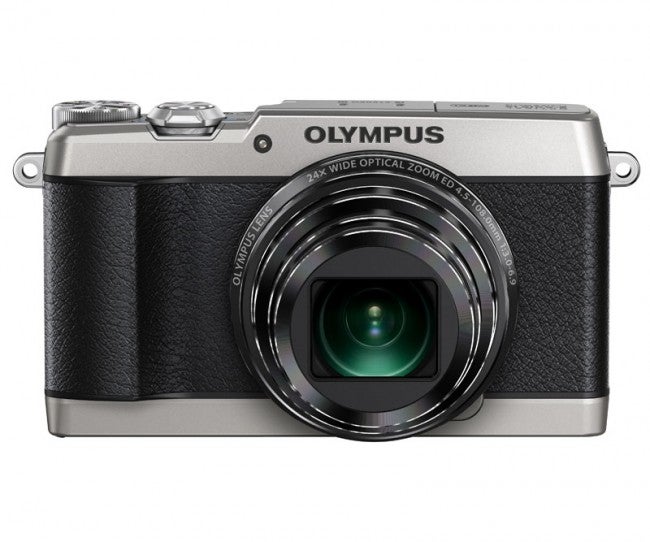 The SH-1 is a more traditional compact, so you won't be taking it on any Mountain Dew commercial adventures, but it does adopt the rather attractive styling of the Olympus PEN series cameras. The big draw is the 24x zoom range attached to the front, which gives you a 25-600mm full-frame equivalent field of view in a rather compact body.
It has a 1/2.3-inch BSI CMOS sensor, which is a little small for an advanced compact, but with all that zoom, it's not surprising to see. It also has a 3-inch display, but this time it is a touchscreen. It will cost $400 when it's released in May.