The Best Camera and Photo Gear from CES 2014
All the newest gadgets from the Consumer Electronics Show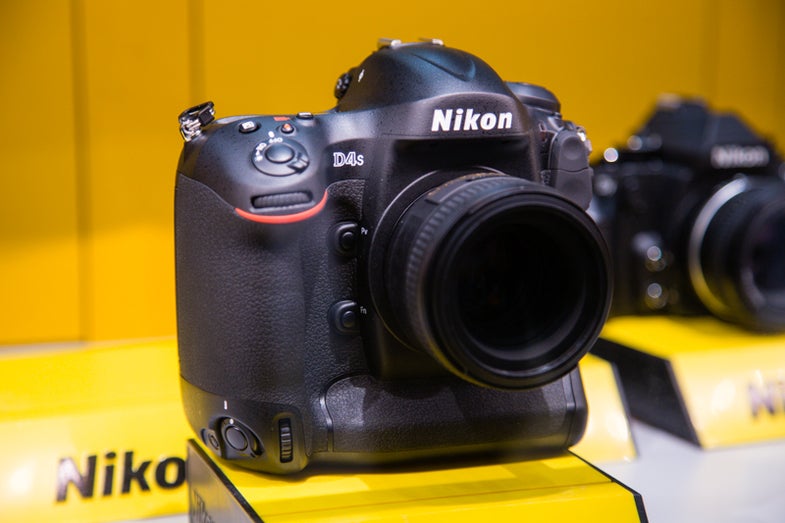 We may earn revenue from the products available on this page and participate in affiliate programs. Learn more ›
The Consumer Electronics Show is the electronics industry's yearly chance to trot out all their newest and coolest gear for the first time. We were live on the floor of the 2014 show and got a chance to check out all the new stuff. In case you couldn't be there, we've gathered up the best and most interesting announcements and have collected them in one place. So click over to the gallery and let your gadget nerd flag fly.
Some clear trends have definitely emerged, including 4K video capture, wearable cameras, and of course, drones.
CLICK HERE TO LAUNCH THE GALLERY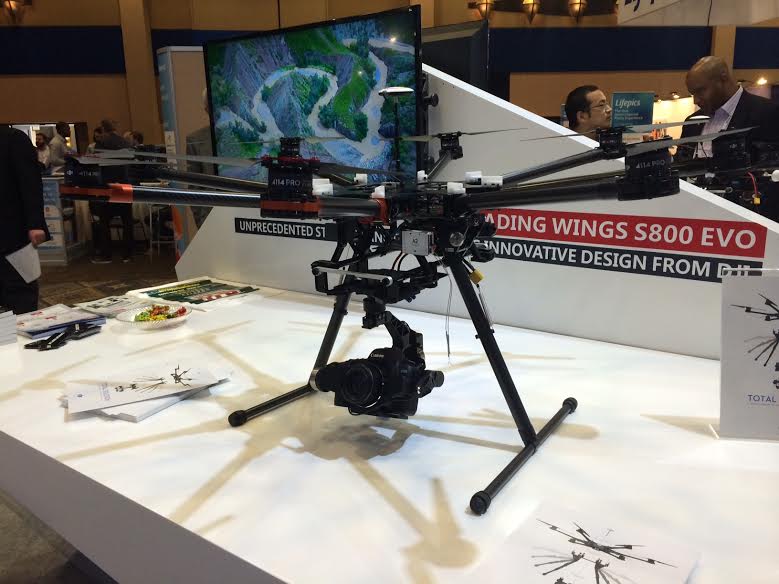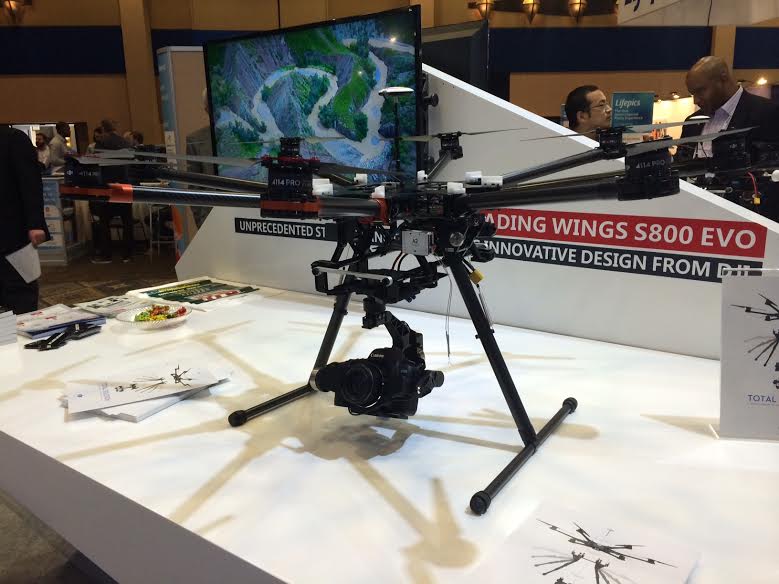 DJI Spreading Wings S800 Evo Drone
Getting your camera up in the air is challenging, but something more and more companies are trying to do. This full-sized hex-rotor drone is burly enough to handle a full-frame DSLR with a lens, which means you can do real drone photography from the sky without having to cheat and use a GoPro. It has retractable landing gears and a very rigid frame to try and keep things as smooth and easy to operate as possible. You can also add all kinds of necessary accessories to it, like a gimbal for steadying the camera. And while we didn't get to fly it, it is supposed to be pretty simple to operate, which is good, because sending an expensive DSLR up on a drone can be very nerve-wracking. While it's cool to see this technology becoming more widely available, it's still not cheap, checking in over $5,000, even before you add any of the accessories that make drone photography workable.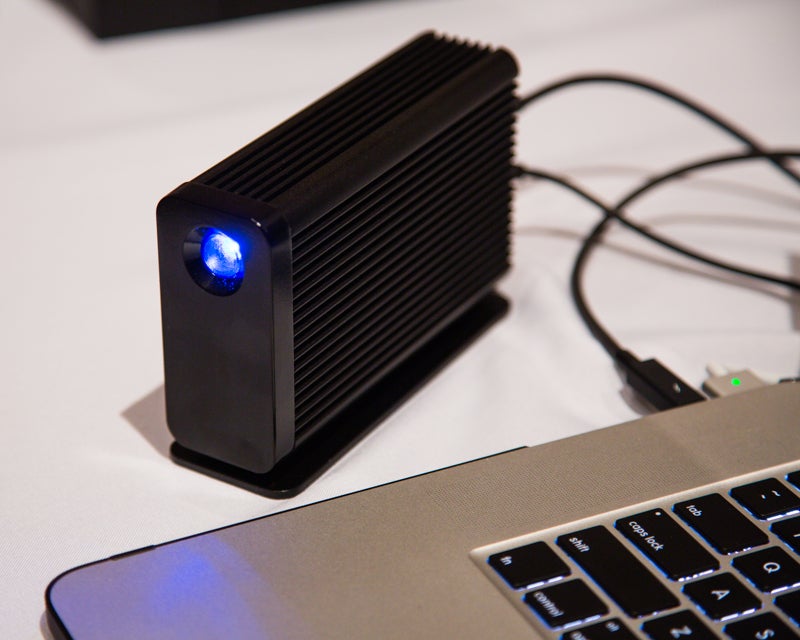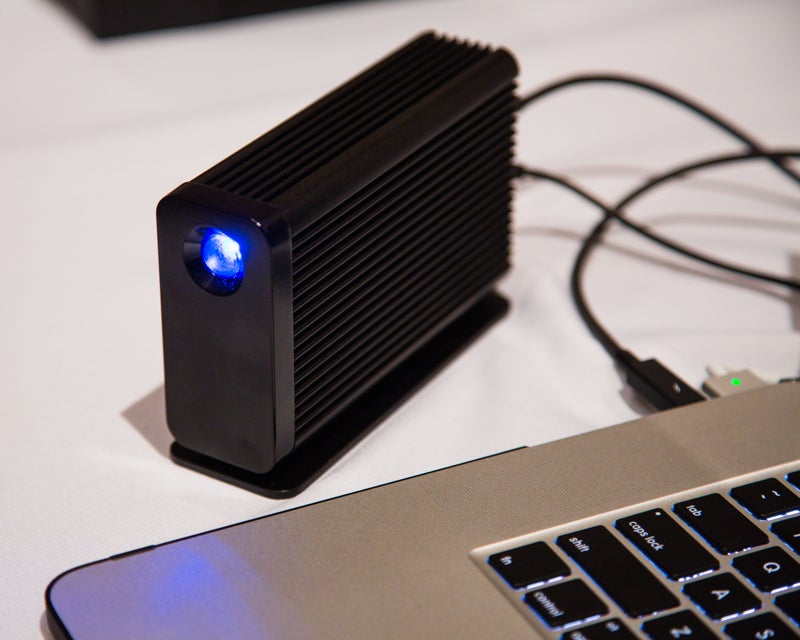 LaCie Little Big Disk Thunderbolt 2 External Hard Drive
As far as LaCie knows, this is the "world's fastest portable hard drive." It boasts speeds of up to 1,375MB/s, which is the kind of speed you want for 4K video editing. But it can also come in pretty handy for backing up lots of photo files. According to the Lacie rep on the floor, it can back up 300 GB of data in about four minutes. That's pretty fast. It actually has two solid state drives inside and connects via a Thunderbolt port, which can be daisy chained to add more drives or displays. It still needs to be plugged in to an outlet (it takes too much juice to be BUS powered), but it has an extremely small form-factor thanks to the SSDs inside.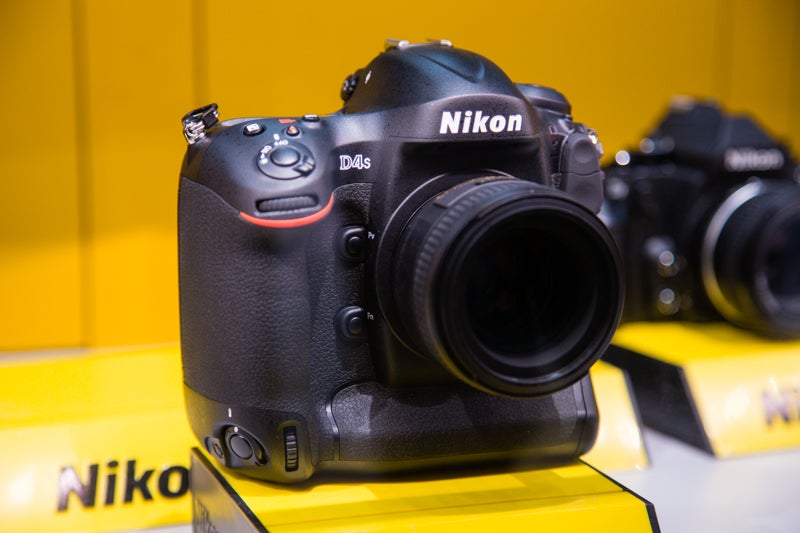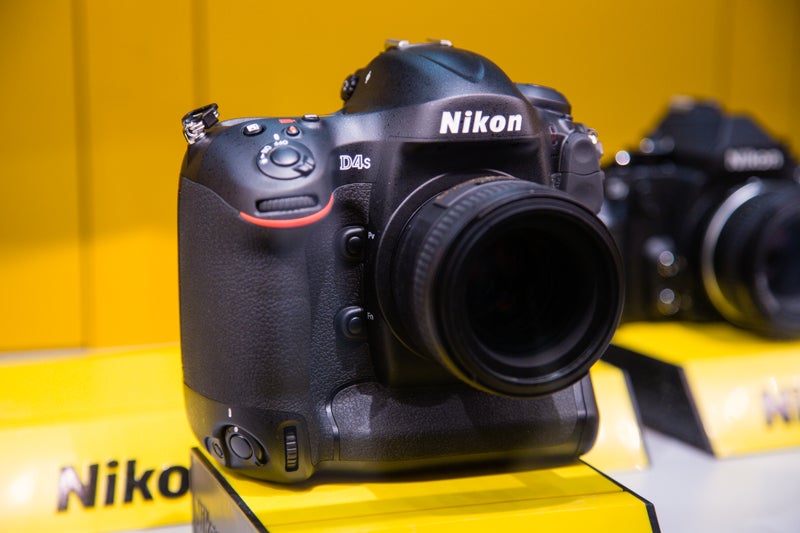 Nikon D4s DSLR
Nikon barely announced any details for their upcoming D4s pro-grade DSLR, but it was still one of the biggest draws of the show, at least from a photography standpoint. With the Olympics coming up, it seems clear that some pros will likely be shooting the D4s at the games, so we'll be interested to see when the rest of the details are announced. What we do know is that the D4s will have more processing power than the current D4. The D3s also had an improved framerate over the D3 that came before it, so we wouldn't be surprised to see an improvement in that area here as well. Hopefully more details are made available before the games.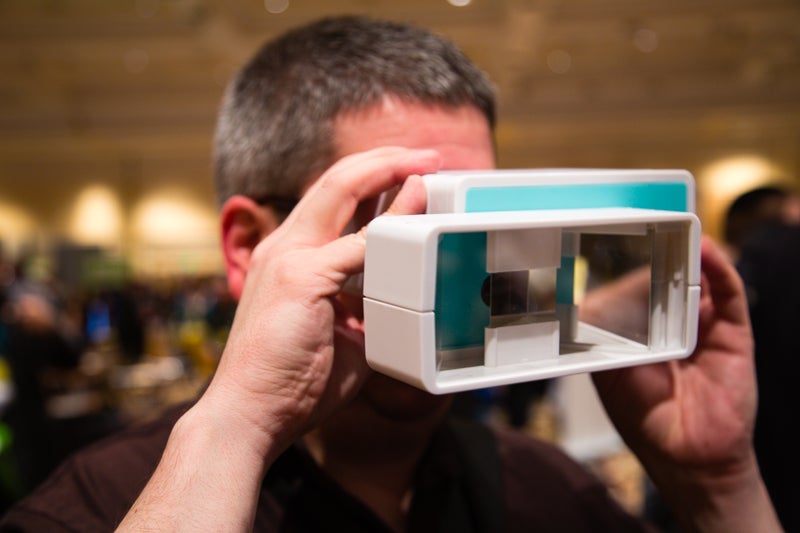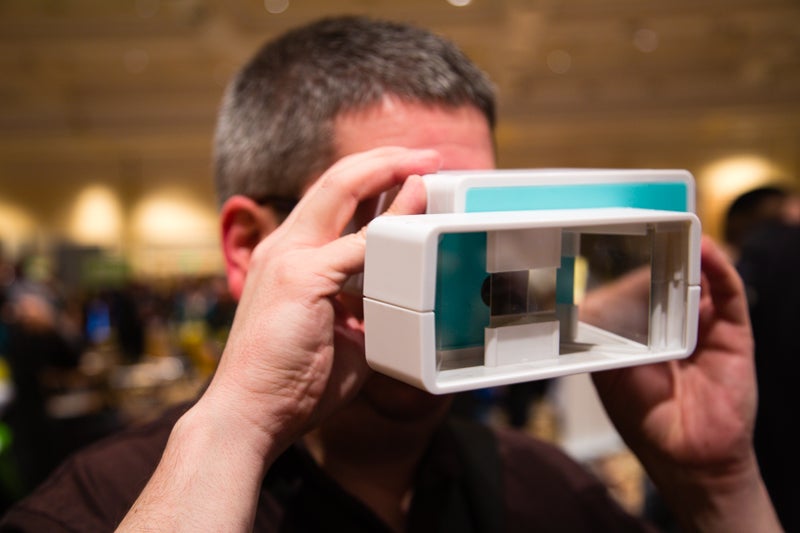 Poppy
There's really not much 3D technology at all this year at the show, but this lo-fi solution is pretty cool. Using a simple series of mirrors, the Poppy lets you record and view 3D photos and video using an iPhone 5. It works in a similar way to the Viewmaster you may have had as a kid, by showing a slightly different photo to each one of your eyes. The way the gadget is setup, though, you can also capture images as well as view them, which means you have a lot more options in terms of what you can look at.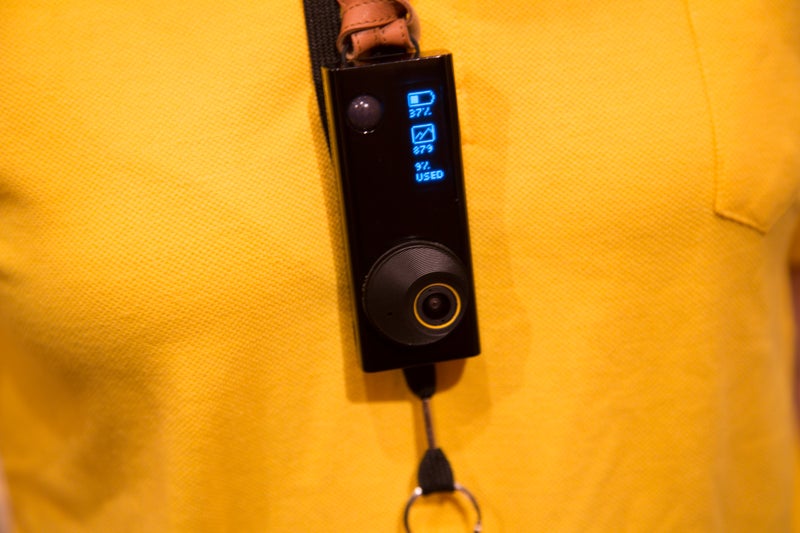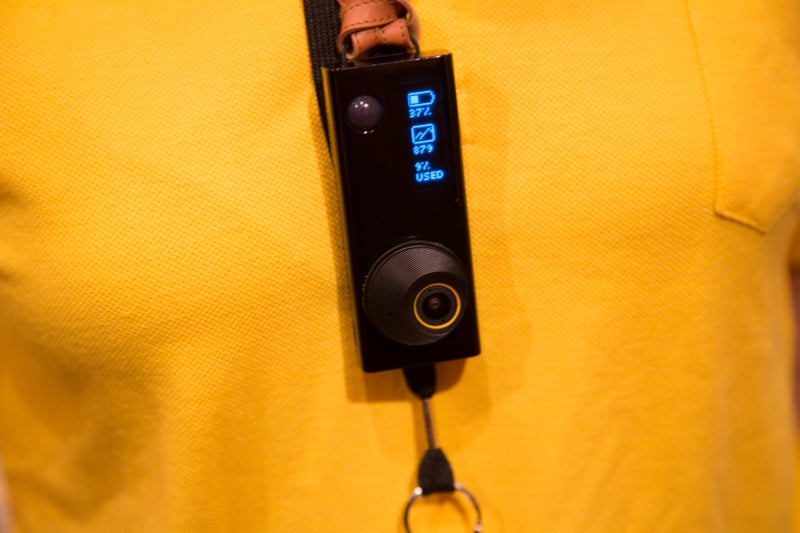 The Autographer
We'll be expanding on this concept a little later in the week, but wearable technology was huge at CES 2014 and cameras were no exception. The emphasis is typically on "life-logging" which is all about having a camera passively capture moments as they happen. One of the cooler new wearable cameras we got to check out was the Autographer camera, which is meant to be worn pretty much at all times. It then uses sensors to analyze your movements and it tries to figure out when you're doing something interesting and then it shoots photos. It has a 136-degree wide angle lens and an ample battery that lasts 12-14 hours, so you can simply charge it at night when you sleep.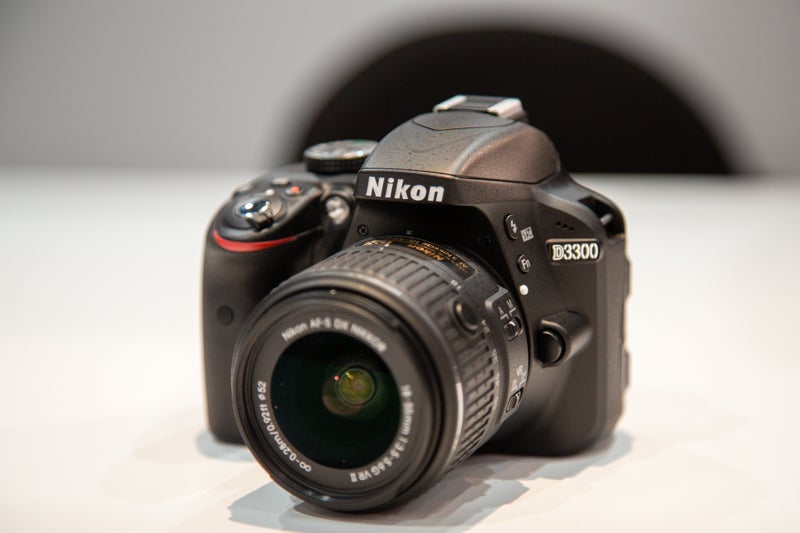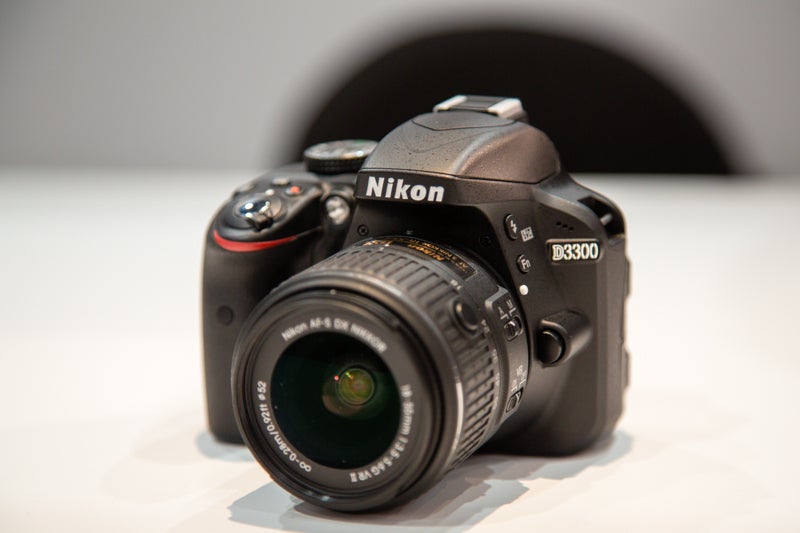 Nikon D3300
As the name suggests, the Nikon D3300 isn't a huge leap from the D3200 that came before it. It has mostly the same body design and the same 24.2 resolution pumping out of its APS-C sensor. But, they have made some noticeable changes. The D3300 comes without a low pass filter, which will help maximize overall detail reproduction and it's also equipped with their Expeed IIII image processor, so it has a little more computing horsepower under the hood. It's coming to shelves in February, at which point it will cost $650 as part of a kit with the 18-55mm lens. The continuation of the line suggests that the entry-level shooters really do appreciate the high-resolution option.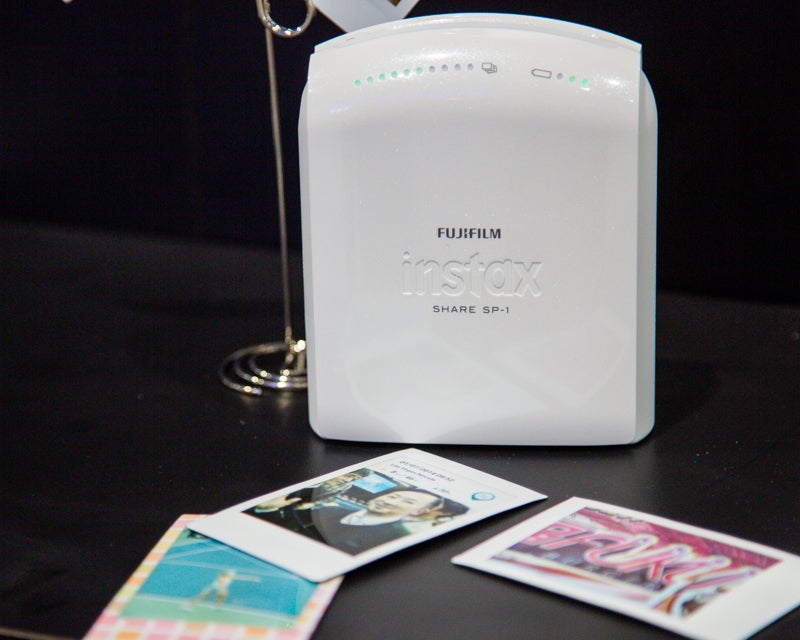 Fujifilm Instax Share Printer
Fujifilm Instax Share Wireless Smartphone Printer While Fujifilm's new wireless smartphone printer probably won't change the way you take photographs, it is one of the most fun new products announced here at the show. This battery-powered printer actually uses sheets of 2×3-inch analog film to make prints from smartphone photos. It connects wirelessly through an app that lets you add different amounts of editing and even unique information about the photo (like metadata and even the local weather at the time) before printing. It's coming later this year for $200, which is a bit steep, but Fujifilm really seems to be throwing their weight behind the Instax initiative, so it will be very interesting to see where it goes from here.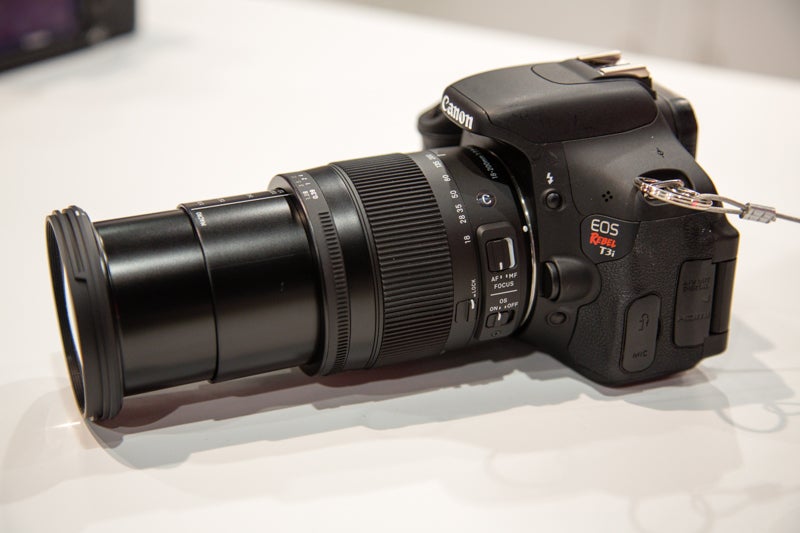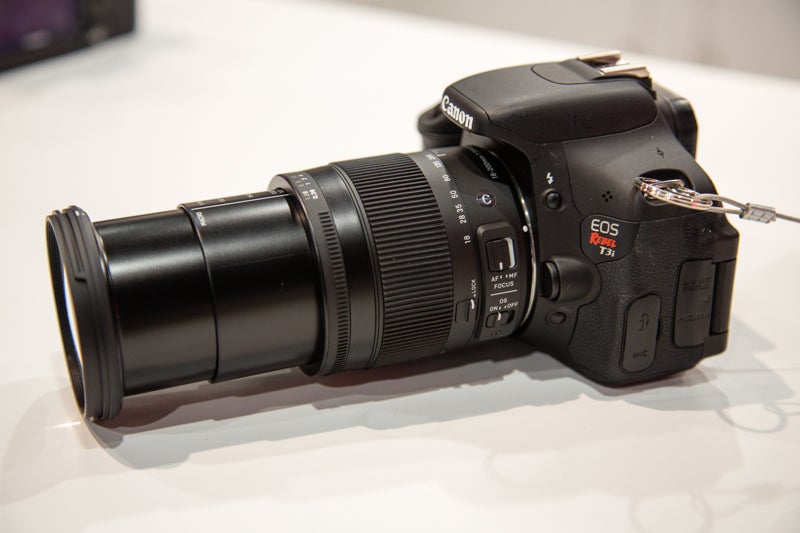 Sigma 18-200mm F/3.5-6.3 DC OS HSM Zoom Lens
Sigma 18-200mm F/3.5-6.3 DC OS HSM Zoom Lens Sigma revamped two of its most popular lenses in the form of the 18-200mm F/3.5-6.3 and the 50mm F/1.4. They made the all-in-one zoom both smaller and lighter, which is something that segment is always striving for. I spent a few minutes shooting with it on the floor and was impressed with how it performed under the genuinely unpleasant lighting conditions offered by the typical trade show. There's no pricing information quite yet, but we'll share that when it's available. We'll also have both lens in the Popular Photography test lab for review as soon as they're available.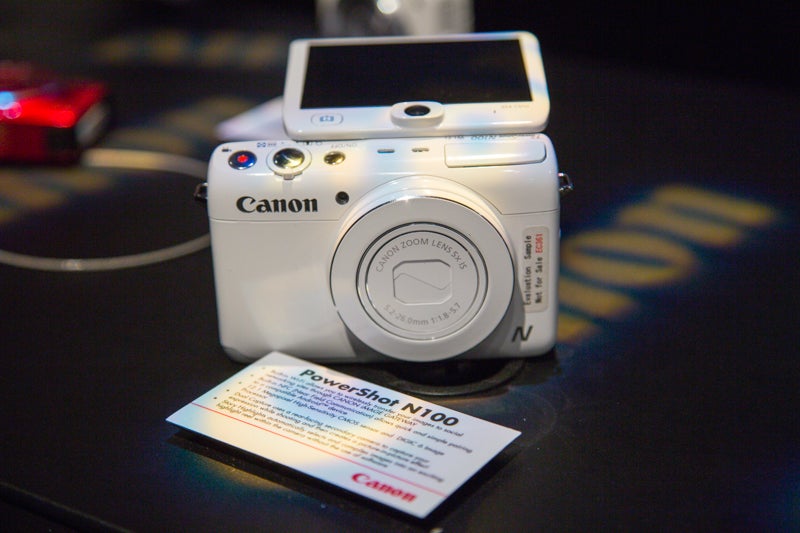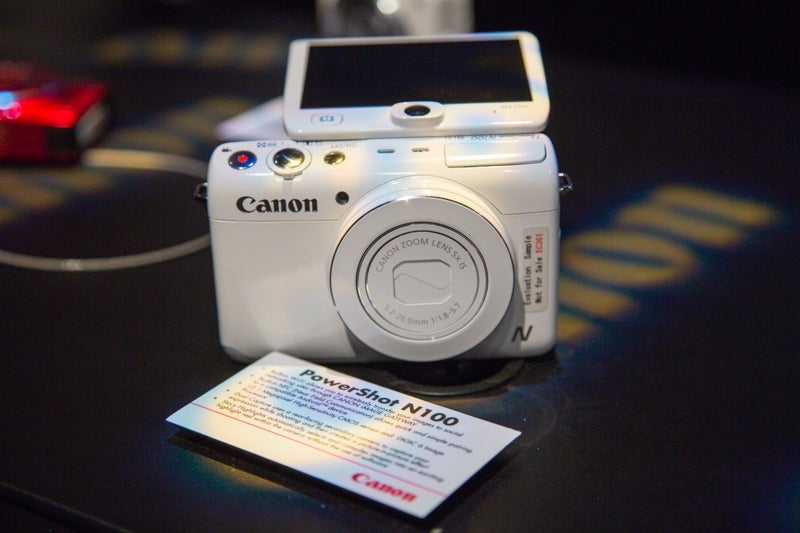 Canon PowerShot N100
Canon PowerShot N100 There are some new compact cameras to be seen here at CES, but many are simply granular updates to already existing lines. The PowerShot N however, has gotten a much more substantial upgrade. Canon changed up the form factor, giving it a slightly more traditional look, but they also added the same 12-megapixel sensor and excellent 5x zoom lens from the well-regarded S120. The big talking point about the N100, however, is the rear-facing camera. If you're so inclined, you can have it snap a shot of you while you're out taking photos. It works for video, too. We tried it briefly on the floor and it's a bit weird to have your own face laid over the photo you're taking, but we give them credit for trying something a little different.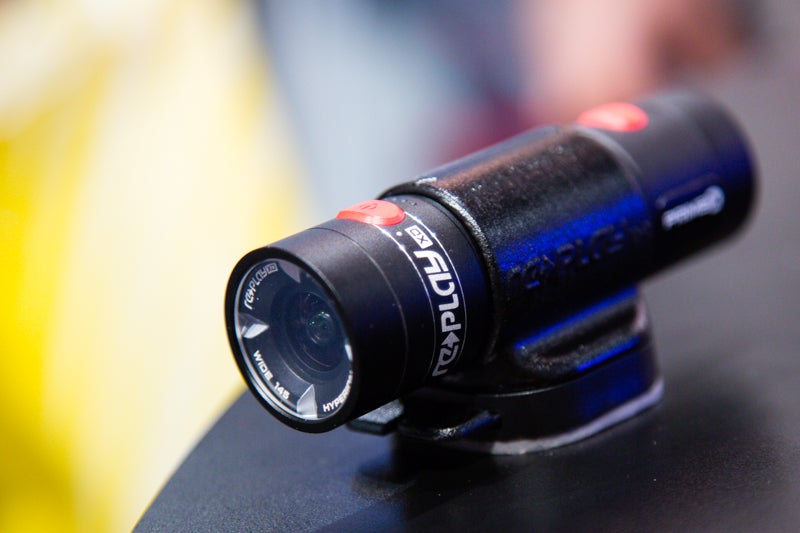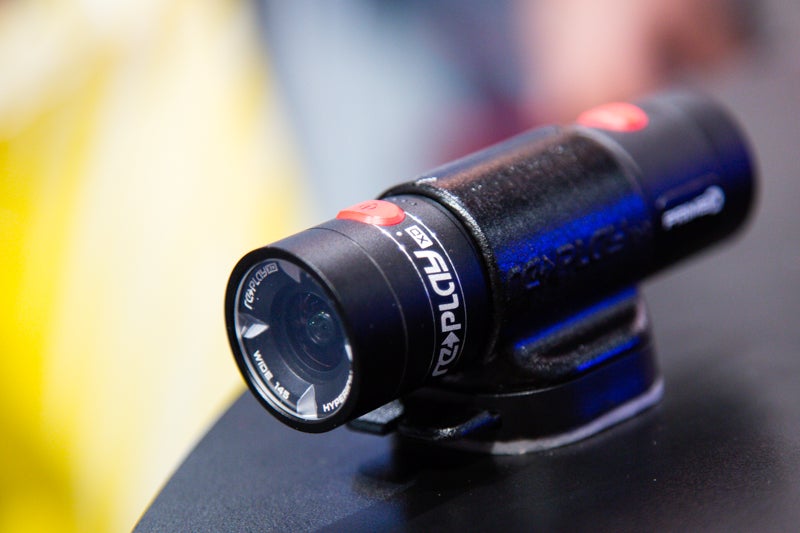 Replay X Prime Action Camera
There's definitely no shortage of action cameras on the show floor this year, but one that stood out was the Replay X Prime. It's shaped a lot like a small flashlight, giving it a more directional design than the omnipresent GoPro cameras. But, because of its different shape, it also has a bigger battery, which they claim is a 3.5-hour battery. It also has a 145-degree field of view, which isn't as wide as the GoPro and they claim it has very little distortion for a wide angle lens. It will start shipping in a few weeks for $299, which is a solid deal for a camera that does 1080p at 60 fps and 120 fps slow-motion at 720p resolution.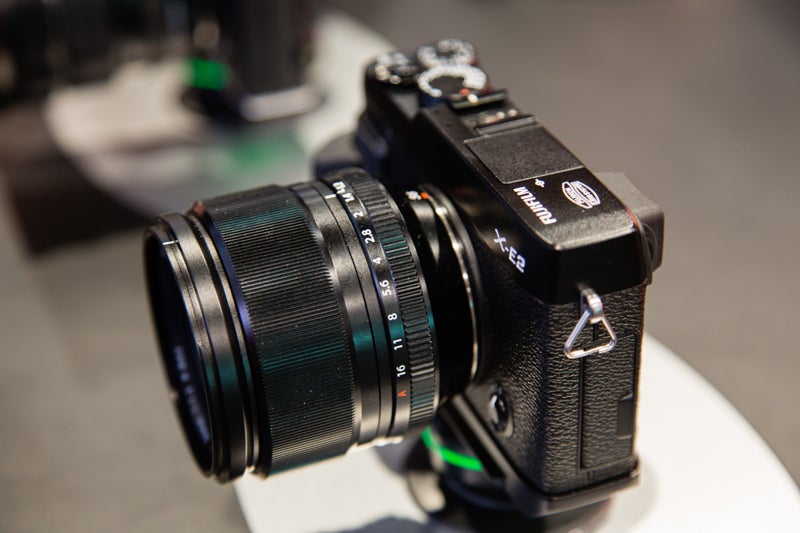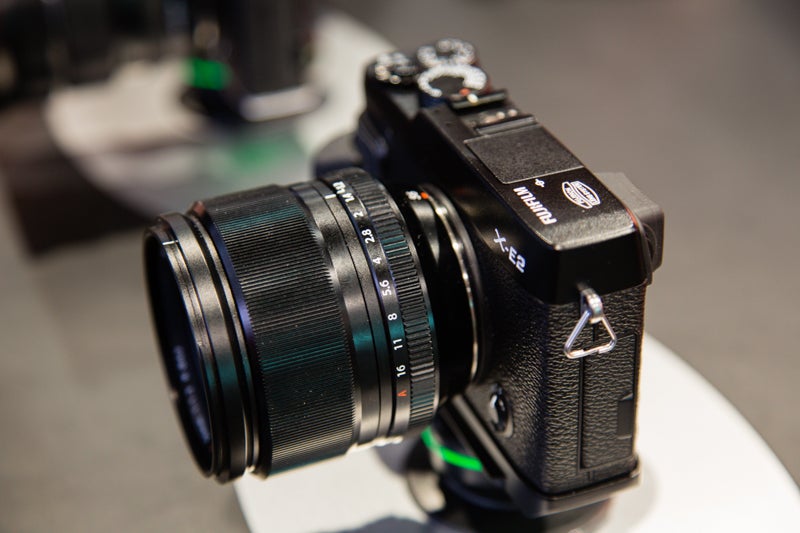 Fujifilm 56mm F/1.2 X-Series Lens
Fujifilm 56mm F/1.2 X-Series Lens Here at CES 2014, Fujifilm announced a very proper prime portrait lens for their X-series cameras. Thanks to the APS-C sensors inside the X cameras, the 56mm F/1.2 acts like an 85mm lens would on a full-frame body. We spent some time using it on the show floor and it made a very good first impression. The all-metal body feels very substantial, but it's not overly-big, which is good since the X-series cameras are rather compact. The relatively huge front element is rather impressive and the metal aperture ring is extremely smooth and nice to use. At first glance, the bokeh and contrast both look excellent as well. It also costs just under $1,000, which makes it relatively inexpensive for an F/1.2 portrait lens with AF.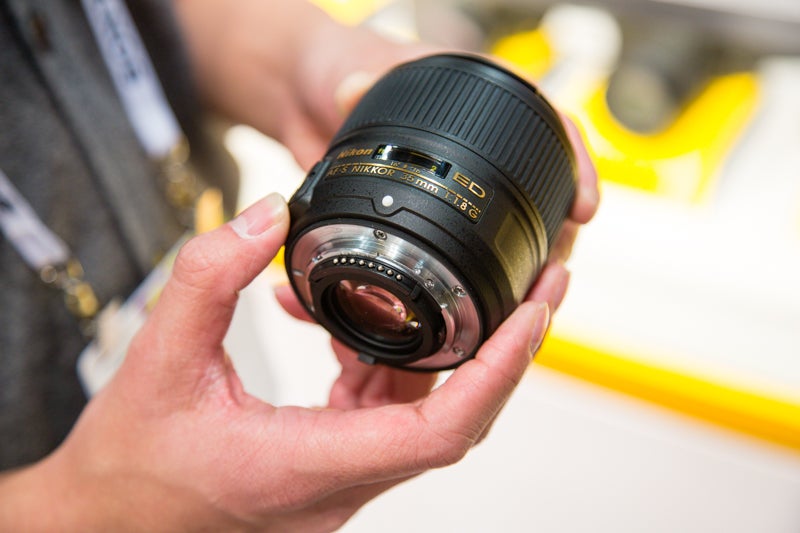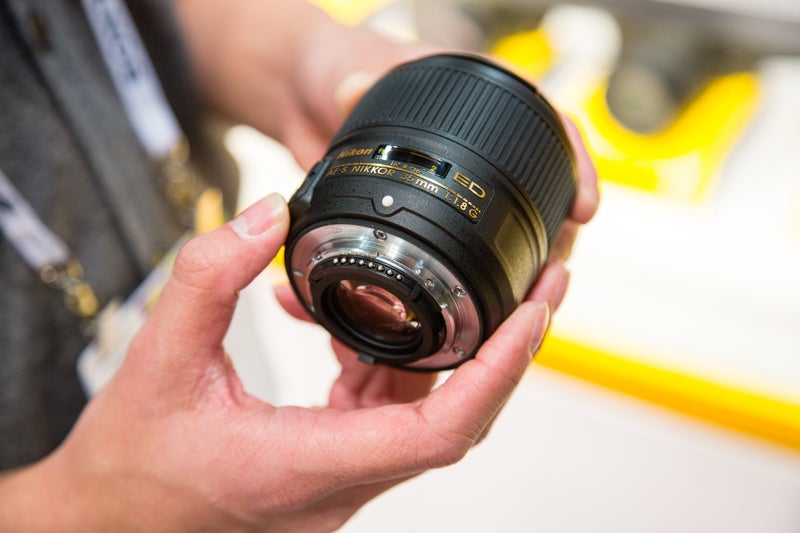 Nikon 35mm f/1.8 G Lens
Over the past few years, Nikon has been rolling out their line of affordable F/1.8 prime lenses, and here at CES, they debuted the 35mm F/1.8 G Lens. We didn't get time to do any shooting with the lens, but we did get to hold it and it is as small and light as you'd expect. The rest of the F/1.8 G line has performed rather well, so we're definitely expecting the 35mm to follow that trend, but we won't know for sure until it makes its way into our test lab. It will be available in February and will cost $600, making it cheaper than the Canon F/2 (which has IS) and the recent Sigma 35mm, which opens to F/1.4.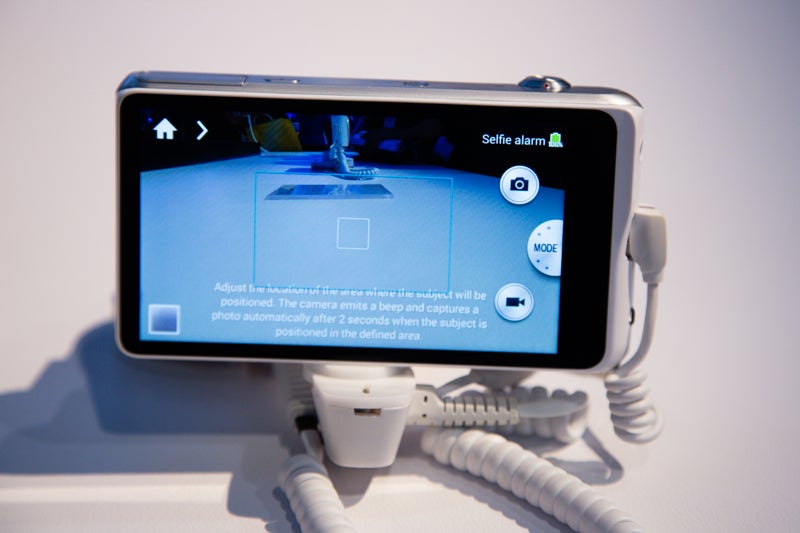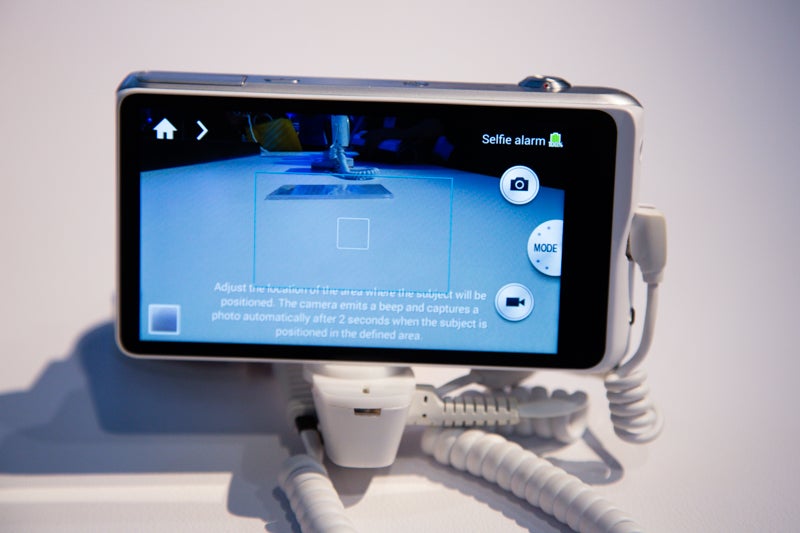 Samsung Galaxy Camera 2
The original Galaxy Camera made a pretty big splash when it brought a true android experience to an actual compact camera. Now, Samsung is improving on it. It runs the latest version of Android and has a similar form factor to the Galaxy Camera that came before it. The camera now has more RAM as well as an improved processor to help sharing go even faster. It also has NFC now, so it's easier to pair with other NFC-equipped devices. The screen is still extremely beautiful and the camera feels as good as it ever has.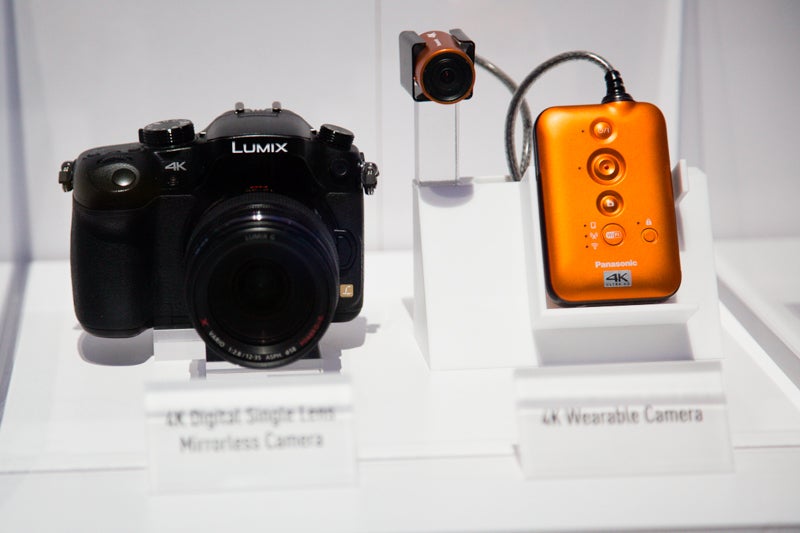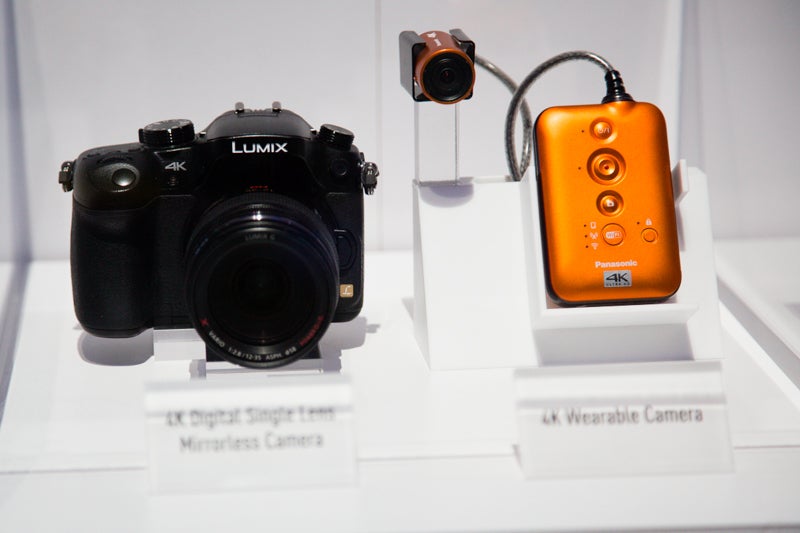 Panasonic 4k Cameras
During their press conference, Panasonic officially announced a 4K version of their wearable action camera, but on the show floor, they were showing a prototype ILC camera with 4K capture. It was under glass, so we didn't get to mess with it, but they're committed to making it a real product. For Panasonic, bringing 4K to consumer cameras is an important step because they have thrown a lot of their weight behind 4K TVs, and with the relative lack of compatible content, giving people the means to make it themselves could be a serious boon for them. We're looking forward to checking out both cameras when they become available.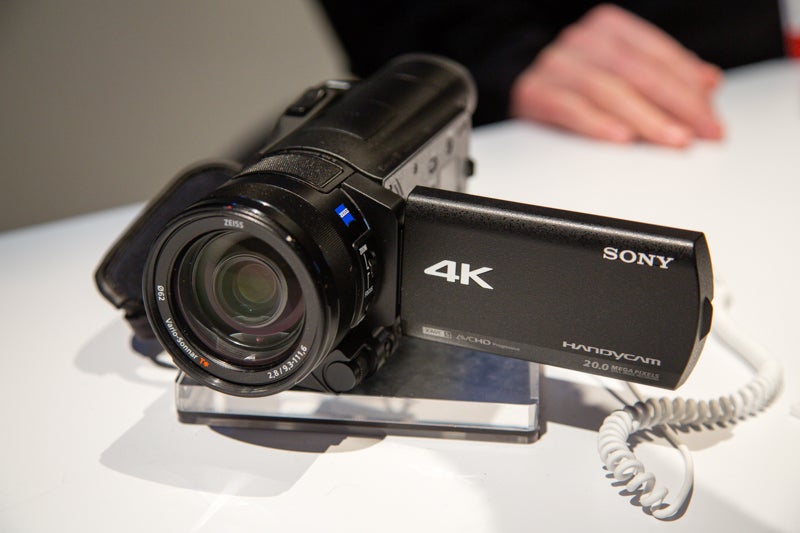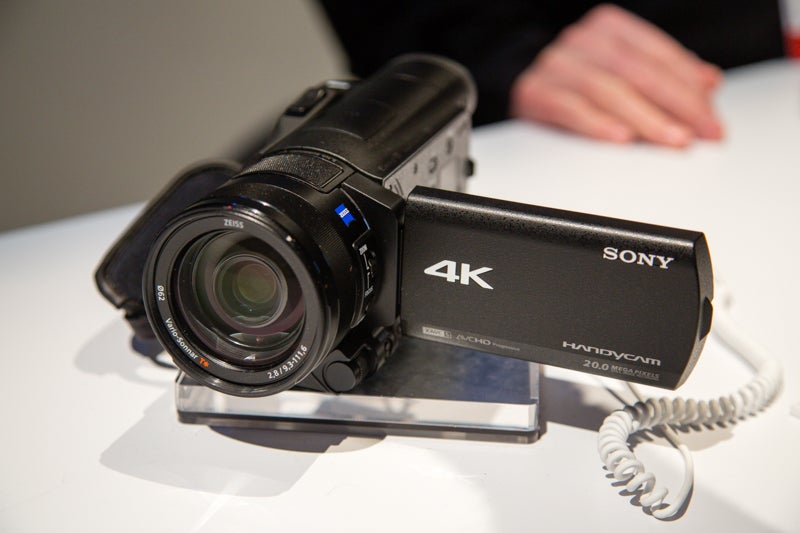 Sony FDR AX100 4K Handycam
If it feels like you've heard a lot about 4K video over the course of this gallery, you have. 4K is a big deal, and several companies like Sony and Panasonic are making 4K cameras in addition to 4K displays. This Handycam has a 1-inch sensor and does 4K for just $1,999. That's not exactly cheap, but the price on 4K capture seems to be dropping rather quickly. Less than a year ago, Sony announced their first real prosumer-grade 4K camera for $4,500. Look for it to hit later this year.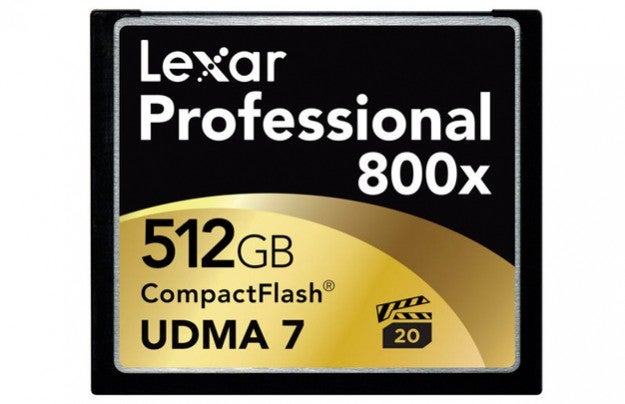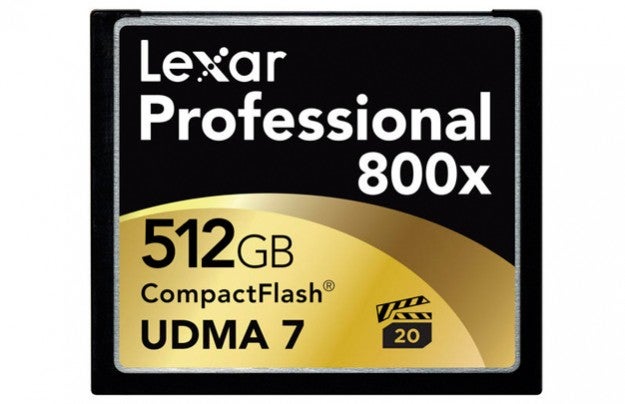 Lexar 512 GB Compact Flash Card
Here at the show, Lexar laid claim to both the world's fastest and the world's largest capacity memory cards. The 256 GB CFast card reaches speeds of 3333x, but can't really be used with any consumer cameras at the moment. The 512 GB pro-grade CF card, however, will work with any CF-equipped camera. While a 512 GB card is probably overkill for, well, almost everyone, it's good to see storage moving forward like this because it means prices will likely continue to drop for all of us. Plus, as 4K video continues to work its way into more cameras, those GBs are going to be more and more important.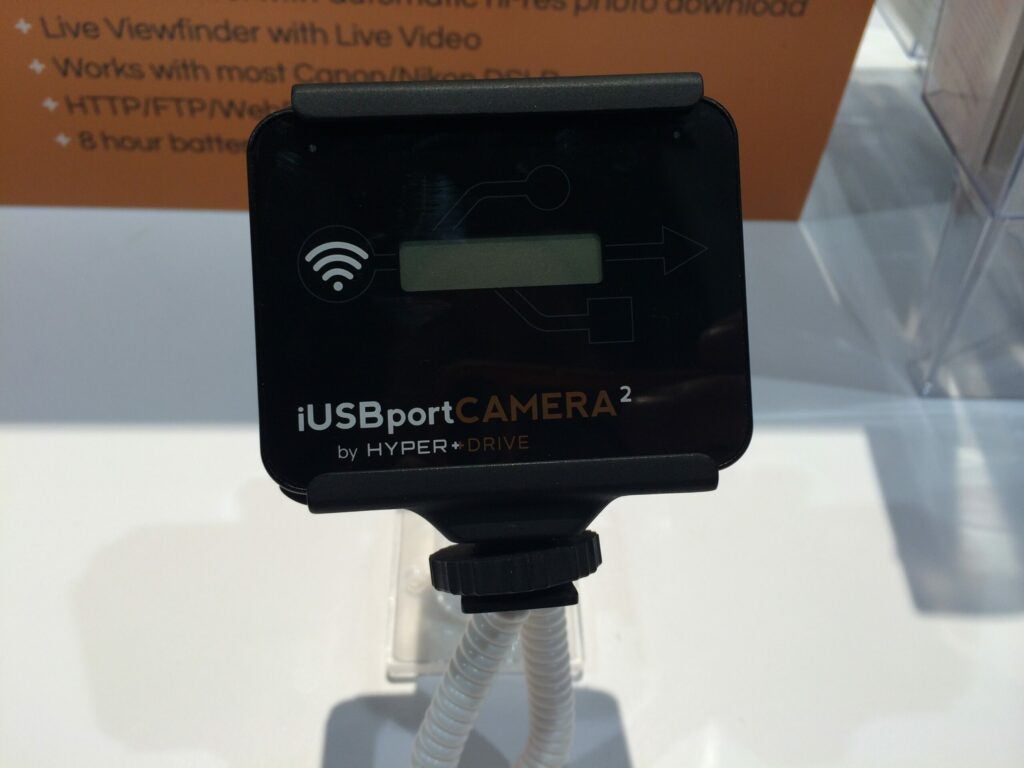 iUSBPortCamera Wireless Tethering Kit
There are plenty of cameras that have accompanying apps that let you control the exposure with or even beam photos to your smartphone, but this wireless tethering kit gives a lot more options. It attaches to your DSLR via USB and then syncs with a tablet or computer via Wifi. You can control the camera using the app, which even adds some functionality like time lapses. Plus, it works with raw files because you can sync it to whatever program you typically use like Lightroom. The new version of the product is launching here at the show and they promise it to be twice as fast and it has an extra USB port in case you want to add other accessories simultaneously. It will cost $299 when it starts shipping in a few weeks.