Camera Test: Sony a7R Full-Frame, Interchangeable-Lens Camera
Plenty of pixels, lots of resolution, no mirror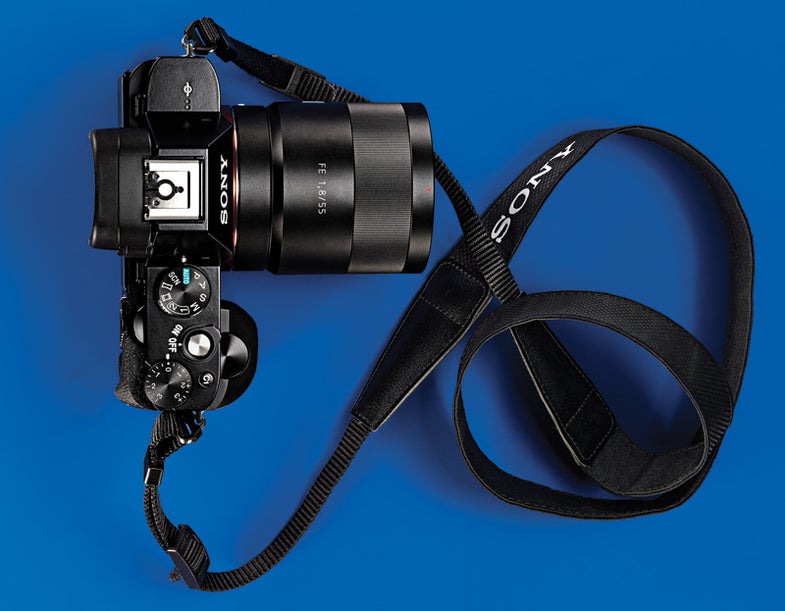 We may earn revenue from the products available on this page and participate in affiliate programs. Learn more ›
Imagine: A body that mimics the looks of DSLR, but in a size more akin to a Leica M, with resolution on par with the best full-frame cameras. And weighing about half as much as its closest competitor, the Nikon D800. What you get is the Sony Alpha 7R.
This new 36.4MP flagship interchangeable-lens compact ($2,298, street, body only), along with the concurrently announced 24.3MP Alpha 7 ($1,698, body only), sports the same E-mount as Sony's NEX line of APS-C-format ILCs. As the E-mount has a much shorter mount-to-sensor distance than the company's A-mount DSLR lenses, Sony also introduced a whole new line of optics for these full-frame ILCs. Carrying the FE moniker, they roll out this January with a 55mm f/1.8 ($998, street), 35mm f/2.8 ($798), 24–70mm f/4 ($1,198), and 28–70mm f/3.5–5.6 (only in a kit with the A7); a 70–200mm f/4 is due later in 2014. (We used the 55mm in all lab tests.)
CAMERA OF THE YEAR 2013: SONY A7R
In the Test Lab
Until now, the only way to get this much resolving power, short of going to medium format, would be with Nikon's D800, which is about 0.7 inch wider, an inch taller, and more than an inch deeper. Given its small size, we expected the Alpha 7R to produce noisier images with less resolution than the D800. We were right, yet quite surprised to see how close this Sony came to matching the Nikon's amazing image quality. It garnered an Excellent rating in overall image quality from its lowest sensitivity of ISO 50 through ISO 400, only one stop short of the D800's range.
In our resolution tests, the Alpha 7R turned in 3325 lines per picture height at ISO 50—within 200 lines of the D800's 3510. It jumps to the top of the ILC heap, well above Sony's own NEX-7, which produced 2740 lines in our December 2011 test.
The A7R earned another Excellent rating in color accuracy—but just barely, with an average Delta E of 7.9. The D800 hit that rating with more breathing room, for a score of 6.5.
In noise testing, the A7R produced cleaner images than the D800 at their two lowest sensitivity settings. But from ISO 200 on, the D800 shows about a one-stop advantage, with Low or better noise up to ISO 800 versus ISO 400 for the Sony; following the same pattern, the A7R reaches an Unacceptable rating at ISO 3200, while the D800 gets there at ISO 6400.
As always, you could add more noise reduction to bring the A7R down to acceptable levels at ISO 6400, but this would erode some of the resolving power, which the camera retains nicely as sensitivity increases. At ISO 400, it lost 300 lines of resolution versus ISO 50, but it dropped by only 100 lines at ISO 1600, where it captured 2925 lines. At the its top sensitivity of ISO 25,600, it maintains 2625 lines, still Excellent by our rating standard—and better than the 2470 lines the D800 turned in (though the Nikon beat it in resolution across most of their sensitivity ranges).
The A7R has no anti-aliasing filter over the sensor, while the D800 does. (We haven't yet tested the Nikon D800E, which also omits the AA filter.) Although we saw some signs of minor aliasing in our lab test images, we didn't notice any ill effects from the A7R's lack of an AA filter in our field test images.
In the Field
Sony didn't scrimp on the Alpha 7R's body. The weather-sealed magnesium-alloy chassis makes it fit for rigorous use. A 2.4-million-dot OLED electronic viewfinder provides a wonderfully detailed view of the scene, and you can overlay a leveling guide or various grids to help you compose. The 921,600-dot, 3-inch LCD tilts up and down to make shooting from high or low angles easier.
For an ILC, it has a well-sculpted grip. A cutout for your middle finger has a nice ridge atop it to provide leverage when tilting the camera, while a divot on the inside of the grip gives it a more secure feel. Three command wheels let you control shutter speed, aperture, and ISO independently when shooting in manual mode. A fourth wheel is dedicated to exposure compensation, with click stops for +/–3 EV of exposure compensation, but if you assign exposure comp to one of the other three wheels, you can get up to +/–5 EV.
We always like to be able to see camera settings before turning the camera on, but after some time field-testing the A7R, we ended up wishing that the exposure comp wheel were just another assignable command wheel. As we did most of our shooting in aperture- or shutter-priority, we used one wheel for either shutter or aperture, the second for exposure comp, and the third, located toward the bottom of the camera back, for ISO.
The camera balances well in the hand with native E-mount lenses, but it does end up front-heavy when using A-mount lenses with the Sony adapter for these optics. Large zooms for DSLRs, such as a 24–70mm or 16–35mm f/2.8, feel a little absurd on the A7R, though they function perfectly well. In our field tests, we found the A-mount 50mm f/1.4 and 85mm f/1.4 primes to be more ergonomic, and we expect that Sony's other wide and mid-range primes will also work well on this smallish body.
E-mount lenses for APS-C format work with full functionality on the Alpha 7R, and you can set the camera to crop automatically into the usable imaging area of these lenses. You can also opt to use the full area of the sensor and allow the vignetting that will result. In either case, what you see in the finder will be what you get in the image.
Metabones is developing adapters for other full-frame lens brands—we saw a fully operational Canon EF adapter from this company during our initial briefing on the new cameras. We were also able to mount an old 35mm f/2.5 W-Nikkor rangefinder lens on the A7R with a Voigtländer adapter we've used for years on Sony's NEX cameras, and it worked perfectly.
As Sony has done in the recent past, it included both Wi-Fi and Near Field Communication (NFC) in the A7R. NFC initiates the connection between an Android smartphone and the camera once they've been paired before; you just touch the phone to the A7R's body, and the camera will connect via Wi-Fi and launch Sony's PlayMemories Mobile app. From there you can copy images from the camera to your phone for upload to Facebook or other sharing sites. You can even muck up the A7R's wonderfully sharp pictures with Instagram filters.
The A7R is also compatible with Sony's system of camera apps; our A7R sample was preloaded with the Smart Remote embedded app that lets you trigger the shutter and adjust exposure compensation. While this is nice, we wish Sony had included more camera controls in this app. The latest version of Olympus' remote-control app, for example, lets you change most of the camera settings from your phone. We hope that Sony will provide an update soon.
Burst shooters will not be impressed by the A7R's frame rate of 1.5 frames per second when capturing images with continuous metering and autofocus. However, this does allow for about 21 RAW frames before the buffer fills when using a SanDisk 95MB/sec UHS-I SD card. If you're willing to lock metering and focus on the first frame, you can boost the burst speed to 4 fps in the camera's Speed Priority Continuous mode.
Video fans should appreciate that it shoots up to 1920x1080p60 in AVCHD format. Footage we took at the camera's highest quality setting, which records at 28 Mbps, showed little in the way of video artifacts. Want to use an external recorder? You're in luck: the A7R can output a clean HDMI signal. It has a built-in stereo mic, external stereo mic input, and a headphone output to monitor audio. Its Multi Interface shoe will let you add an accessory mic; if you're feeling ambitious (and flush with cash), add Sony's XLR-K1M XLR adapter and mic kit ($798, street).
The Bottom Line
For the highest-quality images possible from an ILC today, the Alpha 7R is your best option by far. On DxOMark, which rates the RAW output of cameras (we rate TIFFs made from RAW files using the software that comes with the camera), it scored a 95—dead even with the Nikon D800. And our testing essentially backs this up.
For pros and enthusiasts concerned about the availability of lenses for this all-new ILC format, Sony appears very committed to filling out the FE lens catalog. It promises to have 10 lenses in the system by the end of this year, with at least five more to follow in 2015. With the A7R, Sony has provided some of the best imaging performance you can get, and done it with a camera small enough and light enough to bring with you wherever you want to go. And that, in short, is why we've named it our 2013 Camera of the Year.
Specifications:
IMAGING: 36.4MP effective, full-frame Exmor CMOS sensor captures images at 7360×4912 pixels with 14 bits/color in RAW mode
STORAGE: SD, SDHC, SDXC, Memory Stick PRO Duo, PRO-HG Duo, XC-HG Duo. Stores JPEG, ARW RAW, RAW + JPEG
VIDEO: Up to 1920x1080p60 AVCHD v2/MP4; built-in stereo mic, stereo minijack mic input; continuous AF; maximum clip length approximately 29 min 59 sec
BURST RATE: Full-sized JPEGs (Fine mode): 1.5 fps up to 200 shots;RAW (14-bit): 1.5 fps up to 21 shots when using a UHS-I memory card
AF SYSTEM: TTL contrast detection with 25 focus points. Single-shot and continuous with predictive focus tracking, face detection, eye detection.
SHUTTER SPEEDS: 1/8000 to 30 sec (1/3-EV increments); shutter life not rated
METERING: TTL metering using 1200-zone sensor with Multi-segment (evaluative), centerweighted, and spot (size of spot not specificied) metering; 0–20 EV (at ISO 100)
ISO RANGE: ISO 50–25,600 (in 1/3- or 1-EV increments).
FLASH: No built-in flash; Multi Interface shoe accepts accessory flashes
EVF: Fixed eye-level XGA OLED with 3-step brightness adjustement; 100% accurate; 0.71X magnification
LCD: Tilting 3-in. LCD screen with 921,600-dot resolution; 5-step brightness adjustment
OUTPUT: Hi-Speed USB 2.0, mini-HDMI video, stereo headphone minijack
BATTERY: Rechargeable NP-FW50 Li-ion, CIPA rating 340 shots SIZE/WEIGHT: 5.0×3.8×1.9 in., 1.0 lb with card and battery
STREET PRICE: $2,298, body only
FOR INFO: store.sony.com

Sony A7R #1
Exposure: ISO 400, f/6.3, 1/100 sec
Lens: 55mm.

Sony A7R #2
Exposure: ISO 100, f/11, 1/8 sec
Lens: 55mm.

Sony A7R #3
Exposure: ISO 250, f/5, 1/400 sec
Lens: 55mm

Sony A7R #4
Exposure: ISO 400, f/1.8, 1/8000 sec
Lens: 55mm

Sony A7R #5
Exposure: ISO 400, f/11, 1/500 sec
Lens: 55mm.

Sony A7R #6
Exposure: ISO 3200, f/5.6, 1/1600 sec
Lens: 33mm

Sony A7R #7
Exposure: ISO 1600, f/5.6, 1/1250 sec
Lens: 41mm. Exposure compensation of -0.3.

Sony A7R #8
Exposure: ISO 5000, f/3.5, 1/640 sec
Lens: 28mm. Exposure compensation of -0.3.

Sony A7R #9
Exposure: ISO 1600, f/5.6, 1/640 sec.
Lens: 70mm

Sony A7R #10
An impressive displays of the camera's dynamic range.
Exposure: ISO 1250, f/5, 1/8000 sec.
Lens: 57mm

Sony A7R #11
Exposure: ISO 1250, f/5, 1/320 sec.
Lens: 28mm
Sony A7R #12
Exposure: ISO 3200, f/5, 1/40 sec. Exposure compensation of +1.0
Lens: 46mm

Sony A7R #13
Exposure: ISO 3200, f/5, 1/100 sec. Exposure compensation of +0.3
Lens: 28mm

Sony A7R #14
Exposure: ISO 3200, f/5, 1/160 sec. Exposure compensation of +0.7
Lens: 64mm

Sony A7R #15
Exposure: ISO 1250, f/5.6, 1/500 sec.
Lens: 69mm

Sony A7R #16
Exposure: ISO 3200, f/5.6, 1/640 sec. Exposure compensation of -0.3
Lens: 70mm

Sony A7R #17
Exposure: ISO 3200, f/5, 1/50 sec
Lens: 39mm

Sony A7R #18
The next four images are meant to demonstrate the high ISO capabilities of the A7R.
Exposure: ISO 1600, f/5, 1/8 sec. Exposure compensation of +0.3
Lens: 28mm

Sony A7R #19
Exposure: ISO 3200, f/5, 1/13 sec. Exposure compensation of +0.3
Lens: 28mm

Sony A7R #20
Exposure: ISO 8000, f/5, 1/30 sec. Exposure compensation of +0.3
Lens: 28mm

Sony A7R #21
Exposure: ISO 25600, f/5, 1/100 sec. Exposure compensation of +0.3
Lens: 28mm