Camera Test: Nikon D800 DSLR
Nikon's newest is the current reigning king of megapixels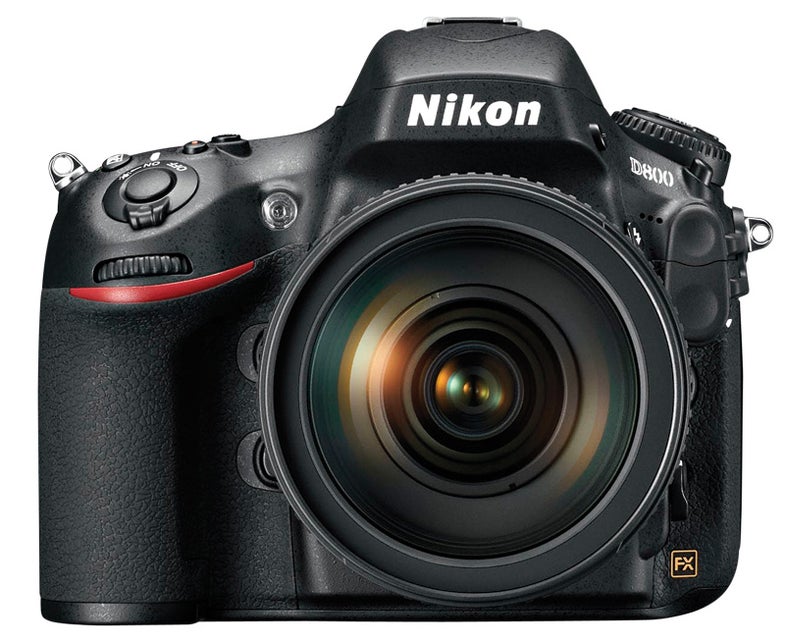 We may earn revenue from the products available on this page and participate in affiliate programs. Learn more ›
How does the Nikon D800 stack up against its competition the Canon 5D Mark III Check out our in-depth comparison in the Buying Guide.
When the Nikon D700 hit the market in 2008, it fought off competition from Canon's EOS 5D Mark II with a much fancier autofocus system, a slightly faster burst rate, and comparable sensitivity settings. Despite its lower resolution (the Nikon's 12.1MP sensor trailed the Canon's 21.1MP), the D700 offered plenty of bang for the buck—with a pop-up flash to top it all off.
Now Nikon's new D800 ($3,000, street, body only) leaps forward with a 36.3MP sensor that leaves Canon's EOS 5D Mark III playing resolution catch-up. But the D800 shoots at a slightly lower burst rate and produces more noise at very high ISOs than the 5D Mark III, which has smaller image files and fewer pixels to contend with.
Are the D800's incredibly detailed images enough to make you forget about the Canon's charms? Ultimately, it depends on your priorities as a photographer.
In the Test Lab The Nikon D800 earned an Excellent rating in overall Image Quality from ISO 50 through ISO 800. The camera's limiting factor was noise: With its record-setting number of pixels (for a 24x36mm full-frame sensor) noise proves to be a challenge as sensitivity rises.
The benefit of all those pixels is the highest resolution we have seen yet from a 35mm-format DSLR. The D800 has enough resolution for an Excellent rating through all but its top ISO of 25,600. At ISO 50, it served up 3510 lines per picture height. That's almost 300 more than the Sony Alpha 900's 24.6MP sensor delivered at its lowest sensitivity of ISO 100. It's also more than Nikon's D3X, which turned in 3180 lines in the same test.
The D800 held resolution above 3000 lines all the way to ISO 3200, where it resolved 3330 lines. At ISO 6400 it fell to 2900, then 2720 at ISO 12,800, and 2470 at ISO 25,600. Even at its worst, the D800 out-resolves the D700 at its best—that camera delivered 2420 lines at ISO 100.
While the D800 managed to hold noise to a Low or better rating only up to ISO 800, it remained in acceptable territory up to ISO 3200. If you apply heavy noise reduction, you should be able to bring ISO 6400 down to acceptable levels while maintaining a lot of resolving power. If you don't plan to print an image very large, you will occasionally be able to get good results at ISO 6400.
In our autofocus test, the D800 proved slightly slower than the D700 in very bright light, but either the same or faster in average and dim lighting. It managed to focus in less than a second in the dark of EV –1, which is quite impressive, though the same can be said for the Canon 5D Mark III. In fact, the Mark III proved a bit faster than the D800 in very bright light. At the brightest levels used in our test, the Canon focused in 0.37 sec, compared with the D800's 0.43 sec. The difference was most significant at EV 6 (think a well-lit kitchen) where the Canon beat the Nikon 0.45 sec to 0.54 sec. The D800 returns the favor at EV 1 though, beating the Canon 0.78 to 0.89 sec.
Both provide adequately fast AF and both do an exemplary job of tracking during bursts.
In the Field As is almost always the case with Nikon's DSLRs, the D800 is a pleasure to hold. The grip is sculpted with a nice divot on the inner portion for your fingertips. Two assignable function buttons adorn the front of the camera body, and there are dedicated buttons and dials for all the major settings you'll need while shooting. (Canon's 5D Mark III has a minor edge in control customization, thanks to the handy menu that shows which buttons you're changing as you assign them.) Both cameras offer top-notch control systems with plenty of opportunity to tailor them to your shooting style.
As it did with the D4, Nikon has enabled uncompressed 1080i video output through the HDMI port of the D800. This gives the Nikon an advantage over almost any other DSLR in the video department. And the compressed video is quite nice, too, as is typical of a DSLR in this class. The D800 also has a stereo microphone input with level controls and a headphone output for monitoring that sound. The built-in mic is mono.
The D800's burst is limited to 4 fps in full-frame shooting, likely due to file size. The buffer can hold up to 17 of Nikon's 14-bit lossless RAW files (NEF). Nikon doesn't state the true capacity of the buffer for JPEGs, cutting off testing at 100 images. But rest assured that with a fast memory card, you can get well over 100 shots in a JPEG burst.
As usual, Nikon's Matrix evaluative metering does an excellent job, even in difficult scenes. You can definitely confuse it when framing abstract images, but for most portrait and landscape photography it will be right on the money.
The Nikon D800's pop-up isn't particularly special as built-in flashes go, but at least the camera has one. (Curiously, Canon still doesn't include a pop-up flash on the 5D Mark III.) A pop-up lets you trigger off-camera accessory flash units wirelessly—reason enough to want to own one.
D700 shooters—or any advanced Nikon shooter, really—should have no problem transitioning to the D800 from their camera body. But a fair number of buttons have moved around compared to other Nikon models, so you should make a point to familiarize yourself with the body before an important shoot.
You'll also want to bring a high-capacity memory card with you. Some of the JPEGs we captured were as large as 25MB, and some RAW files topped 65MB. Converting these will either take serious computing power or require more time than you're accustomed to with your current camera.
The Bottom Line The biggest question to ask yourself about the Nikon D800 is whether you need that many pixels. Don't get us wrong—the detail in the D800's images is outstanding. But your hard drives will fill up quite fast if you plan to hold on to RAW files—even quicker if it's both RAW and JPEGs. If you don't plan to print extremely large images, the D800 might be more than you need. Still, it's nice to know you can get a lovely 20×30-inch print at 240 dpi.
Another upside to the huge files is that they allow for much more cropping than we've ever been able to do with digital images (medium-format excepted). Caught without a long lens when the space shuttle Enterprise was recently flown over New York City, one of our editors shot using a racked out 24–70mm f/2.8 Nikkor. The image was still sharp and detailed when cropped by about 90 percent.
Still photographers will have to decide whether they really need the D800's firepower. But if you're shooting serious video and plan to use an external recorder to capture the HDMI output, you need not think twice about the D800.
Specifications:
IMAGING: 36.3MP effective, FX format (full-frame) CMOS sensor captures images at 7360×4912 pixels with 14 bits/color in RAW mode.
STORAGE: CF and SD store TIFF, JPEG, NEF RAW, and RAW + JPEG files.
BURST RATE: Full-sized JPEGs (Fine mode), up to 100 shots at 4 fps; RAW (14-bit uncompressed), up to 16 shots at 4 fps; TIFF, up to 16 shots at 4 fps.
AF SYSTEM: TTL phase detection with 51 illuminated focus points (15 cross-type); single-shot and continuous AF with 3D focus tracking. AF points can be grouped and selected by area. Tested sensitivity down to EV –2 (at ISO 100, f/1.4).
LIVE VIEW: TTL phase-detection or contrast-detection autofocus.
SHUTTER SPEEDS: 1/8000 to 30 sec, plus B (1/3-, 1/2-, or 1-EV increments); 200,000-cycle rating.
METERING: TTL metering with 91,000-pixel RGB sensor; 3D Matrix (evaluative), centerweighted, and spot (approx. 1.5% of viewfinder). EV 0–20 (ISO 100).
ISO RANGE: Normal, ISO 100–6400 (in 1/3-EV increments); expanded, ISO 50–25,600.
VIDEO: Records at 1920×1080 at 30/24 fps; 1280×720 at 60/30 fps; in H.264 MPEG-4 MOV format; built-in mono microphone; stereo minijack input; uncompressed output via HDMI.
FLASH: Built-in pop-up with iTTL autoflash and wireless control of optional flash units, GN 39 (ISO 100; feet); flash sync to 1/250 sec.
VIEWFINDER:Fixed eye-level pentaprism.
VIEWFINDER TEST: Accuracy, 100% (Excellent); Magnification, 0.7X (Very Good)
LCD: 3-in. TFT with 921,000-dot resolution; 5-step brightness adjustment.
OUTPUT: USB 3.0, mini HDMI video, composite video and analog audio.
BATTERY: Rechargeable EN-EL15 Li-ion, CIPA rating 900 shots (with optical viewfinder).
SIZE/WEIGHT: 5.7×4.8×3.2 in., 2.1 lb with a card and battery.
STREET PRICE: $3,000, body only; D800E version, $3,300, body only.
INFO: www.nikonusa.com