New Gear: Sony Cyber-shot DSC-RX100 Advanced Compact
A one-inch sensor and an F/1.8 lens make this Sony's top-tier tiny cam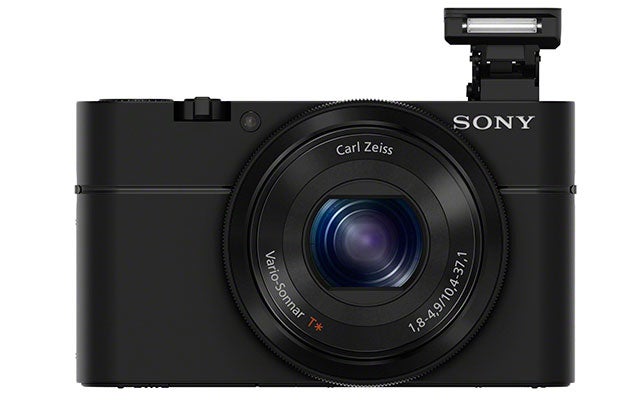 We may earn revenue from the products available on this page and participate in affiliate programs. Learn more ›
"Bigger sensors for all!" has become the battle cry of the camera industry lately and we're not inclined to complain about it. Sony is now throwing their hat into large-sensor compact game with the RX100.
First, we should make it clear that this is a true compact. The 3.6x Carl Zeiss Vario-Sonnar T* zoom lens is forever attached to the front of the camera. At its widest setting, it opens to F/1.8 at its 28mm setting and a respectable F/4.9 at 100mm. At 50mm, you still get a maximum aperture of F/2.8, so Sony seems serious about making this thing a decent street photography machine.

But, the real draw here is the sensor. The one-inch sensor is the same size as the one found in Nikon's 1-series cameras with a resolution of 20.2-megapixels. It's coupled with the BIONZ image processor, so it offers advanced compact features like RAW capture and an extended ISO range that can be pushed all the way up to 25,600. You also get a full set of manual controls and — because this is a Sony after all — fast burst rates up to 10 fps at full resolution.
The back of the camera has a big 3-inch Xtra Fine LCD display with a resolution of 1,229k. It's the kind of display that uses white pixels in addition to the red, green, and blue ones in order to give the screen a wider dynamic range.

Ultimately, if the RX100 lives up to its specs, it will be a serious competitor in the advanced compact market. It has a tactile ring on the front of the camera like the excellent Canon S100 to handle common camera functions. The menus have a very DSLR feel and there's even a Fn. button you can program like you would on a much bigger camera.
Of course, all that comes at a price of $650, which puts it well above competitors like Canon's S100. It's cheaper than the Canon G1 X, though, and about on par with the Ricoh GR-D IV, a compact loved by serious photographers everywhere. We're looking forward to getting the RX100 in our lab at which point we'll be able to tell just how much that bigger sensor pays off.