Tested: Canon G1 X Advanced Compact
Canon's new flagship G-series model takes aim at ILCs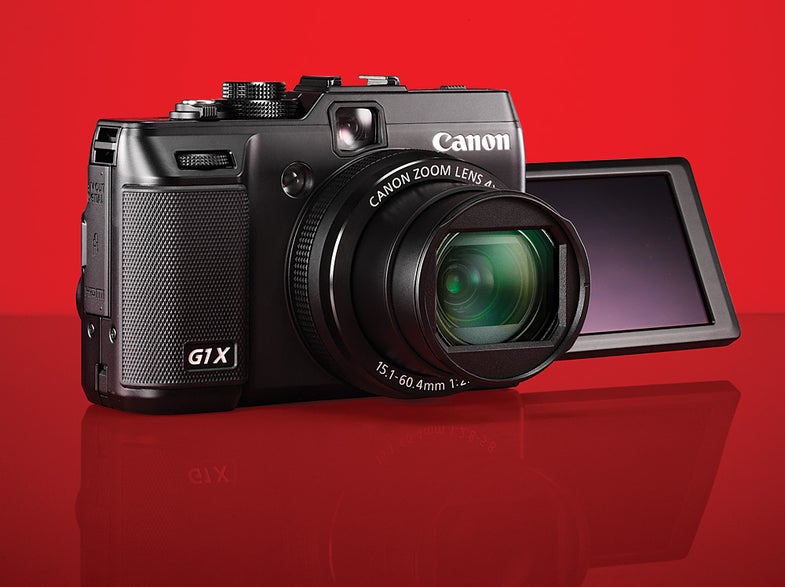 We may earn revenue from the products available on this page and participate in affiliate programs. Learn more ›
Canon's G-series has long been a go-to model for pros and enthusiasts looking for a camera to carry when they're not using a DSLR. But these days, interchangeable-lens compacts have captured the imagination of many such shooters.
In response, Canon has served up the 14.3MP PowerShot G1 X ($800, street)—a fixed-lens camera with a large 1.5-inch CMOS sensor. At 18.7x14mm, the G1 X's sensor is larger than the one found in Micro Four Thirds ILCs, but smaller than the APS-C-sized sensors used in Samsung's NX and Sony's NEX cameras. Add to that 1920x1080p24 video capture, an articulating 3-inch 921K-dot LCD screen, and a 4X zoom, and you've got a package that may be compelling enough to make people wonder if an ILC is really necessary. Our lab tests reinforce that idea, showing that you can get very impressive images from a fixed-lens camera. Ultimately, the decision will come down to whether or not you want swappable lenses.
In the Test Lab
Since we usually use a 50mm lens for our lab tests (or a kit lens in the case of ILCs), we performed our lab tests of the G1 X with the lens zoomed to an equivalent of 50mm. The only exception was the image stabilization test, which we shot with the lens zoomed to its farthest telephoto setting, a 112mm equivalent.
That said, the G1 X turned in wonderful results in our lab tests. Overall Image Quality earned an Extremely High rating at ISO 100 and ISO 200, while Canon's delicate hand at noise reduction caused it to drop to a Very High rating at ISO 400 and ISO 800.
Resolution at ISO 100 measured 2310 lines per picture height for an Extremely High rating. The camera holds most of this resolution up to ISO 800, where it yielded 2300 lines. At ISO 1600, where Canon turns up luminance noise reduction significantly, it drops to 2220 lines. At its top sensitivity of ISO 12,800, the G1 X showed 1710 lines.
Compare these results to those of the Olympus Pen E-P3, which managed 2240 lines with its 12.3MP Four Thirds-sized sensor at its lowest sensitivity of ISO 200, and you will see that the G1 X really can compete with ILCs. And compare the G1 X to Canon's own PowerShot S100, a 12.1MP compact whose sensor has about one-sixth the area of the G1 X's, and you really see a difference. At its best, the S100 served up 2100 lines, but, at its top setting of ISO 6400, lost a big chunk to land at 1300 lines.
We got unusual results in our standard noise test, which uses TIFFs generated from RAW files processed at the manufacturer's default noise-reduction settings. It seems as though Canon tries to hold on to resolution as much as possible through ISO 1600 by delaying heavy noise reduction until it's absolutely necessary. Noise increases from Extremely Low at ISO 100 to Moderately Low at ISO 800, only to fall back to a Low rating at ISO 1600, before rising again. We were impressed that Canon kept the noise at acceptable levels all the way up to ISO 6400, and, at ISO 12,800, held it to 3.1—only a hair above our 3.0 cutoff for an Unacceptable rating.
But when we tested JPEGs captured simultaneously with the RAWs, they told a different story. In this case, noise remained Low or better all the way up to ISO 3200, remained acceptable at ISO 6400, but landed squarely in Unacceptable territory at ISO 12,800 with a 3.6. Of course, as you might expect, resolution took a bigger hit at some ISOs, thanks to more aggressive noise reduction, but JPEG shooters should feel comfortable turning the sensitivity up on this camera well beyond what you would with a typical compact.
Color accuracy just barely earned an Excellent rating with an Average Delta E of 8.0 in our test. If this result had been even slightly worse, it would have pulled the overall image quality down one notch in the ratings.
In the Field
Noticeably chunkier than its G-series brethren, the G1 X nonetheless feels good in the hand. Toting it around New York City, we were able to carry it in a man's coat pocket without a problem. Women with small purses may balk at its size, but even a medium-sized handbag should hold this camera.
The body itself feels rugged, and it sports the advanced controls that you'd expect on a camera of this class. A convenient second dial concentric with the mode dial lets you adjust exposure compensation. A control wheel in front of and below the shutter button is bolstered by one that encircles the control pad on the camera's back. In manual exposure mode, one wheel controls shutter speed and the other aperture. You can access most of the other settings through the control pad, the dedicated buttons surrounding it, or the intuitive overlay activated by the Function button when pressed.
While most of G1 X's menus and controls are simple to understand, the autofocus modes can be a bit confusing, especially if you've never used a Canon DSLR. Separate menu items let you activate continuous AF and Servo AF, while the AF-frame menu item lets you select tracking AF. So, if you want burst shooting with continuous tracking AF, you might not know what to do. Servo AF is the best bet for tracking, and you can combine it with tracking AF to cover all bases. Just remember to turn Servo AF and continuous AF off if you want to return to normal (single-shot) AF.
The video footage we shot with the G1 X looked very nice, and with tracking AF we found it easy to shoot. The AF tracking also worked well for still shooting. Single-shot focusing is fast compared with older compact cameras, but about average compared to the current crop of point-and-shoots.
Macro shooting was one of the few areas in which the G1 X falls short of many compact cameras. Since the lens is so big (necessitated by that big sensor), it can't focus when very close to a subject. With the lens at its widest setting of 28mm equivalent, the G1 X still manages to focus only to 7.9 inches in macro mode, while some compacts can get as close as a few millimeters. In normal mode, the closest it can get is 1.3 feet. We found ourselves using macro mode for some shots where we would normally never need it.
Though a little frustrating, we didn't find this a deal breaker, but it's something to keep in mind if you're a fan of macro. (Canon makes an adapter that allows the lens to accept 58mm screw-in filters; with it, you can mount Canon's two-element close-up filter or a third-party close-up lens.)
Also, when in macro mode, the built-in flash can cast a shadow on the lower right-hand portion of the frame. In normal shooting this wasn't an issue.
Bottom Line
Has Canon created a viable alternative to interchangeable-lens compacts? We say yes. The improved image quality compared with compacts is drastic enough to make the G1 X a serious competitor to ILCs.
The tough decision comes when you look at the $800 price tag. Ultimately, the question is whether you want to deal with swappable lenses. If so, you can buy Panasonic's Lumix GX1 with its standard 14–42mm f/3.5–5.6 kit lens for the same price. If not, the Canon PowerShot G1 X makes a lot of sense, and the images you get are worth the extra money over the Canon's S100 or the G12.
Specifications:
Imaging: 14.3MP effective, 1.5-inch (18.7x14mm) CMOS sensor captures images at 4352×3264 pixels with 14 bits/color in RAW mode.
Storage: SD, SDHC, SDXC. Stores JPEG, CR2 RAW.
Video: Up to 1920x1080p24 in MOV H.264 format; built-in stereo mic, no mic input; contrast-detection AF with continuous AF.
Burst Rate: Full-sized JPEGs and RAW files (P mode): 1.9 fps. Full-sized JPEGs (High-speed Burst HQ mode): 4.5 fps.
AF System: TTL contrast AF with adjustable, continuously selectable AF points, face detection, AF tracking.
Shutter Speeds: 1/4000 to 60 sec.
Metering: Evaluative, Center-weighted average, Spot (size of spot not specified).
ISO Range: ISO 100–12,800 (in 1/3-EV increments).
Flash: Built-in pop-up flash.
Maximum Wide Angle Range: 1.6–23 feet. Maximum telephoto range: 3.3–10.2 feet.
Monitor: Articulating 3-in. TFT color LCD with 922,000-dot resolution.
Output: Hi-Speed USB 2.0 and mini HDMI video.
Battery: Rechargeable NB-10L Li-ion, 250 shots with LCD screen turned on or 7 hours playback time.
Size/weight: 4.6×3.17×2.55 in., 1.19 lbs with card and battery.
Street Price: $800
Info: usa.canon.com