Camera Test: Canon PowerShot S100 Compact
Canon's advanced compact gets a make over in more ways than one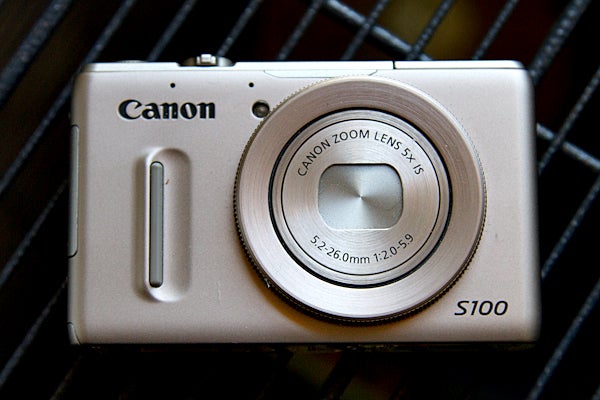 We may earn revenue from the products available on this page and participate in affiliate programs. Learn more ›
Canon's PowerShot S90 had a lot going for it when it was announced a few years ago. It was small, powerful, and provided a nice bridge between the flagship G-series and the rest of the PowerShot line. The S95 came a year later, bringing with it only minor updates, including HD video and a new body coating, which made it easier to hold. But now the S100 is upon us. It looks different than those that came before it, and the guts have gotten a serious overhaul. The result is an excellent little camera that is meant to live alongside the S95 in Canon's high-end compact lineup, rather than replace it.
What's new?
Like other S cameras that came before it, the S100 uses Canon's HS system, but the image processor has been bumped to Digic 5 and the High-Sensitivity CMOS sensor has been elevated to 12.1-megapixels. Maximum ISO jumps to 6400 (up from 3200 in the S95) and the lens now offers 5x optical zoom starting at a wider 24mm equivalent. The styling has been been tweaked, which I'll address later on, and there is a new GPS module inside.
On the video front, the biggest addition is that of a dedicated video button. Personally, I think that's an excellent feature for any compact, since having to swap modes to shoot video is clunky and counterintuitive. The S100 does 1080p video at 24 FPS. It also provides 120- and 240-fps slow-motion capture, but you're limited to 640 x 480 and 320 x 240 resolutions, respectively. Like its PowerShot brethren, it also has the Movie Digest mode, which combines short clips into one longer movie, which was adapted from a Camcorder feature Canon debuted several years ago. It's nifty if you hate editing video.
What stuck around?
One of the defining features of this camera is the rotating control ring surrounding the lens. It feels almost identical to the one found on the S90/S95, but it seems to have gotten a little louder. The 3-inch LCD is still bright and very usable even under harsh sunlight.
Design
The lack of a grip was one of the biggest gripes users had about the S95 — some people went so far as to make their own to stick onto the body — and Canon has tried to remedy that with the S100. The new grip does make it much easier to hold with one hand, but the Silver version I tested lacked the tacky coating found on the S95. Instead, it felt similar to the relatively slippery exterior of the S90. The thumb grip on the back is also bigger and better, though, so it still moves in the right direction ergonomically.
Another major complaint about the S90/S95 was that the scroll wheel on the back of the camera made it far too easy to accidentally change your exposure compensation settings. Out of the box, the S100's dial doesn't affect exposure compensation — or anything for that matter — if you're in a normal shooting mode, which is as it should be. As a result, I found myself using the control ring for exposure compensation. It's a simple and logical set-up, since ISO is easily accessed using the function button and zoom is handled by the rocker switch around the shutter. The Ring Function button is also customizable, so if you're willing to commit to a single function for the ring, you can create another shortcut on the back of the camera. Pretty handy.
The Lens
The S100's lens has gotten a bit of a revamp, ramping up the maximum zoom to 5x and shaving off 4mm at its widest setting, dropping all the way to 24mm. Both are welcome additions, but they don't come without cost. For example, there's a very noticeable amount of distortion at the edges of the frame when you're at 24mm. It's to be expected, but can be distracting, especially in large group shots.
Another big selling point is the maximum aperture of F/2, but that number quickly jumps when you start zooming. You can get to F/2 at 24mm, but by 28mm (which is where the S90/S95 started) you're already pushed to F/2.2. Jump to 35mm and you'll find yourself at F/3.5, 50mm hops to F/4. By the time you get to 120mm, you're restricted to F/5.9, which isn't uncommon for a compact, but is still a serious test of your hand steadiness.
Performance
When it comes to operating speeds, the S100 acts like you'd expect a compact of this level to act. It's certainly not as snappy as an ILC but its relatively high burst rate of 2.4 FPS helps to prevent missed shots. Shutter lag is also very slight, which is a definite plus on a camera meant for candid captures. Start-up time is average for a camera of this calibre. Same goes for focusing, but the overall experience is still very solid. The menus, while not new, are very easy to navigate, condensing all the tweaks into three different tabs.
Battery
Perhaps the most serious drawback of the S100 is its battery performance. The battery is only slightly larger than that of the S90/S95, but it has to provide juice to some much more powerful imaging components. There's also the matter of GPS. The battery is only rated to 200 shots per charge, and I found that to be about accurate depending on shooting conditions. If you're bad at remembering to charge your battery — like I am — it would probably pay off to get an extra. The same goes for using the GPS functionality. And remember, that 200 shot rating only takes shooting into account. If you plan on using that big 3-inch LCD screen a lot, you can expect to find yourself looking for an outlet soon after starting with a full charge.
GPS
The built-in GPS on the S100 is built pretty much solely for geotagging of photos and it does a good job of it. With the GPS function turned on, the S100 keeps track of your position even when the camera is powered off–a serious battery drain. With GPS enabled, you can expect less than a full 24 hours of use, even with periods of the camera being turned off. Really, I would only turn it on if I was on a trip and going out sight-seeing or something like that. It's nice to have as an option, but it likely won't get a ton of use.
Pop-up Flash
The flash hasn't changed much from S95 to S100, offering a similar amount of control and performance when set to auto. The pop-up mechanism is very elegant, though, and it's still fairly powerful for a compact. As you can see in this example, I was able to blast it into full-sun backlight and still get a decent exposure on the subject. Being close helps.
Subjective image quality
We all want RAW pretty much all the time and the S100 offers it. I shot mostly RAW + JPEG in my time with the camera, processing the RAW files using the Lightroom 3.6 Release Candidate software. When using auto ISO, you're capped at 1600 even with the camera's 6400 max, and that seems like the right call. I was even able to get a few shots at ISO 3200 that look just fine displayed on a screen. The bump up to 6400 does take noise levels a bit too far, but the images still look OK in an online gallery. And, for what it's worth, those results downright smash what you'd get out of a cell phone camera in those conditions.
If you're shooting RAW, you will notice a fair bit of fringing from the lens that the JPEG conversion process would otherwise help to eradicate. It's not photo-ruining and you can fix it in post, but it is noticeable. But, that's to be expected.
Likes most compacts, the S100 comes with a heap of shooting modes, but since it offers a fairly full suite of manual controls, most of them are unnecessary. I did try the built-in HDR mode, though. The resulting images actually look natural, and you don't end up with a tone mapped mess like with some other in-camera HDR modes. It is fairly slow, though, so a tripod is a must. Even bracing the camera on a fence, I still got a somewhat blurry final image.
Video quality has gotten a noticeable bump up to 1080p at 24 fps and the resulting footage looks great. The optical image stabilization does a very good job combatting jiggle and the audio, well, it's actually pretty good considering the size of the camera. Manual control of video exposure is a nice addition, as is optical zoom during capture.
IN THE LAB
In the Popular Photography Test Lab Canon's S100 outperformed its predecessor and scored a Very High rating in overall image quality from ISO 80-200. The main contributor to that rating was its score of Very High in our resolution test with 2100 lines per picture height at ISO 80, which dropped to 2000 lines at ISO 200. It maintained solid resolving power at ISO 800 with 1870 lines, but by ISO 3200 it softened to 1525 At its top sensitivity of ISO 6400 that eroded further to only 1300 lines.
While the S95 only managed an Extremely High rating in color accuracy, the S100 just barely achieved an Excellent rating in this area with an average Delta E of 8.0– our cutoff for top honors in this test.
Despite its increase in megapixels over the S95, the S100 turned in better noise scores across the board. Though this seems odd, it looks like Canon was just more aggressive in its noise reduction, which probably explains why we didn't see more of a jump in resolution. The S100 kept noise to a Low or better rating from ISO 80 through ISO 800. That's quite impressive for a compact camera and keeps the S100 competitive with many ILCs in terms of image quality.
The results above were from RAW files converted to TIFFs using the Digital Photo Professional software that Canon includes with the camera. When we tested JPEG files we saw very similar results for resolution and color accuracy, but slightly more noise across the board. Still though, the S100's JPEGs kept noise to a Low or better rating up to ISO 800. It just did so with higher numbers at any given ISO. At ISO 3200, RAW files just barely kept noise to Acceptable levels, while JPEGs at that setting showed Unacceptable noise. --Phil Ryan
CONCLUSION
I liked the S95 a lot and the S100 is a more-than-worthy follow-up. The image quality is there, the design is still fairly slick, and it's actually small enough to carry around all the time.
It's not without its drawbacks. The short battery life is the worst offender, but if you're ready for it, it shouldn't be hard to nip that problem in the bud with an extra battery or just giving it some consideration when you're out shooting.
On the whole, the S100 is still one of the more enjoyable compact shooting experiences around at its price point, if only because it's willing to get out of your way when it comes to settings. The "creative" and "scene" modes are there should you want them, but if you put it on one of the manual modes and leave it there, you'll never see them. Plus, the control ring is still unique (though, the Olympus ZX-1 has something similar). So, if an interchangeabl-lens compact seems like overkill on your wallet and your pocket, the S100 should definitely be on your list to consider.
GOOD STUFF
The S-series reputation for excellent image quality is upheld
Maximum ISO of 6400 means you can get usable shots at 1600 or even 3200 if you're displaying them on the web
Compact body is understated and attractive
Excellent video capture with expanded functionality
5x zoom is a big jump from its 3.8x predecessor
Fast F/2 lens helps in low-light situations
BAD STUFF
Short battery life will cut you off, sometimes before you get to 200 shots
Lens shows considerable distortion at 24mm
Maximum aperture drops quickly as you zoom
Added grip makes it easier to hold, but isn't very elegant to look at