Camera Test: Sony Alpha 550
A step-up for entry-level shooters that plan to do a lot of live-view photography.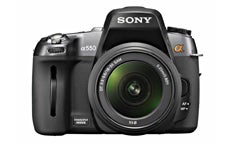 We may earn revenue from the products available on this page and participate in affiliate programs. Learn more ›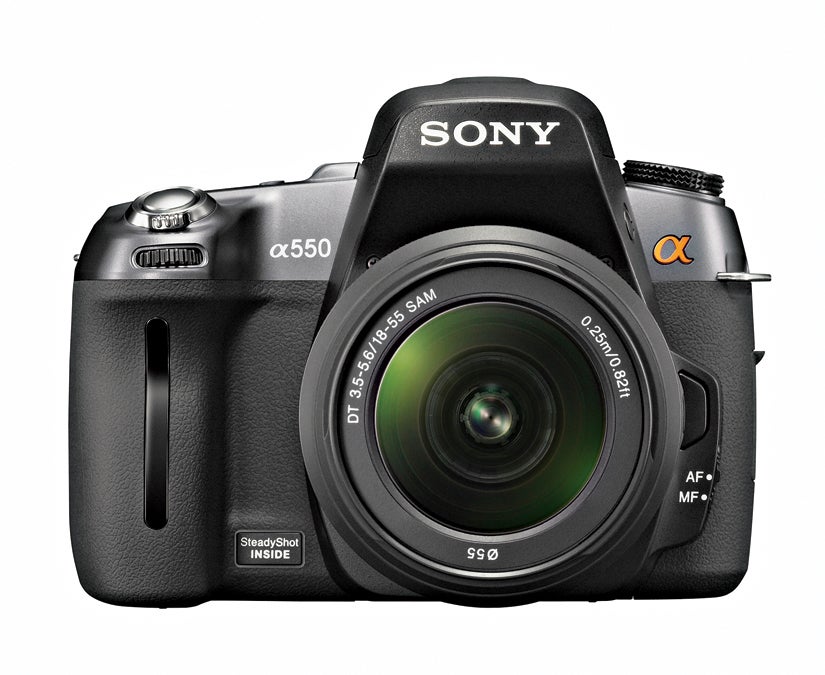 A great LCD for live view makes stepping up easy.
The heavy action in DSLRs lately has been in the step-up category. These cameras take entry-level models a notch further with improved imaging performance and extra capabilities, notably video capture. The Canon EOS Rebel T1i and Nikon D5000, for example, are aimed at buyers who want more capability than a basic DSLR offers, but don't want to spring for the prices of a Canon EOS 50D or Nikon D90.
Sony's new 14.2MP Alpha 550 ($950, street, body only) takes a different tack to attract these photographers. While it doesn't offer video, it does give the competition a run for the money with other features, notably a faster burst rate (5 frames per second, versus 3.4 and 4 fps respectively for the T1i and D5000) and a greatly superior live-view system.
But this new Sony comes in at a steep (more than $300) price disadvantage to its Canon and Nikon counterparts, and couldn't quite match their performance in other areas like low-light AF speed and ISO range.
Shines In Bright Light
Not that the A550 didn't perform well in our tests in the Pop Photo Lab. In AF speed, it beat the competition in bright light. At the brightest part of our test, its 9-point AF system focused in a scant 0.28 second, slowing a bit to 0.48 second at EV 6, about the same as a brightly lit living room. Below EV 6, though, it trailed the Canon and Nikon, and could autofocus down to only EV 0, while its rivals made it down to the moonlit level of EV –2.
As far as ISO sensitivity goes, the A550 fared fairly well. It reaches up to ISO 12,800, though noise was Unacceptable in our test at that setting—even after Sony's aggressive noise reduction, which ate up more than 500 lines of resolution compared with lower ISOs. Of its competitors, only the Canon goes up as high as ISO 12,800, where noise is also rated Unacceptable but to a lesser degree, while retaining hundreds more lines of resolution than the Sony.
At the other end of the sensitivity scale, the Alpha 550 bottoms out at ISO 200, while its competitors reach down to ISO 100. The T1i showed lower noise than the A550 at every ISO they have in common except ISO 6400, where they tied.
See It Live
Sony continues to deliver the best live-view shooting experience. A simple switch lets you choose between the optical finder and live view. Since the A550 uses a second, small CCD sensor near the pentamirror to provide the live preview, you can use the same phase-detection AF as you do with the optical finder. Other cameras employ slower contrast-detection AF systems in their live view modes.
To add flexibility to live-view shooting, the 3-inch, 921,600-dot LCD screen tilts downward or upward. It doesn't swivel, like the LCDs of the D5000 and some Olympus DLSRs , but it's useful when trying to get a shot while holding the camera overhead, or low to the ground.
The only drawback to Sony's approach is that the LCD shows only 90 percent of the image you'll capture, while all other manufacturers' live-view modes show 100 percent. So, you'll see more of the final image if you use the A550's 95-percent accurate optical finder.
Like Sony's new entry-level DSLRs, the A550 uses a graphical user interface. This depicts shutter speed and aperture using horizontal scales with icons at either end, to underscore the need for faster shutter speeds for fast moving objects, and smaller apertures for more depth of field.
It's a nice system for beginners and a good reminder for the shooters Sony has in mind for the A550. More experienced photographers can choose to switch to a text-only interface.
Everyday Shooting
The body design is significantly better than Sony's entry-level DSLRs, with a prominent, wellcontoured grip. Though not quite as sculpted as the A850's grip, it's still quite nice. A single command wheel is located in front of and below the shutter button. While most single-wheel cameras put it on the back, this worked just as well in our field tests.
Despite our gripes (mostly price-related), we had fun using the A550. On a family outing to a park, it managed to capture our technical editor's niece as she soared on a swing. With the camera in continuous AF and 5-fps high-speed burst mode, it took little effort to get a keeper.
If we hadn't needed continuous AF and continuous metering, we could've opted for the Speed Priority continuous shooting mode to get up to 7 fps. Setting the camera to our preferences was simple, too, because there are numerous buttons that provide direct access to various functions. Another helpful control: Hit the function button, and you can adjust the most common settings via their display on the LCD—much as you can on some compact cameras. Interested in high dynamic range (HDR) photography? You'll appreciate the A550's Auto HDR mode. Turn it on by selecting it in the DRO part of the function menu, and the camera will take two exposures in quick succession with varying shutter speeds, then align and merge them.
By combining an underexposure with an overexposure, it achieves a wider dynamic range than a single, normally exposed image would. (You should use a tripod in this mode, since excessive movement can cause the automatic alignment to hiccup.)
We did see extra dynamic range in our test shots, and we're impressed that the A550 is able to do this in the camera.
The Bottom Line
Ultimately, Sony has made the Alpha 550 with the intention of serving a specific level of photographer. But it's unfortunate that it didn't offer it at a competitive price. The Canon EOS Rebel T1i and the Nikon D5000 cost, respectively, $620 and $630 (street), body only—much less pricey.
Moreover, the Canon EOS 50D ($941, body only) is about the same price as the A550, and the Nikon D90 ($810, body only) is less expensive. Both have even faster burst shooting. If you plan to do a lot of live-view photography, you'll definitely want the Alpha 550. If you're looking for more traditional shooting prowess, the Canon and Nikon models will outshine it. But if Sony drops the A550's price to Nikon D5000 levels, then you'll have a tougher decision to make.
**
Specifications**
Imaging: 14.2MP effective, APS-C sized CMOS sensor captures images at 4592×3056 pixels with 12 bits/color in RAW mode.
Storage: SD/SDHC or MemoryStick Pro Duo stores JPEG, ARW RAW, and RAW + JPEG files.
Burst Rate: Full-sized JPEGs (fine mode), up to 32 shots at 5 fps; RAW, up to 14 shots at 5 fps; RAW + JPEG, up to 7 shots at 5 fps.
AF System: TTL phase detection with 9 illuminated focus points (single center crosstype); single-shot and continuous AF. Tested sensitivity down to EV 0 (at ISO 100, f/1.4).
Live View: TTL phase detection.
Shutter Speeds: 1/4000 to 30 sec, plus b (1/3-eV increments); 100,000-cycle rating.
Metering: 40-segment honeycomb pattern TTL metering, evaluative, centerweighted, and spot (approx. 3% of viewfinder), EV 2–20 (ISO 100).
ISO Range: ISO 200–12,800 (in 1/3-EV increments).
Flash: Built-in pop-up with ADI autoflash and wireless triggering of optional flash units, GN 39 (ISO 100, feet); flash sync to 1/160 sec; dedicated Sony Alpha hot-shoe.
Viewfinder: fixed eye-level pentamirror.
LCD: 3-in. TFT with 921,600-dot resolution.
Output: Hi-Speed USB 2.0, mini-HDMI video, 3-pin remote terminal.
Battery: Rechargeable NP-FM500H Li-Ion, CIPA rating 1,000 shots (with optical viewfinder) or 520 shots (live view).
Size/Weight: 5.4×4.1×3.3 in., 1.6 lb with an SD card and battery.
Street Price: $950, body only; $1,050, with 18–55mm f/3.5–5.6 DT AF lens.
Info: www.sonystyle.com
Viewfinder Test: Accuracy, 95% (excellent); Magnification, 0.8X (Very good)