Nikon D90: Camera Test
This DSLR shoots HD video.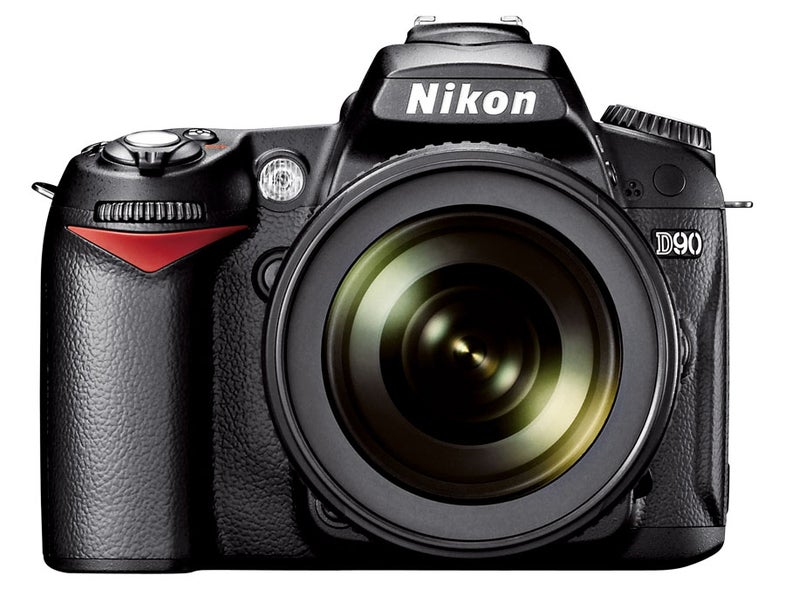 We may earn revenue from the products available on this page and participate in affiliate programs. Learn more ›
It would seem logical for the first DSLR with video capture to come from a company that also makes camcorders. Nikon defied that logic, though, by creating the D90 ($1,000, estimated street, body only; $1,300 with AF-S DX Nikkor 18-105mm f/3.5-5.6G ED VR lens). And not only does it capture movies, it captures 720p high-definition video with sound. On top of that, it ably replaces the highly regarded D80 as Nikon's main midlevel DSLR.
Borrowing its 12.3MP APS-Csized CMOS sensor from the higherend D300, the D90 is the fourth successive 12MP Nikon DSLR. Clearly, the company has eased off the megapixel race, instead focusing on other areas of image quality, such as low noise at high ISOs and convenient features. And the results are impressive. In our lab tests, the D90 scored Excellent in overall image quality right up through ISO 3200.
CAMERA, ACTION…
While the D90 offers a slew of upgrades and worthwhile additions, the groundbreaking feature is, of course, its 1280×720-pixel (720p) video capture. Rivals are already hot on Nikon's heels. As we went to press, Canon announced its 21.1MP EOS 5D Mark II ($2,700, estimated street, body only; $3,500 with 24-105mm f/4L IS EF lens), which also allows HD video capture — at 1920×1080 pixels.
While the quality of the Nikon's video compares favorably to what you'd get from some HD camcorders in terms of sharpness and a relative lack of video artifacts, the camera records at only 24 frames per second, slower than the 30-fps standard for TVs (which the Canon shoots). So video may not be as smooth as what you'd get from a camcorder. The D90 records only mono sound, and HD video is limited to 5 minutes before the sensor becomes too hot. Set to standard definition (640×424 pixels), expect up to 25 minutes of video.
Note, however, that autofocus doesn't work while shooting video. You can preset focus beforehand with AF, but once the video starts rolling it's strictly manual. Manual focusing is more difficult for video than for still images, especially if you're moving the camera during a shot. Also, if you're zooming in or out during a shot, you'll have to refocus after you zoom. Technically, you could do both at the same time, but you'd need to use a tripod to free up both hands.
While we wouldn't count on the D90 as a primary video camera, it's fine for short clips. One fun thing about video capture in a DSLR is that you can use any lens in your collection, even a fisheye. For example, a 50mm f/1.4 can give you shallower depth of field than almost any consumer-level camcorder.
SMOKIN' GUN
Updates over the D80, aside from megapixels and video, include a 3-inch 920,000-dot LCD, up from 2.5 inches and 230,000 dots. The spotmeter is slightly more concentrated, covering 2% of the finder instead of the D80's 2.5%. ISO reaches one stop further to 6400, and the burst rate notches up to 4.5 fps from 3 fps on the D80.
The D90 is the first camera that can take advantage of SanDisk's new 30MB/sec Extreme III SDHC memory cards. In our lab tests, it captured 54 full-sized Fine-quality JPEGs in 12 seconds for an average of 4.5 fps, just as Nikon claims. Shooting RAW, we got 9 frames in 2 seconds before the buffer filled up, again verifying Nikon's 4.5- fps spec. And with this new card, the D90's buffer clears so quickly that the burst is like the Energizer Bunny — it just keeps going and going. Slip any other SDHC card into the camera, and you can count on only about 13 JPEGs before the buffer fills. As with any DSLR, the number of images you get in a burst decreases as you raise the ISO, since the file size typically increases. Our tests were performed at ISO 200, the camera's lowest setting in the normal ISO range.
Also debuting with the Nikon D90 is the company's new optional GP-1 GPS unit. While we didn't have one to test by press time and the price is yet to be announced, it's among the smallest GPS systems for a DSLR — tinier than most wireless flash transmitters. Mount it in the hot-shoe, attach a cable to the D90's mini-USB-sized terminal, turn on geotagging in the setup menu, and you're in business. Drawing power from the camera body, it inserts latitude, longitude, altitude, and universal time code data in the metadata of your photos.
As has become routine lately, this new Nikon DSLR passed our tests in the Pop Photo Lab with gusto. The D90 captured wonderfully accurate colors — a bit better than the more expensive, full-frame Nikon D700 and samesensored D300: It scored an Excellent rating, with an average Delta E of 6.9. (The lower the Delta E number, a measure of color deviation, the better.)
Comparisons? Canon's EOS 40D ($970, street, body only; $1,450 with EF-S 17-85mm f/4-5.6 IS USM) turned in an average Delta E of 7.7, while Sony's Alpha 700 ($1,300, street, body only; $1,400 with 18-70mm f/3.5-5.6 DT AF lens) scored 8.9, and Pentax's K20D ($1,000, street, body only) earned an 8.0.
The D90's noise profile is similarly impressive, though it couldn't beat the D300. At its lowest regular sensitivity of ISO 200, the D90 earned a Very Low rating. Noise rose to Low at ISO 400. At ISO 3200, it essentially matched the performance of the D300, though that camera bests its new sibling in the middle ISOs. That's better than the Sony and Pentax; the Canon earned better scores at ISO 400 and 800, but showed more noise than this Nikon at ISO 1600.
The D90's noise just edged into Unacceptable levels at ISO 6400. And at that ISO it still maintained resolution above 2000 lines per millimeter — 2030, to be exact. At ISO 100 and 200, the D90 scored its top resolution of 2315 lines. That's essentially a tie with Nikon's flagship D3 ($5,000, body only), which showed 2320. The D300 and D700 both tested at 2350 lines, as did the Pentax K20D. Sony's A700 checked in with 2280, while Canon's 40D hit 2100. Although pixel counts have been used as a big selling point in recent years, we're finding many cameras with different pixel counts turning in very similar resolutions.
Another key measure is autofocusing performance. Here, the D90 trumps its predecessor in all but the dimmest light. At very bright light levels (EV 8-12 in our test) the D90 focused in less than 0.4 sec. In mid to low light (EV 1-6), focusing time ranged from 0.46 to 0.69 sec. At the lowest level Nikon's specifications claim, EV -1, the D90 still achieved focus in less than 1 sec. And the AF system didn't fail when we dropped the lights to EV -2, about the same amount of light as a field illuminated by a full moon — and the lowest light level in our AF tests. But it was much less consistent and much slower, averaging 1.99 sec.
Live view on the D90 remains the same as it has been on other Nikons. We give a thumbs-up to the dedicated button, but still like Sony's dual-sensor live view better. Nikon does include contrastdetection AF in live view, which means you can focus without blanking out the screen, but it's slow compared with the phase-detection system employed when you're using the optical viewfinder.
IT'S A WRAP
As a still camera, the D90 continues Nikon's strong record in the midrange. While its videomaking is more than a little clunky, it's the first (and, for now, the least expensive) DSLR with this capability. It's a very worthy follow-up to the D80, and stacks up well against similarly priced cameras. If you shoot frequently at ISO 3200, you'll like the D90's excellent image quality, with low noise at that high sensitivity. And if you plan on shooting your child's soccer game, the D90's fast burst and zippy AF should help you achieve your goal.
COMPETITIVE SET
• Canon EOS 50D ($1,400, street, body only; $1,600 with 28-135mm f/3.5-5.6 EF IS lens)
While we haven't yet tested this recently announced camera, we expect that the Canon 50D will give the D90 a run for its money. No video, but it boasts a 15.1MP (effective) sensor with 14-bit RAW capture, and a claimed 6.3 frames per second in burst mode. Top sensitivity: ISO 12,800 when the range is expanded, though its standard top ISO of 3200 matches the D90. Its higher price, though, may be the dealbreaker if you don't already own any lenses.
• Sony Alpha 700 ($1,300, street, body only; $1,400 with 18-70mm f/3.5-5.6 DT lens)
Also more expensive than the D90, Sony's 12.2MP A700 offers similarly excellent resolution and slightly faster AF through most light levels. It doesn't match the D90's color accuracy or low noise, though, especially at higher ISOs, where the Sony sacrifices more resolution than the Nikon as it combats noise. The A700 has a higher viewfinder magnification and a faster burst speed (5 versus 4.5 fps).
Imaging: 12.3MP effective, DX CMOS sensor captures images at 4288×2848 pixels with 12 bits/color in RAW mode; or AVI Motion JPEG video at 1280×720, 640×424, or 320×216 at 24 fps.
Storage: Single CompactFlash TypeI/II including UDMA; microdrives. Stores JPEG, NEF RAW, RAW + JPEG files.
Burst rate: Full-sized JPEGs (Fine mode): Up to 13 shots at 4.5 fps. RAW: Up to 9 shots at 4.5 fps. Using 8GB SanDisk 30MB/sec Extreme III card: 54 full-sized JPEGs (Fine mode) at 4.5 fps.
AF system: TTL phase-detection with 11 illuminated focus points (1 crosstype). Single-shot and continuous AF with 3D focus tracking. Tested sensitivity down to EV -2 (at ISO 100, f/1.4).
Live view: TTL phase- and contrast-detection modes.
Shutter speeds: 1/4000 to 30 sec, plus B (1/3-, 1/2-, or 1-EV increments). 100,000-cycle rating.
Metering: TTL metering using 420-pixel RGB sensor, 3D Color Matrix II, centerweighted, and spotmetering (approx. 2% of viewfinder). EV 0-20 (at ISO 100) in Matrix or centerweighted; EV 2-20 (at ISO 100) in spot mode.
ISO range: Normal, ISO 200-3200; expanded ISO 100, 6400 (in 1/3 EV increments).
Flash: Built-in pop-up unit GN 40 (in feet at ISO 100), covers angle of view of 17mm lens. X-Sync at 1/200 sec.
Viewfinder: Fixed eye-level pentaprism.
LCD: 3-in. TFT with 920,000-dot resolution, 170-degree viewing angle.
Ports: Hi-Speed USB 2.0, HDMI (mini-type) video, accessory.
Battery: Rechargeable EN-EL3e Li-ion; CIPA rating, 850 shots, 50% with flash.
Size/weight: 5.2×4.1×3.0 in., 1.62 lb with card and battery.
Street price: $1,000, body only; $1,300, with 18-105mm f/3.5-5.6G ED VR DX AF-S lens.
For info:www.nikonusa.com.
VIEWFINDER TEST
Accuracy: 97% (Excellent)
Magnification: 0.94X (Excellent)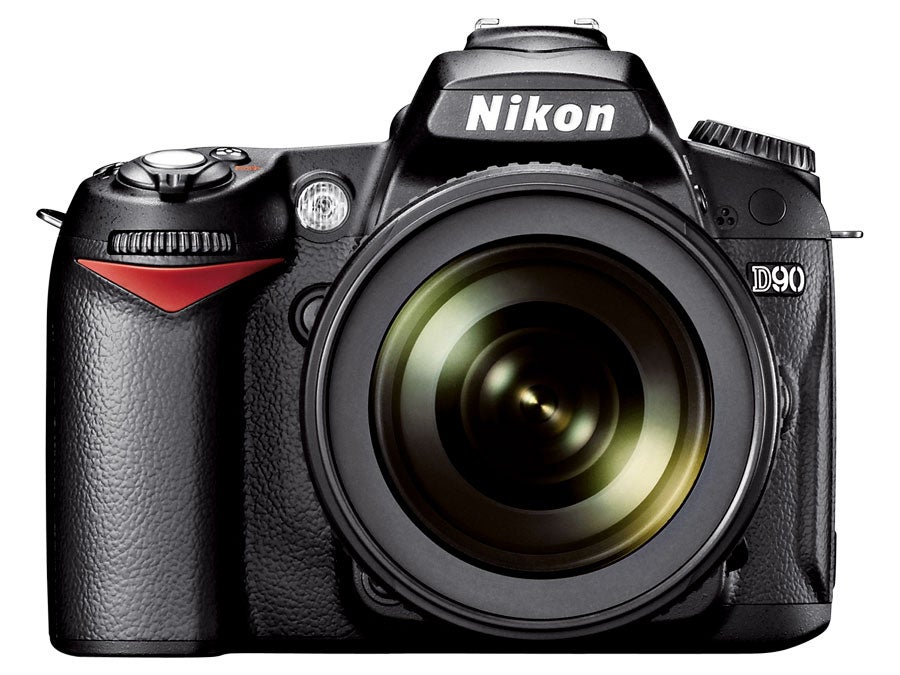 Nikon-D90-001
Nikon D90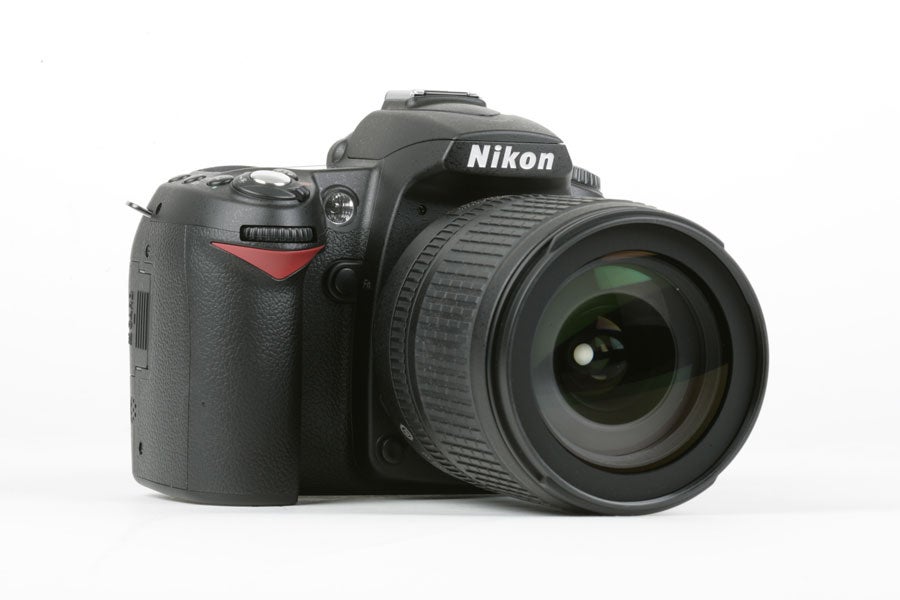 Nikon-D90-002
Nikon D90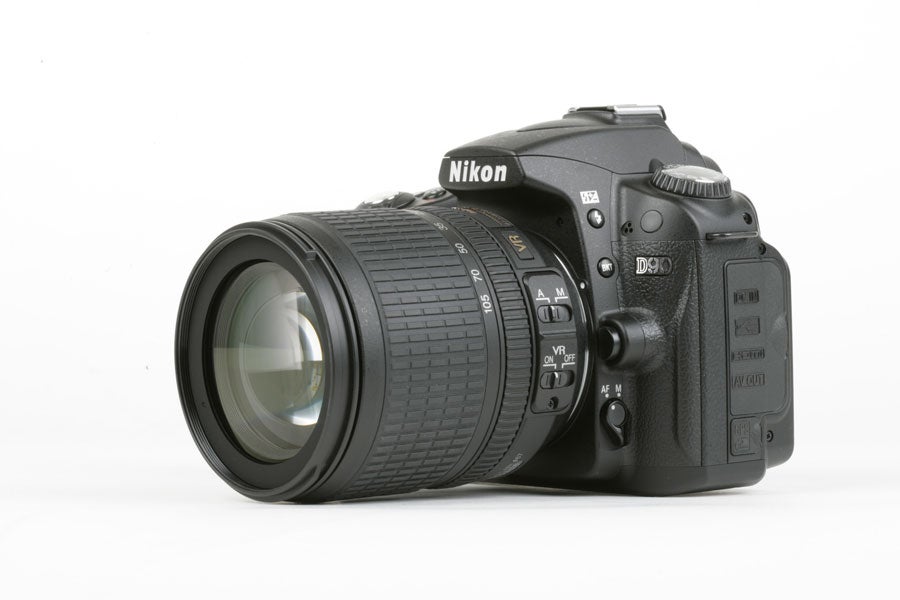 Nikon-D90-003
Nikon D90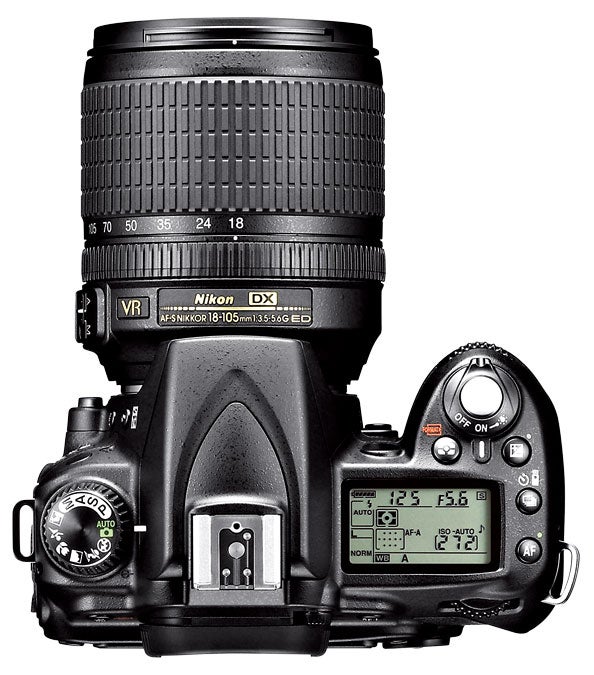 Nikon-D90-004
Nikon D90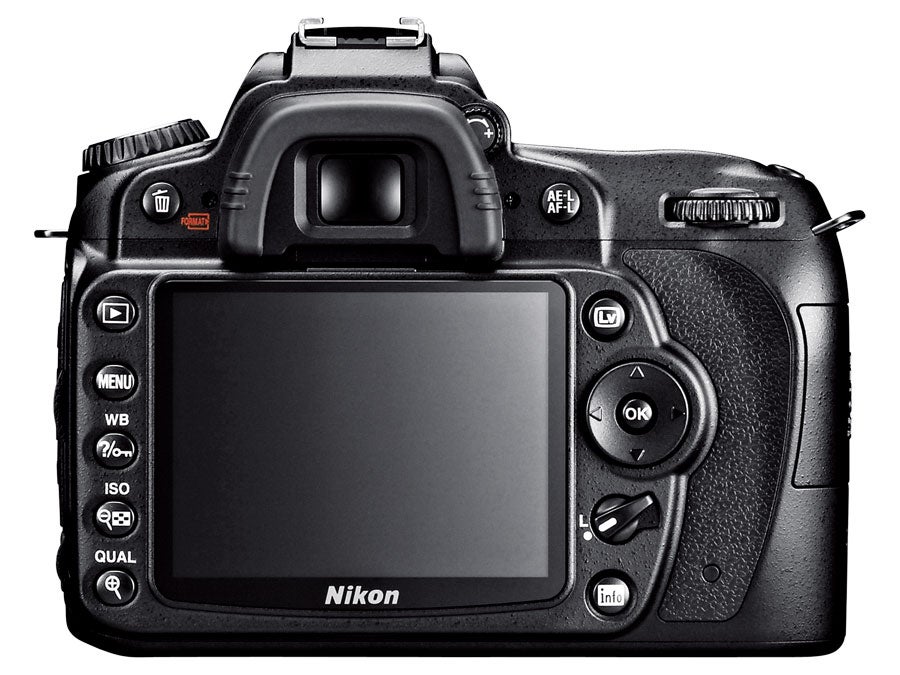 Nikon-D90-005
Nikon D90