Early hands-on with the Canon EOS R8: A compact hybrid camera for beginners
The R8 is a well-rounded camera that features advanced tech at a reasonably budget-friendly price.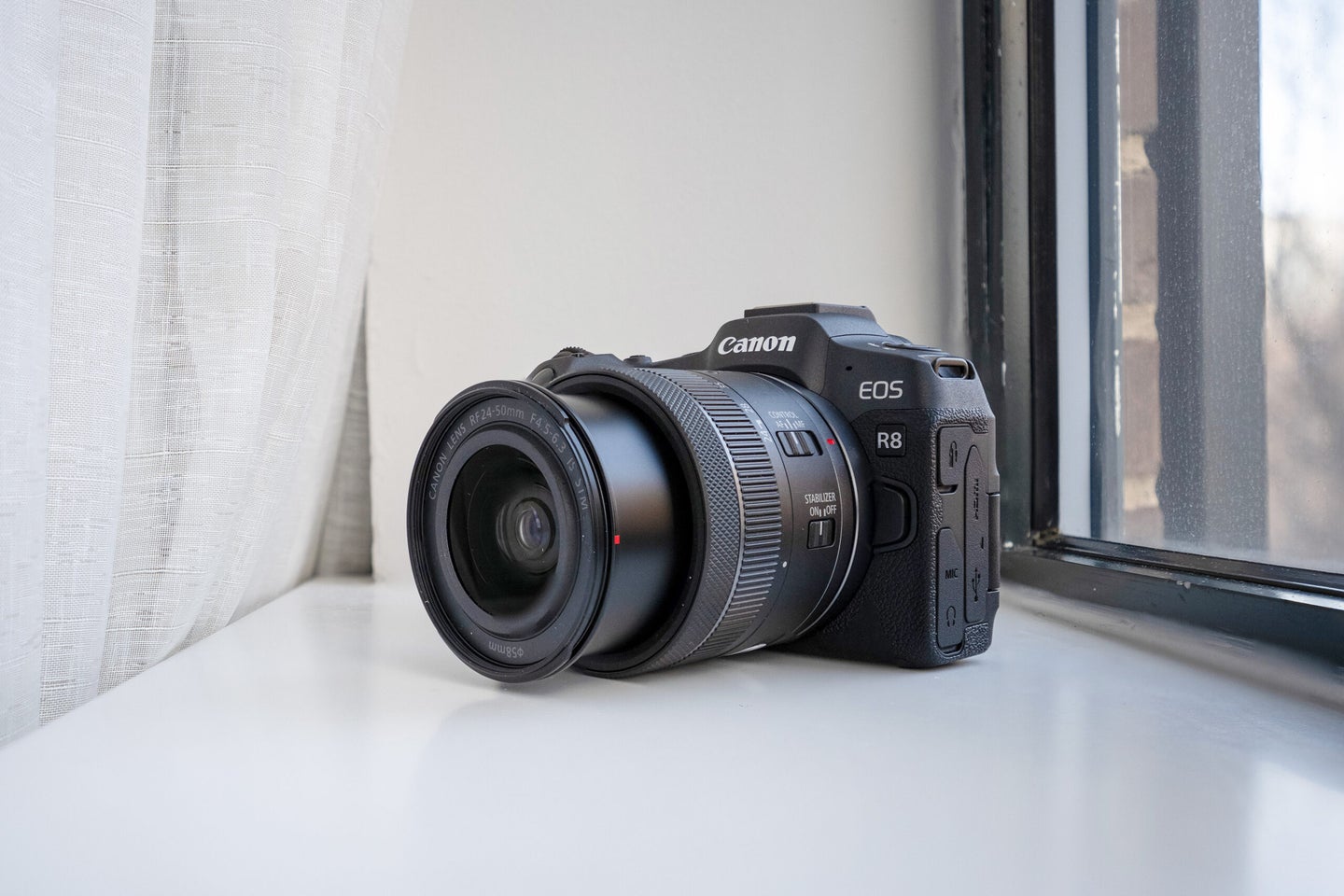 We may earn revenue from the products available on this page and participate in affiliate programs. Learn more ›
Canon's beginner- and enthusiast-friendly range of mirrorless cameras just got a bit more crowded with the announcement of the EOS R8. But despite its entry-level status, the full-frame R8 borrows technology from some of its bigger siblings, such as the R6 Mark II. It gets plenty of advanced technology, including uncropped 4K video and advanced autofocus. 
PopPhoto recently had the chance to test a retail-ready model on a press trip to Charleston, South Carolina. We were also able to use the new RF24-50mm F4.5-6.3 IS STM lens, which will be the kit lens available with the R8. We'll be working on a longer review when we get more time with the set, but here are some of our thoughts from two full days of shooting with the R8.
What is the EOS R8?
Priced at $1,499 (body only), the R8 sits right in between the EOS RP and the EOS R in Canon's entry-level lineup. And it's the same price as the R7, which is an APS-C camera. It features the same exact sensor as the more expensive R6 Mark II, which Canon newly designed for that camera. That means that the benefits of the R6 Mark II sensor trickle down to this relatively affordable body. It's worth pointing out that it isn't a stacked or backside-illuminated (BSI) sensor, however.
As is the trend, the R8 also gets to take advantage of the autofocus advances of Canon's higher-end models for both still photos and video applications. For example, you'll get Canon's impressive Dual Pixel CMOS AF for excellent autofocus during video. And the new autofocus features released in the R6 Mark II carry over to the R8, such as Detect Only AF, to prevent the focus from shifting around when your subject leaves the frame. It's no slouch when it comes to video recording either, with uncropped 4K60p recording, which is oversampled from 6K. 
R8 handling & design
The R8 doesn't depart much from Canon's typical body design. If you've shot with a Canon camera before, it'll have a very familiar feel. The hand grip is nice and deep, making it easier to hold, even for longer periods. And yet, the camera is small. It only weighs one pound, almost half a pound less than the RP. Without a lens attached, it feels silly lightweight. You won't mind keeping this in a bag or even around your neck when traveling, provided you also stick with a compact lens.
The R8 does away with the mechanical shutter, a first in the R line. Instead, it utilizes an electronic first curtain shutter and an electronic shutter. These result in six frames per second (fps) and up to 40 fps, respectively. There is no in-body stabilization, so if that's important to you, you'll either want a lens with stabilization or a different camera. The R8 does offer a self-cleaning sensor, which is useful for keeping dust spots out of your images.
The primary thing I disliked about the body of the R8 is that Canon removed the joystick from the back of the camera. Instead of using the joystick to change focus points, it all must be done on the touchscreen. That's fine in theory, but there are limitations. For example, we were photographing in some light rain at one point, and some drops fell on the screen. It was then impossible for me to change my focus point without first wiping the water off. It also resulted in taking the camera away from my eye to look at the screen and tap a different focus point. That meant I had to recompose a lot more than I would have liked. Normally I would be able to use my thumb on the joystick to change the focus point without removing my eye from the viewfinder, which is a much better experience.
Canon R8 autofocus
Canon has truly upped its game when it comes to autofocus, offering outstanding performance across its lineup. Many of the advanced autofocus features found in the company's professional-grade cameras have trickled down to its entry-level options. That has resulted in fantastic value, even when they don't perform quite as well. And sure enough, that is the case with the R8.
The R8 is fitted with Canon's AI autofocus. It can automatically detect subjects, including horses and other animals, humans, aircraft, and more. The camera can also automatically find eyes. You can even specify if you want it to lock on and track the right or left eye. Canon also added a new "Tap to select subject" mode. This essentially acts as a replacement way to change subjects on the touchscreen since there is no joystick.
These features are great in theory, but they must work in the real world. Overall, I found the autofocus on the R8 to be extremely fast, accurate, and responsive. It did an impressive job of honing in on what I wanted the subject to be, with no input from me whatsoever. It took away most of the autofocus heavy lifting. That meant I wasn't fiddling with settings nearly as much as I've had to with other cameras in the past. 
However, the R8's autofocus was not without issues. It was sometimes almost too responsive, shifting between perceived subjects too frequently before I was happy with the composition. And I found it had trouble finding eyes except when the subject was looking almost directly at me. The autofocus also struggled more in general when I was shooting in portrait orientation.
Canon EOS R8 image quality
I have only looked at jpeg files thus far since none of our preferred editing software can open raw files from these new bodies. A deeper look at image quality will come down the line. But overall, I was quite impressed with the image quality. I almost entirely photographed with the RF24-50mm F4.5-6.3, which is a low-budget kit lens. Even still, the images showed a good amount of detail. 
I was also impressed with the dynamic range of the jpeg files. I was able to bump exposure and shadows quite substantially without seeing extreme noise, even at higher ISOs such as 8,000. As is usually the case, shadows were much easier to bring back than highlights. But I was able to recover the detail on slightly blown-out highlights just fine.
Noise handling, in general, is excellent with the R8. Though there is some slight loss of detail, the image below was taken at ISO 25,600. It still looks sharp and mostly free from noise. I wouldn't shy away from using a photo at an ISO this high from this camera when properly exposed. 
Canon seems to be loving the 24.2-megapixel format lately, as two of the company's releases from last year—the R6 Mark II and R10—feature the same size sensor. It is a little bit surprising, especially given that the only $999 EOS RP utilizes a slightly larger 26.2-megapixel sensor. At least in the case of the R8, Canon says that the image quality will vastly surpass the RP and R (which comes in at 30.3 megapixels). I have not shot with either of those cameras myself, but I would have no qualms using the R8 for some of my work despite the modest megapixel count based on what I've seen so far.
Shooting experience
Even for someone who doesn't shoot Canon cameras frequently, the EOS R8 is simple and easy to use. You can take time to dive into menus and fine-tune settings, but you don't have to in order to get excellent results from the camera. The menus stick to Canon's traditionally logical and straightforward organization, and it comes set to what most people need straight out of the box. 
The burst shooting isn't anything to sneeze at with 40 fps from the electronic shutter. I wasn't photographing any action that required rapid bursts, so I didn't really get to test this on the trip. Hopefully, we will be able to do so in the future. I did take some smaller bursts of the rain splashing into the ponds and was plenty happy with how fast it snapped away. It was fast enough to provide me with options to choose from to get the timing just right.
Video features
Given that we only had two days to work with two different cameras (and two lenses), I focused entirely on still photography during the press trip. However, video is a highlight of this camera, and it boasts some impressive specs and features as a result. 
Despite the entry-level status, the R8 is capable of 4K60p uncropped video that is oversampled from 6K. It can also handle 120p if the quality is lowered to full HD. It's capable of two hours of continuous recording, provided you have the battery life and memory card space. You will be limited to 30 minutes at normal room temp when shooting 4K60p due to overheating issues. But at 4K30p, that limit is nonexistent. You'll also get access to 10-bit Canon log for better dynamic range when editing video files. 
The autofocus system for video is just as full-featured as for stills, relying on Canon's Dual Pixel CMOS AF. You'll be able to use subject detection, eye detection, tracking, and more, and it should allow you to easily and successfully keep subjects sharp. 
The R8 versus R7
You may have been surprised to see the $1,499 price tag for the EOS R8 body, considering the EOS R7 with its APS-C sensor is the exact same price. So, how do you choose if your budget is $1,500 for a camera? 
There are a few key differences between these that could sway your decision one way or the other. The first, and perhaps most obvious, is the sensor size. As mentioned, the R8 is a full-frame camera, while the R7 is a crop sensor. Full-frame cameras are typically better for low-light shooting, provide better depth of field control, and open up the availability of wide-angle lenses. They also give you more leeway when cropping images.
On the flip side, crop sensors are useful for those who primarily want to shoot with telephoto lenses, as they provide more reach given the same focal length compared to a full-frame camera. So, for example, an 100mm lens on the R7 will be the equivalent of 150mm. That has the potential to save you quite a bit of money on expensive telephoto lenses.
Beyond sensor size, the R7 features must more rugged weatherproofing, making it the better choice for adventure or sports photographers. Unfortunately, the R8 has only modest weathersealing. It was sprinkling during one of our shoots, and I had no issues with the camera getting a little wet. However, I wouldn't want to be caught in much heavier rain than that because of the lack of weathersealing. 
If you're familiar with Canon's older DSLR lineup, this is like comparing the original full-frame 6D to the APS-C 7D. The latter was built for high-speed action shooting while the former emphasized overall image quality under more controlled circumstances.
Who should buy the EOS R8?
The EOS R8 sits in an interesting spot in Canon's R line. Slotting in right between the RP and R, though priced the same as the R7, the company's entry-level segment is quite a crowded scene right now. But, the R8 hits a sweet spot of affordable full-frame with plenty of advanced features to keep you happy for some time. Its 4K60p video, 40fps bursts, advanced autofocus, and excellent dynamic range make it an appealing choice.
The mix of features for stills and video make the R8 a true hybrid camera. Canon designed it for casual content creators, though it provides plenty of room to grow into for those who aspire to bigger things. It's also ideal for serious enthusiasts who want excellent quality from their cameras without spending a fortune. And the compact size makes it ideal for those who travel and seek the benefits of a full-frame camera without a giant form factor. 
The R8 is available for $1,499 for the body only. You can also purchase it as a kit with Canon's new RF24-50mm F4.5-6.3 IS STM lens for $1,699.00.