Hands-on with the Canon RF24-50mm F4.5-6.3 IS STM lens
Canon's new 24-50mm is a tiny and compact standard zoom.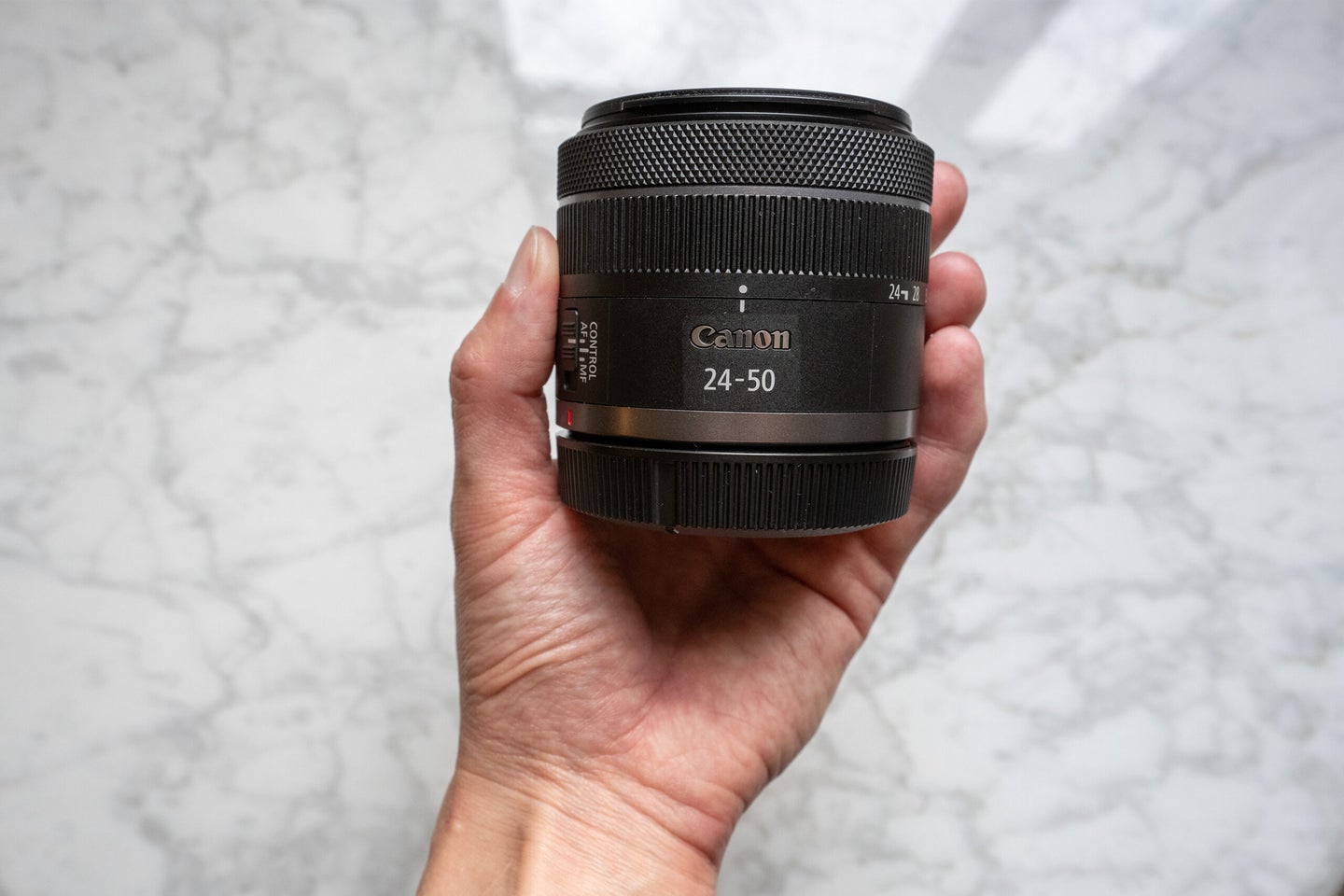 We may earn revenue from the products available on this page and participate in affiliate programs. Learn more ›
Canon recently announced a handful of new pieces of equipment for beginner photographers, including the RF24-50mm F4.5-6.3 IS STM lens. The compact lens will be sold on its own, but it is also the kit lens for the newly announced EOS R8. 
PopPhoto was able to test out the lens during a recent press trip. During that time, we exclusively used it on the R8. We'll be working on a longer, more in-depth review down the line when we have more time with the lens. But for now, here are our thoughts after two days of shooting around with the 24-50mm in Charleston, South Carolina.

What is the Canon RF24-50mm F4.5-6.3 IS STM lens? 
Canon's newest lens offering is a compact standard zoom lens. Though not quite as versatile as a 24-70mm, it provides a useful all-around focal range from wide to normal. Canon designed the lens for full-frame EOS R-series cameras. However, it will also work on the R-series APS-C cameras, where it will behave like a 38-80mm zoom. 
The new lens falls into the budget category, costing only $299.99 when purchased on its own. If you opt to get the lens with the R8, the entire kit will cost you $1,699.00, which effectively saves $100 compared to buying them separately. Despite the low price, the 24-50mm lens offers 4.5 stops of optical stabilization. Robust lens-based image stabilization is important in light of the fact that the R8 and some of Canon's other new entry-level releases do not have in-body image stabilization (IBIS).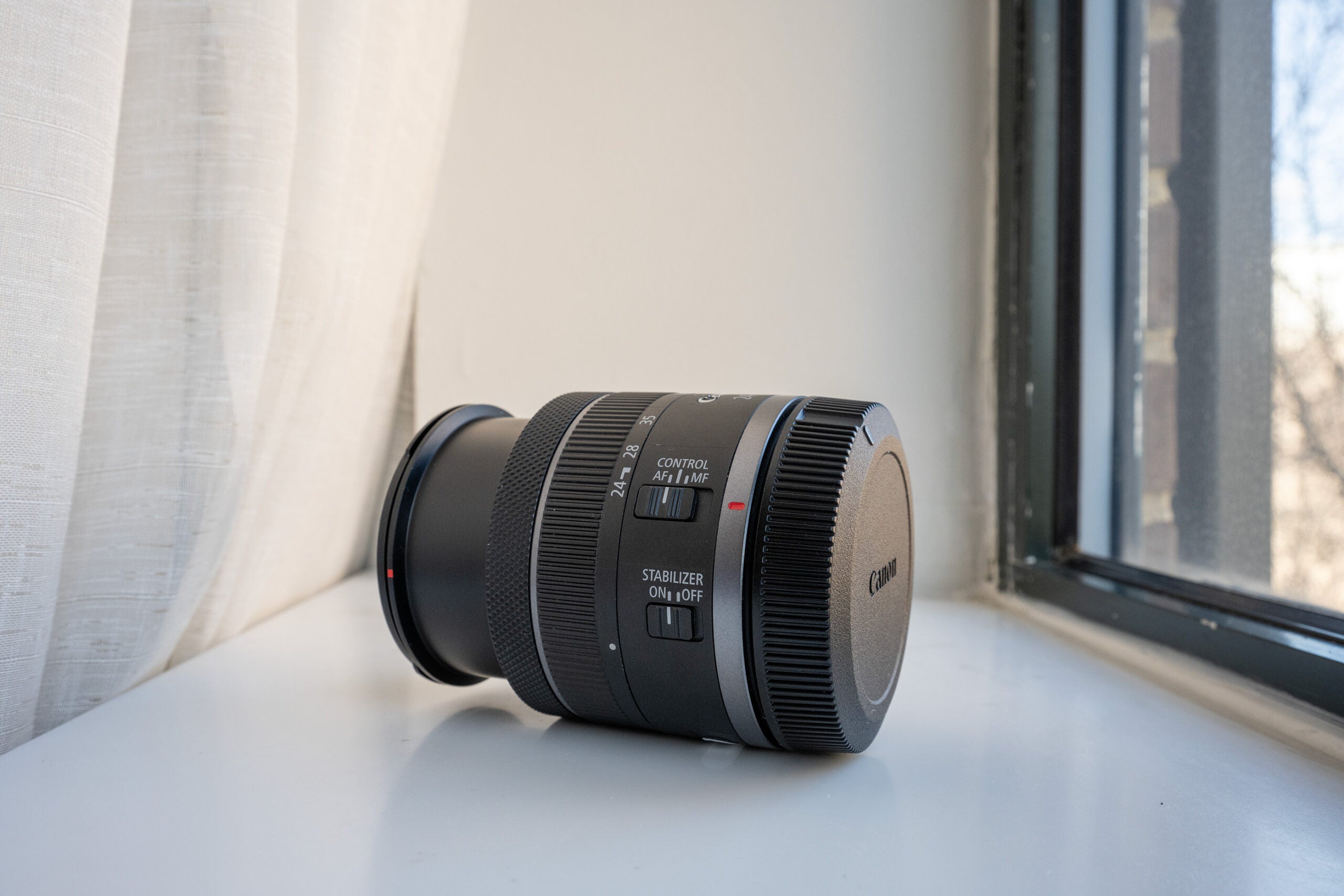 Design & build
As mentioned, the new 24-50mm is a compact lens, and it lives up to that name. The lens is absolutely tiny, weighing a measly 7.4 ounces. And it's only 3.4 inches long when fully extended. When not shooting, the lens packs down even smaller so that it takes up hardly any room in your bag. It could even fit in a jacket pocket should you need to. And because it weighs so little, it won't add much to your camera, making it a great travel option. 
The lens is made up of eight elements in eight groups, including two aspherical optics. It also gets Canon's Super Spectra Coating which helps reduce ghosting and flare. It features seven aperture blades and a somewhat slow (but totally expected at this size and price) maximum aperture of f/4.5-6.3. 
On the side of the lens is an AF/MF switch for easily switching between manual and autofocus and stabilization on and off switch. There is also a dual-function manual focus ring which you can program to something else in the camera's menu system. 
Unfortunately, there's no weathersealing on the lens as you'd expect at this level. Still, be aware that this isn't a lens to get caught in a downpour with unless you have a rain cover. I did shoot with it after a heavy rain in South Carolina one morning, with water dripping from the thick Spanish Moss and Live Oaks, and it held up fine. I wouldn't want to push it more than that, though. 
First impressions
As already suggested, I was blown away by how small this thing is. It balances nicely on the also compact R8, making it an easy setup to carry around all day when exploring a city. Having the extra telephoto reach to 70mm would have been nice, but I still liked the option of at least having a wide angle and normal in a single lens. 
I was also impressed by the image quality, given the budget price. It produces sharp and nicely detailed results, even when wide open. It's not a high-resolution lens by any means, but it is plenty clear and crisp for most people and situations. There is some very slight fringing, but it's hardly noticeable and can easily be corrected in editing, even without a lens profile. There's essentially no distortion, even at 24mm, which makes it much easier to shoot some architectural images. 
Despite not having a very wide maximum aperture, some good background separation, and even bokeh are possible. The bokeh isn't perfectly round (due to the seven-blade aperture), but it is still visually pleasing and can add to an image instead of acting as a distraction. I did have some subjects where the background blur was a bit hazy and had some ghosting, but that was primarily an issue when dealing with backlighting.
My biggest frustration with the lens is the close focusing distance. When zoomed out to 24mm, the minimum focusing distance is 11.8 inches. That expands to 13.8 inches when at 50mm. That's further than I would have anticipated, and I frequently would go to focus, only to find I needed to step back even more.
We'll do a more in-depth image test down the road, but for now, here are some sample images. All images are unedited jpeg files unless otherwise stated. Though the new 24-50mm doesn't provide exceptional sharpness, its compact size and low $299.99 price still make it a worthwhile purchase.