We may earn revenue from the products available on this page and participate in affiliate programs. Learn more ›
Updated Jul 13, 2022 4:24 PM
There's nothing quite like riding in a beautiful vista on a motorcycle, and footage captured with a motorcycle helmet camera can help you relive those moments while also keeping you safe. You get views that are simply unmatched in other vehicles and being able to share that, or at least relive it yourself down the line, is a special thing. Plus, footage from your helmet can put viewers right in your seat, resulting in the ultimate first-person perspective video content. Whether you are recording your rides for memory's sake, safety reasons, or sharing content on social media, the best motorcycle helmet cameras will help you capture what you need without impeding the purity of your ride.
Things to consider before buying a motorcycle helmet camera
Most motorcycle helmet cameras are classified as action cameras. That means that you don't have to wade through lots of different camera types when making a decision. You do, however, need to pay attention to a handful of specs to be sure that you are getting what you need out of the camera. 
Video quality
Chances are you plan on taking videos of your rides if you are getting a camera for your motorcycle helmet. Because of that, video quality is perhaps the primary consideration. For high-quality videos, focus on cameras with at least 4K. You'll also want a high frames per second (fps) count for smooth video. Higher fps will also open up the possibility of slow motion, which could be fantastic for things like tricks and jumps or even stunning scenery on your ride. 60 fps will give you smooth footage, while 120 fps and above will give you slow motion options.
Photo quality
While most people will be utilizing the video function of a helmet camera, having the option to take quality photos is also a plus. Image quality comes down to the resolution, which you will see listed in megapixels or MP. The higher the resolution, the higher the quality. But, keep in mind that the price will rise with the megapixel count. You can get away with a lower resolution if you won't be taking still photos much or don't need them for anything other than social media sharing. Something around 12MP will likely be plenty. But, if you want to make large prints or appreciate having the best quality possible, look for something over 20MP.
Stabilization
Even if you are driving exclusively on brand new, ultra-smooth roads–which you likely aren't– stabilization will be vital to getting beautiful video content. While image stabilization is more common these days, there are still some cameras that don't offer that, so be sure to check. Without stabilization, your videos will end up jarring and shaky even in the best of conditions. You can do some stabilizing in post, but it often requires cropping into your footage or adding unnatural motions.
Audio
Recording audio on your rides can be a valuable tool, but unfortunately, audio can be tricky to capture from a helmet cam. For starters, the camera location–away from your mouth on the outside of the helmet–can make for muffled audio even with bikes off. And once you fire up the bike and set out on your ride, it is next to impossible to capture a voice over the wind and engine noise with just the camera itself. 
If you only hope to record audio when engines are off, look for a camera with a built-in microphone. You may also want to check the location of the mic on the camera and compare how that relates to where you will have it mounted on your helmet.
To record audio while riding, you will need to invest in a microphone system or have a camera with a built-in communications system. A microphone system will enable you to use standard action cameras like the GoPro. Or, a camera and communications system combo will allow you to record not only your own commentary on the ride but can also function as a way to chat with–and record–your buddies while on the road.
Weatherproofing
As much as you may try to ride in pleasant conditions, it's only a matter of time before you get caught in a rainstorm while out riding. Add in the spray from other vehicles on the wet roads, and you need to be sure to have a camera that is meant to handle some water. Be sure to get a fully waterproof camera, or at least have a case that secures it from the elements.
Connectivity
Many action cameras these days will have WiFi or Bluetooth connectivity. These connections will allow you to easily and quickly access the videos and photos you took on your phone without taking out the memory card and connecting to a computer. It may even allow you to live-stream your rides. If you want to manage everything from your phone, including camera settings and sharing your adventures, check to ensure that the camera has one or both of these connection types.
The best motorcycle helmet cameras in 2023: Our picks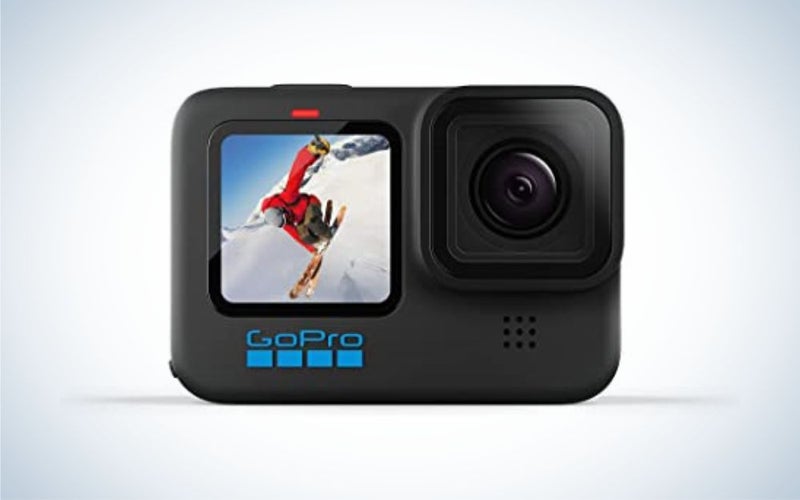 Why it made the cut: The GoPro Hero10 is the top of the line for documenting any action or adventure, with exceptional stabilization, beautiful 5.3K footage, and a fast GP2 processor.
Key features:
Photo resolution: 23 megapixels
Video quality: 5.3K at 60 fps
Weatherproofing: Yes
Stabilization: Yes
Pros
Excellent stabilization
Exceptional video quality
Rugged build even without a case
Built-in folding fingers for easier mounting
Plenty of mounting and accessory options
Cons
Low light performance isn't great
The GoPro Hero 10 is truly an incredible camera that reliably shows up on "best of" lists, including our 2021 Pop Awards. It captures detailed 5.4K video at 60 fps, or if you need even more frames per second, you can still get 4K at 120 fps. And, if you want epic slow motion, you can get 8x slow motion via 240 fps at 2.7K. Just make sure to bring plenty of memory cards.
The camera is no slouch for still photos either. At 23MP it has a higher resolution than all previous GoPro models and results in some beautiful images. The Hero 10 also has a new processor that is more powerful than any other GoPro, which helps significantly with the camera's low light performance. And, as with previous models, you get HDR images for nailing the shot even when lighting conditions are tricky. 
Image stabilization represents one of the Hero 10's main selling points, especially for motorcycle riding. The company's HyperSmooth feature has been around for a bit now, but it is even better in the newest iteration of the camera. You'll be able to get smooth video even if you are dirt biking on rough trails. If you have used a much older GoPro, you'll be shocked at the difference.
While the Hero 10 isn't cheap, it isn't the most expensive action camera either. It has a full suite of features and quality, full app connectivity with the option to live stream, and loads of mounting and accessory options. It's a well-rounded camera that GoPro built to be thrown into the action, so it'll survive no matter what your riding style.
Why it made the cut: This modular camera allows you to take 360-degree  or standard wide-angle videos at up to 5.7K and 4K, respectively.  
Key features:
Resolution: 48 megapixels
Video quality: 5.7K 360-degree lens, 4K Boost lens
Weatherproofing: Yes
Stabilization: Yes
Pros
Excellent stabilization
High-quality 360 degree video
Compatible with lots of accessories
Incredible photo quality
Cons
Expensive
Modular design isn't for everyone
The One RS is the second iteration of Insta360's popular camera, and it comes with some worthy updates and upgrades. One of the biggest jumps is the new 4K Boost Lens. It features a 1/2 inch sensor, which is twice the size of the previous version, the One R. The larger sensor results in overall better quality, though it is especially noticeable when dealing with tricky, high-contrast lighting scenarios. 
The Insta360 One line is a unique, modular design consisting of the camera module, the RS core, and the mounting bracket to hold it all together. Because of the modular design, you can swap out the camera for a wide-angle or 360-degree view depending on what fits the situation best. That means you don't need to buy an entirely different camera if you don't want 360-degree video all the time. Insta360 has improved the mounting bracket to be easier to use and more durable. The improved durability is a huge plus, especially if you are mounting this thing to your helmet and driving at high speeds.
With the Twin Edition, you get a 360-degree lens capable of 5.7K at 30 fps and the 4K Boost lens for up to 60 fps. You also get slow-motion recording at 1080p and 200 fps or 2.7K at 100 fps. At a whopping 48MP, still photos are also excellent in quality, especially when paired with the automatic HDR mode.
Like the GoPro, the Insta360 RS is waterproof without an additional case. Hopefully you aren't driving your motorcycle into a body of water, but it is waterproof down to 16 feet should you need it. In addition, there are plenty of accessories and multiple mount styles for your helmet, so you can pick the style and location that you like best. 
Why it made the cut: If you almost exclusively want to take 360-degree videos, the One X2 offers beautiful 5.7K video with truly impressive stabilization and fewer frills than other options. 
Key features:
Resolution: 18.4 megapixels
Video quality: 5.7K 360-degree
Weatherproofing: Yes
Stabilization: Yes
Pros
Tons of editing options in the app
High-quality 360-degree video
Durable, waterproof build
Slim design
Impressive image stabilization
Cons
Quality isn't as high as non-360 cameras
Though both the GoPro Hero 10 and Insta360 RS produce quality 360-degree video, the Insta360 X2 is ideal for those who want to focus specifically on that all-encompassing view. Like the more expensive RS, you get 5.7K 360-degree video. The X2 can use only a single lens for normal, wide-angle footage, but the quality drops to 1440p at 30 or 50 fps. It gives you options should you want them, but you're best sticking with 360-degree video with this camera. 
This second iteration of the X range has improved battery life so that you can record longer pieces of your rides. Insta360 says the X2 has 55% more power than the X with 80 minutes of run time, in fact. The X2 also has a screen that allows you to see a live preview instead of just settings. While this won't be helpful while it is attached to your helmet, it will be nice for when you want to take the camera off and film while you stretch your legs. The second version of the X also is waterproof–up to 32 feet–on its own, with no case required.
The X2 features impressive image stabilization to keep your footage smooth and usable even on those rough roads. It has four microphones positioned at different points across the camera for clear sound recording, though you will still want a mic for recording audio during your rides. And the Insta360 app has a seriously extensive array of options for editing your videos and photo right on your phone. It also connects to various social media platforms and can live stream direct from the camera, should you want to share your ride in real-time. 
Although the X2 doesn't have some of the versatility or quality of other cameras, for pure 360-degree footage, this camera is an excellent choice.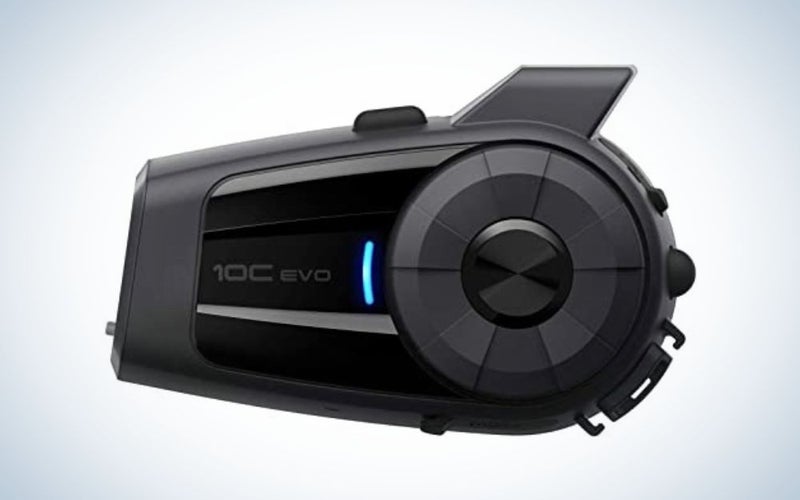 Why it made the cut: The Sena 10C EVO is an excellent combination of communications device and camera with impressive audio quality and 4K 30 fps video. 
Key features:
Resolution: 12 megapixels
Video quality: 4K at 30 fps
Weatherproofing: No
Stabilization: None
Pros
4K video
Integrated coms unit for up to 4 riders
Excellent noise reduction for less ambient noise
Bluetooth connectivity
Cons
No stabilization
Helmet is visible on the right side of the frame
Being able to communicate easily with your passenger or other riders in your group makes rides more fun and can make rides safer. With other cameras, you would need to purchase a separate intercom unit or microphone to chat or record audio, which could become cost-prohibitive. Sena combined a comms unit and camera into one, saving you money and headaches with installation. 
In terms of the intercom function, this Sena offering connects to up to four Bluetooth intercoms up to one mile away. When just functioning as a comms unit, you can get up to 20 hours of talk time. That battery life is naturally reduced as you record video, so you may want to record intermittently if you are on a longer trip.
The 10C Evo features Sena's Advanced Noise Control technology, which filters out ambient noise for clearer audio. The noise filtering is handy for communicating with others and recording audio while on the road. Some users have said that they can chat on the phone without the person on the other end realizing they are on a motorcycle ride, which is impressive. It also has Smart Audio Mix, allowing you to record voiceovers and music while riding, resulting in less editing when you are home. 
While the quality isn't as high as dedicated action cameras, you do get solid-looking 4K 30 fps video or 1080P at 60 fps. The photo quality isn't groundbreaking, but at 12MP, it is as high as many smartphones. And you don't have to risk taking your phone out to get a photo, which is a huge plus. Unfortunately, there is no image stabilization, so you'll want to keep that in mind. 
The 10C EVO has Bluetooth and WiFi connectivity, so you can connect your phone to take phone calls or hear GPS directions along your ride. And when you connect to the Sena Camera App, you can adjust camera settings and see a preview of your camera's view. While Sena doesn't claim that this device is waterproof or weather-resistant, users have said that they don't experience issues when riding through even heavy rain.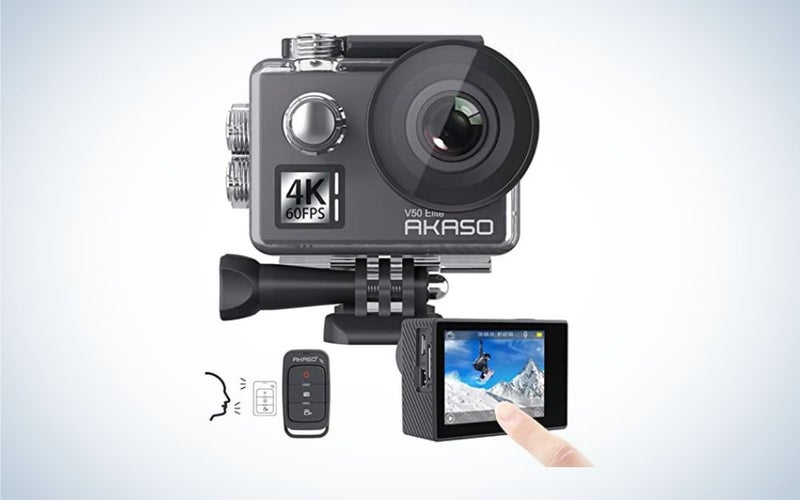 Why it made the cut: The AKASO V50 Elite is an affordable GoPro alternative with 4K 60 fps video, image stabilization, and an included case for waterproofing. 
Key features:
Resolution: 20 megapixels
Video quality: 4K at 60 fps
Weatherproofing: Yes
Stabilization: Yes, with case
Pros
Affordable
Good stabilization
WiFi connectivity
Adjustable angle of view
Cons
Only waterproof in case
OS is on the slow side
While the GoPro certainly is an excellent camera, the price makes it out of reach for many. The AKASO V50 Elite is a great alternative with a significantly lower cost. It has quality 4K video at up to 60 fps and can go all the way to 240 fps at 720P for 8x slow motion footage. You also get 20MP photos, so you can take beautiful still shots on your rides. 
There is image stabilization in this camera, but unfortunately, it is automatically disabled when shooting at 4K 60 fps. When shooting in the other video quality modes, the stabilization is solid, though not to the level of GoPros or the Insta360. That's to be expected at this price, however. The V50 Elite has an adjustable field of view, allowing you to select from wide, medium, or narrow. These settings add to the camera's versatility and give you more variety in the look of your shots. 
Though not waterproof on its own, the V50 Elite comes with a rugged case that makes it waterproof down to 131 feet. That will be plenty for even the most intense storm you hope never to get caught in. It has WiFi connectivity to pair with the AKASO GO app, which allows you to control the camera fully from your phone. If you have a phone mount on your bike, the app will come in handy. You can also use voice commands to start and stop a video or take a photo, though you may have to really yell for it to hear you over the road noise. 
While this budget action camera is undoubtedly missing some of the finer features of more expensive action cams, it still packs plenty of quality and valuable traits to make it an excellent choice for most people.
FAQs
Q: Are motorcycle helmet cameras legal?
Whether motorcycle helmet cameras are legal is somewhat of a gray area as there are no federal or state laws that specifically address cameras. So, in theory, it is legal to have a camera on your helmet. Federal law does, however, specify that you cannot make any permanent modifications to your helmet. That means no drilling into your helmet to attach the camera, as it would impact the safety of the piece of gear. Luckily, there are plenty of camera mounts that use strong adhesives to attach mounts without modifying the helmet itself, so that shouldn't be an issue. You can also opt for a chest-mounted camera worn on a harness, which some people believe provides a better POV anyway.
Q: How do you mount a camera to a motorcycle helmet?
How you mount a camera to a motorcycle helmet will depend on the camera and the specific helmet. The most common method is a strong adhesive pad that attaches to the helmet and a mounting plate, which you can then easily attach and remove the camera from.
Q: Should I wear a camera on my motorcycle helmet?
Deciding if you should wear a camera on your motorcycle helmet is a personal decision, but there are a few great reasons to do so. First, having a camera on your helmet allows you to record your rides from a unique perspective. Whether you use the camera to look back on memories, share on social media, or even create films, it gives you lots of options. Having footage from your rides is just flat-out fun, and it can be awesome to share those with others.

If you are a motocross or other type of competitive rider, recording your rides can also help you analyze what you are doing to improve and get faster. It is a great way to catch mistakes or improve your technique. 

Lastly, recording your rides can be a good idea for protecting yourself should something happen. Motorcyclists are a lot more vulnerable on the road than those in cars. All it takes is one driver who isn't paying attention when changing lanes for something to go very wrong. And while the camera won't keep the event from happening, it will give you proof of fault should a legal battle ensue.
Final Thoughts
Motorcycle helmet cameras are a great way to keep track of your rides and share some epic views that you may have along the way. Though they can be pricey, most cameras on this list are very versatile, making them useful for more than just your motorcycle rides.
Methodology
The editors and writers at Pop Photo have decades of photography experience across the spectrum of the genre and have used countless camera types and brands. When selecting the best motorcycle helmet cameras, we aimed to cover a variety of camera companies that offer up different options for mountable cameras. Features like video quality, image quality, and stabilization were the primary considerations as they most impact the final output. Waterproofing and durability were also important, as motorcycle rides can lead to some intense conditions. Lastly, we tried to offer products at different price points to suit various budgets.