| | | | | | |
| --- | --- | --- | --- | --- | --- |
| Best overall | | Fujifilm X-T30 II | | SEE IT | The X-T30 II provides attractive, retro styling, excellent image quality, and convenient controls. |
| Best full-frame | | Canon EOS RP | | SEE IT | It's the most affordable full-frame camera you can buy. |
| Best action camera | | GoPro Hero 11 Black | | SEE IT | The GoPro Hero 11 results in stunning videos with award-winning image stabilization. |
We may earn revenue from the products available on this page and participate in affiliate programs. Learn more ›
Updated Jul 17, 2023 2:01 PM
While flagship cameras that cost as much as a used car are fun to dream about, there are plenty of cameras under $1000 that can help you create great photographs or videos. Maybe you're ready to upgrade from your entry-level DSLR. Or perhaps you've finally mastered manual mode and want a camera with a few more features. It's time to level up, but searching for the best upgrade can feel daunting as you figure out what features you need as you attempt to balance quality, specs, and price. Mirrorless or DSLR? Compact or full-frame? Is it possible to find a full-frame camera without breaking the budget? This list of the best cameras under $1,000 offers up both mirrorless and DSLR options, with some models even including a lens for that price. 
How we chose the best cameras under $1,000
To compile this list, we extensively researched cameras from all major brands, evaluating them on the same criteria: image quality, autofocusing capabilities, ergonomics, video features, speed, lens selection, and value for the dollar. We also leaned on hands-on experience. The writers and editors at Pop Photo have decades of experience and have used every camera on this list in some capacity.
The best cameras under $1,000: Reviews & recommendations
While we've outlined some specific categories for each of these cameras, it's worth noting that there's absolutely some overlap here. Peruse all the options to see which one fits your specific needs before jumping into a purchase.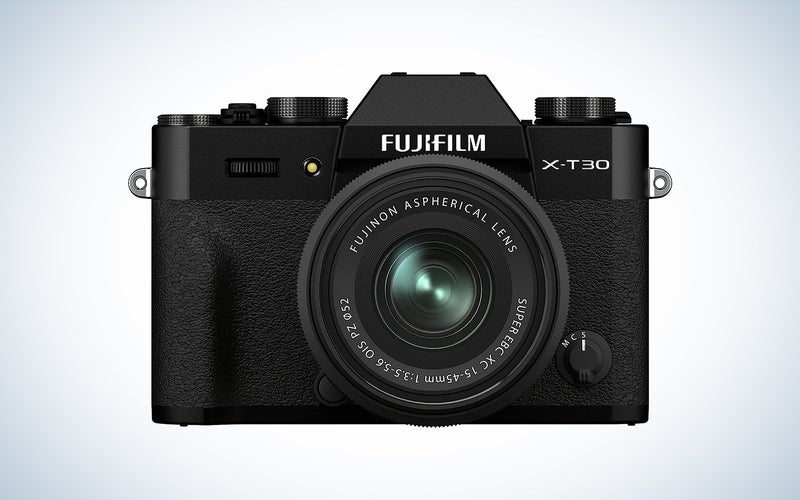 Specs
Resolution: 16.1 megapixels
Sensor size: APS-C
Lens mount: Fujifilm X
Image stabilization: None
Memory card slots: Single slot: SD/SDHC/SDXC (UHS-I)
Weight: 12.8 ounces
Dimensions: 4.7 x 3.3 x 1.8 inches
Pros
Excellent image quality and color
20 fps burst shooting
Good quality 4K video
Lots of controls and dials
Cons 
Screen only tilts
10-minute record limit on 4K capture
Face detect not always reliable
At 26.1 megapixels, this camera is the highest-resolution option that comes with a lens for under $1,000. The retro, DSLR-style design is a fun touch that offers plenty of tactile controls in the form of customizable buttons. It produces great jpegs and offers attractive, built-in film simulation modes for flair.
Fujifilm's X-series lenses work seamlessly with the rest of its X-series cameras, so upgrading your camera down the line will still give you native access to all your glass. It shoots solid video and offers weather sealing and ruggedness that are both better than you might expect for a model at this price. 
If you want to save a little money, however, do note that there are no life-changing upgrades from the first generation X-T30, so that camera remains a solid option, too.
Specs
Resolution: 24.2 megapixels
Sensor size: APS-C
Lens mount: Sony E
Image stabilization: None
Memory card slots: Single slot: SD/SDHC/SDXC (UHS-I)
Weight:  14.22 ounces 
Dimensions: 4.7 x 2.6 x 2.4 inches
Pros
Best-in-class AF performance, including eye detection
Flip up screen is ideal for vlogging
Good 4K video quality (no crop, 30 min recording)
11 fps burst shooting 
Compact, lightweight design 
Cons
Lacks control points
Setting up autofocus can be confusing (lots of options) 
The a6400 has the best autofocus, hands-down, at this price point and produces great photos and videos. Even though it has an APS-C sensor inside, it offers advanced real-time AF tracking modes with eye detection that can help lock onto subjects and keep them sharp as they move around the scene. It's even responsive enough to work with fast-moving subjects. Image quality is excellent, with good noise handling at higher ISOs and up to 11 frames per second burst shooting.
The a6400 shoots 4K video at up to 30 fps without a crop, giving you more flexibility. It's capable of 5x slow motion and 60x quick motion in Full HD quality and doesn't require any special processing to view. If you want to upload straight to social media with no fuss, the camera can shoot in a 1:1 aspect ratio. And it has a built-in, high-resolution, eye-level viewfinder despite its compact size.
Sony has really expanded its line of E-mount lenses in recent years. And if you want to save money on lenses, third-party manufacturers like Tamron, Rokinon, and Sigma have turned out some excellent APS-C glass for Sony cameras in recent years. That makes it feasible to get an A6400 body and lens for under $1,000.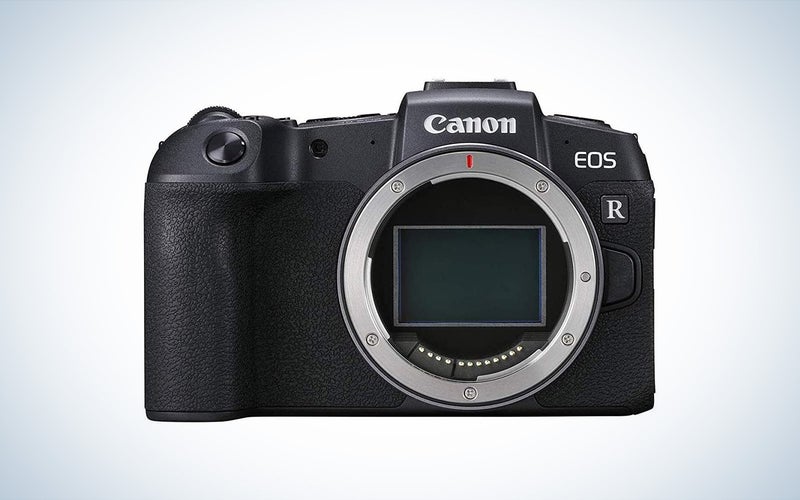 Specs
Resolution: 26.2 megapixels
Sensor size: Full-frame
Lens mount: Canon RF
Image stabilization: Digital and 5-axis (video only)
Memory card slots: Single slot: SD/SDHC/SDXC (UHS-II)
Weight: 1.07 pounds
Dimensions: 5.2 x 3.3 x 2.8 inches
Pros
Great out-of-camera JPEGs
Good autofocus performance 
Lightest Canon full-frame
Well-built, comfortable ergonomics
Affordable as far as full-frame goes 
Cons
Battery life is short 
Poor 4K video quality
Somewhat noisy raw files
The Canon EOS RP is the most affordable full-frame mirrorless camera you can buy. It offers comfortable ergonomics, an electronic viewfinder, accurate autofocus, and pleasing JPEGs. While its 4 fps burst rate isn't anything to write home about, it's a great camera for portraits, landscapes, and everyday shooting. 
This was part of Canon's first wave of full-frame mirrorless cameras, so the RP can't quite compete with higher-end, newer models like the R6. But it does offer similar ergonomics and image quality. Since it has a full-frame sensor, it can also take full advantage of Canon's increasingly impressive line of RF mount lenses, which is has grown nicely in recent years.
If you're planning to shoot a lot of videos, the RP may not be your best. It can shoot 4K, but only with a very heavy crop and underperforming autofocus. But for still photographers wanting an affordable full-frame, the RP is a great choice.
Best for YouTube videos: Sony ZV-E10
Specs
Resolution: 24.2 megapixels
Sensor size: APS-C
Lens mount: Sony E
Image stabilization: Digital (video only)
Memory card slots: Single slot: SD/SDHC/SDXC (UHS-I)
Weight: 12.1 ounces
Dimensions: 4.5 x 2.5 x 1.8 inches
Pros
Excellent 4K video quality
Good battery life
Quality built-in mic
Class-leading autofocus with face and eye detection
Superb still image quality
Cons
Digital stabilization results in significant crop
No shooting mode dial may be annoying for some
If your primary focus is YouTube videos and vlogging, the ZV-E10 is a fantastic choice. Sony built this camera specifically for vlogging, and the result is a full suite of video-focused features. That starts with uncropped 4K video up to 30p with 6K oversampling for highly detailed videos. It's also capable of Full HD up to 120 fps. And there are no recording limits—beyond battery life and memory card space—so you can record long single takes.
The ZV-E10 also offers a Product Showcase setting which automatically transitions focus between your face and an object for showing off products. And as with all of Sony's cameras, it gets class-leading autofocus with real-time eye AF and AI algorithms to recognize and track moving subjects. And the Face-Priority AE keeps the camera's exposure correct for the subject even when moving between different lighting conditions.
Unfortunately, the ZV-E10 only offers digital image stabilization, which isn't highly effective and results in a 1.44x crop. If you want smooth video while moving, we highly suggest a gimbal.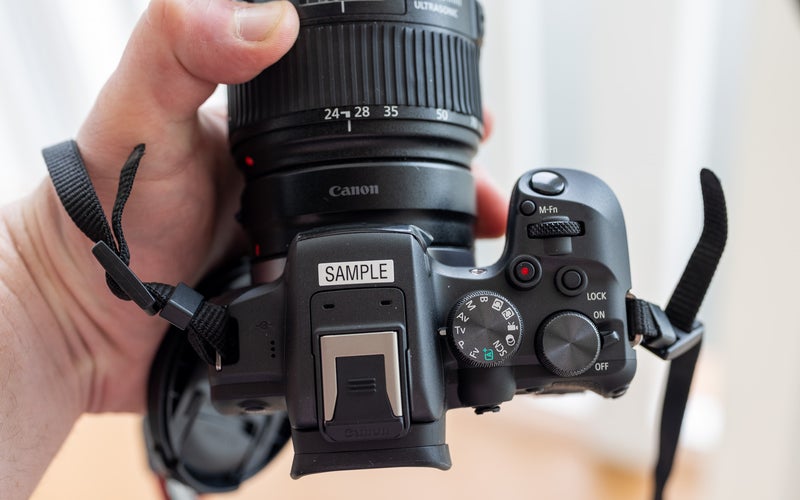 Specs
Resolution: 24.2 megapixels
Sensor size: APS-C
Lens mount: Canon RF
Image stabilization: Digital (video only)
Memory card slots: Single slot: SD/SDHC/SDXC (UHS-II)
Weight: 15.1 ounces
Dimensions: 4.8 x 3.5 x 3.3 inches
Pros
Comfortable grip and ergonomics
Vari-angle touchscreen is ideal for vlogging
Autofocus outperforms the price
Excellent jpeg quality even at high ISOs
Up to 23 fps burst shooting
Cons
Battery life isn't outstanding
Digital stabilization only
Canon's EOS R10 is a relatively new camera and offers a lot of bang for your buck. This APS-C mirrorless camera features a 24.2-megapixel sensor with Canon's typical attractive colors and quality jpeg files. It even performs well at higher ISOs, which is nice to see. And it supports up to 23 frames per second when using the electronic shutter, which is fast enough for documenting action.
Despite the sub $1,000 price, the R10 offers advanced autofocus abilities found in much more expensive cameras. It's easy to use, handling most of the work for you, and does a good job of locking onto even moving subjects. It's a really compact camera, ideal for travel and daily use. And yet it still gets a nice grip, making it more comfortable to hold.
For video use, the R10 is capable of 4K 30p video that's oversampled from 6K footage for highly detailed results. Unfortunately, though, it only provides digital stabilization, which is a bummer, but not unexpected for the price of the camera.
Specs
Resolution: 20.9 megapixels
Sensor size: APS-C
Lens mount: Nikon Z
Image stabilization: None
Memory card slots: Single slot: SD/SDHC/SDXC (UHS-I)
Weight: 13.8 ounces
Dimensions: 5.3 x 3.7 x 1.8 inches
Pros
Attractive retro styling
Superb image quality with large dynamic range
Quality 4K video
Good autofocus performance
Lightweight and compact
Cons
No in-body stabilization
Limited lens selection
We love the Nikon Zfc for lots of reasons, but the film camera-like styling is one of them. It looks like a classic SLR camera, and Nikon even made a special edition lens to match (though this will push the totally slightly over $1,000). Beyond the good looks, the camera features a 20.9-megapixel sensor that results in detailed raw files, good noise handling, and attractive jpegs.
The Zfc isn't just for still shooting, either. It's capable of 4K 30 p video with plenty of different capture tools. It doesn't provide any stabilization or a headphone jack, which is a bummer. And while the autofocus isn't quite at the same level as Canon and Sony, it is plenty quick and responsive. It's capable of tracking subjects and easily detects faces and eyes.
This mirrorless camera is dust and weather resistant and offers BLE and Wi-Fi connectivity for easily transferring photos. And you can use it for live streaming or web conferencing with a USB Type-C cable as well, making it a versatile tool.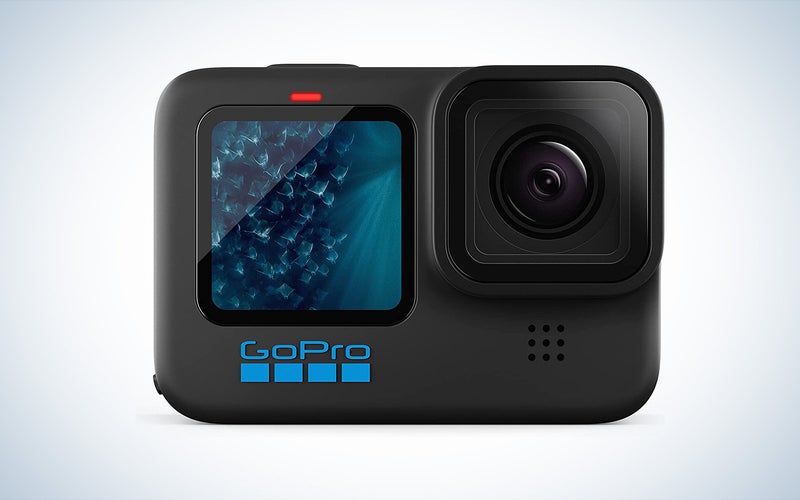 Specs
Resolution: 27 megapixels
Sensor size: Not provided
Lens mount: N/A
Image stabilization: HyperSmooth 5.0 digital stabilization
Memory card slots: Single slot: microSD/microSDHC (UHS-I)
Weight: 44.5 ounces
Dimensions: 2.8 x 2 x 1.3 inches
Pros
Award-winning stabilization
Highly detailed 5.3K 60p video
Epic slow-motion footage at 2.7K 240p
Improved still image quality
Lots of mounting possibilities
Cons
Low light performance isn't great
If you want a camera for documenting action or travel, it's hard to beat a GoPro. The Hero 11 Black is the latest version and features the largest sensor in a GoPro yet. That larger sensor makes it possible to crop vertical videos without losing out on most of the scenes, making it easier to share on social media.
The Hero 11 also gets GoPro's latest image stabilization for impressively smooth footage, even when recording activities like mountain biking. The horizon lock technology keeps your videos level as you move. GoPro also added new modes for star trails, light painting, and vehicle light trails, so you can get creative content at night. And the Hero 11 can record up to 240 frames per second for dramatic slow-motion footage if you lower the quality to 2.7K.
While GoPros shine best with videos, this action camera is capable of attractive still images as well. In fact, photo quality has been improved to 27 megapixels. It's just as durable as past versions as well and is waterproof to 33 feet without an additional case.
Specs
Resolution: 20.9 megapixels
Sensor size: APS-C
Lens mount: Nikon F
Image stabilization: 
Memory card slots: 
Weight: 1.41 pounds
Dimensions: 
Pros
Reliable, accurate AF to track movement with 3D tracking feature
Performs well in low-light conditions
Solid build quality with plenty of controls
Tilting LCD touchscreen makes navigation easy
Produces accurate skin tones, excellent dynamic range 
Large lens selection
Cons
Poor video quality with 1.5x crop and noisy, jumpy AF
No dual card slot
DSLRs are getting phased out
The lone DSLR on this list, the Nikon D7500, has a few features that help it hold its own. It is the sole option here with an optical viewfinder. That translates into zero lag when looking through the viewfinder and drastically improved overall battery life compared to mirrorless. While the Z50 is a good Nikon mirrorless option, those who appreciate the feel of a DSLR will enjoy the D7500, which is also probably the toughest-built camera on this list.
This camera still offers plenty of features and excellent image quality that will make it relevant and viable for years to come. Its autofocus is accurate, reliable, and fast, with subject-tracking capabilities even in tricky lighting conditions. The D7500 is capable of 4K 30p video, though it results in a 1.5x crop, and the autofocus lags behind in video use.
Things to consider while shopping for the best cameras under $1,000
Before digging into our specific recommendations, we'll outline some specific terms and features you'll find out there in this space. Understanding these features will help you narrow down the picks to your specific needs. 
Mirrorless vs. DSLR
Mirrorless cameras have taken over for DSLRs atop the camera market, and it looks like it's going to be that way for the foreseeable future. With companies dedicating their resources to developing mirrorless tech and pretty much halting DSLR development, shiny, new, and updated means mirrorless is the way to go. From the Sony a6400 to the Nikon Z50, the options are robust and produce high-quality images while also bringing other features to the table, depending on your pick. 
However, that doesn't mean you can't choose DSLRs. Because the systems are more established, there are a host of options on the second-hand market, meaning you could come away with a camera (and potentially a lens) comfortably under $1,000. And even if you upgrade down the road, those DSLR lenses typically adapt easily to their mirrorless counterparts.
Full-frame vs. crop sensor
At this price point, the majority of your options will be a crop sensor, which means the sensor is considerably smaller than its full-frame counterparts. That doesn't mean these APS-C cameras won't deliver. However, do keep in mind that crop sensors often have fewer choices in the lens department. Even if they are compatible with lenses built for full-frame cameras, there will be a crop factor that varies depending on the camera brand. You'll need to bear that in mind when selecting new glass, as it does impact the angle of view from a lens. For example, wide-angle lenses won't feel so wide on the APS-C sensors.
FAQs
Q: What camera has the best quality?
All of the recommended cameras will produce great images. The full-frame Canon EOS RP has the largest sensor and so will likely provide the best quality. However, 24 megapixels is usually sufficient for a wide range of applications, and our overall pick, the Fuji X-T30 II, comes in just a tad higher at 26.1 megapixels.

Also, keep in mind that "quality" doesn't just mean megapixels or a full-frame vs. crop sensor. Other characteristics can affect your decision based on what you're shooting. The Canon EOS RP might be the megapixel winner, but someone who shoots a lot of videos may find it "poor quality" because 4K video isn't its strong suit. That person would find the Sony ZV-E10 a much better choice, along with the Sony a6400.
Q: How many megapixels is good for a camera?
Don't get caught up in the megapixel race. Astoundingly, very few megapixels are actually required to print an image at 4×6 inches. So, unless you're planning to blow up your photos on wall-to-wall canvases, you probably don't need as many megapixels as you think, especially if you're not going to edit much.

In general, 24 megapixels is good for a camera. People who should consider going for more megapixels are astrophotographers, artists printing their work on a large scale, and anyone who wants a lot of latitude in post-production.
Q: Which is the best DSLR for beginners?
According to our editors, the best DSLR for beginners is the Nikon D3500. It's got plenty of lens options, 24.2 megapixels on an APS-C sensor, and is built for social sharing.
Q: Are mirrorless cameras cheaper than DSLRs?
With regards to this list of best cameras under $1,000, the mirrorless cameras are, in most cases, cheaper than our recommended DSLR, the Nikon D7500.

Keep in mind, though, that many factors will influence price, and as you continue your research, you may find more inexpensive DSLR options than mirrorless, and vice versa.
Q: What cameras do YouTubers use?
If you need a camera for YouTube and other video content creation, we recommend the Sony ZV-E10. It will produce good-quality 4K video without a crop, and you're not limited to 30 minutes of footage at a time. The flip-down screen makes it handy for vlogging on the go.
Final thoughts on the best cameras under $1,000
Ultimately, the best camera under $1,000 is the one that checks all the boxes for the content you want to create. If you want to create film-inspired street photography, your camera pick will be different from the budding YouTuber looking for a camera with high-quality video.
It's easy to have FOMO—and worse, Gear Acquisition Syndrome. Buying a camera that ticks every single box feels safe. But it will also cost you. Plus, if you're devoting all your time to creating photos or videos that you enjoy, then you won't miss the features that are less important, and that's where it's okay to compromise, saying yes to great features that'll help you achieve amazing results, and not worrying about the lacking features that you'll never use anyway.
Why trust us
PopPhoto has a long history of delivering the opinions of some of the sharpest and most prolific camera dorks the world has to offer. Since 1937, we've been reviewing cameras, providing wisdom from well-known photographers, and generally just nerding out about all that goes into making great pictures. Our current crop of writers and editors have decades of professional photography and camera writing experience among them. Collectively, we've probably shot with just about every camera and lens combo you can imagine—as well as some obscure stuff you may not even know about. Remember the Casio Tryx folding camera? PopPhoto does.
We also get that buying a camera is a big decision, which is why we're dedicated to helping folks choose the right one (or, in our case "ones") for their needs. Case in point: Handing over top dollar for an expensive rig may leave you unsatisfied if it doesn't fit your preferred shooting style. Sure, a $6,000 sports-oriented DSLR can capture landscapes, but do you really need to do it at 30 frames-per-second? No, you don't.