Pentax K-1 Camera Review
A full-frame DSLR for Pentaxians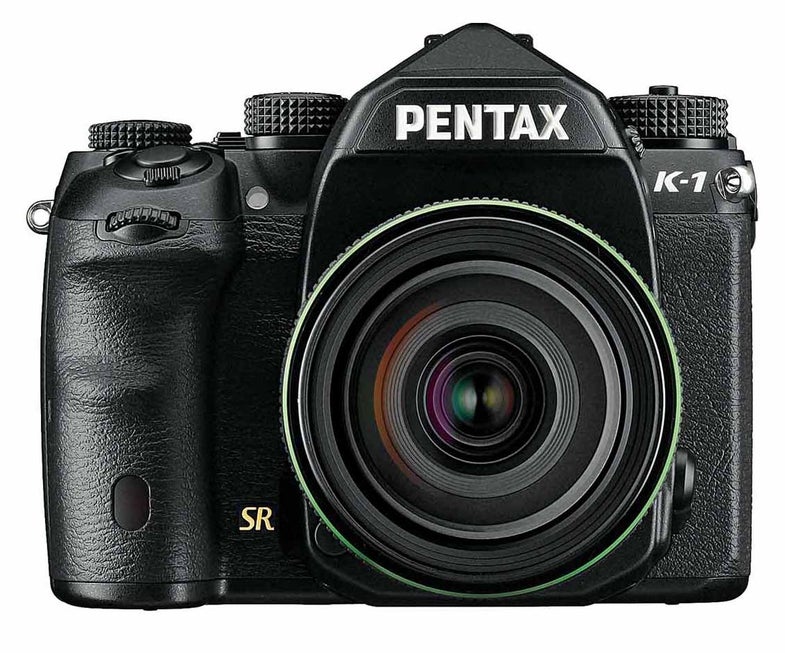 We may earn revenue from the products available on this page and participate in affiliate programs. Learn more ›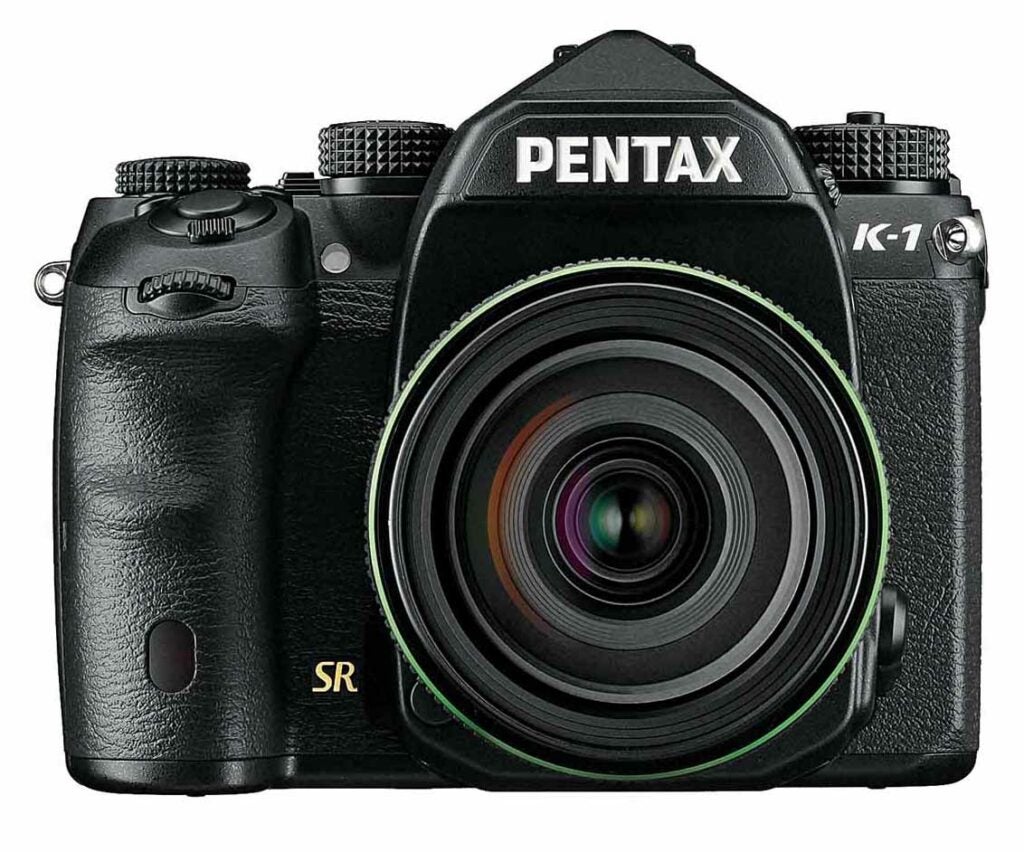 PENTAX K-1
KEY SPECS Sensor: 36.4MP CMOS (full-frame) Sensitivity: ISO 100–204,800 Burst Rate: 5 fps Autofocus: 33 phase detection AF points Price: $1,797, street Info: us.ricoh-imaging.com
When Ricoh introduced a whole new digital medium-format system as its first step above the APS-C sensor size, many Pentax camera fans gave up hope for a full-frame 35mm body. The 36.4MP Pentax K-1 ($1,797, street, body only) proves that sometimes good things really do come to those who wait.
With oodles of resolving power, a unique 3.2-inch cross-tilt LCD screen, a highly effective sensor-shift image stabilization system, Full HD video recording, and built-in Wi-Fi, this 35mm-sensor K-mount body has everything that most serious enthusiast shooters might need. Plus, like most popular Pentax cameras, the K-1 has a rugged, magnesium-alloy, weather-sealed body.
Given the historic nature of this camera, we were extra eager to run it through the rigors of the Popular Photography Test Lab and the challenges of a thorough field test.
In the Test Lab
By opting for a 36.4MP sensor, Pentax achieved impressive resolving power while keeping noise to a controllable level. The result is an Excellent rating in overall image quality from the camera's lowest sensitivity of ISO 100 through ISO 400. As usual, while Pentax does tailor the default noise reduction settings in the Digital Camera Utility 5—a modified version of Silkypix's RAW conversion software—according to the ISO setting used, the company doesn't apply very much. The preservation of resolution through minimal noise reduction has long been Pentax's approach; the company could have sacrificed some resolution to push the K-1's noise scores lower, so you'll have plenty of leeway to do so in your own RAW conversions.
While not quite as color-accurate as the super-impressive—and quite expensive—Nikon D5 tested on page 92 of this issue, the K-1 still earned an Excellent rating in this test with an average Delta E of 7.9. That's just below the cutoff of 8 for top honors in this lower-is-better test.
At ISO 100 the K-1 was able to capture 3475 lines per picture height in our resolution test. That's plenty more than the 2500 lines needed for an Excellent rating. It's not quite as much as the 3510 lines captured by Nikon's full-frame 36.6MP D810 ($3,297, street, body only), though that camera costs nearly twice as much as this Pentax. However, it's also a bit more than the 3325 lines captured by the original Sony Alpha 7R ($1,898, street, body only), a 36.4MP full-frame interchangeable-lens compact. Other than that Sony (still on the market despite being replaced by the 42MP A7R II at $3,198), there are no full-frame cameras in this price range that approach the K-1's resolution. Nikon's 24.3MP D610 ($1,997, street, body only), Canon's 20.2MP EOS 6D ($1,699, street, body only), and Sony's 24.3MP A99 ($1,998, street, body only) don't come close.
As sensitivity rises, the K-1 holds onto much of its resolving power. By ISO 1600 resolution was only down to 3300 lines and by ISO 12,800 it had only fallen to 3125. At ISO 51,200 it still had more than enough for an Excellent rating, with 2725 lines. At the camera's top sensitivity of ISO 204,800 the K-1 was still pulling in 2275 lines. Phenomenal.
The story of resolving power doesn't end there. The K-1 also offers a super resolution mode in which it captures and combines four images as the mechanism that's also used for image stabilization shifts the sensor one pixel-width in between shots—full color information, and twice over for green, is captured for every pixel. The result is more real-world resolving power, even though the output is the same 7360×4912 pixels as images captured in the regular shooting modes. Obviously, since this mode requires the capture of the same scene four times over, you should keep the camera still with a tripod or some other type of support when shooting in super resolution mode. We saw an increase to 3750 lines at ISO 100 when shooting this way.
Noise control isn't the K-1's strongest suit, though that's mostly because of the default settings used in RAW conversion. The K-1 earned a Low or better rating for noise up to ISO 400 and reached an Unacceptable rating at ISO 3200 and above. With judicious use of noise reduction in your own file conversions, you might find ISO 6400 or ISO 12,800 acceptable. So if you buy this camera, shoot some images to see how far you're comfortable pushing the ISO in your own scenarios before shooting something important.
In our image stabilization test, the K-1 gave our shooters an average of 4.5 stops of shutter speed advantage when shooting handheld. If you would normally use a shutter speed of 1/125 sec for acceptably sharp results with a given lens, you should be able to shoot as slow as 1/8 sec and still get a good result. Of course, when selecting a shutter speed you need to consider your subject. If it is moving fast, you may get motion blur.
As noted in our test of the Nikon D5, we have decided to stop performing lab tests of autofocus, since the differences among AF speeds have become so miniscule—down to hundredths of seconds—that they are meaningless to your photography. Instead, we'll address the AF system's performance in our field report, below.
In the Field
The Pentax K-1 is a joy to use.
The well-sculpted grip is very comfortable to hold and feels solid in the hand. The body is covered in dials, command wheels, buttons, and levers. Plus, many of these can be customized to suit your shooting style.
A pair of command wheels let you control both aperture and shutter speed in manual shooting mode, and the second wheel can be set to direct control of exposure compensation when in aperture- or shutter-priority mode. Those wheels are supplemented by a dial on top that can control one of nine different settings, selected themselves by another dial that has a switch for still/video mode embedded below it. Given that ISO is among the things that the dial can control, the K-1 can give you simultaneous direct access to aperture, shutter speed, and ISO without taking your eye from your subject—a rare treat.
Another advantage in terms of controls is the small button above the four directional buttons you use to navigate the menus. This little control lets you switch the function of those directional buttons. They can either provide direct access to drive mode, white balance, color controls, and LCD brightness, or let you select your AF point. The value of being able to quickly select your AF point between shots can not be overstated.
The 3.2-inch LCD screen is larger than most of the screens you'll find on a camera and is articulated in an unusual way. The screen is attached to the body by four rods so that you can pull it away from the body, twist and tilt it, and flip it upward as well. It won't let you flip the screen all the way toward the front of the camera for selfies, and it can be a bit difficult to get it squared up with the LCD facing straight upward. However, we appreciated the multitude of angles possible compared with some articulating and tilting screens. Plus, four tiny LED lights were added to the back of the monitor. These can come in handy when shooting in the dark, as will the similar tiny LED under the Pentax logo on the finder hump, which illuminates the lensmount when you change lenses in dark situations.
Burst shooters may yearn for a bit more speed than the 4.4 frames per second that the K-1 can do in full-frame mode, though the buffer can handle up to 70 large, fine JPEGs or 17 RAW images before filling. If you need more speed, you can opt to let the camera crop down to APS-C size and you'll get bursts of 6.5 fps for up to 100 JPEGs or 50 RAW frames.
While we found autofocus to be fast, the K-1 isn't quite as swift in low light as some similarly priced cameras. We didn't find this a major hindrance, but the system isn't quite as robust as what you'll get with Canon, Nikon, or Sony these days. This is even more true in terms of intelligent tracking capabilities—an arena in which Nikon does a particularly good job. Of course, it'll cost you quite a bit more to find a full-frame camera with such advanced capabilities, and the K-1 did a fine job of continuous AF.
Photographers who enjoy shooting photos of stars should appreciate that the Pentax K-1's built-in GPS can work in conjunction with the shifting sensor to compensate, within reason, for the movement of stars during long exposures. According to Pentax, it can allow for exposures of multiple minutes without star trails. The sensor-shift mechanism will also allow for minute adjustment of composition, which might prove useful to macro shooters. As the camera's name suggests, it is compatible with nearly all K-mount lenses, and we were even able to use old Pentax screwmount lenses through an adapter without trouble. However, most digital-era Pentax lenses only throw an image circle large enough to cover an APS-C sensor. Those will mount, and you can either set the camera to automatically crop images shot with them or to leave the cropping up to you when you get back to your desk.
Any FA K-mount lenses should work fine on the K-1. Some of these are holdovers from the film days, such as the 77mm f/1.8 Limited lens, or the Pentax 50mm f/1.4 that we used to shoot our test images (except for image stabilization). Pentax did announce some new full-frame D FA lenses with the camera. These include the 28–105mm f/3.5–5.6 ED DC WR ($500, street) zoom that we used for most of our field testing, as well as a 15–30mm f/2.8 ED DSM WR ($1,450, street), 24–70mm f/2.8ED DSM WR ($1,297, street), 70–200mm f/2.8 ED DC AW ($1,797, street), 150–450mm f/4.5–5.6 ED DC AW ($2,497, street), 50mm f/2.8 macro ($347, street), and 100mm f/2.8 WR macro ($547, street). That's a good start and the line will likely continue to grow in the next few years.
The Bottom Line
You won't find another full-frame DSLR that produces this level of image quality for this price. Sony's original A7R remains in that company's line and comes close in price, but that's an ILC that uses an electronic viewfinder, which can be a deal breaker for some shooters.
If you're a Pentaxian, the K-1 very much feels like the camera you've likely been waiting a long time to see. It will feel comfortable to use if you're already used to a Pentax camera, and your current digital-era lenses will work on it, though you'll be stepping down to about 15MP when you use them on the K-1, simply due to the necessary cropping. Fans of film-era Pentax glass finally get a body that lets them take full advantage of the lenses they own. Plus, you can now use the Pentax K-1's built-in Wi-Fi to share those images immediately with friends. It's a good time to be a Pentaxian.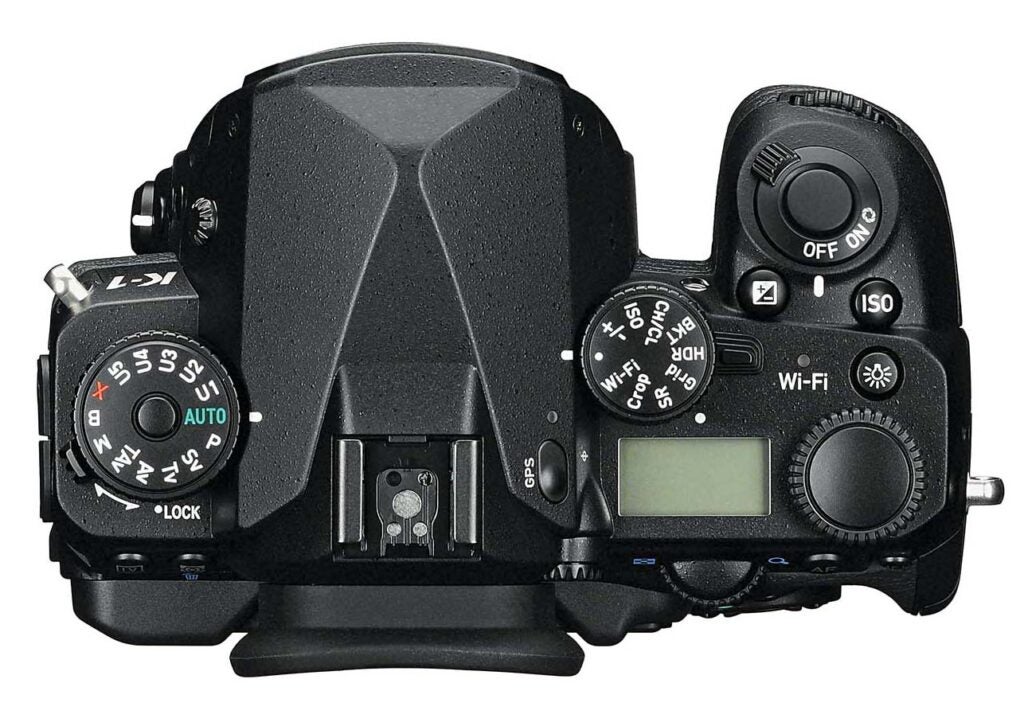 GO VERTICAL
If you shoot a lot of portraits or other vertical frames, you might want to consider adding the D-BG6 battery grip ($199, street). In addition to duplicating the shutter button and command wheels of the regular grip, it can also hold a second D-LI90P battery or 6 AA batteries for extra power.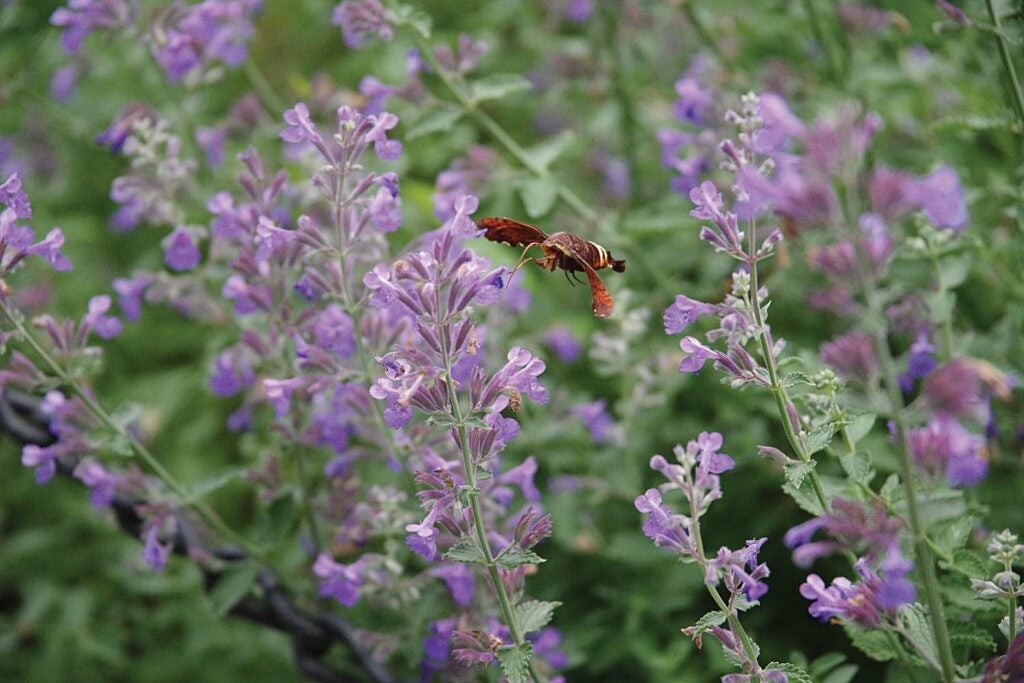 MOVIE MAKING
While it can't capture 4K footage and doesn't offer frame rates above 30 fps, the K-1 does capture nice Full HD video at 1920×1080-pixel resolution.
SPECIFICATIONS:
IMAGING: 36.4MP effective, full-frame CMOS sensor captures images at 7360×4912 pixels with 14 bits/color in RAW mode STORAGE: Dual SD, SDHC, SDXC; stores JPEG, DNG or PEF RAW, or RAW + JPEG files VIDEO: Records up to 1920×1080 pixels at 30 fps for up to 25min; built-in stereo microphone; stereo microphone input; continuous AF available BURST RATE: Full-sized JPEGs (Fine mode), up to 70 shots at 4.4 fps; RAW, up to 17 shots at 4.4 fps (14-bit) AF SYSTEM: TTL phase-detection with 33 illuminated focus points (25 cross-type); single-shot, continuous, 3D Focus tracking; tested sensitivity down to EV –2 (at ISO 100, f/1.4), rated to –4 EV; AF points can be grouped and selected by zone LIVE VIEW: Full-time contrast detection SHUTTER SPEEDS: 1/8000 to 30 sec, plus B (1/3-, 1/2-EV increments); shutter life rated to 250,000 cycles; flash sync to 1/200 second METERING: TTL metering using 86,000-pixel RGB sensor; multi-segment (evaluative), centerweighted, and spot; range, –3 to 20 EV (at ISO 100) ISO RANGE: ISO 100–204,800 (in 1-, 1/2- or 1/3-EV steps) VIEWFINDER: Fixed eye-level pentaprism LCD: 3.2-in. cross-tilt with 1,037,000-dot resolution, five-step brightness adjustment OUTPUT: Micro USB 2.0, micro-HDMI video, stereo headphone minijack, Wi-Fi 802.11 b/g/n BATTERY: Rechargeable D-LI90 Li-ion; CIPA rating, 760 shots with optical viewfinder SIZE/WEIGHT: 5.4×4.3×3.4 in., 2.2 lb with one SD card and battery STREET PRICE: $1,797, body only INFO: us.ricoh-imaging.com