Nikon D5 Camera Review
The Nikon D5 is ready to tackle any situation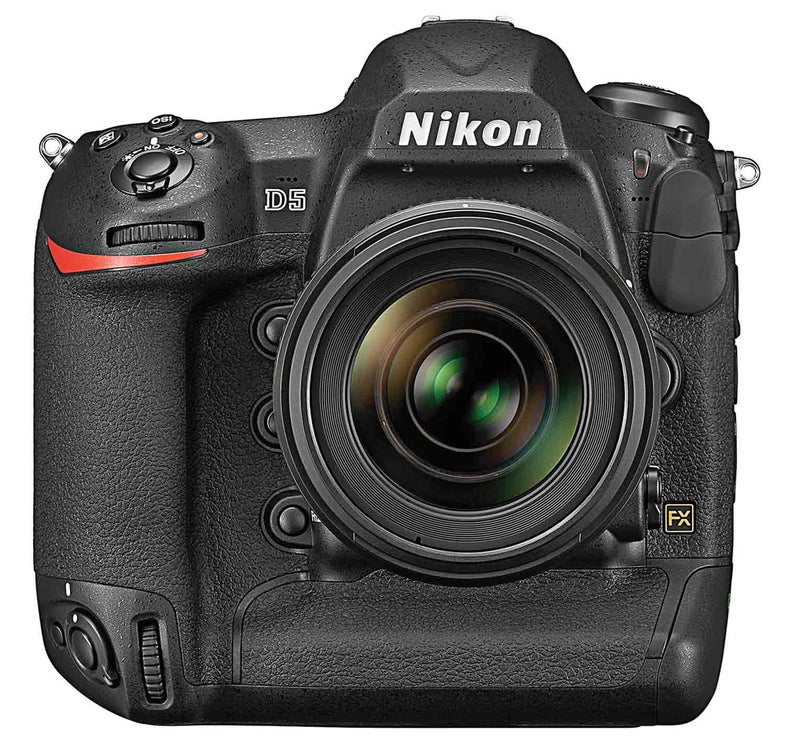 We may earn revenue from the products available on this page and participate in affiliate programs. Learn more ›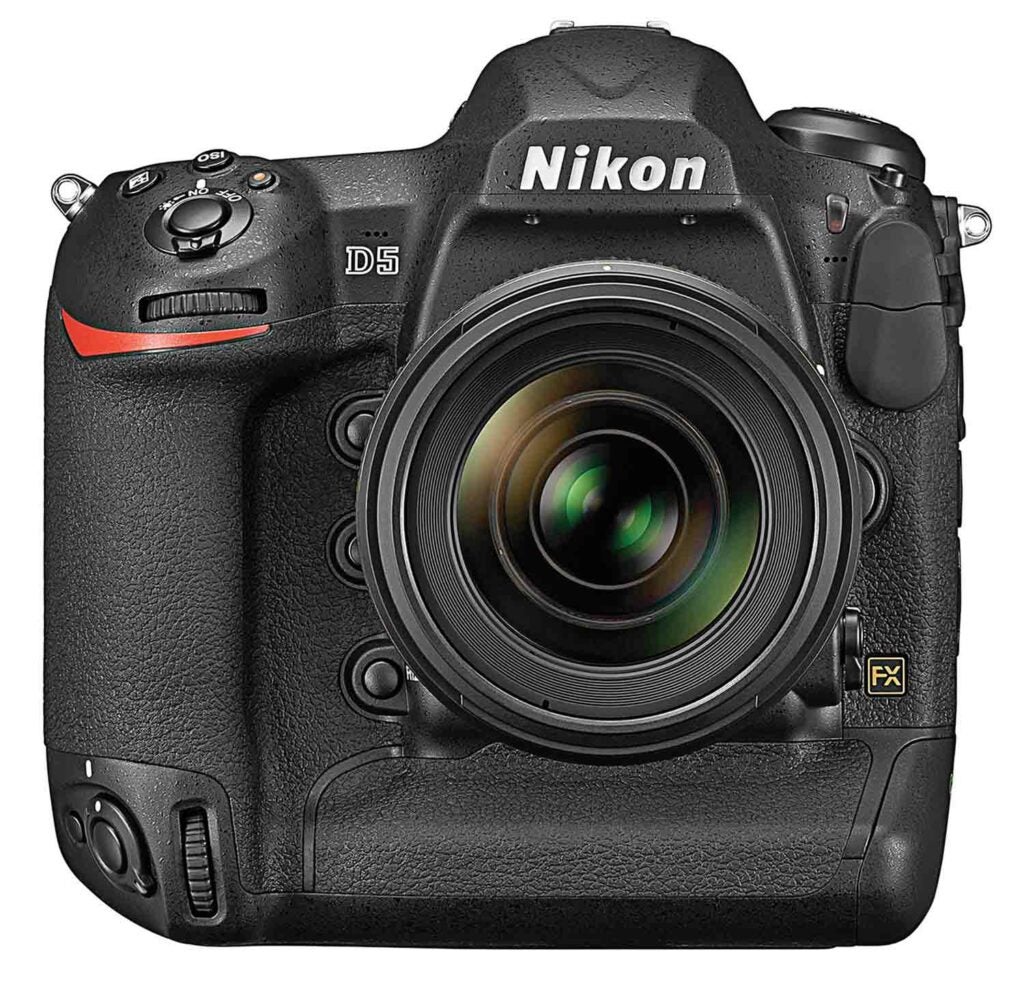 NIKON D5
KEY SPECS Sensor: 20.8MP CMOS (full-frame) Sensitivity: ISO 50–3,276,800 Burst Rate: 12 fps Autofocus: 153 AF points, 55 of them selectable; sensitive to –4 EV Price: $6,497, street, body only Info: nikonusa.com
Say what you will about mirrorless cameras, but when it comes to professional photography in challenging situations, most pros still use high-end DSLRs to get the job done. Nikon's latest, the Nikon D5 ($6,497, street, body only), builds on the capabilities of its predecessor, the D4s, to reach new heights for Nikon in terms of speed, noise control, autofocus, and video capture.
The pixel count rises to 20.8MP from 16.2MPon this Nikon D5. Standard sensitivity now spans ISO 100–102,400 and can be expanded to cover ISO 50–3,276,800, though in its specs Nikon rounds off the top end to 3,280,000. The burst speed steps up to 12 frames per second with a massive buffer capacity of up to 200 JPEGs, 102 14-bit RAW, or 92 TIFF files. Lock the mirror up and you'll get 14 fps.
The new 153-point AF system works with the 180,000-pixel metering system for 3D subject tracking. The Nikon D5 LCD screen steps up to 2,359,000-dot resolution with touch controls during playback, but not while shooting. Video has been bumped up to include 4K capture at up to 30 fps. While the D4s had one CompactFlash and one XQD slot for memory cards, you'll have to choose a model with either two CF or two XQD slots. (Our test unit used XQD.)
Given all of these improvements, we were eager to see how the Nikon D5 would stand up in the Popular Photography Test Lab and in the field.
In the Test Lab
Our overall the Nikon D5 image quality rating balances resolving power, noise, and color accuracy to assess the image capture of a camera. The Nikon D5 earned an Excellent rating in image quality from its lowest sensitivity of ISO 50 all the way through ISO 12,800. In contrast, the D4s managed to hold its Excellent rating only up to ISO 800. The difference here comes down to the D5's extra 4.6 megapixels, which let it maintain Excellent-level resolution even at ISO 25,600.
At ISO 50, the Nikon D5 captured 2625 lines per picture height. That's not even a hundred lines more than the D4s's 2550. But, while the D4s fell below our cutoff of 2500 for an Excellent rating above ISO 800, the D5 could nab 2510 lines even at ISO 25,600. As sensitivity rose further, resolution began to drop rapidly: to 2410 lines at ISO 51,200; 2160 at ISO 204,800; and 1525 at ISO 819,200.
At the camera's top sensitivity of ISO 3,276,800 everything becomes blanketed in a sea of snowy noise under which about only 990 lines per picture height could be seen. It's hard to imagine when someone might make practical use of the images the D5 makes at that sensitivity. But with the benefits to the images at lower ISOs, we won't complain too much.
In our color accuracy test, the D5 easily garnered an Excellent rating with an average Delta E of 5.3. That essentially matches what we saw in the D4s, which scored 5.4 in this test in which lower scores are better.
While we usually use the software that comes with the camera to convert RAW files to uncompressed TIFFs for evaluation, with the D5 we instead used Adobe Camera Raw for conversion. Back when we tested the D4s, Nikon's View NX 2 software varied the amount of default noise reduction applied according to ISO used. The new version, View NX-I, appears to apply the same level of noise reduction to all images. So, as we do with some other cameras, we applied 0-, 25-, 50-, 75-, and 90-percent luminance noise reduction with ACR and then looked at how noise and resolution were affected, selecting the best balance of both for the final test results. In this case, we applied 25 percent from ISO 50 through 1600, 50 percent at ISO 3200, and then 75 percent from ISO 6400 through 3,276,800. At the highest sensitivity settings, even this much noise reduction ended up a blurry mess, but the settings used followed closely what Nikon had chosen to do with its default settings on the D4s's images.
At these settings, the Nikon D5 achieved a noise rating of Low or better all the way up to ISO 12,800 with an Extremely Low rating from ISO 50 through 400. It reached an Unacceptable rating for noise at ISO 51,200 and higher. The D4s also had a Low or better rating through ISO 12,800, though it didn't reach Unacceptable until ISO 102,400.
Looking across DSLR brands, that's very similar to what we saw in testing Canon's EOS 5D Mark III, which remains one of the best performing cameras in terms of noise. Canon's 1D X got a Low or better rating only up to ISO 3200 and reached Unacceptable at ISO 12,800 and above. However, we have yet to test the 1D X Mark II (it's slated for our next issue) and we wouldn't be surprised if it shows a marked improvement over its predecessor.
Normally, we'd start talking about autofocus here. But, we've decided to shelve that lab test, originally designed for film SLRs in the late 1980s. All the DSLRs we've tested in recent years have very fast AF when measuring how quickly the camera focuses and captures an image—even in very dim conditions they lock on and capture in less than a second. Going forward, we'll speak about the versatility of AF systems and provide observations from our field testing.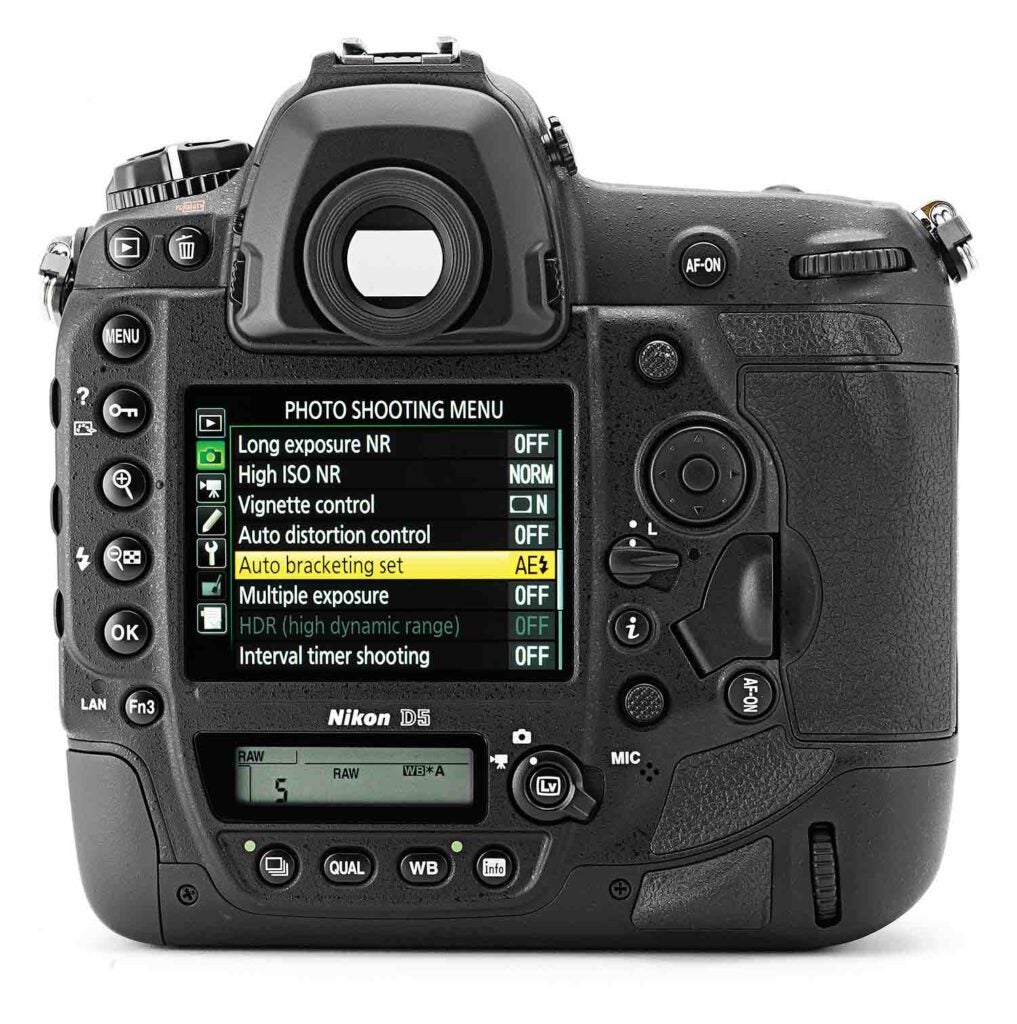 In the Field
Designed to be used every day in extreme conditions and for long stretches of time, the D5 feels very comfortable in the hand, despite its size and heft. The grip is expertly sculpted and the control system versatile and well thought out.
A small joystick on the camera back lets you reposition your AF point at a whim, while dedicated buttons for ISO, bracketing, drive mode, image quality, metering, and shooting mode make changing any of the most commonly changed settings simple. Dual command wheels make manual shooting easier, and you can even use the extra command wheel for direct access to exposure compensation when shooting in aperture- or shutter-priority mode. Meanwhile, a bevy of options to customize buttons and dials let you tailor the D5's controls to your preferences.
The autofocus system lets you select from 55 of the camera's 153 total focusing points, 99 of which are cross-type. All the AF points are sensitive to at least f/5.6, while the center 15 are sensitive to f/8. This can be a real boon if you like to use long lenses with teleconverters, which cut the amount of light coming through to the sensor. The system lets you group focus points or set the camera to use 25 or 75 points during continuous AF rather than the full 153. In our tests it did a wonderful job of tracking subjects, even through challenging, erratic movements.
Burst shooters should be pleased with 12 fps continuous drive with full autofocus and exposure metering between shots on this Nikon D5. Plus, if you want to get even faster capture and can deal with locked AF and AE, you can lock the mirror up and shoot at 14 fps.
At 12 fps, you can capture up to 200 JPEGs or 102 RAW frames before the buffer fills. That's well ahead of the buffer capacity of the original Canon new 1D X, which also shot at 12 fps or 14 fps with the mirror up. However, the 1D X II touts a 14 fps continuous drive (16 fps with the mirror up) and shoots JPEGs until the memory card fills or up to 170 RAW files before the buffer fills when using a CFast 2.0 card (the rival to the XQD format).
Video shooters should be pleased with the footage from the D5. It's as good as we've seen from any DSLR in either 4K or Full HD mode. There's a slight hint of rolling shutter (AKA jello effect), but it's quite minimal and, absent a full-frame CMOS sensor with a sensor-based global shutter option (something that doesn't exist in any consumer-grade cameras yet), this is about as good as one can expect. Canon's 1D X II can capture 4K at up to 60 fps, while the D5 tops out at 30 fps, but that's likely not going to push someone to switch systems. The Canon does include its Dual Pixel CMOS AF, though, which can allow for a better continuous AF experience if it ends up behaving the way we've seen that system do recently with the 80D.
We don't usually talk much about batteries, but the D5 uses the same one as its predecessor and can get up to 3,780 shots per charge. So, if you currently own a D4s, your charger and any extra batteries you have will work with the D5.
The Bottom Line
When it comes to really high-end DSLRs, photographers tend to be well entrenched in a particular system. So, we have to ask if any particular camera is enough to make someone switch or compel you to step up from the body you currently use.
Nikon D4s shooters will have to weigh a few things: One, is the addition of 4K capture something you think you absolutely need? Also, will capturing an extra frame per second and the promise of a deeper buffer make a huge difference to your shooting? If you already have a solid experience with the D4s's AF system, then the D5's improvements might not make a huge difference, though it is rated to function all the way down to the darkness of EV –4 while the D4s was rated down to EV –3. Again, it'll depend on what you shoot.
Canon shooters seem like they'll have a worthy follow up to the 1D X, and we'll put that to the test next issue. If the 1D X II lives up to the hype, then it doesn't seem like Canonites would have reason to flock to the Nikon D5.
But Nikon photographers who are looking to step up to this level of camera for the first time should hop to it. The D5 is a wonderful DSLR and, as long as you don't need the mega-resolution of the D810, you will likely be overjoyed with all you can do with the D5.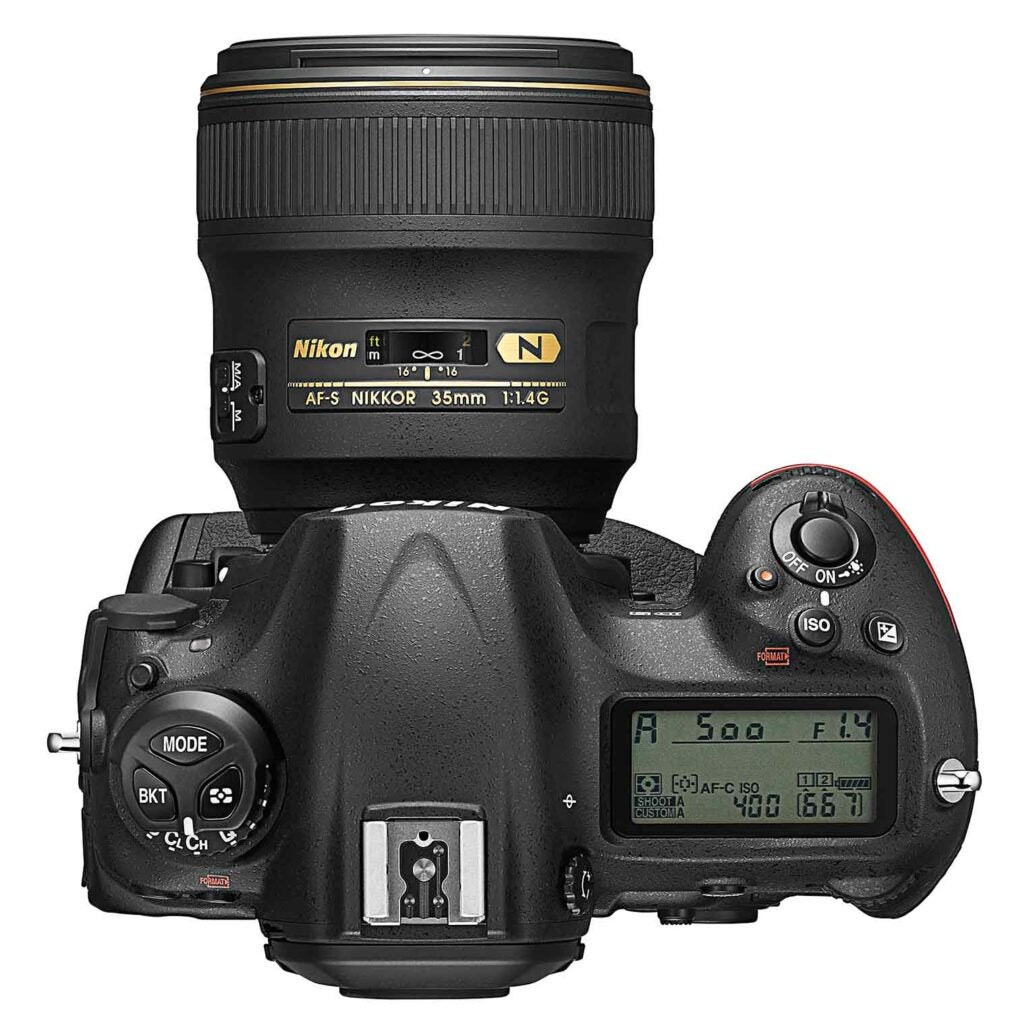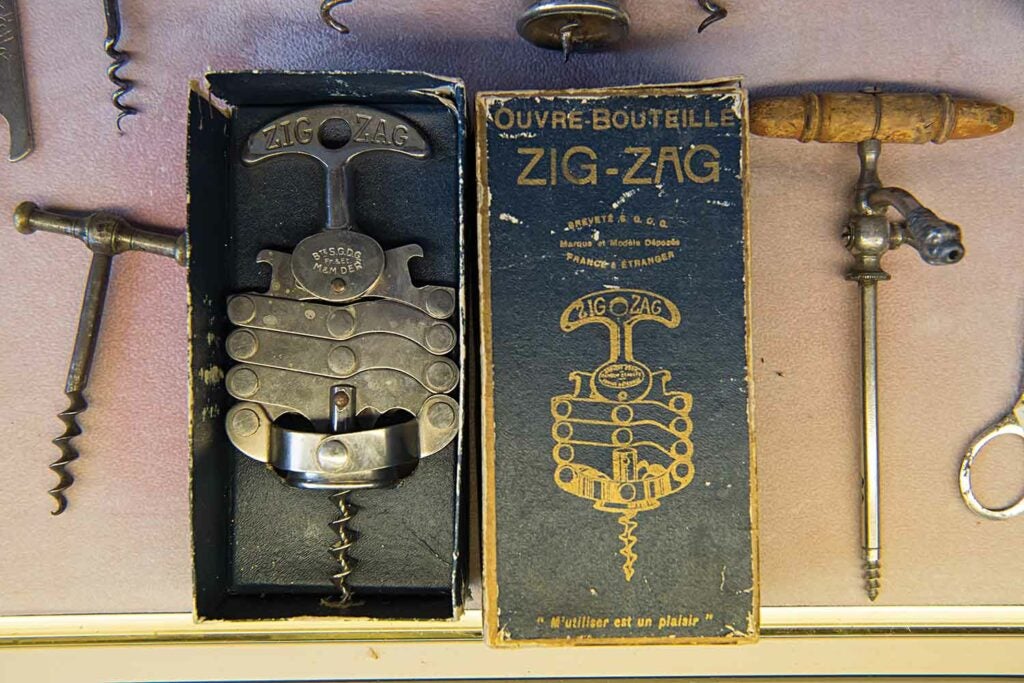 SPECIFICATIONS
IMAGING: 20.8MP effective, full-frame (FX format) CMOS sensor captures images at 5568×3712 pixels with 14 bits/color in RAW mode STORAGE: Dual CompactFlash or Dual XQD; stores TIFF, JPEG, NEF RAW, or RAW + JPEG files VIDEO: Records up to 3840×2160 pixels at 30 fps in MPEG-4 H.264 format for up to 3 min, 1920x1080p60 for up to 10 min at highest quality, 1920x1080p30 for up to 29min 59 sec; built-in stereo microphone; stereo microphone input; continuous AF available; uncompressed video output through HDMI BURST RATE: Full-sized JPEGs (Fine mode), up to 200 shots at 12 fps; RAW, up to 102 shots at 12 fps (14-bit uncompressed); TIFF, up to 92 shots at 12 fps AF SYSTEM: TTL phase-detection with 153 illuminated focus points (99 cross-type sensitive to f/5.6, 15 sensitive to f/8) total, 55 (35 cross-type and 9 sensitive to f/8) are selectable; single-shot, continuous, 3D Focus tracking; tested sensitivity down to EV –2 (at ISO 100, f/1.4), rated to –4 EV; AF points are grouped and selected by area live view: Full-time contrast detection SHUTTER SPEEDS: 1/8000 to 30 sec, plus B (1/3-, 1/2-, or 1-EV increments); shutter life rated to 400,000 cycles; flash sync to 1/250 sec METERING: TTL metering using 180,000-pixel RGB sensor; Matrix (evaluative), centerweighted (75% weight given to 4.5% circle in center of frame), and spot (approx. 1.5% of finder at center); range, –3 to 20 EV (at ISO 100) ISO RANGE: ISO 100–102,400 (in 1- or 1/3-EV steps), expandable to ISO 50–3,276,800 VIEWFINDER: Fixed eye-level pentaprism LCD: Fixed 3.2-in. TFT with 2,359,000-dot resolution, five-step brightness adjustment, touchscreen for playback only OUTPUT: Micro USB 3.0, mini-HDMI video, stereo headphone minijack, Gigabit Ethernet BATTERY: Rechargeable EN-EL18a Li-ion; CIPA rating, 3,780 shots with optical viewfinder SIZE/WEIGHT: 6.3×6.3×3.7 in., 3.1 lb with two XQD cards and battery STREET PRICE: $6,497, body only INFO: nikonusa.com