We may earn revenue from the products available on this page and participate in affiliate programs. Learn more ›
Updated Apr 27, 2023 10:09 AM
Point-and-shoot cameras may be less common these days, in part thanks to smartphones, but there are still some worthy reasons to invest in these pocketable cameras. For starters, even though smartphone cameras have become quite impressive, the sensors in compact cameras are still larger. And the lenses typically have more to offer as well. Plus, sometimes it's nice to keep the phone tucked away but still be able to take photos. The best point-and-shoot cameras offer great image quality, easy-to-use controls, and compact designs, making them ideal for a wide range of people and situations.
How we picked the best point-and-shoot cameras
The writers and editors at Popular Photography have decades of combined experience writing about and reviewing cameras. These picks come from a mixture of personal experience, spec comparisons, user reviews, and editorial reviews. We emphasized models that perform in a variety of different situations while keeping their sizes small. While some of these models climb up over $1,000, we tried to keep the price relatively low for most selections because these aren't the most advanced models.
The best point-and-shoot cameras: Reviews & recommendations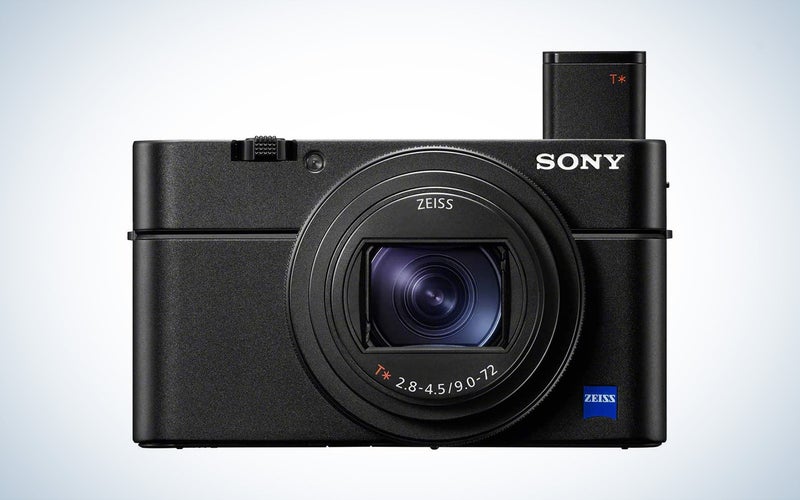 Why it made the cut: Sony's RX100 VII offers excellent image quality, smooth 4K video, and truly impressive autofocus. It's one of the most well-rounded point-and-shoot cameras available.
Specs
Sensor: 20.1MP 1″ Exmor RS BSI CMOS sensor
Lens: f/2.8-4.5 9-72mm (35mm equivalent: 24-200mm)
Weight: 10.65 ounces
Dimensions: 4 x 2.29 x 1.69 inches
Pros
Exceptional autofocus
Versatile zoom range
Large sensor
4K video
Cons
Pricey for a point-and-shoot
The Sony RX100 VII is an awesome little camera. Despite the tiny body, it's packed with a large, one-inch sensor, resulting in excellent image quality for the category. It also has the best autofocus of any point-and-shoot camera, meaning you'll get more images in focus even when working with moving subjects.
This compact camera offers a 24-200mm equivalent lens, which is a versatile zoom range. And it is capable of 4K video, making this a well-rounded camera suitable for just about everyone. The only downside is the price. It is quite expensive for a point-and-shoot. But it offers a lot of quality and high-end features in a tiny package, so we think it's worth the price.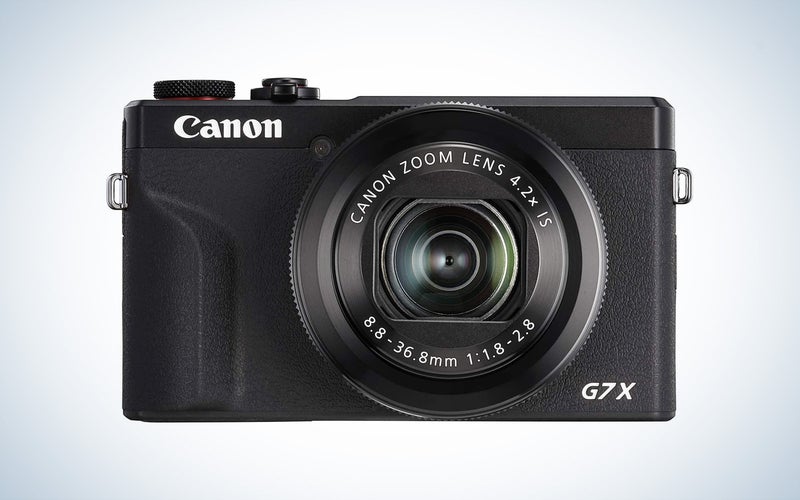 Why it made the cut: A large, 1-inch sensor and a versatile lens make this camera comfortable in just about any situation.
Specs
Sensor: 20.2MP 1″ Stacked CMOS sensor
Lens: f/1.8-2.8 8.8-36.8mm (35mm equivalent: 24-100mm)
Weight: 1 pound
Dimensions: 4.13 x 2.4 x 1.63 inches
Pros
Large sensor
Versatile lens
Manual control options
Solid flash
Cons
The one-inch sensor is larger than what you'll find in a typical compact camera. This translates into better low-light shooting, even when you're not using the built-in flash. And the sensor has built-in autofocus pixels that help track objects for sharp shots even when your subject is moving. 
The 4.2x optical zoom lets shooters capture more distant objects without sacrificing image quality, and the 3-inch tilting LCD screen allows for shots from creative angles. Finally, raw photo capture provides extra flexibility for travel photographers who want to perfect images with photo editing software once they're back from their trip. It's a great camera for beginners and more experienced shooters alike.
Why it made the cut: It's waterproof down to 50 feet without the need for an extra case. And it's also dust and crush resistant for even better durability.
Specs
Sensor: 12MP BSI CMOS sensor
Lens: f/2-4.9 4.5-18mm (35mm equivalent: 25 to 100mm)
Weight: 8.92 ounces
Dimensions: 4.45 x 2.6 x 1.28 inches
Pros
Waterproof
Extremely tough
Versatile lens
Underwater shooting modes
Compatible with tons of accessories
Cons
This point-and-shoot camera can go pretty much anywhere. It's waterproof down to 50 feet without a separate case. It's totally dust-proof, so it won't suffer if you take it to the beach or deep in the desert. Plus, it's crush-proof up to 220 pounds, so you can sit on it by accident and still go shooting later in the day. Most compacts can't stand up to that kind of abuse. 
Toughness isn't worth much if the camera isn't very good. This compact offers a relatively small sensor, but it has a versatile 4x zoom lens that will cover most common scenarios out on your adventures. And if you fall in love with the camera, Olympus offers a ton of different accessories like action camera mounts and underwater lights to go with it.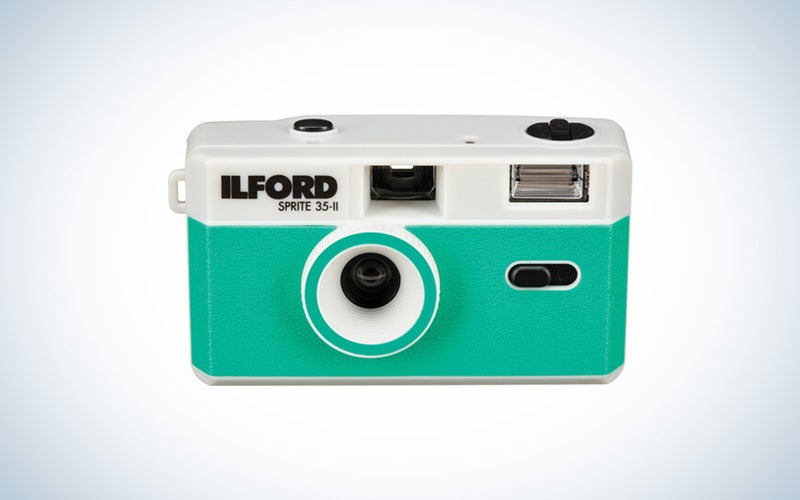 Why it made the cut: This reusable yet affordable film camera is lightweight and tiny, easy to use, and comes in fun colors.
Specs
Sensor: N/A
Lens: f/9 31mm
Weight: 4 ounces
Dimensions: 4.7 x 2.6 x 1.7 inches
Pros
Comes in eight fun color combinations
Very affordable
Fixed settings make it easy to use
Features a built-in flash
Cons
Fixed settings may be limiting
Plastic lens results in some softness
If you want to get your feet wet with film, the Ilford Sprite 35-II is a fantastic and fun choice. It's similar to disposable camera in that it has a plastic lens with a fixed aperture and shutter speed. But it's reloadable, thus producing less waste. And it simply looks cooler than a disposable camera as well.
The Sprite 35-II features a 31mm lens with a fixed f/9 aperture to ensure that your scene is in focus. It also has a fixed 1/120s shutter speed. There is a built-in flash for low light situations, perfect for shooting indoors. You won't get precisely sharp and perfect results from this camera, but we think that's half the fun. It's a great outlet compared to highly technical cameras and fun to bring along on outings with friends and family. And since it has no settings at all, it's a true point-and-shoot that is extremely simple to use, even with it being a film camera.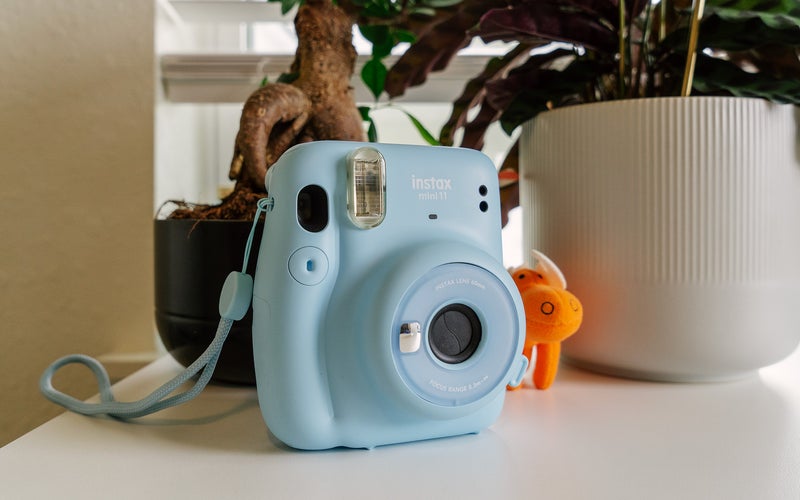 Why it made the cut: You can't beat the fun of an instant camera, and the Mini 11 makes instant photography even more approachable thanks to its small size and affordable price. 
Specs
Sensor: N/A
Lens: f/12.7 60mm
Weight: 10.34 ounces
Dimensions: 4.24 x 4.77 x 2.65 inches
Pros
Affordable
Produces fun, tiny instant prints
Easy to use
Includes a selfie mirror on the lens
Cons
Results aren't the sharpest
There's just something special about a camera spitting out an image and the wait for it to seemingly magically appear. The best instant cameras are easy to use and result in attractive prints, and that is true of the Instax Mini 11. The results aren't pristine like you may be used to with your phone or digital camera, but we think that's part of the charm.
The Instax Mini 11 features a fixed 60mm lens with an f/12.7 aperture that focuses from 11.8 inches to infinity. Or, you can turn the lens to Selfie Mode for a close focusing range of 11.8 to 19.7 inches. And there is a built-in flash, which is ideal for indoor shooting. It is a little slick to hold, but comes with a lanyard to prevent drips.
I recently let all of my nieces and nephews–all of whom are under 12–use the Instax Mini 11, and it was such a blast seeing how excited they were. They all wanted to keep taking photos despite the limited quantity of film I had and ran around showing the rest of the family what they captured. And despite some of them being quite young (and impatient to take a photo), they all managed to take a photo that was clear and relatively sharp. 
Best for street photography: Ricoh GR IIIx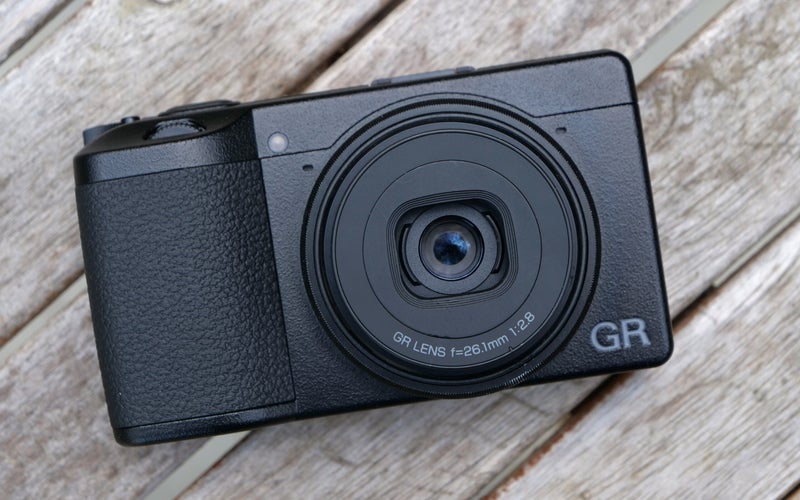 Why it made the cut: The small size makes it easy to keep on-hand and discreet to shoot with, plus it offers truly beautiful image quality.
Specs
Sensor: 24.2MP APS-C CMOS sensor
Lens: f/2.8 26.1mm (35mm equivalent: 40mm)
Weight: 9.2 ounces
Dimensions: 4.3 x 2.4 x 1.4 inches
Pros
Large sensor provides excellent image quality
Compact and pocket-friendly
40mm lens is sharp and versatile
Cons
No zoom
Battery life isn't great
Ricoh's GR IIIx is a fantastic pick for street photography in large part thanks to its compact design. It is pocketable, so you can easily keep it on you when out and about. And it won't draw much attention when you take it out to snap a photo. It also has slick all-black styling and an easy-to-hold design, even when shooting with one hand.
This discreet look is furthered by the lack of a zoom lens. It uses a fixed 40mm focal length (35mm equivalent), so you won't lose the compact size when taking photos. 40mm is also an ideal focal length for street photography, as it is wide enough to get some context in the scene, but not so wide that you end up with loads of extra space around your subject. If you do want something wider, the GR III is essentially the same, except it features a wider 28mm equivalent lens.
The image quality from the GR IIIx is excellent, in part thanks to the relatively large sensor. Images are sharp all the way to the edges, even when shooting wide open at f/2.8. And it produces vibrant, attractive colors. Interested in learning more? Check out our full review of the GR IIIx.
Best for content creators: Sony ZV-1
Why it made the cut: The relatively large 1-inch sensor and versatile lens offer solid photographic features for any situation, but it's especially adept for vlogging.
Specs
Sensor: 20.1MP 1″ Exmor RS BSI CMOS sensor
Lens: f/1.8-2.8 9.4-5.7mm (35mm equivalent: 24-70mm)
Weight: 10.4 ounces
Dimensions: 4.15 x 2.36 x 1.71 inches
Pros
Excellent lens
Large sensor
Very compact for its specs
Above average autofocus features
Cons
Can feel a little cramped with big hands
Sony's ZV-1 is a camera truly designed for vloggers, and as a result is packed with features to make recording yourself easier. The auto exposure settings keep your face bright and clear. It even centers your face and quickly adjusts background blur with the push of a Background Defocus button. And the little camera gets Sony's impressive autofocus abilities, so if you are showcasing other people or products, the camera will quickly find focus for you.
The forward-directional onboard mic and detachable windscreen will help you get great sound, leaving you fussing with levels in post less. There's also a handy flip screen so you can preview the frame and capture the perfect shots and angles, making it one of the best point-and-shoot cameras for vlogging.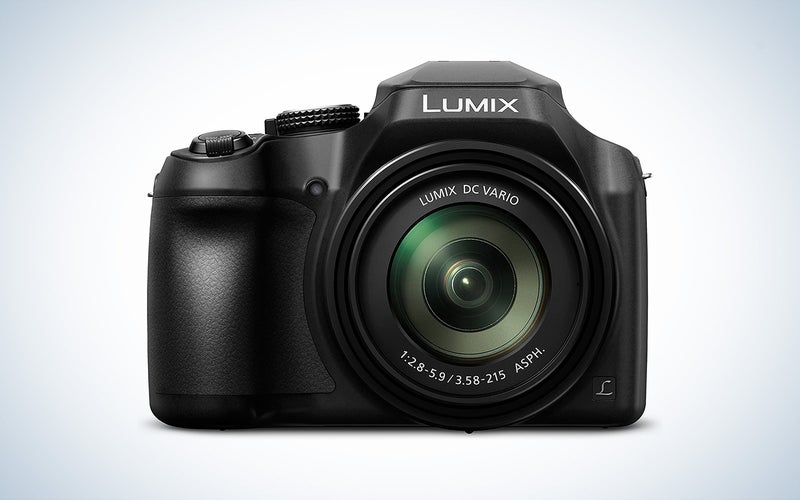 Why it made the cut: The Lumix DC-FZ80 has a comfortable DSLR like build and provides a massive 60x zoom at a very reasonable price.
Specs 
Sensor: 18.1MP 1/2.3″ MOS sensor
Lens: f/2.8-5.9 3.6 to 215mm (35mm equivalent: 20-1200mm)
Weight: 1.35 pounds
Dimensions: 5.1 x 3.7 x 4.7 inches
Pros
Massive zoom range
Responsive autofocus
4K30p video recording
Easy to hold
Cons
Not as compact as other options
Panasonic's Lumix DC-FZ80 is an affordable bridge camera, offering a DSLR like body with easy to use controls. Because of the deep hand grip, it's an easy camera to hold than the other point-and-shoots mentioned on our list. It isn't as compact as a result, so it is a tradeoff, but for many, the classic feel is preferred. 
The built-in lens provides a whopping 60x zoom, making it suitable for just about any situation you find yourself wanting to photograph. And it's autofocus is quite responsive, so you'll be more likely to get sharp photos as well. And it's capable of 4K video, making it a good tool for getting started with video as well. And best of all? It's cheaper than most alternatives.
Features to consider when shopping for the best point-and-shoot cameras
Point-and-shoot cameras are small and compact cameras that can create sharp, vibrant images. This makes them the best camera for beginners, a good option for travelers, and even a worthy choice for some professional uses. Here are some features to consider when choosing the right one for you.
Are you a true beginner?
A point-and-shoot camera is designed to make the process of photography as simple as possible. They typically feature fully automatic exposure and focus so that you can, as the name implies, point the camera and snap a photo with nothing more than a press of a button. If you are a true beginner and want the easiest to use camera, you'll want to look for models with simple menu systems and fully automatic controls. 
That said, some point-and-shoots offer more settings than others. If you are slightly beyond beginner status, or want a camera to grow into, check to see what settings the camera allows you to change. You may want to adjust things like ISO, shutter speed, and aperture down the line, as opposed to relying on auto exposure modes.
Will you travel with your camera?
One of the main purposes of a compact camera is that the camera is, well, compact. With typical dimensions of roughly 2.5 x 3.5 x 1.5 inches, point-and-shoots are specifically designed to easily fit into pockets, purses, fanny packs, and other small compartments. And unlike hefty DSLRs or mirrorless cameras, point-and-shoot cameras weigh way less than a single pound. And if you're worried about safety, the discreet size of compact cameras makes them less of a target for theft.
While all point-and-shoot cameras are pretty compact, there are still size differences across available cameras. Be sure to pay attention to the dimensions and weight of the cameras you are considering if that is something important to you.
Do you need a tough camera for an active lifestyle?
If you live for the outdoors—hiking steep mountain trails or backpacking through desert Canyons—you need a point-and-shoot camera that can handle adventure. Rugged and waterproof cameras are built to endure and capture the extreme environments you love exploring. Taking electronics to the beach is usually a big no-no, as even a single grain of sand can cause damage. Yet rugged models can resist sand, allowing you to take all the sunset shots you want.
For us less risky folk, these tough cameras can survive your average accidental drops, spills, and kicks. Some of them may be overkill for general use, however. If you don't intend to take your camera on rugged adventures, you may be able to save some money by getting a camera without extensive protective qualities. 
FAQs
Q: How much are the best point-and-shoot cameras?
The best point-and-shoot cameras can range anywhere from a measly $100 up over $1,000 if you want a compact with advanced features, a decent sensor, and an excellent lens. If you're planning to create real work with it, expect to spend close to $1,000. But if you just want something to mess around with, go cheap.
Q: Do professional photographers use point-and-shoot cameras?
Professional photographers do in fact use point-and-shoot cameras, mainly for the same reasons amateur or beginner photographers do. The built-in lens on point-and-shoots are sharp and wide, making for quality and immersive photos. Being able to operate more advanced compact cameras in full manual mode and adjust aperture and shutter speed is an obvious draw for photographers who want control of their images. But the biggest bonus is that point-and-shoot cameras are lightweight and pocketable, so there's no need to lug around extra equipment.
Q: Are point-and-shoot cameras better than iPhone?
iPhones and other smartphone cameras may offer impressive features, but there are still many benefits to a point-and-shoot camera. Point-and-shoot cameras can have better image quality, a true optical zoom, more ability to manipulate settings, and are less expensive than new-generation iPhones. Higher-quality raw photos are also definitely a major pro, allowing for more data to be pulled from an image for editing purposes.
A final word on shopping for the best point-and-shoot cameras
No matter the setting, creative vision, skill level, or age of a photographer, there are high-quality options that meet every need. The ultimate advantage of a point-and-shoot is its size and portability, making it the perfect camera for travel and adventure, as well as documenting day-to-day life.
Why trust us
PopPhoto has a long history of delivering the opinions of some of the sharpest and most prolific camera dorks the world has to offer. Since 1937, we've been reviewing cameras, providing wisdom from well-known photographers, and generally just nerding out about all that goes into making great pictures. Our current crop of writers and editors have decades of professional photography and camera writing experience among them. Collectively, we've probably shot with just about every camera and lens combo you can imagine—as well as some obscure stuff you may not even know about. Remember the Casio Tryx folding camera? PopPhoto does.
We also get that buying a camera is a big decision, which is why we're dedicated to helping folks choose the right one (or, in our case "ones") for their needs. Case in point: Handing over top dollar for an expensive rig may leave you unsatisfied if it doesn't fit your preferred shooting style. Sure, a $6,000 sports-oriented DSLR can capture landscapes, but do you really need to do it at 30 frames-per-second? No, you don't.