| | | | | | |
| --- | --- | --- | --- | --- | --- |
| Best overall | | Aura Mason Luxe | | SEE IT | It's a versatile and attractive digital picture frame with a high resolution for quality photos. |
| Best large | | Meural Canvas II | | SEE IT | A large, high-end digital display. |
| Best budget | | Aluratek 7-inch Photo Frame | | SEE IT | A basic digital picture frame at a budget-friendly price. |
Updated Apr 27, 2023 1:48 PM
We may earn revenue from the products available on this page and participate in affiliate programs. Learn more ›
Digital picture frames are an excellent way to make sure that those photos you are constantly taking see the light of day in some manner. And they can enable you to share your photos with a loved one from a distance. With high-resolution screens and nifty features like WiFi upload, unlimited storage, cloud connectivity, bespoke apps, and even audio/video playback, today's digital frames go far beyond a simple LCD screen with a USB port. They offer a level of versatility, convenience, and collaboration that's simply not possible with printed photos. While we're still big fans of printing your work, there are a lot of good reasons why you might want to invest in the best digital picture frame.
How we chose the best digital picture frames
When selecting the best digital picture frames, we looked at a range of features and specs. Resolution, size, connectivity options, and storage were all factored in. We also evaluated viewing angles and display type. Since preferred frame style is highly subjective, we aimed to choose a variety of styles to suit the needs of different decor tastes. We based our selections on first-hand experience, editorial and user reviews, and general specifications.
The best digital picture frames: Reviews & recommendations
The rise of smartphones has translated into an explosion of digital photography. According to one estimate, we take about 1.5 trillion photos per year, and that number is only expected to grow. But how many of these photos actually make it off our phones and cameras and onto a wall? Many—too many of them—will be lost forever in the ones and zeros of your digital archive, never to be seen again. That's where a digital frame can help.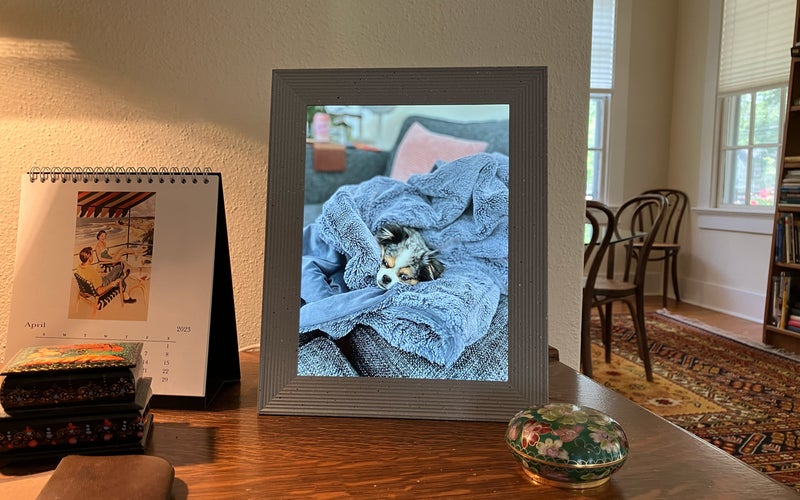 Specs
Screen size: 9.7-inch screen
Connection type: WiFi
Storage: Unlimited cloud storage
Pros
Compatible with Amazon Alexa and Google Assistant
Attractive frame design works well in any room
High-resolution display for quality photos
Works in portrait or landscape orientation
Cons
The 9.7-inch Aura Mason Luxe digital frame, available in Sandstone or Pebble, places a major emphasis on aesthetics. The design of the frame itself is quite beautiful, working well with a variety of decor styles and room types. It uses a high-resolution 2048 by 1536 pixel display with a traditional 4:3 aspect ratio. Your photos will look clean and clear, so you can truly show them off. It can be set up as either portrait or landscape orientation and automatically rotates as needed. 
The Mason Luxe comes with unlimited storage over the cloud with no hidden fees or subscriptions, built-in WiFi, and a brightness sensor that automatically adjusts the frame to ambient lighting. It's extremely easy to set up, making it a fantastic gift. And you can invite others to contribute via the app, so family members can stay connected even if they live apart. PopSci gear team's associate managing editor sent a Mason Luxe to his mom and surprises her with photos of her granddog (pictured above) every now and then, much to her delight.
Specs
Screen size: 9.7-inch
Connection type: WiFi
Storage: 8GB built-in storage
Pros
High-resolution display
App is easy to use
No subscription required
Good viewing angles
Cons
Reflective metal frame isn't for everyone
The Nixplay 2K Smart Photo Frame is one of the highest-resolution options on the market. With a 2046 by 1536 display at a size of just 9.7 inches, it's got pixel density for days. Pictures will be sharp and detailed, and thanks to the wide viewing angles, you'll be able to see them clearly even if you're not right in front of the frame. It features a motion sensor to wake the display when someone is in the room and AI to automatically center faces in the center of the frame. 
Beyond the high resolution, you get 8GB of built-in storage, 10GB of free cloud storage, and an easy-to-use app that lets you update photos over WiFi or by simply emailing pictures to your frame. You do have to create a free Nixplay account, and there are paid upgrade options for more storage, but you don't have to pay a subscription fee to make the most of this picture frame. The metallic frame does show fingerprints easily, but it comes with a microfiber cloth for cleaning those off as needed.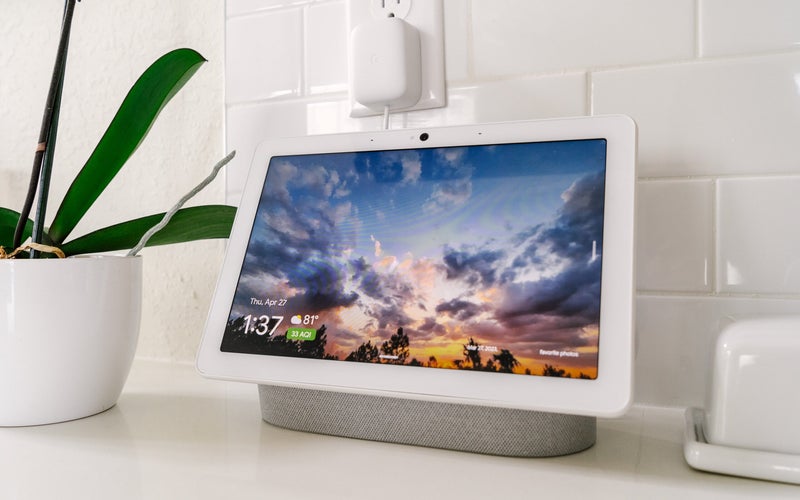 Specs
Screen size: 10-inch
Connection type: Bluetooth, WiFi
Storage: Cloud-based storage
Pros
Multifunctional
Good display size
Easy to setup photo display
Attractive, minimal design
Cons
If you want a device that can be more than just a digital picture frame, then the Nest Hub Max is the way to go. It offers a 10-inch HD touchscreen, so your photos will be displayed large, sharp, and vibrant. You'll need to use a Google Photos account to get your photos on the display, but from there, you'll have a good number of options. You can choose specific albums that you want to show off or opt for Live Albums, which use Google's facial recognition feature to show you photos of family, friends, and even pets.
The Nest Hub Max has a lot to offer beyond a digital picture frame as well. You'll need a (free) Google email, but once you have that, this device is extremely multifunctional. You can use it as a digital cookbook and display recipes while you cook, control a long list of compatible smart devices, play music, check the weather, stream TV, and make video calls. There are even games on the Nest Hub Max should you need something to bust the boredom. It's quite the do-it-all device for those wanting something that can serve more than one purpose.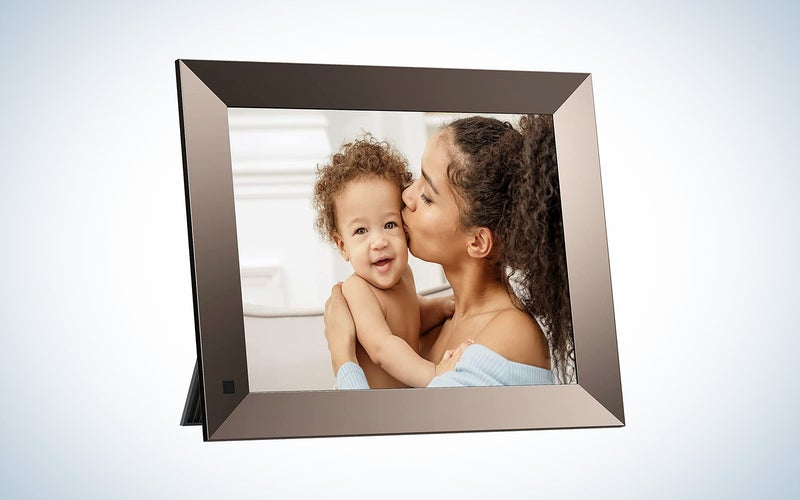 Specs
Screen size: 10.1-inch 
Connection type: WiFi
Storage: 16GB built-in memory, SD card and USB drive connectivity
Pros
16GB of built-in storage
Motion sensing
Multifunctional
Wireless connectivity
Cons
Available in three stylish colors, the Dragon Touch digital picture frame is a 10.1-inch, WiFi-enabled picture frame with a very respectable 1280 by 800 resolution and 16GB of onboard storage. Should you want something larger, it's also available in a 15.6-inch size. Adding photos to the frame can be done via an SD card, USB stick, or over WiFi using the free smartphone app. Or you can email the photos to the frame's own personal email address. 
The touchscreen allows you to quickly change settings or swipe through images as needed. It features a motion sensor, which can detect motion up to 16.4 feet away to turn the screen on automatically. That way, your display isn't just burning out over time because it's constantly on. The Dragon Touch also provides access to a built-in calendar, clock, alarm, and weather functions. And the frame also supports 30-second video clips, so you're not limited to photos.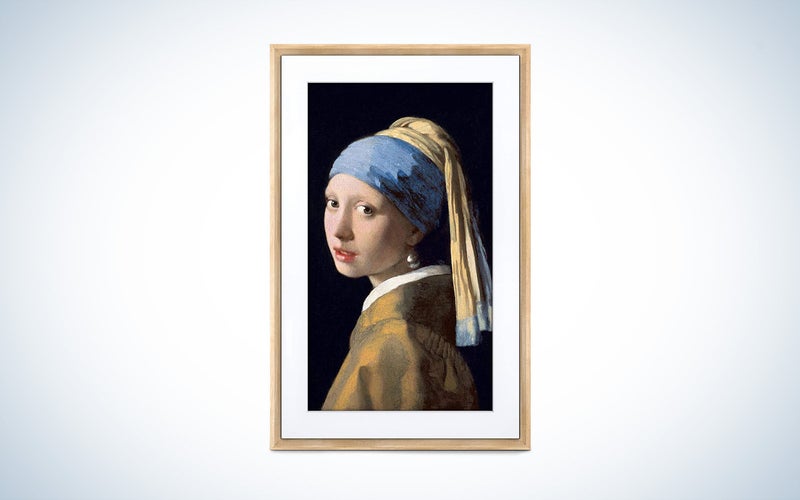 Specs
Screen size: 27-inch 
Connection type: WiFi
Storage: 8GB built-in storage, SD card slot, and micro USB port
Pros
Supports portrait or landscape orientation
Large, anti-glare display
Provides access to artwork with a paid subscription
Attractive frame options
Cons
The Meural Canvas II is one of the most beautiful and largest digital picture frames on the market. It comes in two sizes—16 by 24 and 19 by 29 inches—with four different frame color options. It features a 1080p anti-glare IPS display, offering wide viewing angles with fewer reflections that make it hard to see your art. And it automatically adjusts the backlighting to make your images shine no matter how much light is in the room at a given time. It provides 8GB of built-in storage but also offers an SD card slot, so you can store more if you want.
Given its size and aesthetic sensibility, it's meant to be hung on a wall where it can display your photos or act as a digital art frame. You get 100 works of art for free with 42 already pre-loaded on the frame when you purchase it. Or you can pay a monthly subscription fee that gives you access to a library of over 30,000 plus works of art to display. 
Specs
Screen size: 8-inch
Connection type: WiFi
Storage: 8GB built-in storage, unlimited cloud storage
Pros
Supports landscape or portrait orientation
Can be wall-mounted or used on a tabletop
Allows others to contribute 
Works with Amazon Alexa
Cons
Adding photos is a bit cumbersome
The Nixplay 8-inch digital picture frame is built around a 1280 by 800 pixel IPS display and a classic frame design. It is a bit pricey for the size but has a lot to offer. For example, it provides features like a motion detector that lets it turn off when no one is around, a convenient stand that easily switches from portrait to landscape orientation, and discreet stereo speakers for video playback.
This 8-inch display provides 8GB of built-in storage as well as unlimited cloud storage. You can even share photos directly from Google Photos, Facebook, and Instagram. It makes a great gift since you can set it all up remotely. That's ideal for family members that may not be the most tech-savvy, as they won't even need to download an app or create an account. You can do it all for them, even from afar. And you can print photos on various accessories using Nixplay's Printed Gift Store.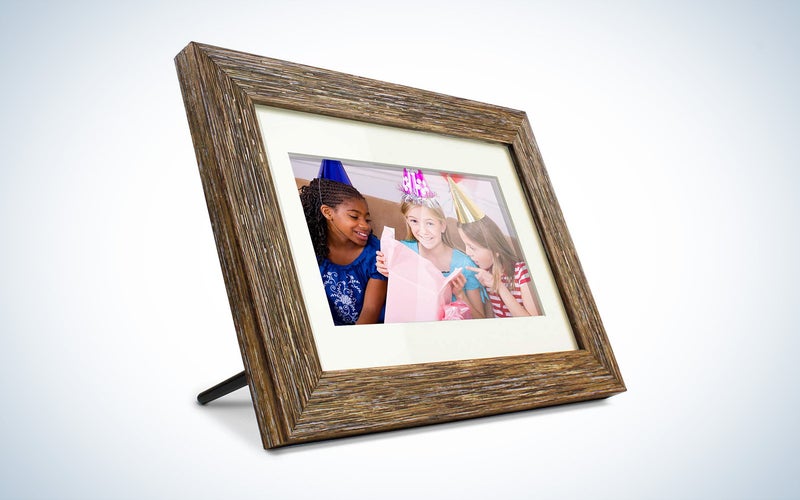 Specs
Screen size: 7-inch
Connection type: None
Storage: USB flash drive and SD card
Pros
Compatible with USB flash drives and SD cards
Affordable
Classic picture frame styling
Cons
No WiFi
No built-in storage
The Aluratek Photo Frame is a basic LCD picture frame. To keep the cost low, it does not offer any WiFi or Bluetooth connectivity or onboard storage. Instead, you'll need to use a USB flash drive or an SD card to play photos. It does provide an auto slideshow mode that will start shuffling through whatever photos are on your storage media the second you plug it in. 
With a resolution of just 1024 by 600, it won't be winning any awards, but the simple wooden frame design, convenient control buttons, and minimalist screw-in stand make it the clear choice if you're looking for the best digital picture frame at a more affordable price.
Features to consider when shopping for the best digital picture frames
Shopping for a digital picture frame can get confusing very fast. With so many features at a wide variety of price points, it can be difficult to tell what separates a $300 boutique frame from a cheap digital picture frame that offers only the essentials. However, there are some key features you should watch out for. Once you've decided on a size, you need to keep an eye on resolution, storage options—both built-in and cloud storage—wireless connectivity, ease-of-use, design aesthetic, and bonus features like audio/video playback.
Here are five of the most important things you should consider when shopping for the best digital picture frame.
Connectivity options
There are two main connectivity considerations when it comes to digital picture frames: WiFi connected or not. Some may offer Bluetooth connectivity, but that is less common. A frame that offers a WiFi connection allows you to connect wirelessly and upload photos even if you aren't in the same room as the digital frame. That's ideal for families that want to share photos together even if they don't live close to each other. And it's generally more convenient. But, it's also more expensive.
If you want to save some money, you may want to choose a frame that is not WiFi connected. Instead, you'll need to use a USB flash drive or SD card, depending on what the frame supports. 
Resolution
Most digital picture frames range from 720p resolution up to about 1080p for larger, more expensive models. But if you want your memories to really pop off the screen, there's no substitute for higher resolution.
The best image quality comes from the smallest frame that packs in the most pixels, allowing for the highest pixel density. It's sort of like printing your photos at a higher "dots per inch" or DPI. Since most modern smartphones shoot at least 12-megapixel photos, there's no risk that your pictures will start to look pixelated. To put smartphone camera resolution in perspective, even a 4K UHD screen translates to just 8.3 megapixels. In other words: there's always room for a higher-quality electronic picture frame.
The downside is that high-resolution picture frames—which are pretty rare to start with—will cost more. The upside is that they will typically include all the extra features you'd expect if you're spending $200.
Multifunctional design
Given the price of the best digital picture frames, you may reasonably ask yourself, "Why not buy a smart display instead?" It's a good question, and the answer isn't straightforward.
A Google Nest Hub or Amazon Echo Show will work as a digital picture frame, but they often look like a small computer and frequently lack some of the convenient photo-specific features of dedicated electronic picture frames. It's a game of trade-offs. Pro: you get a full-blown smart display with lots more functionality than you get out of your typical electronic picture frame. Con: they're not designed to be used primarily as digital picture frames and often look oversize on a mantle or end table.
Frame style
If you go to an arts and crafts store, you'll find hundreds of photo frames to choose from in a wide variety of styles. You could spend hours mulling over your options before you find a frame design that you're content to hang on the wall or set on your mantle for years to come. Don't put any less thought into purchasing the right digital picture frame.
While most electronics are designed to be functional first and aesthetically pleasing second, the best digital picture frame will feature an elegant design that doesn't clutter your space or clash with your design sense. In the end, you're purchasing a piece of furniture that is meant to be looked at often. When it comes to design, personal preference varies widely. There are digital frames out there that clearly look like digital frames, while others off more classic picture frame styling. The best option is simply a matter of personal preference.
Frame size
Just like traditional picture frames, the digital variety comes in a wide variety of sizes and aspect ratios. Most will fall into either the 10-inch category or 15-inch category, with a smattering of sizes in between. But what if you need something that's bigger (or smaller) to suit your living space better?
Your options are necessarily limited, but there are much larger and even smaller photo frames than the sizes mentioned above. The smallest you'll see will be somewhere between 7 and 8 inches, while the largest digital picture frames can double as wall hangings to display art. There's even a Samsung TV called The Frame, for anyone who wants a whopping 75-inch digital picture frame hanging on their wall between Netflix sessions.
That last option is obviously overkill for most people, but if you're looking for a larger or smaller digital picture frame than the "standard" sizes, we've got you covered.
FAQs
Q: What resolution do I want in a digital photo frame?
The best resolution will depend on the size of your frame. The smaller the frame, the lower the resolution you can get away with before the image starts to look pixelated. Unless you're shopping for a budget picture frame, we'd recommend a digital picture frame with at least 1280 by 800 resolution.
Q: What is the biggest size digital photo frame?
That depends on your definition of "digital picture frame." The largest screen that's also meant to display photos and art is Samsung's The Frame television at up to 75 inches. However, typical digital picture frames max out around 15.6 inches on the diagonal, with even larger frames available for a premium (see the "best large picture frame" section above).
Q: Can you send pictures to a digital frame?
Most mid-to-high end digital picture frames allow you to send pictures to your frame over WiFi or by using a dedicated app. Several also feature cloud storage options, with and without a paid subscription, and a few will assign your frame a dedicated email address so that you can literally email pictures to your digital picture frame and watch them show up a few minutes later.
A final word on shopping for the best digital picture frames
While the digital frame market is flooded with low-cost, low-quality options that turn some people off from the whole idea, there are some really fantastic digital frames out there that would make the perfect gift for a friend or loved one. As long as you know what to look for, you can find the best digital picture frame—a product that will inspire you to rescue some of your most treasured memories from the depths of your smartphone's camera roll or allow you to proudly display your photographic work.
Why trust us
PopPhoto has a long history of delivering the opinions of some of the sharpest and most prolific camera dorks the world has to offer. Since 1937, we've been reviewing cameras, providing wisdom from well-known photographers, and generally just nerding out about all that goes into making great pictures. Our current crop of writers and editors have decades of professional photography and camera writing experience among them. Collectively, we've probably shot with just about every camera and lens combo you can imagine—as well as some obscure stuff you may not even know about. Remember the Casio Tryx folding camera? PopPhoto does.
We also get that buying a camera is a big decision, which is why we're dedicated to helping folks choose the right one (or, in our case "ones") for their needs. Case in point: Handing over top dollar for an expensive rig may leave you unsatisfied if it doesn't fit your preferred shooting style. Sure, a $6,000 sports-oriented DSLR can capture landscapes, but do you really need to do it at 30 frames-per-second? No, you don't.