Fastest SD card for your camera, action cam, phone and computer
Here's how to find the fastest SD card for storing your precious memories.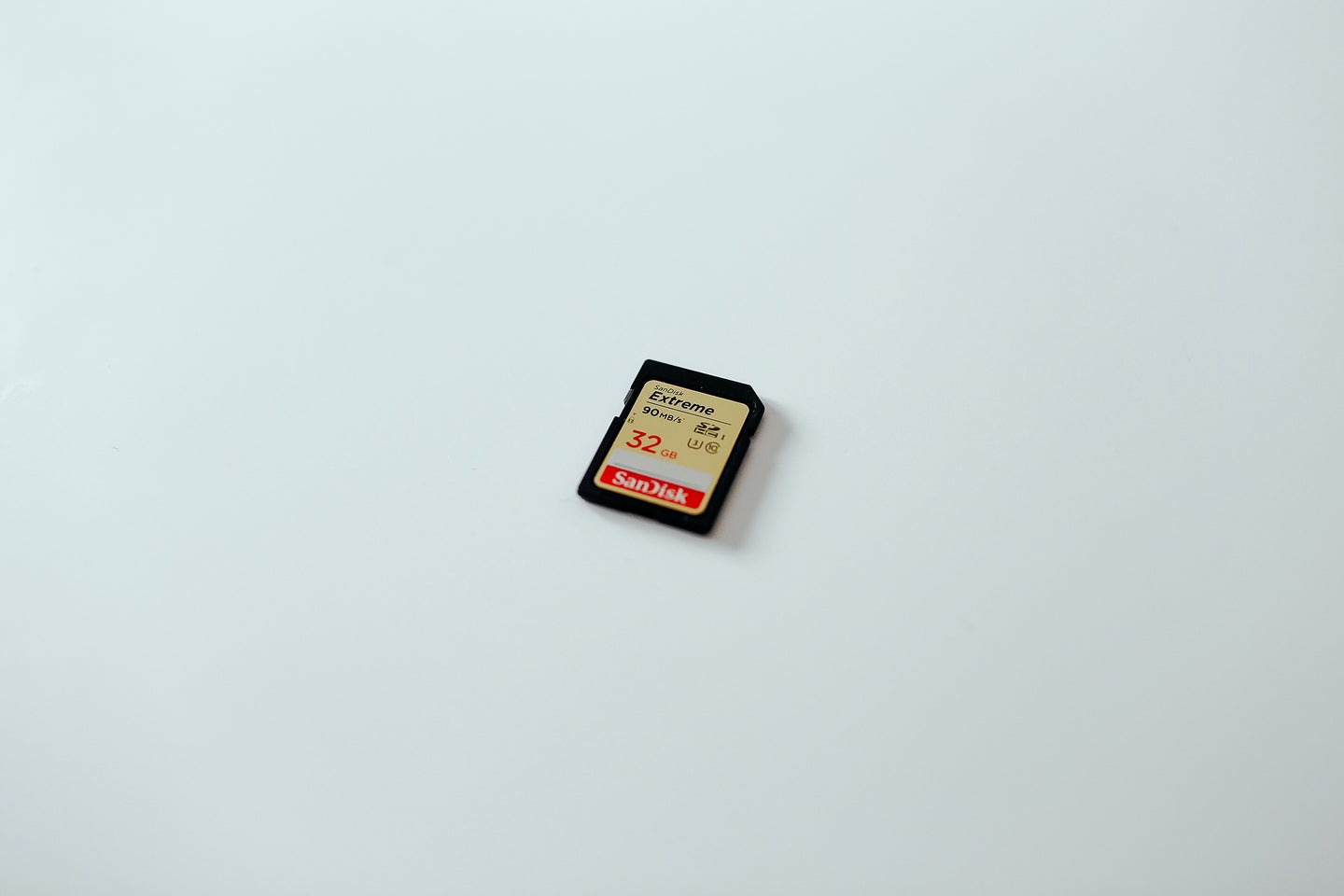 We may earn revenue from the products available on this page and participate in affiliate programs. Learn more ›
Whether you're shooting photos or video on a DSLR, an action cam, or your phone, having a fast, reliable SD card is crucial for keeping your data safe. A photographer can never have too many memory cards and that expensive camera or phone isn't worth much if you aren't able to safely store all that footage you are capturing. memory cards come in a variety of sizes and speeds—here's how to select the fastest SD card for you.
A fast and reliable SD card makes a big difference when shooting
Not all memory cards are created equal and selecting the right memory card for you depends a lot on where you will be using and what kind of footage you will be capturing. Micro memory cards are best for action cameras, while other brands of cameras rely on larger CFexpress cards. If you are shooting 4K or 8K video, you will need memory cards that are fast and also have large storage capacities. Selecting a powerful and reliable SD card will make the process of shooting pictures or videos a whole lot smoother. Here is what else you need to know when shopping for the fastest SD card.
Things to consider when shopping for the fastest memory card for your camera
Memory cards typically come in a few formats: UHS-II (Ultra High Speed) and UHS-I. UHS-II is the second generation of SD cards and will offer a faster read/write speed than the original UHS-1 card. If you plan to be shooting a lot of video, in burst mode or with a very fast shutter speed, UHS-II card will be the best option for you. UHS-I is fine for more casual shooting, and since the format is older, the price point on these cards is also cheaper.
In addition to format, you will want to pay attention to card capacity and style of card. Memory cards typically come in 32GB, 64GB, and 128GB. As the files that cameras create have gotten larger, the demand for 1TB cards has increased. The card's capacity will affect its price. A larger capacity 1TB card will cost a lot more than a 32GB card, but it also means you'll have to swap out memory cards less often.
The style of SD card that you select is related to what you are shooting on. Small action cameras typically call for fast micro-SD cards, many DSLRs and older mirrorless cameras will take a standard-sized SD card, while newly developed cameras like the Canon EOS R5, the Nikon Z6, and the Panasonic S1R require a CFexpress Type B SD card. These are our favorites of the fastest SD cards on the market.
This memory card offers maximum storage for your images and videos, read speeds up to 100MB/s, and write speeds up to 90MB/s. The Class 10 U3 rating makes it great for burst shooting, HD photography, and 4K video shooting. It has a V30 speed rating for video so you can shoot uninterrupted 4K Ultra HD at a 4096 by 3072 format. It's compatible with most point and shoots, some mirrorless cameras, DSLRs, and HD-enable video cameras.
This micro SDXC memory card is designed with action cameras in mind. It has 160MB/s read speeds and 90MB/write speeds—great for capturing and transferring high res images and 4K videos. The A2 rating means it has faster loading and in-app performance. It has a UHS 3 rating and a V30 video rating. This one is ready to capture all the action, making it our pick for the best micro SD memory card.
The world's first one-piece molded SD card, Sony's Tough cards is 18-times stronger than your standard SD card. It's waterproof, dustproof and since there isn't a write protection switch or any ribs you don't have to worry about it snapping or breaking during a shoot. It's also fast. The card has 300MB/s transfer speeds and up to 299MB/s write speeds. Its UHS-II, Class 10, and U3 compliant making it a great choice for 4K video recording and boost mode shooting.
The CFexpress Type B cards are designed to work with newer mirrorless cameras like the Canon EOS R5 and the Nikon Z6. CFexpress Type B cards offer a write speed of 1500MB/s, a read speed of 1700MB/s, and are specifically optimized for capturing 4K, 5K, and 6K footage and burst shooting. No need to worry about dropping frames with these cards.
Although a UHS-I card won't work as hard as the UHS-II, if you are primarily shooting stills and minimal video this SanDisk card should be plenty. It has 90MB/s write speeds, and 170MB/s read speeds. It still features a UHS speed class 3, a V30 video speed class for video capture at 30MB/s. We'd recommend picking up this fastest sd card on a budget with at least 64GB of space.
FAQs
Q: Is U3 better than class 10?
U3 and class 10 actually work together and these days, most memory cards are Class 10 or higher. Class 10 means that the card uses a full HD (1080p) video recording, while U3 means that the card offers at least 30MB/s write speed. The majority of the cards that we recommend are Class 10 U3 SD cards.
Q: Do faster SD cards make a difference?
A faster SD card will give you a more seamless shooting and file transfering experience—especially if you are shooting in burst modes or recording a lot of 4K video footage. Slower memory cards make it more likely that you will fill the camera's buffer while shooting, which can result in dropped frames and a slow response from your gear. Using a faster SD card means you are less likely to miss a moment.
Q: How do you format an SD card?
SD cards can be formatted in your computer or in your camera. It's a good idea to format your cards at the beginning of each shoot. Many cameras will prompt you to format a card upon interesting it into the camera. Formatting inside of a camera is done through the menu system. Mac users can format their memory cards by using the disk utility function on their computer. PC users can format a memory card by right-clicking on the card and selecting "format".
Enhance your shooting experience with the fastest SD card for the job
Ultimately, having the fastest sd card in your camera will make shooting pictures or recording videos make your gear perform at its top level. The fastest memory card will give you peace of mind that you aren't going to miss a moment, while a large capacity card means more space for more memories. Consider your gear and what moments you will be capturing when selecting the right memory card for you. 4K video shooters will require more space and fast read and write speeds, action cameras need a small micro SD card, while newer mirrorless cameras will perform best with the CFexpress Type B cards. A UHS-I card is a good option if you are on a budget, but try to stick with a larger capacity SD card.
Related: Best Memory Card Readers