Canon EOS R5 Review: A mirrorless camera that can do (almost) everything
Canon's EOS R5 pro-grade mirrorless camera delivers on some lofty promises.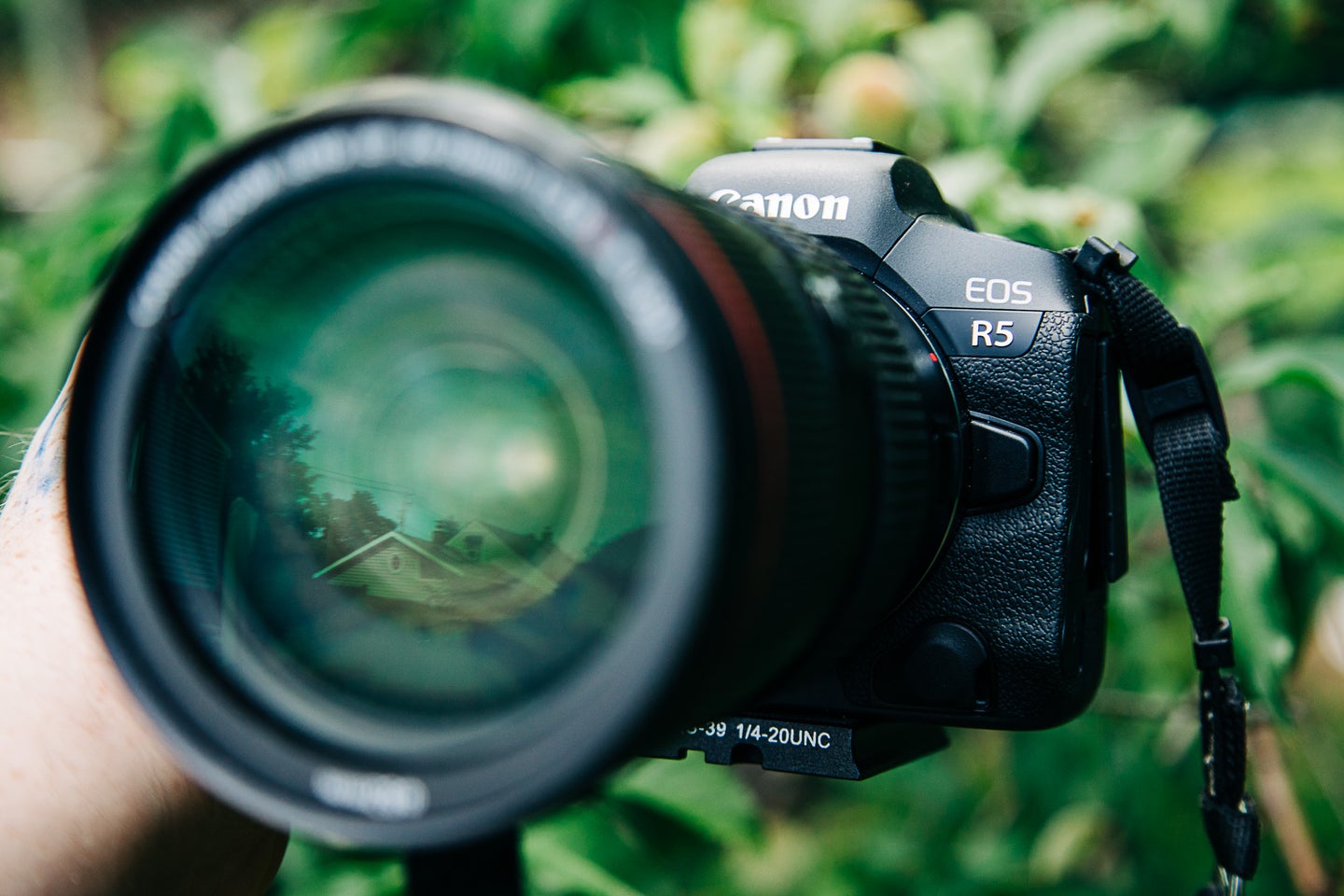 We may earn revenue from the products available on this page and participate in affiliate programs. Learn more ›
Canon first entered the full-frame mirrorless camera market in 2018 with its EOS R. It was an excellent camera in many regards, but it wasn't the mirrorless successor to the workhorse 5D Mark IV camera many dedicated Canon shooters wanted. When the Canon EOS R5 debuted back in 2020, however, the story changed. Suddenly, Sony's five-year head start into full-frame mirrorless didn't look so insurmountable and, at least on paper, the R5 was a beast that tried to do just about everything for almost everyone. It was a big swing. 
| | |
| --- | --- |
| Pros | Cons |
| – Superb image quality from Canon's 45-megapixel full-frame sensor | – 8K video isn't practical |
| – Excellent focus tracking | – Mismatched memory card slots |
| – Sturdy build | – Large file sizes add up on long shoots |
A snapshot of the good and the bad
Now, the Canon EOS R5 has been out in the world for nearly a year, and I've been using it regularly since launch. And while it's not an entirely perfect camera, it is by far the best Canon has ever made and easily one of the best all-around cameras on the market at the moment. 
Canon EOS R5 hardware
The R5's biggest flex comes in the form of its all-new 45-megapixel sensor. That chip pairs with a Digic X image processor similar to the one found inside the $6,500 flagship 1D X Mark III DSLR. Despite its relatively burly megapixel count, the Canon EOS R5 boasts burst rates up to 12 fps when using the mechanical shutter, or up to 20 fps when relying on the electronic shutter. The camera can move a lot of data through its pipes. 
The electronic viewfinder sports a crisp 5.76-million dot OLED display that can refresh at 60 fps (to save battery) or 120 fps (to provide the smoothest possible motion on-screen). If you're coming from a DSLR, the faster refresh rate may be worth enabling to ease the transition to the EVF from the typical optical viewfinder. 
The R5's 3.2-inch, 2.1-million dot touchscreen fully articulates, which comes in very handy when shooting at odd angles or during video capture.
When it comes to weather sealing, the Canon EOS R5 promises the same level of ruggedness you'd find in the 5D Mark IV. That camera was built like a tank, and the R5–despite its smaller stature–so far seems to be holding up similarly well to the rigors of pro shooting. 
The R5 thankfully has two memory card slots—something pros were sore not to see in the original EOS R—because it doesn't allow them to make real-time backups in case of a card failure. The R5 has one typical SD slot, and one more advanced CFExpress slot that holds faster cards to enable the fast bursts and high-res video, which I'll talk about later.
Design and ergonomics
If you're used to Canon DSLRs, the Canon EOS R5 should feel familiar in your hands. It has the trusty rotating dial, and many of the controls have remained in roughly the same spots. You will notice one huge upgrade over the EOS R, however: Canon has replaced the nifty-but-frustrating touch bar with a tried-and-true multi-controller joystick. It lowers the learning curve when switching from a previous Canon model, but it's also just a lot better in just about every way. The joystick's tactile nature makes it much easier to use without looking at it, plus it feels far more accurate. It's more versatile, too. When you quickly want to select a specific autofocus point with the camera held up your eye, there's no better way than the joystick.
There's a dedicated lock button on the top of the camera, which prevents your settings from changing when you're lugging the camera around or taking it out of the bag. 
Ultimately it feels like a Canon camera. I consider that a plus, but that doesn't apply to everyone. If you've been shooting on a Canon DSLR for any extended amount of time, it shouldn't be difficult to pick up the R5 quickly.
Autofocus
Right out of the box, the R5's AF tracking system does a very impressive job keeping your subject sharp. It relies on nearly 6,000 AF areas around the DualPixel CMOS sensor. It will pick out a subject's eye and stay locked onto it as you shoot away. It works for animals, too. The AF system covers 100 percent of the sensor, and so it works just as well at the edges as it does at the center. In short, it's great. It doesn't blow the Sony or Nikon AF systems out of the water, but it's easily as good and sometimes better. 
If you want more control over the AF performance, Canon offers it, but the EOS R5 gets in its own by offering a somewhat intimidating number of options. There are five camera menu pages dedicated solely to autofocus performance, and digging through them can be intimidating. Personally, I typically find myself relying on the face tracking most of the time, but I do switch to single point AF mode when the system gets confused—or frustratingly wants to lock onto the wrong person–or an entirely different object–in the frame.
Try to tweak the AF menus too much without understanding what you're doing, and you risk messing things up. That's good for some shooters and bad for others who hate reading manuals or tutorials. 
Canon EOS R5's image quality
Look at sensor tests (like those from DXO) regarding metrics like digital noise and dynamic range, and you might get the wrong idea about the R5 and Canon sensors in general. On DXO's list of full-frame and medium format cameras, the Canon EOS R5 shows up in 16th place (at the time of this writing) when it comes to overall sensor performance in a controlled lab scenario. When it comes to the real world, however, things get much more complex. 
According to the DXO test, the Canon EOS R5 sensor boasts 14.6 stops of dynamic range, which is the company's best showing by far, and puts it in direct competition with the other cameras in its class. 
In good light, it provides excellent detail and solid color reproduction. The brightest reds still prove slightly challenging: hey have a tendency to get harsh. But, overall, the R5's raw files look natural and hold up well to editing. 
The 45-megapixel resolution helps when it comes to image quality. Because of all those pixels, the R5's pictures can stand up to considerable noise reduction in a program like Photoshop without losing too much detail. I was also impressed with Canon's cRaw format, which cuts the raw file sizes almost in half with very little discernible degradation. 
When shooting in low-light, I managed to get usable images up to ISO 12,800. At 25,600 and beyond, the noise gets a bit out of hand. It's rare I consider going that high anyway. If you're constantly up there, though, you might be more satisfied with the Sony or Nikon options. 
Video capture
Here's another spot where things get tricky. When Canon originally boasted about the R5's 8K video capture, people were skeptical. After all, 8K is still relatively rare, even in high-end cameras. The whole thing turned into an ordeal when reviewers discovered the Canon EOS R5's difficulties when it comes to managing heat during UHD recording. The camera would shut down and need to take time to cool off before it would work again. 
I'm a true hybrid stills/motion shooter, so I have no real interest in 8K to begin with, and I think many other people buying the R5 find themselves in the same boat. I shot considerable 4K footage at high bitrates and didn't have much trouble at all with overheating. I did get the high-temp warnings, and had to give the camera an occasional 15 minute break when shooting a lot of video. But, it didn't inhibit my workflow. 
Ultimately, the Canon EOS R5 shoots solid video, with competitive dynamic range and image quality. But if you're looking for a hardcore piece of cinema gear that can shoot all day under hot lights, this isn't the camera. If you're just capturing B-roll or typical-res footage in controlled settings, you should be just fine. If you want the best mirrorless camera for video specifically, consider something like the Panasonic S1 or the Sony A7S Mark III.
Who should buy the Canon EOS R5?
With a retail price of $3,899, the Canon EOS R5 is aimed at advanced amateurs and pro shooters. It makes a lot of promises and delivers in full on almost all of them. I spent several years doing my professional editorial, portrait, and wedding work with a 5D Mark IV, and the R5 was pretty much exactly what I hoped for in a Canon pro mirrorless body. 
For some shooters, however, the Canon EOS R5 can be overkill. With a $2,500 price tag, 20-megapixel sensor, and matching SD card slots for cheaper memory options, the R6 deserves strong consideration for shooters who don't need the maxed-out body. This is especially true if you're hanging onto a lot of really old Canon EF lenses that aren't built for high-megapixel resolution.
If you're on the other end of the spectrum doing high-end professional work, Canon has been teasing its upcoming EOS R3 camera, which will sit above the R5 in the mirrorless lineup. We don't know exactly what kind of specs the R3 will have just yet, but if you're a hardcore sports shooter looking to go mirrorless, that's likely the camera you'll want. Just be prepared to pay a huge cost. 
Ultimately, the Canon EOS R5 is one of the best all-around cameras ever made. If you have the money—and the storage space for the giant raw files—it's more than ready to hang with just about any kind of workflow.