| | | | | | |
| --- | --- | --- | --- | --- | --- |
| Best for mounting a Canon lens to a Sony body | | Metabones Canon EF/EF-S Lens to Sony E Mount | | SEE IT | This adapter has a rubber gasket that protects your Sony camera S E-mount from dust and moisture. |
| Best for mounting Canon EF lenses to a Canon EOS R body | | Canon Mount Adapter EF - EOS R | | SEE IT | Use your Canon DSLR lenses with your new Canon mirrorless camera. |
| Best for mounting Nikkor F lenses to Z body | | Nikon Mount Adapter FTZ | | SEE IT | The adapter is compatible with over 360 F-mount nikkor lenses. |
We may earn revenue from the products available on this page and participate in affiliate programs. Learn more ›
Updated Nov 10, 2022 9:33 AM
Lens adapters are clever camera accessories that allow incompatible and vintage lenses to work together. A lens adapter allows photographers to use old-school lenses with digital cameras, attach a Canon lens to a Sony body, or attach an older DSLR (digital single-lens reflex camera) lens to a new mirrorless camera body. A lens adapter is a great low-cost way to upgrade your camera body without having to upgrade all of your lenses and other photography equipment at once. Make the most of your camera gear by investing in one of these great lens adapters now.
How do lens adapters work?
Lens adapters come in two main varieties: passive and active adapters. A passive adapter has a simplified design that provides a secure connection between a camera lens and the camera body. A passive adapter is typically less expensive than an active adapter. 
Active adapters include electronic connections that allow the lens and the camera body to communicate with one another. Active adapters are more expensive, but also more popular because using one means that your camera body can use AF (autofocus) functions and also record details regarding aperture in the metadata of your files. Ultimately, a more expensive lens adapter will typically communicate better with your camera body. This is moot, of course, if you're using an old-school manual lens. 
Most lens adapters have a female and male fitting design. The male fitting attaches to the camera body and the female fitting is what attaches to your lens. A massive hole in the lens adapter allows light to pass through the lens and hit the camera's sensor. Although a lens adapter allows you to attach any style of lens to any style of camera body, most often they work best with camera bodies with short flange distances (i.e. the distance from the camera's mounting flange to the film or sensor plane). If the flange distance isn't conducive to adapting, you may need to buy an adapter with an extra glass element inside to make it work. 
Attaching a lens that was designed for a smaller camera body to a full-frame camera will result in vignetting because the lens won't be able to cover the sensor. This is why it's most common to see lens adapters used to attach DSLR lenses to mirrorless camera bodies.
Best lens adapters: Reviews & Recommendations
Metabones is one of the most popular brands of lens adapters for good reason. This fifth-generation adapter has a rubber gasket that protects your Sony camera S E-mount from dust and moisture and has an LED indicator to show you that the adapter is ready to go. Best of all, there is a dedicated switch that controls in-body image stabilization, allowing you to utilize Sony's SteadyShot tech even when using Canon lenses. This is a great option if you are a Canon DSLR shooter who is making the switch to a Sony mirrorless system.
The passive adapter from Metabones allows shooters to attach Nikon F, G, or D lenses to a Fujifilm X-Mount camera. It lacks some of the electronic connections of fancier Metabones products, meaning that the shooter will have to manually adjust aperture and autofocus, but it does have a sturdy construction made of chrome-plated brass. It also has a flocked interior to cut down on flare and the ability to infinity focus. If you have a lot of Nikon lenses that you would like to use with a Fujifilm body, you can't go wrong with this adapter.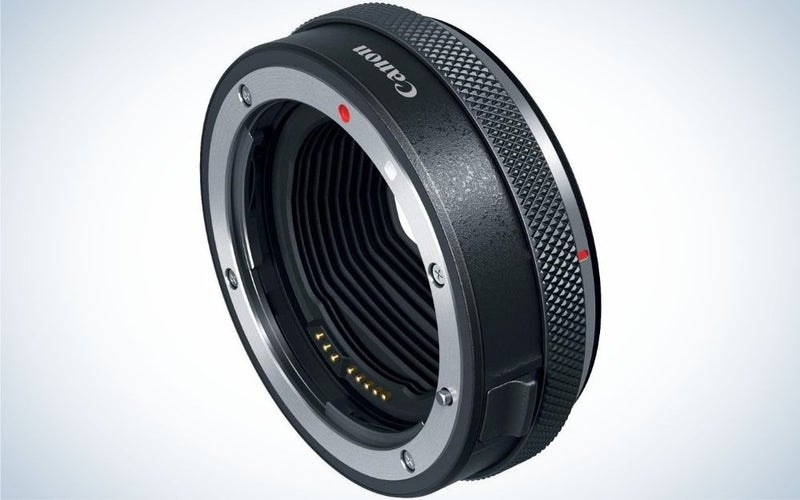 Released in conjunction with the Canon EOS R line, this adapter makes it so Canon DSLR shooters can easily use their existing lenses with the newer mirrorless bodies like the EOS R5 and the EOS R. It features a built-in control ring for easy access to camera functions, and it is dust and water-resistant and made of metal on both sides of the mount. The control ring can be set to a clicking mechanism or to silent operation mode. Since it's designed by Canon, aesthetically it will match all of your EF lenses too.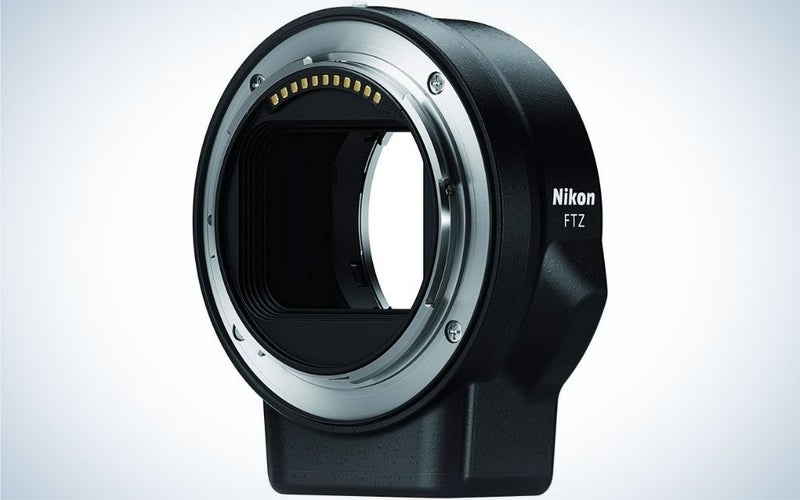 Released in conjunction with Nikon's mirrorless Z camera, the FTZ adapter allows photographers to use older Nikkor F lenses with the new mirrorless camera bodies. The FTZ adapter allows these lenses to utilize in-camera VR (vibration reduction), hybrid AF, silent shooting, and focus peaking. Lenses that are connected via the FTZ adapter will retain full sharpness and image quality, too. It's weather-sealed, made of magnesium alloy, and is compatible with over 360 different Nikon F-mount lenses.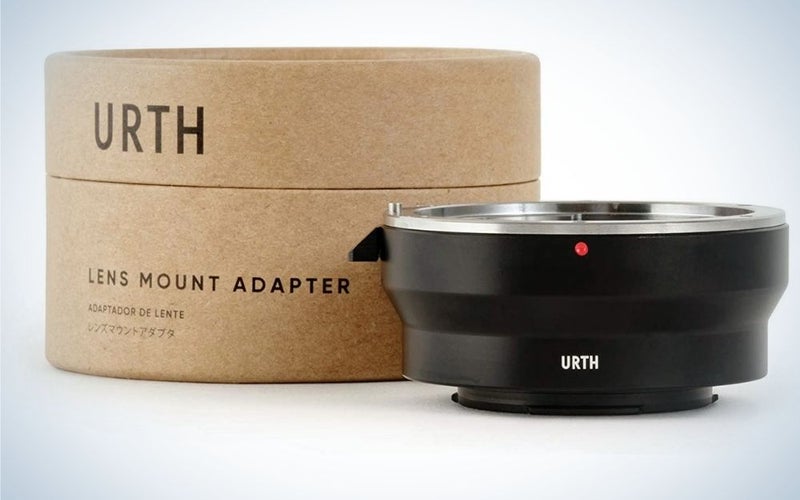 This passive lens adapter won't give you access to any automatic functions on your lenses or your camera body, but you can't beat the price. Urth X Gobe adapters are available in a wide variety of lens mounts, and they are made of hardened aluminum and copper to maintain a snug, light-sealed connection between your camera lens and body. Urth also uses a portion of the proceeds of this lens to plant trees in an area that has been affected by deforestation. It's a low-cost adapter that supports a great cause.
Things to consider when buying a lens adapter
The most important thing to consider when shopping for a lens adapter is what style of camera lenses you want to attach to your camera body. Lens adapters are designed specifically to work with certain types of lenses,  so it's important to know what lens mounts you are trying to shoot with. This isn't a one-size-fits-all situation.
If you are looking to attach a DSLR lens to a mirrorless body of the same brand of camera, consider using an adapter made by that camera brand. Nikon and Canon both released lens adapters that allow photographers to use older DSLR lenses with the new mirrorless camera body with almost no lost functionality. 
If you are looking to attach a Canon or Nikon DSLR lens to a Sony or Fujifilm body, we recommend checking out the Metabones adapters. These are active lens adapters that will allow the lens to easily communicate with the camera body, while taking advantage of settings like AF.
FAQs
Q: What is a lens adapter used for?
A lens adapter is a piece of camera equipment that allows you to use different brands or models of camera bodies and lenses together that would otherwise be incompatible. A lens adapter allows a photographer to do things like use a Canon or Nikon lens on a Sony body.
Q: Can you put any lens on any camera?
A lens adapter makes it possible to use any kind of lens with any kind of camera body for the most part. However, before you buy one  make sure you know what type of lenses you want to mount to your camera body. Lens adapters are designed specifically to work with certain brands.
Q: What does F-mount mean?
An F-mount is a type of Nikon lens that was designed to work with Nikon SLR and DSLR camera bodies. When Nikon released its line of mirrorless camera bodies, it was important to create a mount that would allow long-time Nikon photographers to use their F-mount lenses with the new Z-mount body. 
Final thoughts on lens adapters
Lens adapters are a really helpful tool if you are making the jump to a mirrorless camera system, but you're not ready to splurge on a whole new collection of glass. A lens adapter can help you ease into the transition to mirrorless by allowing you to use older DSLR lenses with new mirrorless bodies. A more expensive, active lens adapter will give you access to features like autofocus and image stabilization, but if you are just getting started a less expensive passive adapter is a great way to try things out without breaking the bank.