| | | | | | |
| --- | --- | --- | --- | --- | --- |
| Best overall | | Sony A7S III | | SEE IT | This Sony camera is a powerful tool in low-light situations. |
| Best high-end 4K cinema camera | | Blackmagic Design URSA Mini Pro 4.6K G2 Digital Cinema Camera | | SEE IT | It offers lots of external controls and can record up to 300 fps. |
| Best on a budget | | Sony HDR-CX405 HD Video Recording Handycam | | SEE IT | This camcorder style camera is very affordable and easy to use. |
We may earn revenue from the products available on this page and participate in affiliate programs. Learn more ›
Updated Jul 18, 2023 10:16 AM
A music video represents one of the most fun projects you can create as an up-and-coming filmmaker. Although there certainly are people who have filmed one on their smartphone, having a dedicated camera to get the job done will give you a lot more creative flexibility. Whether it's your first film project or you are a long-time shooter getting hired by an established artist, having a quality camera to capture the action will make your shoot a lot less stressful. Keep reading to learn more about some of the best cameras for music videos.
How we picked the best cameras for music videos
When selecting the cameras that appear in this buying guide, we considered cameras that would be acceptable for a wide variety of budgets. We also made sure to choose cameras that would be acceptable for filming high-end productions but other options to be more suitable for creating something for an artist who is just starting. It was important for us to select cameras with excellent autofocus capabilities, perform well in low-light, and record video for long periods. The cameras featured in this guide were selected through a mix of hands-on experience, user feedback, and editorial reviews.
The best cameras for music videos: Reviews & Recommendations
Here, we'll dig into the specific cameras so you can get an idea of what models have the features you need. Each pick on this list offers a solid collection of features for their price points.
Why it made the cut: The Sony A7S III is an excellent and powerful tool for capturing video in low-light thanks to its superb autofocus, in-body stabilization, and 4K capabilities.
Key features 
Sensor: 12-megapixel full-frame sensor 
Autofocus sensitivity: -6 to +20 EV
Video resolution: 4K video at up to 120p, 60p
ISO range: 80-102400 (40-409600 expandable)
Pros 
Excellent in low light 
Shoots 4K 
10-bit internal 4:2:2 recording, 16-bit RAW output to external recorder
Lightweight 
Cons 
The Sony A7S III is an excellent lightweight mirrorless camera for run-and-gun video shooters. It's also the best for low-light conditions—a pretty common occurrence for music video shoots. It can film 4K up to 120 fps and has 10-bit internal 4:2:2 recording, plus 16-bit RAW output to an external recorder.
The autofocus works down to -6 EV, which should be plenty for shooting a live performance or night-time scenes for your music video. Plus, it has a lightweight body making it relatively easy to balance on a gimbal or Steadicam rig for ultra-smooth footage.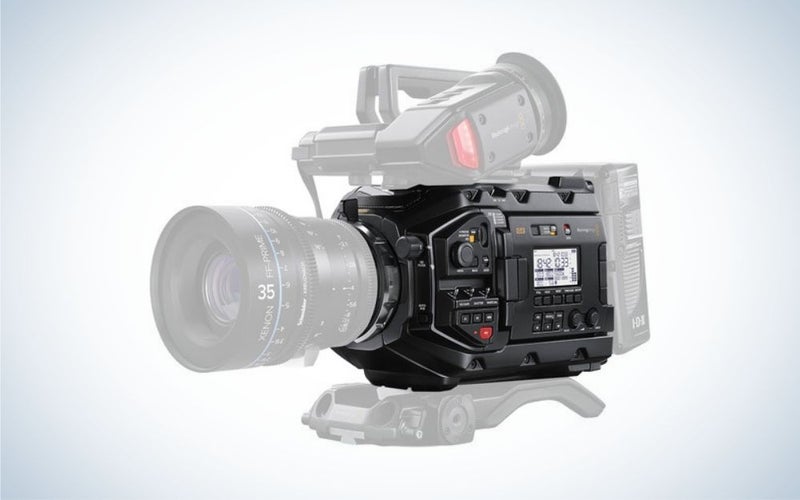 Why it made the cut: The Blackmagic Design  URSA Mini Pro 4.6K G2 offers 15 stops of dynamic range, can record up to 300 fps, and the external controls make it easier to change settings while the camera is rolling. 
Key features 
Sensor: 11.9-megapixel HDR Super 35 CMOS sensor
Autofocus sensitivity: N/A
Video resolution: 4.6K up to 120 fps, 300 fps at 1080p
ISO range: 200 to 3200
Pros 
Built-in ND filters
USB-C port lets you record to external drives
EF lens mount compatible with Canon lenses
Cons 
Expensive 
Have to build out with accessories 
This camera from Black Magic makes shooting cinematic video footage a breeze. If you know how to operate a DSLR, you will be able to figure out this cinema camera's interface extremely quickly. Although it comes with a high price tag, it's a much more affordable choice than the ARRI and Red cameras that Hollywood favors. Still, its quality definitely surpasses what you can get when shooting on a mirrorless camera or DSLR. 
The  URSA Mini Pro 4.6K G2 can shoot 120fps in 4.6K and up to 300fps at 1080p. It offers 15 stops of dynamic range at ISO 3200 and has a USB-C expansion port for recording directly to external drives. The Blackmagic RAW capture is stunning, and its external controls make it much easier to change settings on the fly.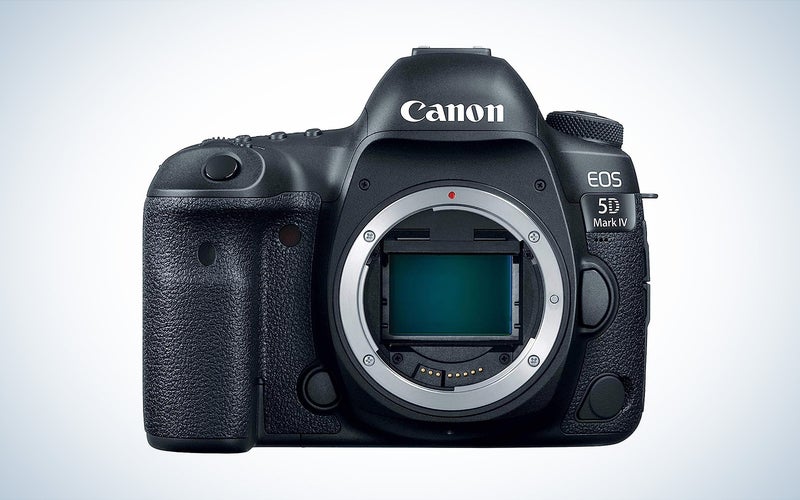 Why it made the cut: With its touchscreen interface, excellent Dual-Pixel CMOS AF, and 4K capabilities, the Canon 5D Mark IV remains one of our favorite DSLRs for shooting video.
Key features 
Sensor: 30.4-megapixel full-frame sensor 
Autofocus sensitivity: -3 to +18 EV
Video resolution: DCI 4K at 30/24p
ISO range: 100-32000 (expandable 50-102400)
Pros 
Affordable 
Touchscreen interface makes it easy to autofocus while recording
4K recording at 24fps and 30fps
Great autofocus system
Cons 
Native crop on 4K footage
4K footage is limited to Motion JPEG 
No log gamma profiles 
Although it's not the newest or most high-end tool for shooting a music video, the Canon 5D Mark IV remains a highly capable DSLR that can get the job done, especially if you don't mind shooting in 1080p. When released in 2016, the 5D Mark IV was one of the best hybrid cameras for creators that needed to shoot a mixture of stills and video. 
Although it can technically shoot 4K, there are some limitations. However, the autofocus capabilities are what really make this DSLR stand out. Face and subject tracking are excellent, making it ideal for holding focus while shooting a music video. And since it's a slightly older model, it's a few thousand dollars less expensive than higher-end mirrorless or cinema cameras.
Why it made the cut: This hybrid mirrorless camera is as good at shooting video as it stills. Its excellent in-body image stabilization proves to be a powerful tool when paired with its 10-bit 4K video capabilities.
Key features
Sensor: 26-megapixel CMOS APS-C sensor 
Autofocus sensitivity: Not provided
Video resolution: 10-bit 4K video capabilities 
ISO range: 160-12800 (expandable to 80-51200)
Pros 
In-body image stabilization 
10-bit 4K capture
Attractive film presets
Cons 
No headphone jack 
No subject tracking while shooting video 
Aesthetically, Fujifilm has always been one of our favorite mirrorless camera makers, and the video capabilities of the X-T4 make it even more appealing. The in-body image stabilization paired with the 10-bit 4K video capabilities is great for music video shooters looking for a lightweight shooting option on set. It can shoot 4K at 60 fps and record for about 30 minutes at a time. Although it lacks subject tracking when shooting video, it can still track faces—a pretty important feature when shooting a music video.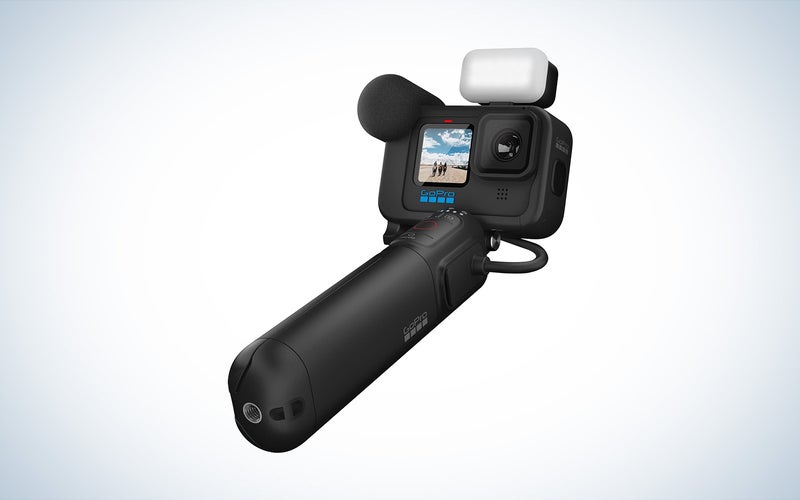 Why it made the cut: Though the GoPro Hero 11 is usually associated with extreme sports, its class-leading stabilization, 5.3K video, and durable, waterproof build make it a good fit for unique music videos. 
Key features
Sensor: 27-megapixel CMOS sensor 
Autofocus sensitivity: Not applicable
Video resolution: 5.3K 60fps and 2.7K 240fps
ISO range: Not applicable
Pros 
High-quality video footage
Very rugged and durable
Easy to use
Impressive video stabilization
Cons 
Low-light performance could be better
Not very versatile
GoPro has long led the action cam genre, and its newest release, the Hero 11, is no different. While they are traditionally associated with action sports and adventure, some features make them a good fit for music videos, especially unique takes. First, they are capable of excellent 5.3K video at 60fps or 4K at up to 120fps and smooth slow-motion footage. They also feature the incredible HyperSmooth 5.0 digital image stabilization that results in smooth footage without a gimbal, even when moving around a lot.
The Hero 11 has a built-in, flip-out 2-prong mount, making it easy–and fast–to attach the camera to accessories and mounts. It is waterproof without housing up to 33 feet, so the GoPro can handle itself just fine if your music video involves water. And the new, larger sensor in the Hero 11 makes vertical videos easier and better if you want to share teasers to social media. The low-light capabilities of GoPros still aren't fantastic, but it has been somewhat improved on this model. If you need unique footage in challenging conditions, the GoPro will be a good fit. 
This particular version is the Creator Edition bundle, which comes with everything you need to get started. You'll get the Volta, which is a battery grip, tripod, and remote all in one, Media Mod, Light Mod, and Enduro Battery.
Why it made the cut: The Sony HDR-CX405 HD Handycam is a low-cost option for shooting a music video. It's great for the filmmaker working alone or making a guerilla-style music video. 
Key features 
Sensor: Exmor R CMOS sensor
Autofocus sensitivity: Not provided
Video resolution: 1080p video capture
ISO range: Not applicable
Pros 
Affordable 
Easy to use 
Face detection 
Good image stabilization 
Cons 
If you are a filmmaker working alone, just starting out, or looking to create something with a lo-fi aesthetic, this classic Sony Handycam is an excellent choice. It can shoot 1080p at 60 fps and has in-body stabilization. It also has a flip-out LCD viewscreen, a 30x optical zoom, and face detection and noise reduction features. Of course, it won't offer the kinds of cinematic footage that some of the other cameras in this guide will. But sometimes, something a little rough around the edges makes more sense for a music video. Plus, you just can't beat the price.
Things to consider when shopping for the best cameras for music videos
Budget
When selecting a camera to film a music video, the most important thing to consider is the budget—both yours and your clients. A musician who is just starting out will have very different needs and expectations than someone who is an established award-winning creative. Before you splurge on a high-end cinema camera to shoot a music video, make sure that it makes sense from a monetary standpoint for everyone. Most filmmakers who work on music videos also shoot a wide variety of other content, so having a camera that will work for different types of video or photo jobs is also a smart move.
Aesthetics
The second thing to consider is the aesthetics of the video output. A high-end cinema camera will give you a much different look than a low-cost Handycam or a DSLR. Although most cameras on the market have 4K capabilities, it's important to research if they have a crop factor, recording limits, and what kind of video codecs they might be using. It's not uncommon to have multiple videographers working on a music video. If that's the case, it's important to make sure that whatever everyone is using will match closely enough that the final product won't be jarring to watch.
Shooting environment
When shopping for a camera to shoot music videos, the final thing that you should consider is how and where you will be filming. If your shoot is happening late at night outside or in a dark club environment, having something with fast AF capabilities that works well in low-light is a must. You should also consider if you need to be discreet while you are filming. A smaller camera that can either be used handheld or easily mounted to a gimbal will be easier in these situations than having a big cinema camera rig.
FAQs
Q: What equipment do I need to shoot a music video?
The equipment you need to shoot a music video depends a lot on the concept of the video. You really can shoot a music video using any type of gear. An older DSLR, a mirrorless camera, an old super 8 camera, or a higher-end cinema camera will all work and have pros and cons. Ultimately, the gear you use to shoot your music video is something that you should consider as you brainstorm concepts and map out your treatments because the cameras or lighting equipment will end up having a big effect on the aesthetics of the final product. For example, a low-budget music video can be shot with a single camera and all-natural light, while a higher-end music video will probably utilize a few different cameras and lighting equipment.
Q: How do you shoot a music video by yourself?
Shooting a music video by yourself requires a lot of planning and time. Although it's entirely possible to work solo on a music video, you will save yourself a lot of time and headache by putting together a small crew to help with things like lighting and camera moves. It can be challenging to be directing talent, setting lights, and making sure that everything is in frame and focused as you work.
Q: What cameras do music YouTubers use?
The cameras that music YouTubers use to film their content vary widely and have a lot to do with personal preference and budget. Many Tik Tok personalities simply use their phones to film content, while YouTube personalities may have a dedicated mirrorless camera or DSLR to film their episodes. For the most part, YouTubers are pairing their quality camera equipment with some continuous lights so they can film their episodes without relying on nice window light from the sun.
Final thoughts about the best cameras for music videos
Choosing the best cameras for music videos depends on the aesthetics you are going for, your budget as a filmmaker, and your client's budget. If you are working with local bands with a limited budget, it probably makes the most sense to stick with a camera that you will be able to use on other photo or video jobs. If you are creating something for a more established artist, it's worth considering a cinema camera or a high-end mirrorless camera. 
Also, remember, you can always rent gear. You don't necessarily need to make a huge investment in a camera or lighting equipment that you may only use for a few shoots, especially if you need something hyper-specific for a certain music video.
Why trust us
PopPhoto has a long history of delivering the opinions of some of the sharpest and most prolific camera dorks the world has to offer. Since 1937, we've been reviewing cameras, providing wisdom from well-known photographers, and generally just nerding out about all that goes into making great pictures. Our current crop of writers and editors have decades of professional photography and camera writing experience among them. Collectively, we've probably shot with just about every camera and lens combo you can imagine—as well as some obscure stuff you may not even know about. Remember the Casio Tryx folding camera? PopPhoto does.
We also get that buying a camera is a big decision, which is why we're dedicated to helping folks choose the right one (or, in our case "ones") for their needs. Case in point: Handing over top dollar for an expensive rig may leave you unsatisfied if it doesn't fit your preferred shooting style. Sure, a $6,000 sports-oriented DSLR can capture landscapes, but do you really need to do it at 30 frames-per-second? No, you don't.