Sony releases the a6700: An advanced APS-C camera
On top of the a6700, Sony also announced the EMC-ME shotgun mic.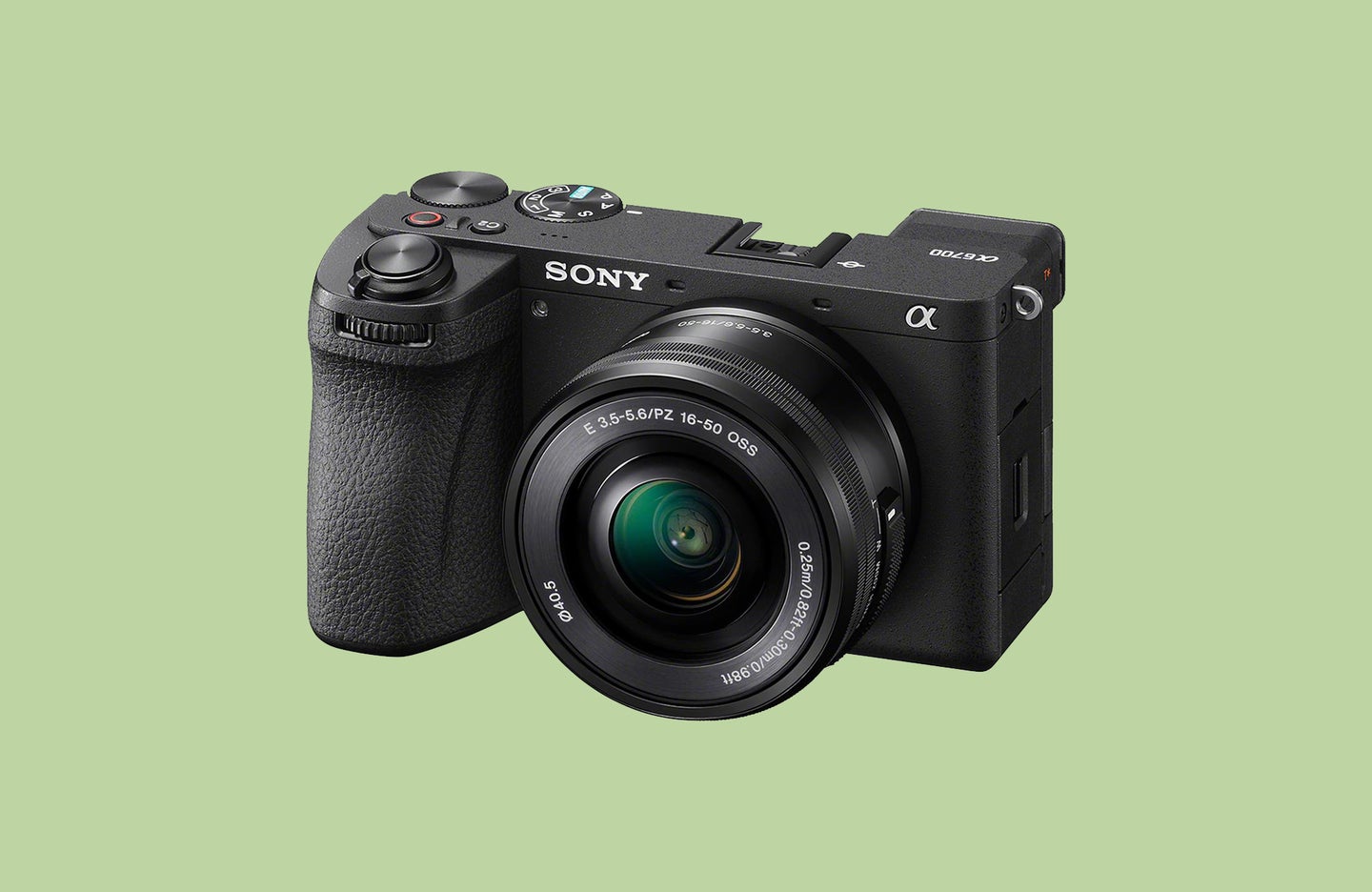 We may earn revenue from the products available on this page and participate in affiliate programs. Learn more ›
Sony has been primarily focused on full-frame cameras for the past few releases. So it was about time to see a new APS-C offering, and this one sure doesn't disappoint. The new a6700 takes advantage of the cutting-edge features found in the company's more expensive full-frame models. And the result is what Sony says is its "most advanced APS-C mirrorless camera to date." The $1,400 price tag includes a 26-megapixel back-illuminated sensor and BIONZ XR processing engine, providing 4K 120p video capabilities and 11 fps burst shooting. And if that wasn't enough, Sony also announced a new shotgun mic—the ECM-M1—and a 70-20mm f/4 lens. Here's what we can expect from this new Sony mic and flagship camera.
Sony a6700 at a glance
26 effective megapixels
4k video up to 120 fps
5-axis stabilization for 5 stops of correction
14 stops of dynamic range
S-Cinetone picture profile
AI processing unit taken from the a7R V
Real-time recognition autofocus
Brand new focusing system with 759 phase-detection points
11 fps burst shooting with AF/AE tracking
Weighs 1.1 pounds with battery and memory card
What is the Sony a6700?
Sony's new a6700 is an APS-C interchangeable lens camera. However, instead of playing specifically to beginners like Canon has been of late, the a6700 is an advanced option suitable even for professionals looking for a backup camera or a compact camera for travel. It weighs only 1.1 pounds and measures just measures only 4.8 × 275 × 3 inches. That's 35 percent smaller than the already tiny Canon R7. And while tiny cameras are typically not very nice to hold, Sony said it improved the grip on this body to make it more comfortable even with the compact size. It certainly looks more robust and comfortable in photos, and we are looking forward to testing it ourselves in the near future.
It utilizes the Sony E mount, meaning you can use any of Sony's full-frame, crop sensor, and Cinema Line E mount lenses with it.
Sony a6700 mirrorless camera details
Camera body & build
Sony built the a6700 with a magnesium alloy body that is dust and moisture-resistant. Sony redesigned the dials and controls on this camera, and it offers a customizable front dial along with a switching dial for still images, movies, and S&Q modes. In terms of ports, it gets a micro HDMI port and USB-C power delivery. There's a single SD card slot, which is expected for a camera at this level.
One thing we were glad to see is that the camera offers an eye-level electronic viewfinder. It's a 2.36 million dot XGA OLED EVF, which Sony says is as bright as A7R V. There's also a vari-angle 1.03 million dot resolution touchscreen with an intuitive touch interface and the improved menus seen in the most recent Sony cameras.
Sony packed the inside of this camera with some high-end pieces of tech that trickled down from its pricier models. That includes a BIONZ XR processing engine and a back-illuminated sensor, which Sony says is the most advanced 26-megapixel sensor yet. And it also gets the AI processing unit from the a7R V, meaning the autofocus capabilities of this camera punch far above its weight.
Video capabilities
The Sony a6700 is a true hybrid camera and, as such, gets a suite of robust video features. For starters, the 4K footage is oversampled from 6K, resulting in superb quality. It also gets the new slow-motion upgrade that recently came to the ZV-E1 right out of the box, so you'll be able to shoot 4K 120p or FHD 240p (albeit with a 1.3x crop) right away.
The camera features S-Log3, S-Gamut3.Cone, S-Cinetone and assignable user LUT's. It provides 14 stops of dynamic range for greater flexibility when editing. Sony also said that there's a new AE algorithm to detect skin area and control exposure accurately, resulting in an auto exposure that is 20 percent more accurate than before. The AI processing unit also helps with achieving a more accurate white balance. Both of those features could be really big deals for those who don't want to mess with post-production as much.
On top of all that, there's also an AI-driven Auto-Framing mode. This mode automatically changes the composition by following the recognized subject. It can zoom to a level you set and pan with you as you move. And it can automatically pan between subjects as well. The auto framing could be incredibly helpful for solo videographers or to just simplify the shooting process, even if you do have extra hands.
The a6700 is fitted with 5-axis stabilization, which results in 5 stops of shake correction. And Sony also fitted the camera with pixel-level shake detection for even better performance.
Sony a6700 still shooting
As a hybrid camera, there are also plenty of appealing specs for photographers. It's capable of 11 frames per second with both the electronic and mechanical shutter. That burst rate works with AF/AE tracking as well. There is a 1,000 frame jpg buffer, and 59 uncompressed raw buffer.
A unique feature of the a6700 is the anti-flicker shooting. The camera is able to automatically detect flicker from artificial light and then time the shutter to minimize its effect. You can also choose shutter speeds down to 1/10th of a shutter speed to get rid of banding.
Autofocus capabilities
Sony cameras have led the way in regard to autofocus for some time. And this camera is no different. It features a new autofocus system that utilizes 759 phase-detection points for 93 percent coverage of the sensor. And as mentioned, the AI processing unit found in the a7R V made its way to the a6700. This is only the third Sony camera to get an AI process unit, and it enables highly accurate real-time tracking and subject recognition.
The a6000 series already offered human and animal recognition, but now the Sony a6700 can accurately identify humans, animals, birds, insects, cars, trains, and airplanes. It can estimate human poses and see 30 different parts of the human body and is able to differentiate between right and left sides. Sony said that improved Eye AF by 60 percent, which will be interesting to see firsthand. It also said that animal and bird performance is increased by 40 percent, and is able to track head, body, and eyes on a wider range of subjects. Finally, it can recognize and track various vehicles and get as granular as insect heads and bodies.
Sony a6700 pricing & availability
The new Sony a6700 is available for pre-order starting today for $1,398.00 for the body only. It's also available as a kit with the PZ 16-50mm f/3.5-5.6 OSS lens for $1,498.00 or with the 18-135mm f/3.5-5.6 OSS lens for $1,798.00. The camera will begin shipping in early August.
ECM-M1 mic details
Not to be overshadowed by the fancy new camera, Sony also announced a new compact shotgun microphone. Sony says that it "is the world's first shotgun microphone with eight dial-selectable audio recording models." It utilizes four microphone capsules and Sony's beamforming technology to offer plenty of pickup modes, including true stereo. The ultra-directional mode is ideal for capturing sound from the front within a 30-degree area while suppressing other sounds. This makes it perfect for interviews or self-recording situations.
On the mic, you'll find a new mode dial with a locking mechanism for easy switching between modes. It features a noise-cut filter to reduce background noise and a low-cut filter to minimize vibration and low-frequency noise. And it supports four-channel recording (on compatible cameras), which allows for safety recording in omnidirectional mode with channels three and four, while you use channels one and two for selected directivity.
The ECM-M1 is compact and lightweight, weighing just 2.3 ounces. And, when paired with a compatible camera, all you need to do to use the mic is clip it onto the Multi Interface Shoe. There's no need for extra cables or batteries in the mic itself.
ECM-M1 pricing & availability
The Sony ECM-M1 is available for pre-order now for $348.00 and will also begin shipping in early August.