The RØDE Wireless PRO is a more powerful wireless microphone
The RØDE Wireless PRO mic comes with lots of handy features to make it very easy and convenient to use.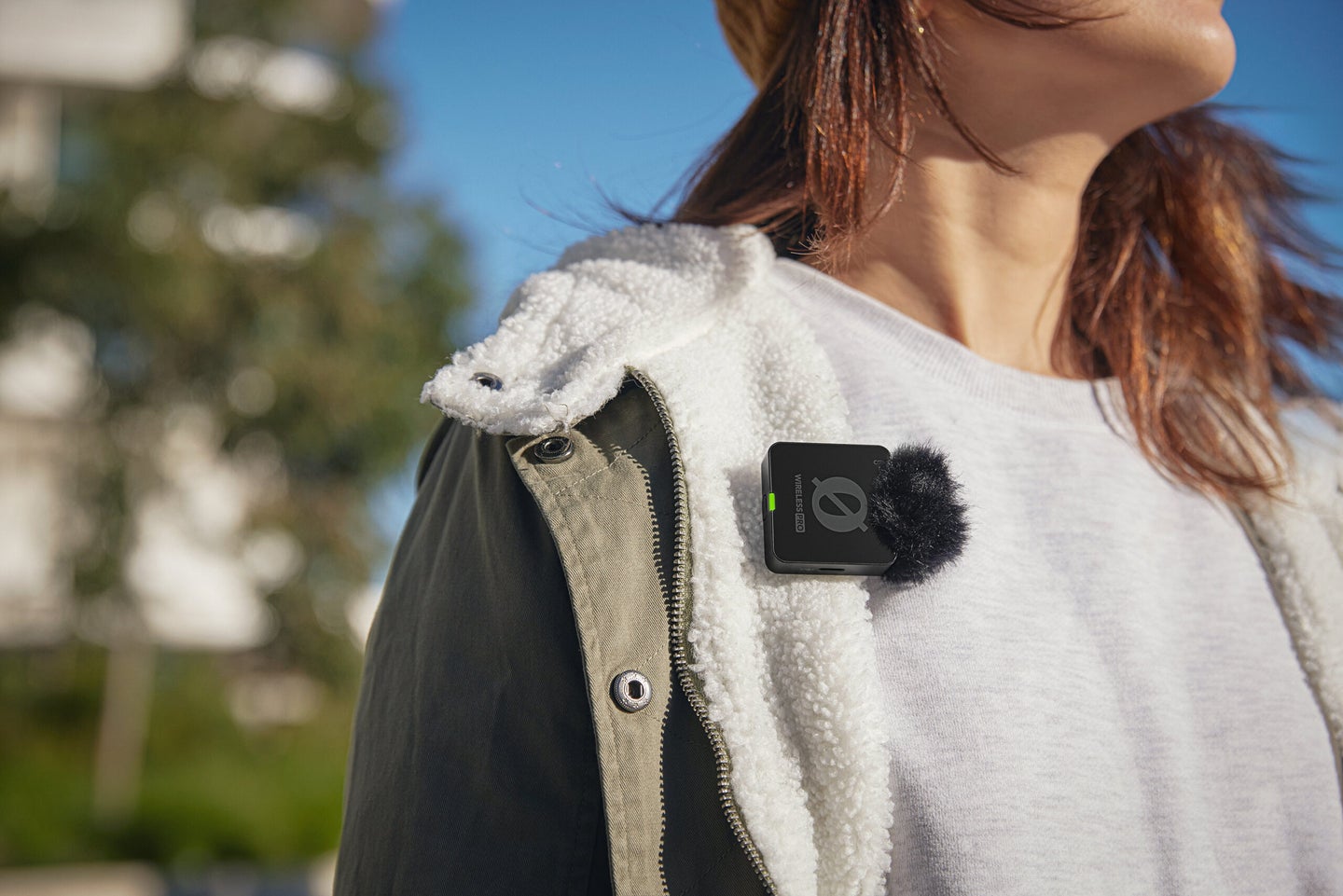 RØDE is one of the top producers of microphones for video applications, and now it has expanded its offerings with a new addition. The Australian company recently announced a new flagship wireless mic—the Wireless PRO—which it claims is the most powerful wireless microphone system available. The PRO, as the name suggests, is a more professional version of the beginner and budget-friendly Wireless ME, which was released earlier this year. It continues the legacy of the highly popular Wireless GO series, bringing even more features and quality to the table. Here's what we know about the Wireless PRO.
What is the RØDE Wireless PRO?
The RØDE Wireless GO, which was released in 2019, was the first compact and easy-to-use wireless mic. It quickly took over the microphone market for content creators. You've probably seen creators wearing them on TikTok. The Wireless GO, followed by the Wireless GO II, has been the go-to for vloggers and videographers since. The Wireless PRO builds on that iconic status, and RØDE says that it "left no stone unturned when it comes to features in this new system." It is the company's new flagship model and is priced as such at $399. Its list of features, such as 32-bit float on-board recording, dual-channel design, advanced timecode capability, and more, make this mic ideal for serious content creators after the best.
RØDE Wireless PRO details
The Wireless PRO looks very similar to the Wireless GO II, except for the simplified logo design on the front. RØDE kept the compact, pocketable form factor that has worked so well. It is a dual-channel set with two transmitters and a receiver and utilizes the company's Series IV 2.4 GHz digital transmission with 128-bit encryption. RØDE says this will result in incredibly clear audio, even at distances up to 853 feet (when in the line of sight).
The transmitters feature integrated clips along with broadcast-quality omnidirectional microphones. It is compatible with cameras, smartphones, tablets, computers, and other audio devices thanks to its analog 3.5mm TRS and digital USB-C outputs.
On-board recording
The most significant feature of the Wireless PRO is the 32-bit float on-board recording. This means that you have to worry much less about setting mic gain levels, as it will be next to impossible to clip audio when it gets too loud. You'll have much more flexibility in adjusting levels in post-processing. That makes setup and recording faster and easier than ever before. Each transmitter features 32GB of internal memory, which provides over 40 hours of on-board recording. There are also dedicated buttons on the transmitters to simplify triggering recordings.
Adding to this feature is the advanced timecode sync capabilities, which make synchronizing audio and video in post-production easier. You'll no longer need to deal with complex external timecode systems. You can set it up on a computer or smartphone via the RØDE Central app, which offers lots of flexible configuration options.
Recording to your camera
For those who want to record audio directly to the camera, you're also in luck. The Wireless PRO gets RØDE's GainAssist technology, which was introduced on the Wireless ME. This uses "intelligent algorithms to automatically control audio levels on the fly, ensuring the output is smooth and balanced and minimizing the risk of clipping." It offers a 30dB gain range as well as pre-configured camera presets for lots of customizability and easy setup. You can also use the mics safety channel feature, which uses a second channel of audio 10dB lower than the primary channel, just in case any audio is clipped in the camera input.
These different recording features mean that you can get perfect audio in any situation. You'll no longer have to guess and hope for the best, only to discover that your levels were off and the audio is beyond saving. It should make it much easier to get quality audio so that you can keep your focus on the creative and fun parts of the filmmaking process.
Additional features of the RØDE Wireless PRO mic
Beyond recording modes and specs, there are additional features on the Wireless PRO worth pointing out. The transmitters feature locking lavalier connectors for additional security. Plug-in power detection on the receiver automatically turns the unit on or off in sync with the connected camera to save you power when on location. The 3.5mm output on the receiver functions as a headphone output for audio monitoring and also offers flexible output level control. And it functions as an audio input for a headset or other TRRS mic, such as the RØDE smartLav+.
In case that isn't enough, RØDE also says the new mic offers "merged and split recording modes, marker dropping, and customizable buttons." You can easily configure the mic on a computer or smartphone using the RØDE Central app.
The Wireless PRO comes with a full accessory kit so that you have everything you need right away. It includes a smart charge case to protect everything and keep them charged up, two Lavalier II microphones, and two MagClip GO magnetic clips for flexible mounting. You'll also get three high-quality furry windshields for improved recording in windy conditions, all necessary cables for connecting to devices, and a case to keep it all organized.
Pricing & availability
The RØDE WIreless PRO is currently shipping to retailers and isn't quite available for purchase, but you can sign up to be notified when it is available on the RØDE website. RØDE says it will be available in late August for $399, so we don't have long to wait.