New Digital Posters Trace the History of Pentax Cameras
Ricoh releases two ultra high-resolution images showing off the evolution of Pentax cameras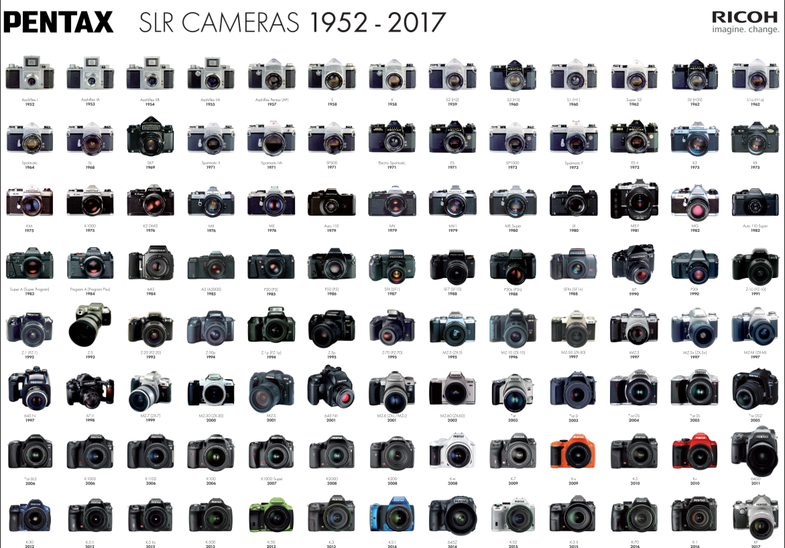 We may earn revenue from the products available on this page and participate in affiliate programs. Learn more ›
Whether you're a diehard Pentaxian or just a gear-head who loves posters, you'll appreciate these free downloads from Ricoh. The first poster is a no-nonsense grid of Pentax cameras from 1959 through today, while the second poster is a bit more deliberately designed as a zigzagging timeline punctuated by decade.
You'll find a number of Pentax's greatest hits in each lineup, including its original 1979 and later 1990 release of their popular 6×7 medium-format SLR—a favorite of pro's like Peter Hurley and a rare bird among cameras of that format. Many seasoned photographers might fondly recall 1975's Pentax K1000, a fully manual 35mm camera that was a mainstay among students. In among the better-known cameras, you'll also find fun anomalies such as the Auto 110 Super, which was an interchangeable-lens system for 110 film, popular in the 1980s and now virtually defunct.
You'd be forgiven for overlooking the brand's digital offerings at first, given its long history of producing beloved analog cameras. However, a quick scan through these posters reveal that Pentax has greatly ramped up its release of new cameras since going digital. In the past five years, since its acquisition by Ricoh, the brand has put out at least 13 DSLRs, including its unique 645Z medium-format DSLR body and its more recently released K1, Pentax's first full-frame (35mm) DSLR.
Both posters are free to download at an absurdly high resolution—each one is sized at a little over 20×30 inches natively at 300 ppi, so send them over to your local print shop or print them out yourself if you have access to a large-format inkjet.