10 Services That Turn Your Instagram Photos Into Unique Objects
These services will allow you to "like" your Instagram photos in real life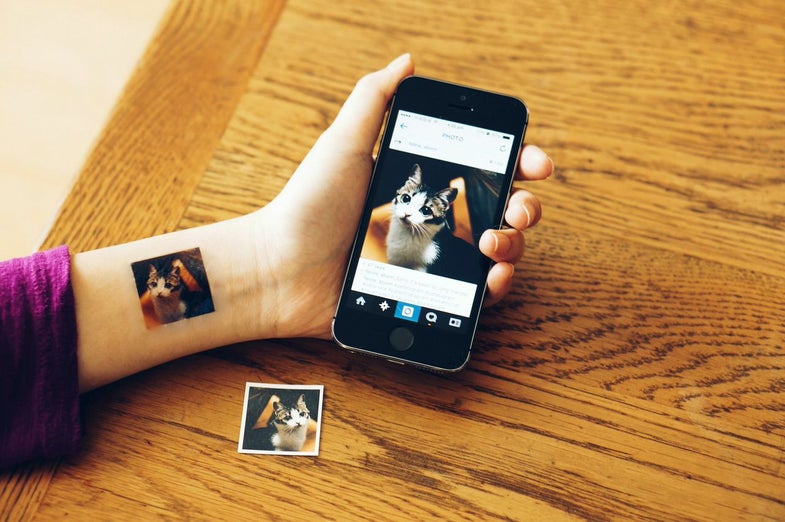 Instagram is the 800-pound (and $1 billion) gorilla in the photo sharing world at the moment. It is raking in 60 million photos per day that would reach past the International Space Station if every photo were printed and stacked and it has also inspired a cottage industry of services with the explicit purpose of turning your photos into things. Sure, there are a lot of sites that will print your Instagram photos, but there are others that go beyond that. Here's a list of some of the more interesting (and sometimes weird) objects you can make from your Instagram photos.
Temporary Tattoos (Above)
A new service from the folks at INK361.com allows you to turn your Instagram photos into temporary tattoos. $14.99 gets you a set of 12 "Picattoos" that will last for approximately seven days if treated with care. Although we can't think of many practical reasons for a set of Instagram printed tattoos, these certainly have the potential to be much cooler then those cheesy dragons that you can buy at the grocery store. You could also consider it a great way to test run that portrait of your cat Fluffy you've been considering making permanent.
**Finger Nail Art **
**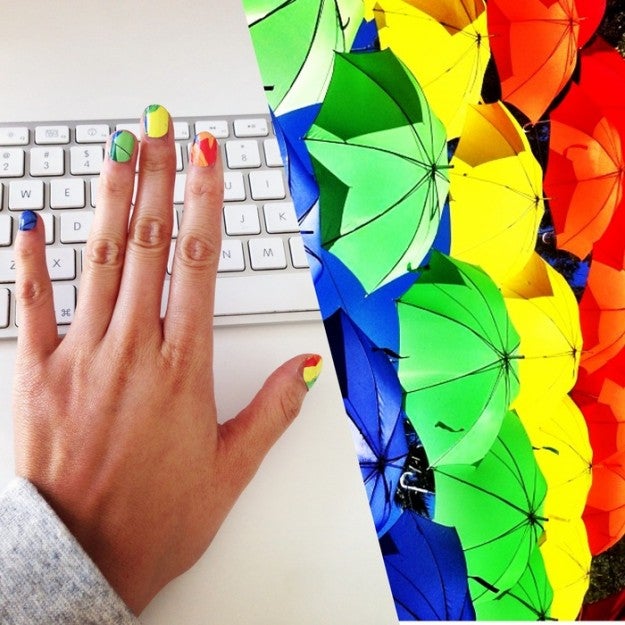 **
The NailSnaps Kickstarter project will take your Intagram photos and use them to create "polish stickers" that apply directly to fingernails. Once you've designed the template, they're printed and mailed to you. You then apply them and use a standard nail file to trim them to fit.
The Kickstarter was funded this spring, but the official site for NailSnaps still hasn't launched. During the fundraising period a set of NailSnaps would set you back $15 at the pledge level, but they get cheaper as you add more sets. It's quicker than going in for a nail job and doesn't involve the gnarly chemicals.
Stone Coasters
**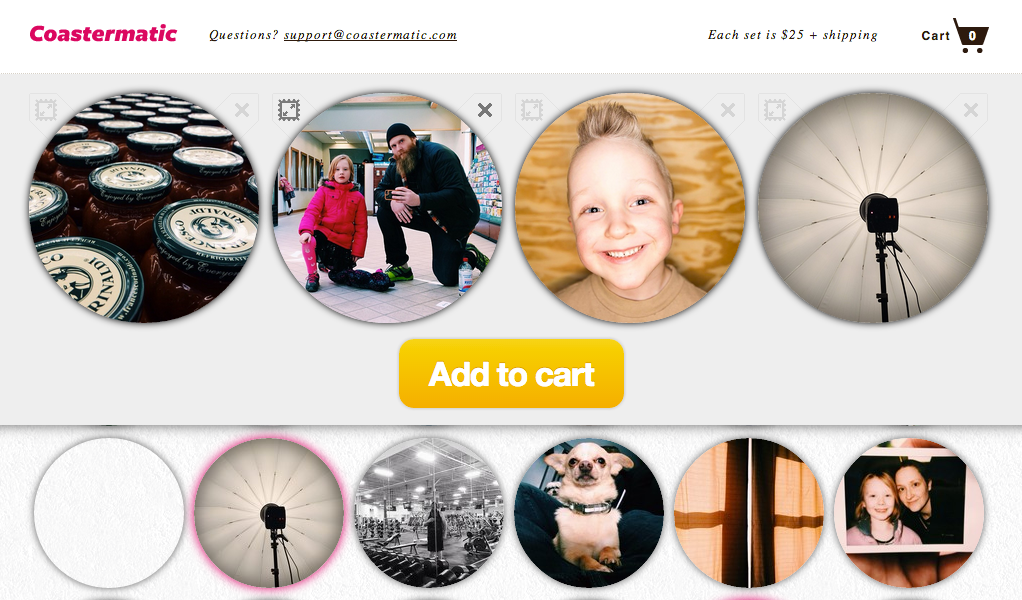 **
For $25, Coastermatic will take your Instagram photos and put them on a set of real stone coasters. You pick any four photos from your account and crop them down to a circle. Because of the resolution needed to print a nice looking image, you don't have a lot of leeway with your cropping, so it's best to pick photos that already lend themselves to the circular form factor. Luckily, the square format seems to lend itself well to a round crop.
They can really jazz up your decor, even if your coffee table isn't really nice enough to warrant a set of coasters. And, because they're made of stone, they will feel more substantial than the plastic or plexiglass coasters offered by some other services.
A Real Oil Painting
**
**
You can get your Instagram photos printed on canvas pretty much anywhere, but for a price, Pixeli.st will have an actual artist make an oil painting of your photo on a piece of canvas. The services uses artists in Xiamen, China, who make photorealistic versions of each image.
A 12″ x 12″ painting starts at $150 and prices go all the way up to $799 for a 30″ x 40″ piece of art. The price also varies depending on how many subjects are in the photo, presumably because accurately recreating a person's face is more demanding than, say, a sunset or a cup of coffee.
Looking through the site, they actually get some very impressive results. Of course, you could get a nice canvas print for 1/8th the price, but that doesn't have quite the same novelty factor.
Marshmallows
**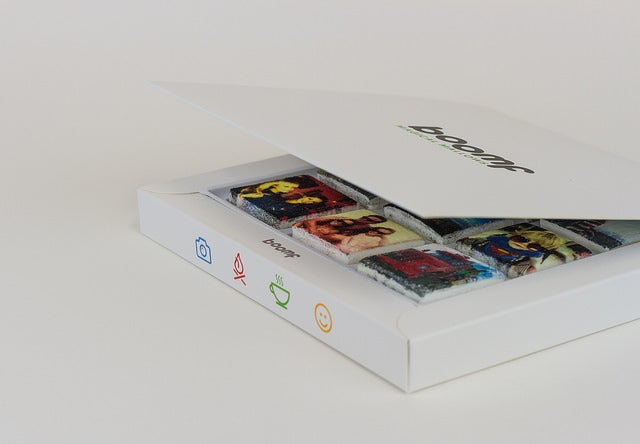 **
For roughly $20, Boomf will take nine of your Instagram photos and print them onto marshmallows. Yes, they're real marshmallows and you can eat them. Each square is about 4cm x 4cm, making it a little smaller than the typical barrel shaped mallows you're used to roasting over the campfire.
Boomf suggests avoiding images with large dark areas because the print quality tends to suffer. But, after all, when you're using a marshmallow as your print media, quality isn't likely your primary concern.
They ship from the UK, but shipping is free on your order, so they end up sticking close to the $20 price tag. You can even see what they look like when they catch on fire if you check out the Boomf error page.
Wood Panels
**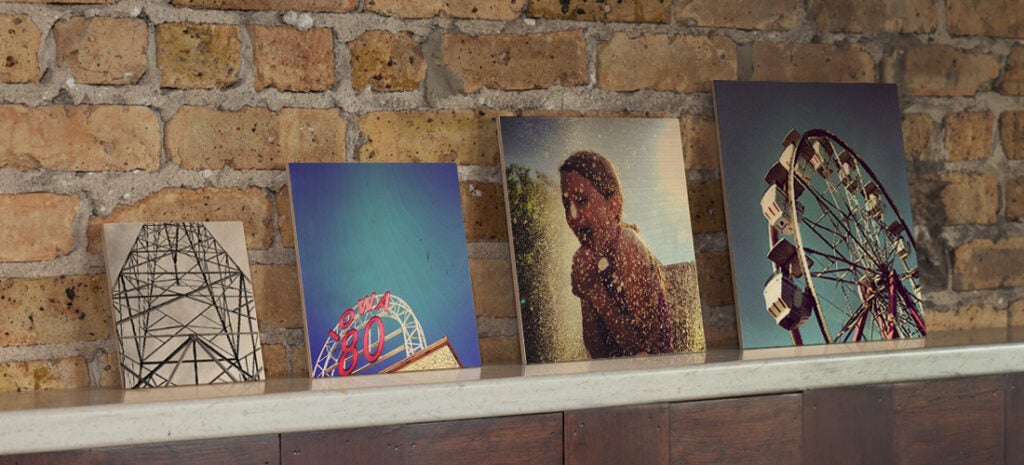 **
Instathis will make you aluminum prints or coasters from your Instagram photos, but the most interesting they offer are their wood prints. They use an clever process for printing onto wood that allows the grain to be visible through the ink. They use pieces of birch, which they claim help the colors "pop."
A 6″ x 6″ wood print starts at $25, but you can go all the way up to 24″ x 36″ for $270. It's not cheap, but then again, it is unique and doesn't require a pricy custom frame like a traditional print.
Ceramic Tiles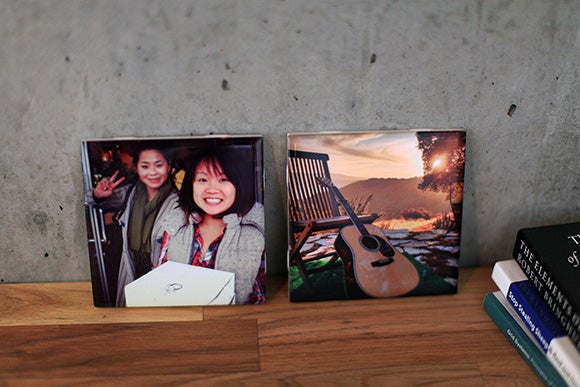 While you probably shouldn't try to tile your bathroom floor with them, Imagesnap makes high-quality ceramic types with your Instagram (or other) photos. They offer a variety of sizes, from the small 2″ x 2″ Teeny Tile ($4) all the way up to the 12″ x 12″ Slab, which comes in a $35.
They offer two finishes, glossy and matte. The glossy is meant for best image reproduction, while the matte is meant to be more durable. So, if you want to make something like a table or a mural that will be displayed outdoors, it won't fade as quickly.
They actually use a clever dye sublimation process to apply the art, so if you take care of them, they'll likely last a very long time. And at just $35 for a 12″ x 12″ they're actually cheaper than many high-end decorative stock tiles.
Post Cards
**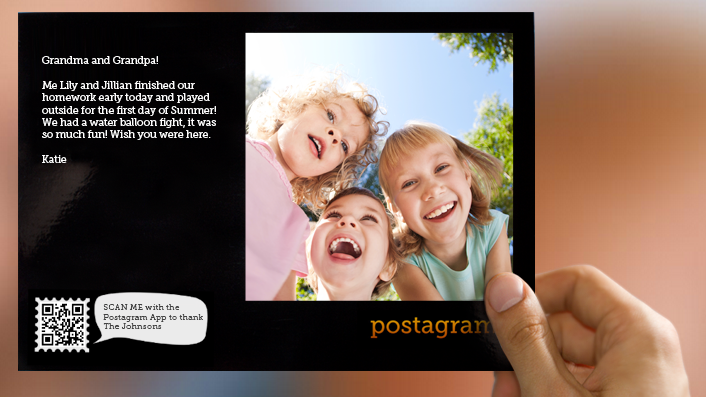 **
E-Mail, social media, photo sharing sites, and a million other things have relegated the once-mighty post card to a novelty. But, Postagram takes your Instagram photos and turns them into tangible post cards that can be sent anywhere around the world.
Once the post card arrives, the photo actually pops out of the card, so they can keep it separate from the message. It's a cheap way to give someone the thrill of getting a photo in the mail and saves you the task of buying a lame post card from a crummy tourist shop when you're traveling.
A Tiny Projector Slideshow
**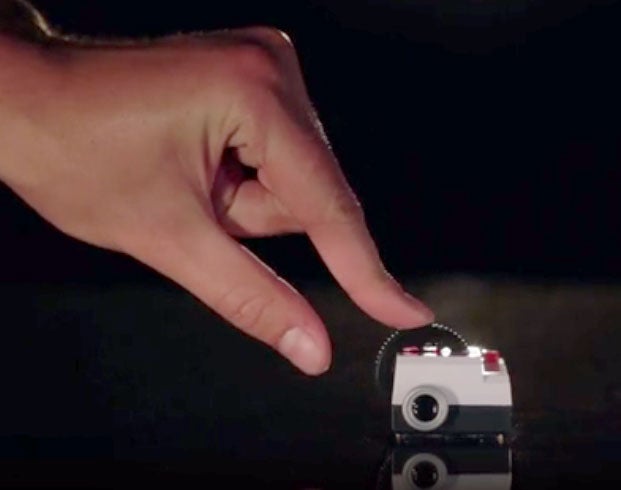 **
At one time, slide projectors were key for sharing photos with groups. Now, they sit mostly unused. Projecteo, however, will take your instagram photos and create a wheel of slides you can project using a minuscule projector.
You choose nine of your photos and they're printed into a single piece of 35mm film. The circle is then cut out and put into a plastic wheel. When you put the wheel into the absurdly tiny projector, it throws the photos at the wall for everyone in the room to see. The image quality is pretty much what you'd expect for a device so tiny, but the whole thing costs just $35 and might be one of the best photography-related conversation pieces I've seen.
Sneakers
**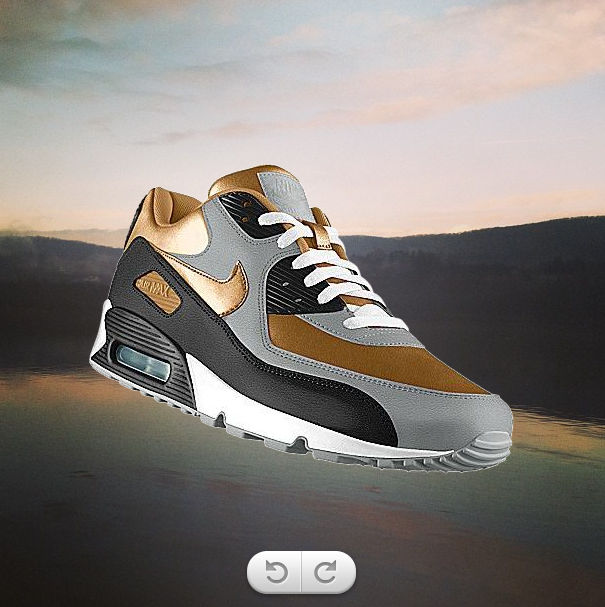 **
In 2013 Nike's PHOTOiD made a soft-entrance into the Instagram consumer product market. While PHOTOiD didn't print your photos directly onto your shoes, it would create a pair of kicks inspired by one of the Instagram images. You point the utility to one of your photos and it's automatically analyzed. It then takes the colors from your photo and applies them to a sneaker design that you can order. The color palette is limited to Nike's roster of materials, so it probably won't pick up on any subtle tones in your photos, but I was actually surprised at how nice most of the color ways ended up turning out.
This sping Adidas took the custom shoe game to the next level with the announcement of a photo print app that allows you to customize a pair of kicks with an Instagram photo. Unfortuantely, at this time, users in the U.S. are unable to order the custom shoes they create using the app.