Camera of the Year: Nikon D3x
The camera that best refined or redefined photography in 2009.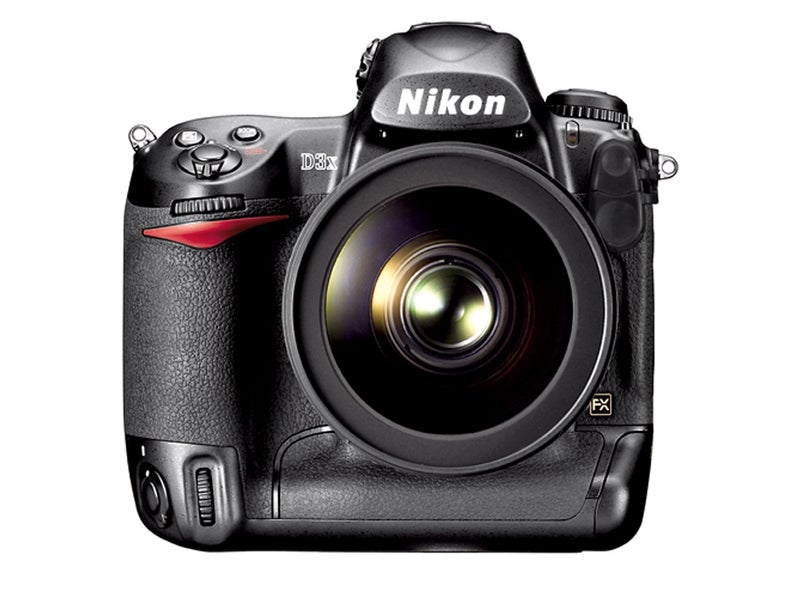 We may earn revenue from the products available on this page and participate in affiliate programs. Learn more ›
In the end, it came down to a hypothetical question. We asked ourselves, If we were stuck on a desert island with only one camera- the Canon EOS 7D, Nikon D3x, or Olympus E-P1-which would it be?
That settled it: Only the Nikon D3x could be Popular Photography's Camera of the Year, the model that best refined or redefined photography in 2009.
Mind you, our imaginary desert island has a Formula One race track, an active soccer club, colorful and swift-moving wildlife, vast panoramic landscapes, photogenic residents, and, of course, a fully equipped pro photo studio.
Because that's the point of the D3x-name a photographic task, and this camera can do it.
Certainly its league-leading imaging appeals most strongly to studio shooters, portraitists, and landscape photographers, but it can handle high-speed assignments, too. While its 5-frames-per-second burst rate is surpassed by many a rig today (including Nikon's own 9-fps D3s), its tracking autofocus is so fast and smart that you're likely to get a higher percentage of keepers.
And those keepers will be of great quality, as the D3x scored Excellent overall image quality in our Pop Photo Lab tests, including awesome resolution of 3180 lines.
Put simply, the D3x redefines the concept of the flagship model.
As Senior Editor Peter Kolonia said when the editors met to debate our options, "This is a camera that is, in fact, revolutionary-it's a medium-format camera in a 35mm DSLR body."
Complaints? We have a few. Lack of a self-cleaning sensor is an odd omission. At more than 3 pounds, without a lens, the D3x is made for a tripod, not a neckstrap. ISO goes only to 6400, while many cameras now bust that barrier.
The biggest criticism of the D3x is economic: For $7,600 (street, body only) this camera had better be great. But note that much of the D3x's technology, such as the metering and autofocus systems, has already migrated to lower-cost models such as the D300s. Our crystal ball tells us the D3x's 24.5MP sensor is likely to show up in a consumer model soon. And, given its ultratough build and weathersealing, the D3x should outlast several lesser cameras. Even on a desert island.
The Runners-Up
Canon EOS 7D
The new 7D is Canon's best APS-C-sensor DSLR to date, as our test report details. With the highest tested resolution for this sensor format, 8-fps speed shooting, fully revamped autofocus, and rugged, weathersealed body, the 7D could have some pros rethinking whether they need a full-frame sensor camera after all. So why isn't it the winner? In a word, competition. While the 7D is a frontrunner in its price category , it's not a breakout camera.
Olympus E-P1
If Camera of the Year were a beauty contest, the E-P1 would win hands down. Our editors can't stop smiling at this little neoclassical gem. With it, Olympus took the Micro Four Thirds concept and turned it into a dream come true: a compact camera that can produce DSLR-quality images. But the concept still needs some refinement. So far only a handful of lenses are made for it, the autofocus is slow, and if you want an eye-level finder, you have to slip one into the hot-shoe.