Camera Test: Nikon D3X
The tradeoffs that came with raising the pixel count were well worth it.

We may earn revenue from the products available on this page and participate in affiliate programs. Learn more ›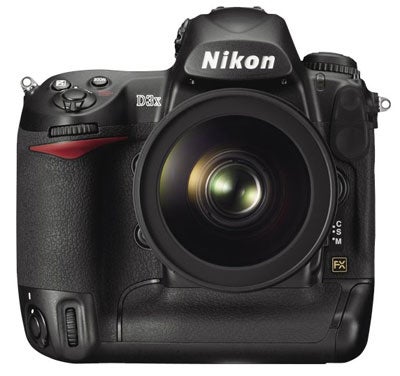 Nikon D3X Test Main
Nikon D3X Test Main
You've read it here before: Megapixels aren't everything. Now that the 24.5MP Nikon D3X ($8,000, street, body only) has become the third full-frame DSLR to break the 20MP barrier, how well does that simple truth hold up? Very well indeed.
As we pointed out in our Hands On last month (February 2009), raising the pixel count involves some tradeoffs. Not just for Nikon, but for the other powerhouses in this category, the Canon EOS-1Ds Mark III ($6,550, street, body only) and Sony Alpha 900 ($3,000, street, body only).
Chief among these: burst speed. The D3X captures full-frame images at a rate of 5 frames per second-not nearly as swift as the 9-fps rate of Nikon's 12.1MP D3. (Both the Canon and Sony also have 5-fps burst rates.) Another compromise is sensitivity. The D3X has a top ISO of 6400, two stops below the astonishing ISO 25,600 of the D3.
But having run the D3X through our battery of tests in the Pop Photo Lab and used it extensively in the field, we think those compromises were worth it. This is an incredible DSLR. Take a look.
Image Quality
The D3X produces truly stunning pictures. Let's start with resolution, the chief benefit of that full-frame 24.5MP Sony-made CMOS sensor. At its lowest standard sensitivity of ISO 100, the D3X captured an off-the-charts Excellent 3180 lines. The only DSLR to beat it: Sony's own Alpha 900, whose 24.6MP sensor tested at 3230 lines. In real-life shooting, you'll barely see the difference.
Color accuracy? Again, Excellent, with the best score of the new full-frame breed.
Noise performance was a little more complicated vis-à-vis the competition. Still, the Nikon did a top-notch job at suppressing noise throughout its expanded ISO 50-6400 range. At midrange and lower ISOs, the Canon EOS-1Ds Mark III and Sony A900 give the D3X a run for its money. But with only a (barely) Moderate noise score at ISO 6400, compared with Unacceptable for the A900 (the Canon's sensitivity tops out at ISO 3200), the Nikon served up the cleanest images when lights were dim.
All together, these scores were enough to earn the D3X an Excellent rating in overall image quality from ISO 50 through ISO 3200-a truly astounding range. Indeed, the fact that the D3X is sensitive down to ISO 50 is a breakthrough for Nikon, whose previous DSLRs bottomed out at ISO 100. (The Canon goes down to ISO 50, too; the Sony, only to ISO 100.) Interesting, though, that the company backed away from the super-high ISOs of the D3 and D300-perhaps deciding that the compromise in image quality at those levels just wasn't worth it.
As we've come to expect these days, the D3X can capture RAW images at 14 bits per color. This expands the number of color gradations between the brightest white and darkest blacks, so you should see smoother gradations in your pictures. The natural side effect, however, is larger RAW.
Autofocusing And Metering
Nikon kept the same 51-point autofocus system with 3D focus tracking in the D3X that it used in the D3, D300, and D700. And in our tests, we saw very similar performance to the D3.
At the brightest light levels, the Canon and Sony both edged it out, but as we turned down the lights, the D3X's AF prowess really emerged. Even at our test's dimmest setting of EV -2 (about the brightness of a scene under a full moon), the D3X focused in less than 1 second.
Nikon also kept the same excellent 1,005-pixel 3D Color Matrix II metering system, which works with the AF system to help in tracking subjects during in the camera's continuous AF tracking modes. You can choose from Matrix (Nikon's version of evaluative), centerweighted, or spotmetering.
The latter grants you a tight spot of about 1.5 percent in the center of the frame. (The Canon offers a wider 2.4 percent spot.) We found Nikon's Matrix metering effective in determining the best exposure for a given scene. The system compares the current scene with a database of images in the camera to determine, for instance, if you're shooting a portrait, or if the scene is backlit, or if the exposure should be something other than the standard reading. It generally works well. There will always be situations in which you'll want to use exposure compensation, but more often than not, over a wide variety of shooting conditions, Matrix metering makes the right decisions.
Body Design And Build
Like Canon's 1Ds Mark III, the Nikon D3X has a rugged body made of magnesium alloy with weathersealing to withstand rough shooting environments. Since the body is nearly identical to the older D3, it doesn't vibrate the sensor to shake dust away. But an integrated vertical grip makes portrait shooting more comfortable, and plenty of buttons let you change settings without having to dig into the menus. And if you're already familiar with pro Nikon bodies, you'll feel right at home with the D3X.
A dial to the left of the prism controls the drive mode, while three buttons above the dial let you control flash, bracketing, and shutter/aperture lock. Exposure compensation and mode buttons sit just behind the shutter button.
On the back, three buttons below the 3-inch 920,000-dot LCD give quick access to ISO, image quality settings, and white balance. These, along with switches for metering and AF modes, create a very efficient interface for photographers who need to change a setting at a moment's notice.
As usual with a pro DSLR, you won't find a pop-up flash. Of course, the D3X has a hot-shoe and is compatible with all of Nikon's current flashes, including the new SB-900 Speedlight ($400, street).
Two CompactFlash slots provide plenty of storage. Good thing, because with the D3X's huge RAW files, you'll need all the storage you can get. You can configure the dual slots as redundant backup, or one for RAW files and the other for JPEGs (handy in simultaneous capture), or so that the camera moves to the second slot once the first card is full.
And there's plenty of connectivity, too. Besides the usual composite videoout and Hi-Speed USB 2.0 terminals, there's a power input, a PC flash-sync terminal, and a 10-pin remote terminal, which lets you use Nikon's GP-1 ($210, street) GPS adapter to automatically add location and universal time code data to your images. Cool!
Bottom Line
Is this excellent camera worth $8,000? We say yes.
Why? First, its super-high resolution, which will let you print really big photos. Second, its super-tough build, complete with dust- and weathersealing, as well as an integrated vertical grip, important to pros. Finally, its super performance in low light, with high sensitivity, low noise, and fast autofocus in the dimmest conditions.
Especially for pros and enthusiasts who are already invested in the Nikon system, and can afford the eight grand, this is one smart big-ticket purchase.
Imaging: 24.5MP effective, full-frame FX-format CMOS sensor captures images at 6048×4032 pixels with 12 or 14 bits/color in RAW mode.
Storage: Dual slots for CompactFlash Type I/II including UDMA; microdrives. Stores JPEG, NEF RAW, RAW + JPEG, and TIFF files.
Burst rate: Full-sized JPEGs (Fine mode): Up to 44 shots at 5 fps.
RAW: Up to 24 shots at 5 fps (14 bit). DX format (10.5MP) JPEGs: Up to 76 shots at 7 fps.
AF system: TTL phase detection with 51 illuminated focus points (15 cross-type). Singleshot and continuous AF with 3D focus tracking. Tested sensitivity down to EV -2 (at ISO 100, f/1.4).
Live view: TTL Phase detection and Contrast Detection modes.
Shutter speeds: 1/8000 to 30 sec plus B (1/3-, 1/2-, or 1-EV increments). 300,000-cycle rating. Metering: TTL metering using 1,005-pixel RGB sensor, 3D Color Matrix II, centerweighted, and spotmetering (approx. 1.5% of viewfinder). EV 0-20 (at ISO 100).
ISO range: Normal, ISO 100-1600; expanded, ISO 50, 3200 (in 1/3-EV increments) or 6400 (1-EV increment).
Flash: Dedicated Nikon hot-shoe with i-TTL flash using Nikon SB-400, SB-600, SB-800, and SB-900 Speedlights. Flash sync to 1/250 sec. Supports wireless control of SB-600, SB-800, or SB-900 units when using SB-800 or SB-900 as Commander.
Viewfinder: Fixed eye-level pentaprism. LCD: 3-in. TFT with 920,00-dot resolution, 170-degree viewing angle.
Output: Hi-Speed USB 2.0, HDMI video, composite video, and 10-pin remote control.
Battery: Rechargeable EN-EL4a Li-ion, CIPA rating, 4,400 shots.
Size/weight: 6.3×6.2×3.4 in., 3.1 lb with a card and battery.
Street price: $8,000, body only.
For info: www.nikonusa.com.