Camera Test: Olympus E-P1
A Micro Four Thirds shooter that offers a classic design and produces color accurate images.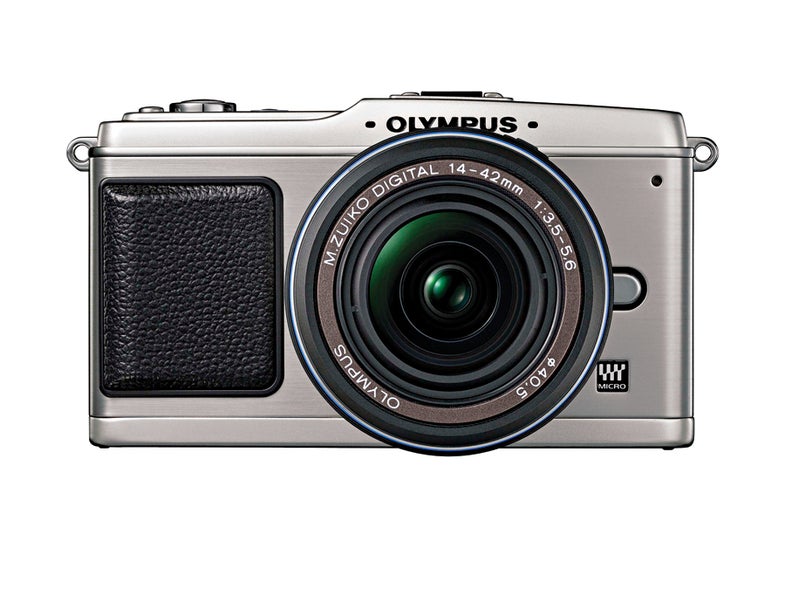 We may earn revenue from the products available on this page and participate in affiliate programs. Learn more ›
Think big; build small. That's the premise of the Micro Four Thirds system-big imaging performance from small cameras that have interchangeable lenses. And the first model from Olympus, the E-P1, delivers.
In our tests, this $800 camera (street, with 14-42mm f/3.5-5.6 lens; $750, body only) produced color-accurate images, low noise through ISO 800, and solid 720p HD video. Combine that with a classic, petite design, and we've got a new go-anywhere winner.
The E-P1 packs a 12.3MP Live MOS sensor that's the same size as those in Four Thirds DSLRs. That gives it a 2X lens factor that ramps up the kit lens to the full-frame equivalent of 28-84mm, a convenient range for general shooting. Olympus also offers a faster 17mm f/2.8 lens ($300, street) that scales up to a 34mm equivalent.
An optical viewfinder ($100, street), matched to the 17mm lens, mounts in the hot-shoe. Without it, you must use the 3-inch LCD to frame your shots. And there's no pop-up flash-you can buy the fixed-head, retro-styled FL-14 shoe-mount flash ($200, street), which Olympus says covers the field of view of a 14mm lens and puts out 130 flashes from one pair of NiMH AAA batteries.
For faster shooting-and because the Micro Four Thirds system has no mirror box or prism-Olympus developed a new kind of electronically controlled focal-plane shutter. In its resting state it remains open, exposing the sensor for a live preview. (Most shutters remain closed when not in use.)
Olympus also improved its image processor, now called TruPic V, and tweaked its noise-reduction algorithms. imaging and Video We saw the fruits of those imaging tweaks in the Pop Photo Lab. In resolution, the E-P1 scored a Very High rating from ISO 100 through ISO 6400. And it controlled noise better than the
Imaging and Video
We saw the fruits of those imaging tweaks in the Pop Photo Lab. In resolution, the E-P1 scored a Very High rating from ISO 100 through ISO 6400. And it controlled noise better than the company's latest DSLR, the E-620, was able to. (We converted RAW files with Olympus software set to its default noise-reduction setting of Standard.)
Since the E-P1's autofocus system works differently from a DSLR's, we couldn't run our usual AF speed trials in the lab. But in our field tests, the E-P1 wasn't as fast to focus in bright and moderate light as the Lumix DMC-gH1, Panasonic's new Micro Four Thirds camera (tested, September 2009). The E-P1, while slow, successfully focused in very dim light-a challenge for both of these cameras, as for most compacts.
Shooting video is fairly simple, with quality on par with that of a midlevel HD camcorder and of the Panasonic gH1 in its video mode of 1280x720p at 30 frames per second. The Olympus uses the AVI Motion JPEg format, while Panasonic's video files are in AVCHD for a smaller file size. And the GH1 offers the options to shoot at up to 1920×1080 at 24 fps, or 1280×720 at 60 fps-a slight leg up on the E-P1.
While we saw some minor artifacts in the E-P1's video footage, it was generally sharp, with smooth motion and accurate colors. Best of all, you can trim the beginning and ends of your clips in the camera. And its HDMI output makes it easy to watch your footage on an HDTV.
Design And Handling
Olympus modeled the E-P1's design after its 50-year-old Pen 35mm series- and even inscribed the new camera "OlympuS PEN Since 1959." The reference makes sense, since the original idea was to make cameras as portable as a ballpoint pen.
And the E-P1 is certainly portable. Fully loaded, it weighs a little more than a pound-heftier than you might expect, thanks in part to its metal chassis. The main body is stainless steel, while the top and bottom plates are aluminum. The thoughtful design incorporates some great ideas. The most wow inducing is the kit lens, which retracts down to about half its length when not in use (shown at left). A lock prevents it from collapsing down accidentally while you're shooting, and a small slider switch on the zoom ring makes it easy to shrink before putting it in your bag. In extensive field testing, the lens extended and retracted smoothly and without any problems.
Aside from the mode dial, which is recessed neatly into the left side of the camera top, all major controls are on the right side of the E-P1's body. That makes one-handed operation easier, which should please people moving up from (or replacing) compact cameras.
Despite the tight space on the camera back, Olympus fits two scroll wheels: one around the four-way multicontroller for up/down navigation through menu controls; the other, an unusual vertical wheel that toggles left/right through menu options. Once you become used to it, the two-wheel operation gives you a fast way of changing settings on the fly. You can also customize both dials' functions for each of the shooting modes.
For less experienced shooters, Olympus includes the usual array of scene modes, as well as iAuto, which assesses the scene and chooses a mode for you. Other convenient features include a level gauge covering two axes, face detection for up to eight people, two-frame multiple exposures, and sensor-shift image stabilization.
Bottom Line
With only three cameras available so far in the Micro Four Thirds format, it's hard to compare the Olympus E-P1 with direct competitors-there really aren't any. But next to Panasonic's GH1, despite a virtual tie in our lab tests, we preferred the E-P1's smaller size and rangefinder-like design.
Before you open your wallet, decide if you should invest in Micro Four Thirds in the first place. The current lens selection is limited, and the E-P1 and GH1 kit lenses are the only ones optimized for continuous autofocusing with video recording. (But there are adapters that will let you use Four Thirds lenses, Olympus OM lenses, and even Leica M lenses on these new camera bodies.)
But if the E-P1's 3X optical-zoom and wide-angle lenses are enough for you, at least for now, this Olympus makes a fun choice either as a primary camera for snapshooters or as a versatile second camera for anyone looking for a break from toting a DSLR.
IMAGING: 12.3MP effective, Four Thirds-sized Live MOS sensor captures images at 4032×3024 pixels with 12 bits/color in RAW.
STORAGE: SD and SDHC. Stores JPEG, ORF RAW, and RAW + JPEG files.
VIDEO: Up to 1280×720 30-fps AVI Motion JPEG; built-in stereo mic with no mic input; continuous AF.
BURST RATE: Full-sized JPEGs (Normal mode), up to 12 at 3 fps. RAW, up to 10 shots at 3 fps (12 bit).
AF SYSTEM: TTL contrast detection with 11 focus areas. Single-shot and continuous.
SHUTTER SPEEDS: 1/4000 to 2 sec, plus B (1/3-, 1/2-, or 1-EV increments).
METERING: TTL metering using 324-area multipattern evaluative, centerweighted, and spotmetering (approx 1% of LCD screen). EV 0-18 (at ISO 100).
ISO RANGE: ISO 100-6400 (in 1/3- or 1-EV increments).
FLASH: No built-in flash. Flash sync to 1/180 sec. Dedicated Olympus E-system hot-shoe.
LCD: 3-inch TFT with 230,000-dot resolution.
OUTPUT: Hi-Speed USB 2.0, mini HDMI video, composite video.
BATTERY: Rechargeable PS-BLS1 Li-ion, 1150 mAh. CIPA rating, 300 shots.
SIZE/WEIGHT: 4.7×2.8×1.4 in., 0.9 lb with card and battery (without lens).
STREET PRICE: $800 with Zuiko 14-42mm f/3.5-5.6 lens.
FOR INFO: olympusamerica.com.