Sony's new Xperia Pro-I smartphone uses the same 1-inch sensor as the RX100 VII
The Xperia Pro-I is Sony's first smartphone with a 1-inch sensor + integrated phase-detect AF. But note, the camera isn't making use of the entire sensor area.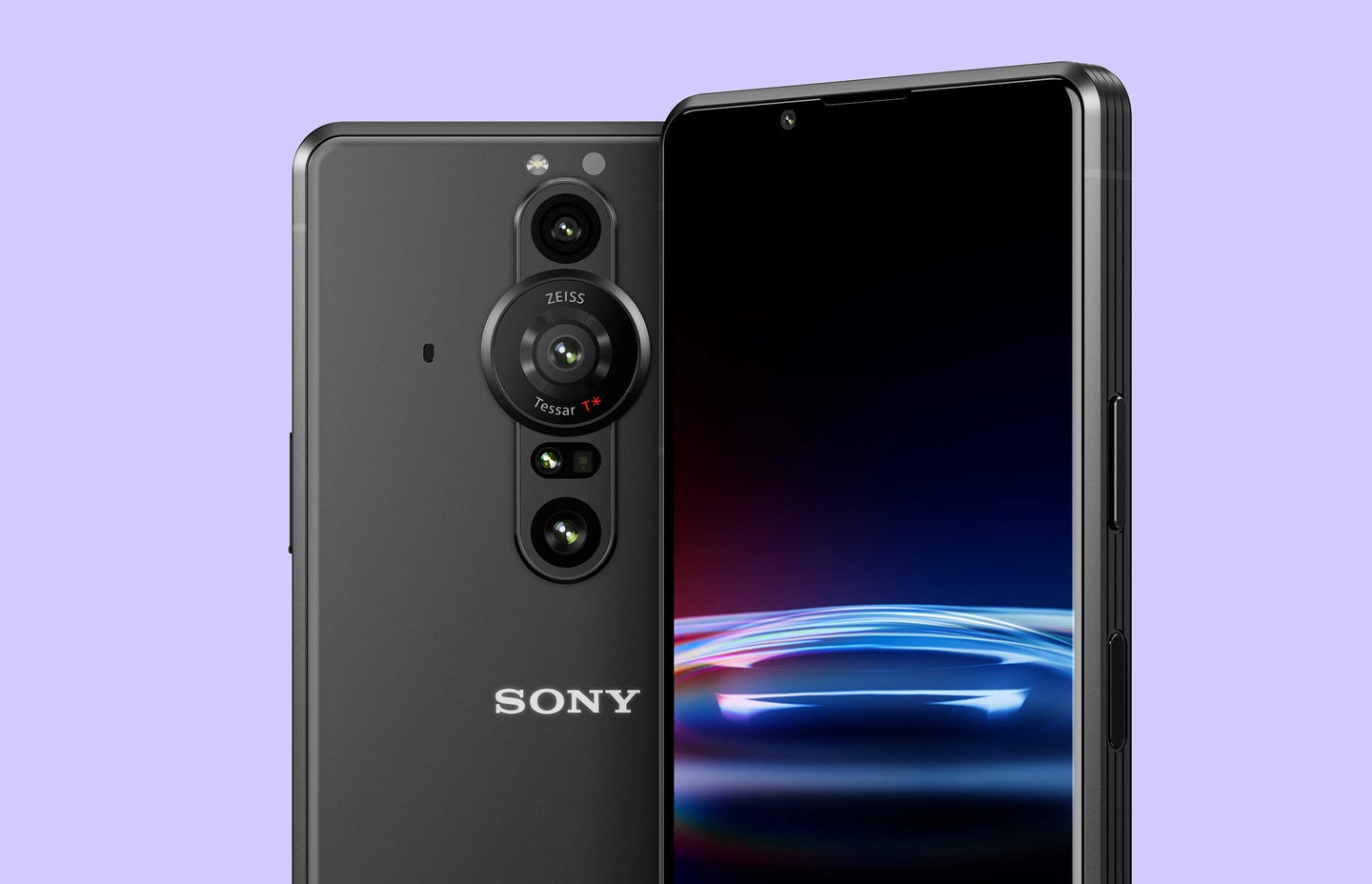 We may earn revenue from the products available on this page and participate in affiliate programs. Learn more ›
Earlier this week, Sony unveiled an enticing new "professional" smartphone, the Xperia Pro-I. It should be particularly intriguing to photographers and videographers since it sports a large 1-inch-sized sensor, the same one found in the Sony RX100 VII premium compact. It also offers quite a few impressive features, sure to appeal to content creators, including 20 fps burst shooting with AF/AE, 12-bit RAW recording, and 4K/120p video capture.
However, it's worth pointing out, the Xperia Pro-I is only using a 12-megapixel crop from this 20-megapixel 1-inch sensor, utilizing about 60% of the total surface area of the chip. And so, while image quality should still be excellent, it won't be a match with the RX100 VII.
Let's take a look at some of Xperia Pro-I's key specs.
Xperia Pro-I camera key specs:
Main camera uses a 12-megapixel crop from a 20-megapixel 1-inch stacked CMOS sensor
1-inch sensor is paired with a 24mm f/2 equivilent Zeiss lens
315 phase-detect AF points cover 90% of the frame (main camera)
16mm f/2.2 equivilent ultra-wide angle lens paired with 12-megapixel 1/2.9-inch sensor
50mm f/2.4 equivilent portrait lens paired with 12-megapixel 1/2.9-inch sensor
4K/120p video capture
20 fps burst shooting (with AF/AE)
AF tracking with eye detection (stills and video mode)
12-bit RAW output (from all three cameras)
512GB of built-in sotrage + a Micro SDXC memory card slot (for memory cards up to 1TB in capacity)
Compatible with mobile 5G
Main camera & features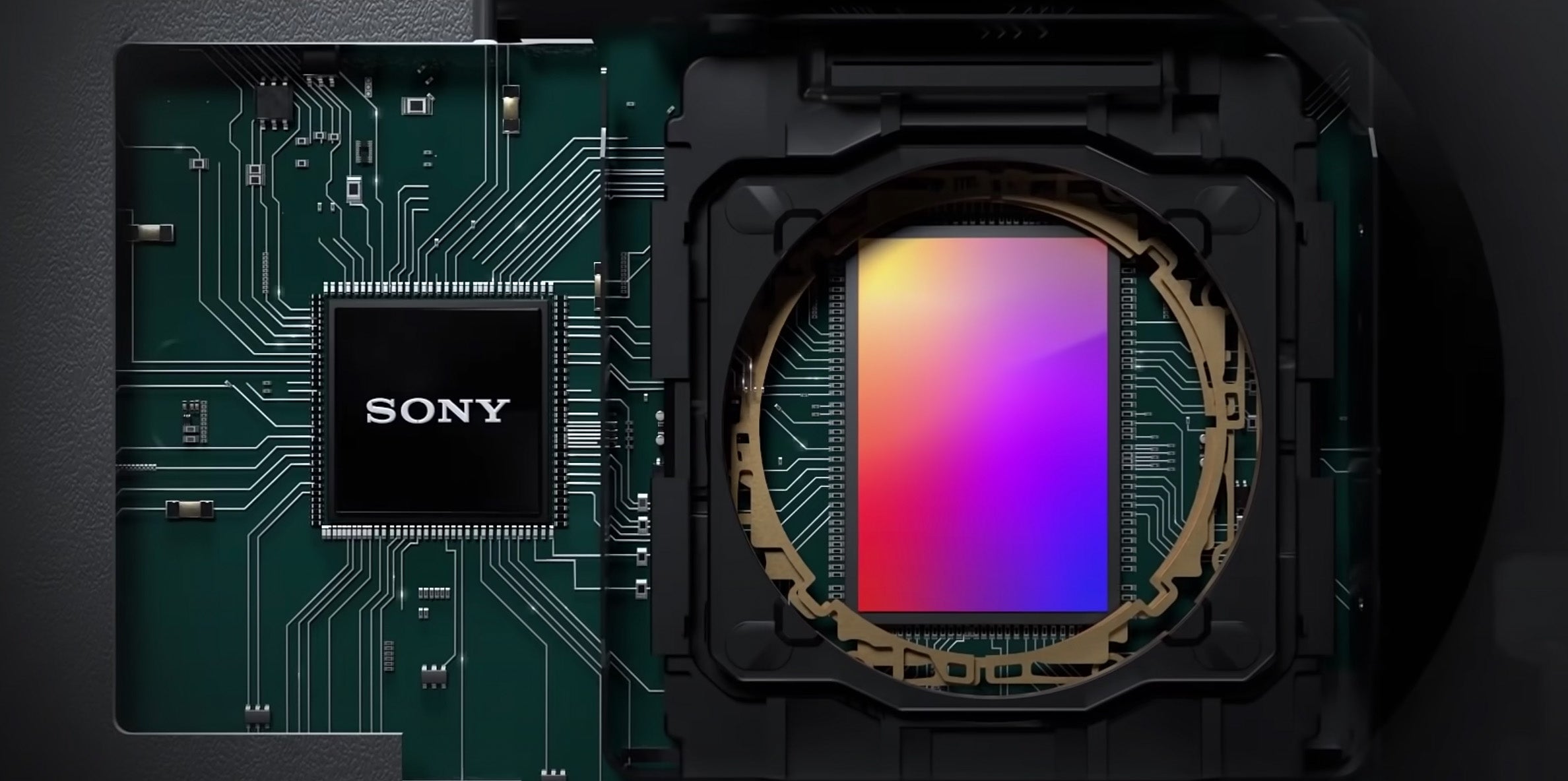 While the Xperia Pro-I is Sony's first 1-inch sensor smartphone, it's not the first smartphone to use a sensor this size. For instance, earlier this year, Sharp introduced the Aquos R6, which uses a 1-inch sensor. And if you want to go all the way back to 2014, the Panasonic CM1 also made use of a 1-inch sensor.
By comparison, the iPhone 13 Pro's main camera uses a smaller, 1/1.65-inch sensor, though the iPhone offers a faster f/1.5 lens, compared to the Xperia's f/2 lens.
But what really sets the Xperia Pro-1 apart is that it has a 1-inch sensor with integrated phase-detect AF. This is the same type of AF you find in high-quality Sony cameras like the recent Sony a7 IV, as well as the RX100 VII.
Both of these cameras offer outstanding AF performance, with highly-accurate AF tracking and eye detection. And we expect the same excellent level of autofocus reliability from the Xperia Pro-I. It's also worth noting, the phone's AF tracking+ eye detection can be used during both stills and 4K video capture.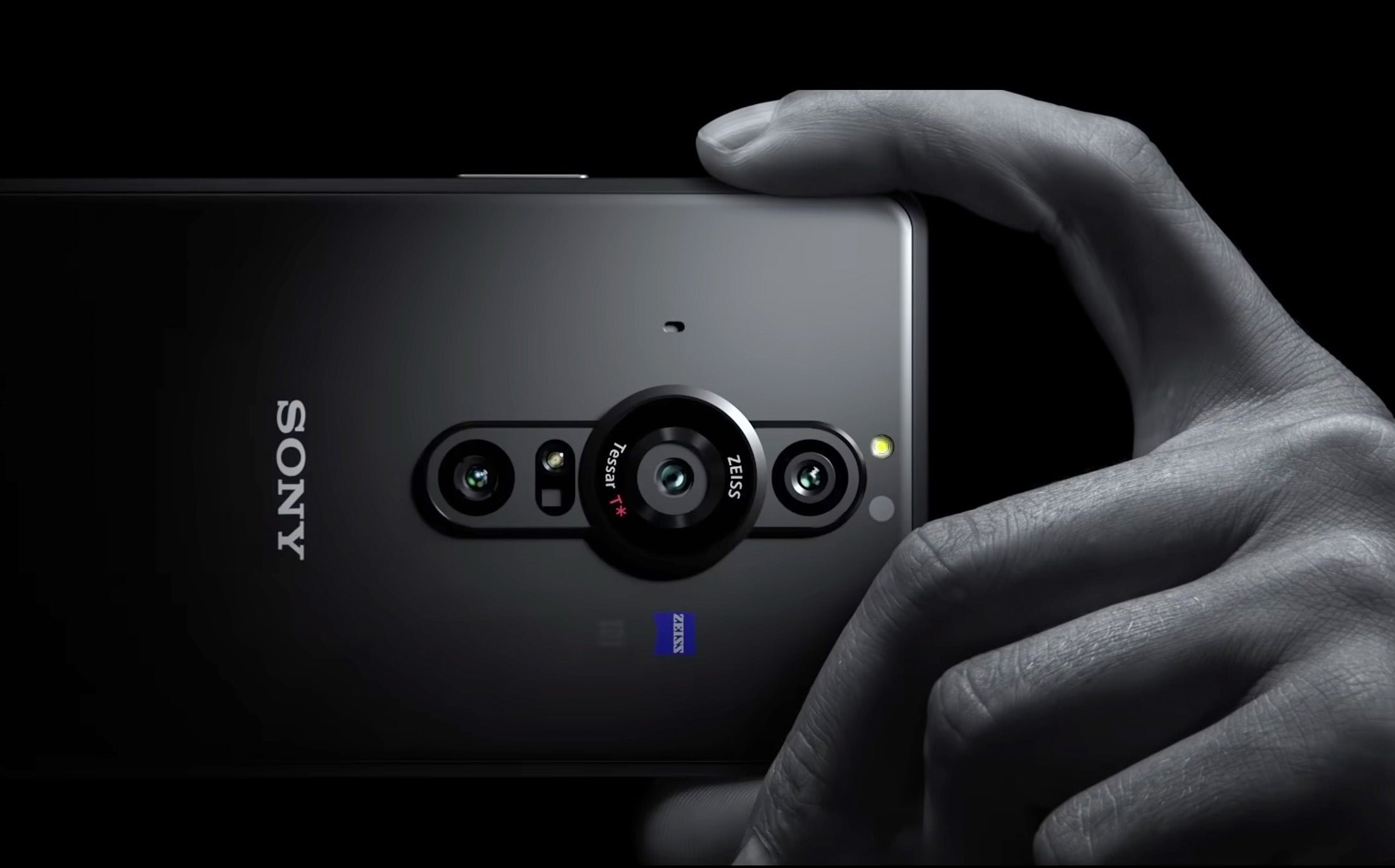 Ultra-wide & portrait cameras
The Xperia Pro-I also offers a 16mm equivalent ultra-wide camera and a 50mm equivalent portrait camera. Both of these cameras use a 12-megapixel 1/2.9-inch sensor, which is quite a bit smaller than the sensor used by the main camera. And neither sensor offers phase-detect AF. That being said all three of the smartphone's cameras can output 12-bit RAW files.
Physical design
The Xperia Pro-I offers a large, 6.5-inch OLED HDR 4K display, that has a refresh rate of 120Hz. This should provide a smooth user experience when you're composing stills and/or videos. And video playback should also be smooth. The display is made from Corning's Gorilla Glass Victus, and so it should be relatively scratch- and shatter-resistant.
The smartphone itself is just 3.5mm thick and it offers an IP65/68 waterproof rating. Other design elements content creators will appreciate: a physical shutter-release button and a 3.5mm audio jack.
The device is powered by a 4500 mAh battery with rapid charging capability (50% in 30 minutes). And users can transfer files quickly thanks to a USB-C 3.2 Gen 2 port.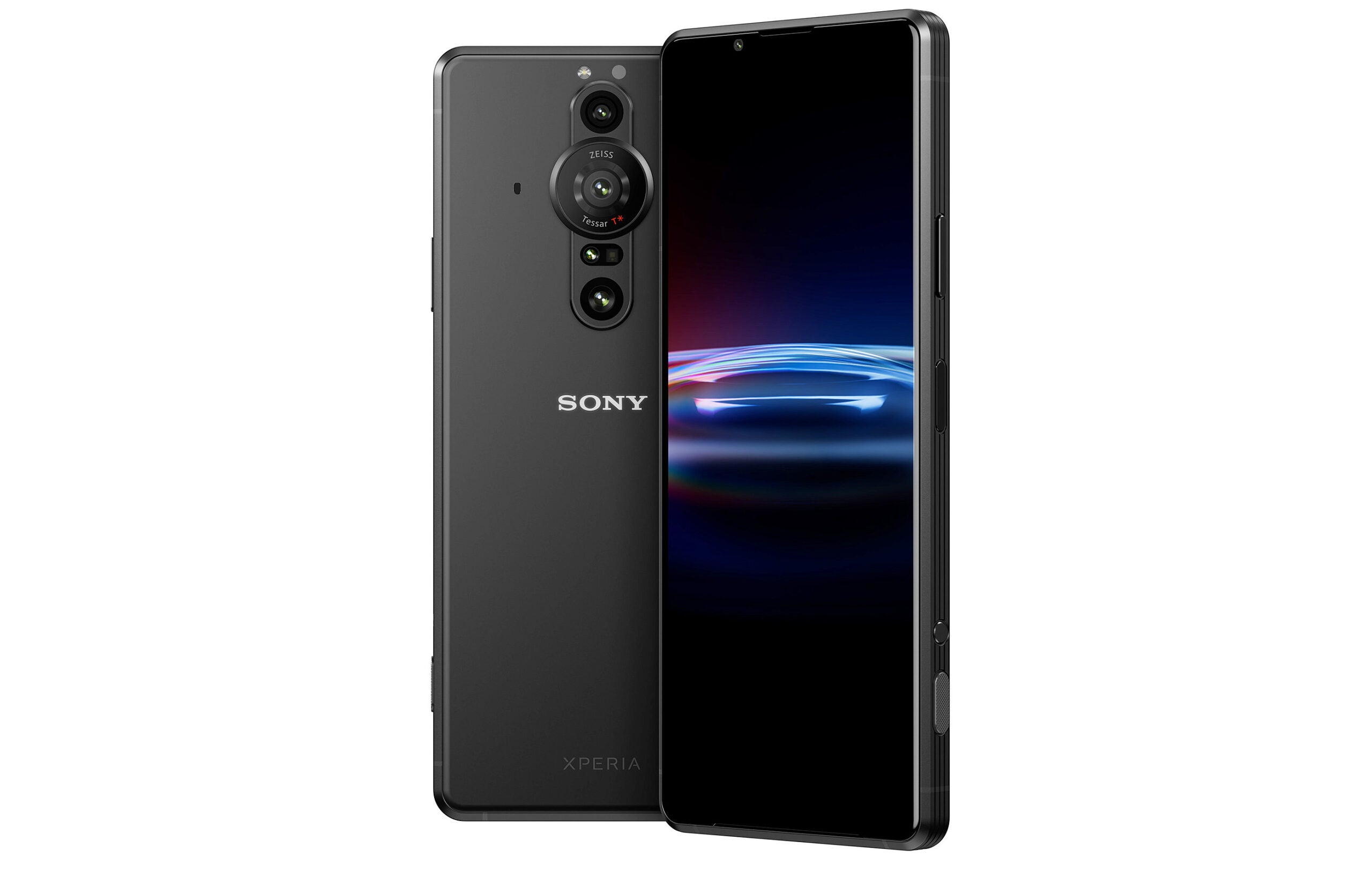 Video features
Xperia Pro-I shoots up to 4K/120p video and Sony's Optical SteadyShot should help keep hand-held footage looking smooth (there's also electronic IS). The unit features both a stereo microphone as well as a mono microphone next to the camera module, meant for capturing human speech clearly.
The camera also has new "Video Pro" and "Cinema Pro" shooting modes. The former is geared toward content creators looking to share videos from the field, including vloggers and journalists. This mode allows users to adjust basic settings like focus, exposure and white balance on the fly and with ease. The latter takes inspiration from Sony's more professional-level video cameras and offers advanced cinematic features including focus pulls and more.
Accessory "Vlog Monitor"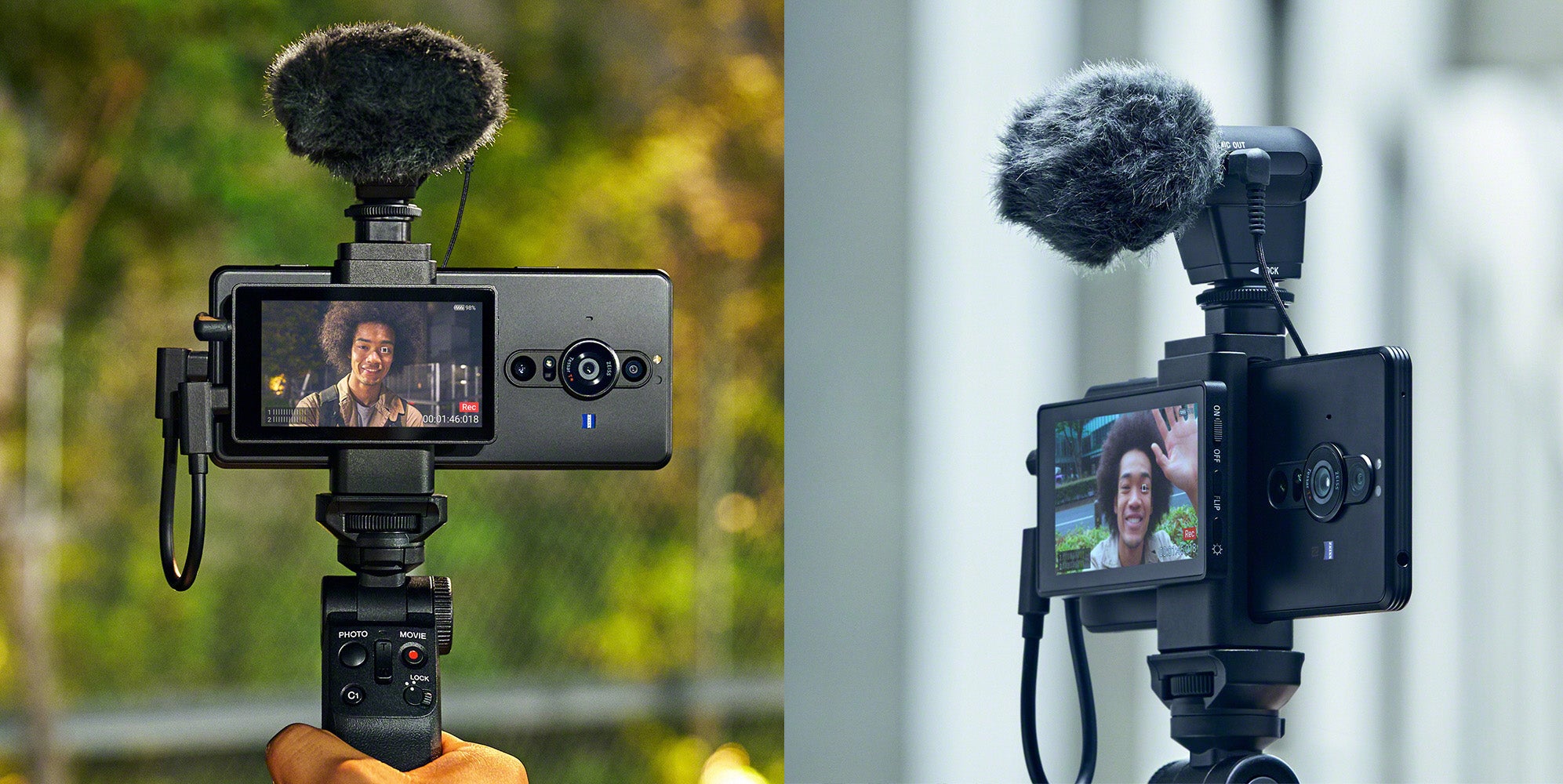 Sony also introduced a new $200 "Vlog Monitor" to go along with the Xperia Pro-I. It attaches to the back of the device and communicates with the Xperia Pro-I via USB-C cable. The unit adds a 3.5-inch display (1280×720 resolution), 3.5mm microphone jack and a hot shoe mount. It's also Bluetooth enabled and can be paired with Sony's GP-VPT2BT Bluetooth shooting grip (shown here).
Sony Xperia Pro-I: Pricing and availability
The Sony Xperia Pro-I is available for preorder now, unlocked, and ships in December 2021 for ~$1,800. The new Vlog Monitor and leather cover will also be available in December 2021, for approximately $200 and $90, respectively.