The First Hasselblad Camera in Space Is Going Up for Auction
You guys wanna split it?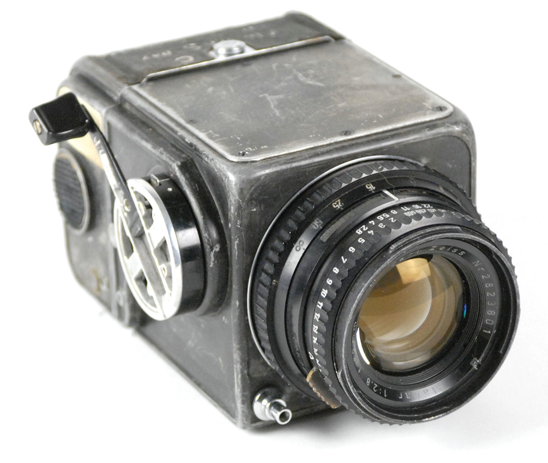 Right now, most of the amazing space photos you see from the International Space Station are shot on Nikon cameras (or Instagram), but years ago, it was Hasselblad cameras that were responsible for space photography. Now, the first Hasselblad ever to go to space is going up for auction, along with the first Zeiss lens to make its way out of earth's atmosphere.
The camera body is, of course, a 500c that was carried into orbit by the Mercury-Atlas 8 mission. It also found a spot on the Mercury-Atlas 9 mission. The lens is an 80mm Carl Zeiss Planar 80mm F/2.8, which is pretty much the lens you'd expect to find on a 500c from that era. The film magazine was flown on the MA-9 mission.

There are so many unique and interesting things to notice about the camera and they're all laid out on the auction page to establish its provenance. For instance, there is exposure data written directly on the film back to be used as a short cut when shooting in space.
Unfortunately, the aiming mechanism is missing, which is one of the most iconic things about the space cameras. Because a typical viewfinder was impractical, they used more of a large plastic bullseye to help the astronauts aim the camera.
There's no current estimate that I saw in terms of final selling price, but it will almost certainly be very high. It's not one of the moon cameras or anything, but anything with ties to outer space often draws a very hefty price tag. After all, that Hasselblad "Moon Camera" fetched a cool $90k.