New Gear: Nikon Nikkor AF-S 800mm F/5.6 FL ED VR and AF-S 18-35mm F/3.5-4.5G ED Lenses
Nikon has an odd couple of new lenses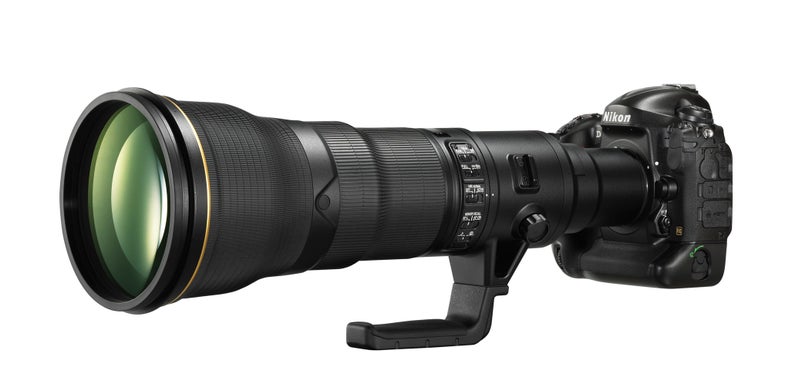 We may earn revenue from the products available on this page and participate in affiliate programs. Learn more ›
Nikon has been on a bit of a lens tear lately and they apparently have no intention of stopping. Now, they have a new super-telephoto lens and a budget-friendly wide angle zoom to add to the Nikkor line-up.
The big boy pictured above is their new 800mm F/5.6E FL ED VR. It's the longest AF lens in the Nikon lineup and it gets even longer once paired with the TC800-1.25E ED teleconverter, which is included with the lens. That gives it an overall focal length of 1000mm or 1500mm if you put it on a crop sensor body like the D7000. The teleconverter drops the maximum aperture to F/7.1, but Nikon says it retains full AF function on the D4, the D800, and the D600 full-frame bodies.
As a top-of-the-line telephoto, it gets all the bells and whistles you'd expect, including a pair of fluorite elements, a pair of extra-low dispersion elements, and top-end coatings. It has 20 elements in 13 groups.
The lens was actually in action back in the 2012 Olympics in prototype format, but it will be making its way to the shelves in April for $17,899.95. It's a hefty price, for sure, but not a surprising one.
On the other end of the spectrum (in more ways than one) is the new 18-35mm F/3.5-4.5G ED wide angle zoom lens. It's built for FX cameras, which makes it an affordable wide angle zoom option for full-frame shooters. It focuses to .92 feet at its widest focal length and weighs less than a pound. It also has a Silent Wave Motor for quiet zooming.
The 18-35mm lens will be available in March for $749, which puts it in direct competition with Canon's excellent, if old, 17-40 F/4L. We're especially eager to give this one a trip through our lab.